For a day that was devoid of NFL football entirely, Saturday was one of the craziest days of the 2020 NFL calendar.
First, the Detroit Lions relieved head coach Matt Patricia and general manager Bob Quinn of their duties after a Thanksgiving game loss. Then news broke that Santa Clara officials won't allow the 49ers to play in their usual home stadium, forcing the team to find a new place to play for their next two home games.
While those storylines will no doubt linger in the coming weeks, they pale in comparison to Saturday's slew of Covid-related news, as a number of positive tests and close-contact designations sent shockwaves through NFL locker rooms throughout the day. The players set to miss games will also impact fantasy football teams for Week 12.
First and foremost, we hope all players and personnel tested positive have a speedy and complete recovery. But in light of the news, here are some fantasy-relevant takeaways ahead of the Week 12 slate. 
For the players not mentioned here, check out our rankings to see where each of our analysts has placed all noteworthy players for Week 12.
All four of the Broncos' quarterbacks have been ruled out of their Week 12 game because of Covid-19 exposure. So, undrafted rookie Kendall Hinton is expected to be the starting quarterback for this game.
Hinton was a backup quarterback at Wake Forest from 2015 to 2018 and posted a 62.9 PFF grade over his career during his time under center. Among 147 qualifying Power 5 quarterbacks, Hinton ranked among the top 20 signal-callers in both average time to throw and average depth of target (aDOT).
The main problem was that his adjusted completion percentage of 61.4% was fifth-worst among those 174 quarterbacks. The only other player in that bottom 10 to throw an NFL pass is Christian Hackenberg.
Hinton switched positions to slot receiver in 2019, where he started for the Demon Deacons. He joined the Broncos for training camp in 2020, didn't make the cut down to 53, and didn't sign to their practice squad until earlier this month. Everyone will have him ranked 32nd among quarterbacks — he shouldn't be touched there.
However, since he was technically a wide receiver, he has wide receiver eligibility in leagues at Yahoo, CBS, NFL and Sleeper. ESPN and MyFantasyLeague didn't have him in their system at the start of Saturday but have since added him as a QB.
I have Hinton ranked in the WR4 range. He has high-upside and high-bust potential. He could throw 40 times and run a few more times, or he could handoff every play he's on the field for. He plays in the later window, so it's possible to wait and choose one of your starting wide receivers right before those games. If you need a normal or safe option, don't start him. If your only way to win is by your remaining players putting up big numbers, then take a risk and put him in your lineup.
This is obviously bad news for the Broncos' wide receivers and Noah Fant. Denver will be passing less, with a lower percentage of the passes being accurate. They should all be avoided this week.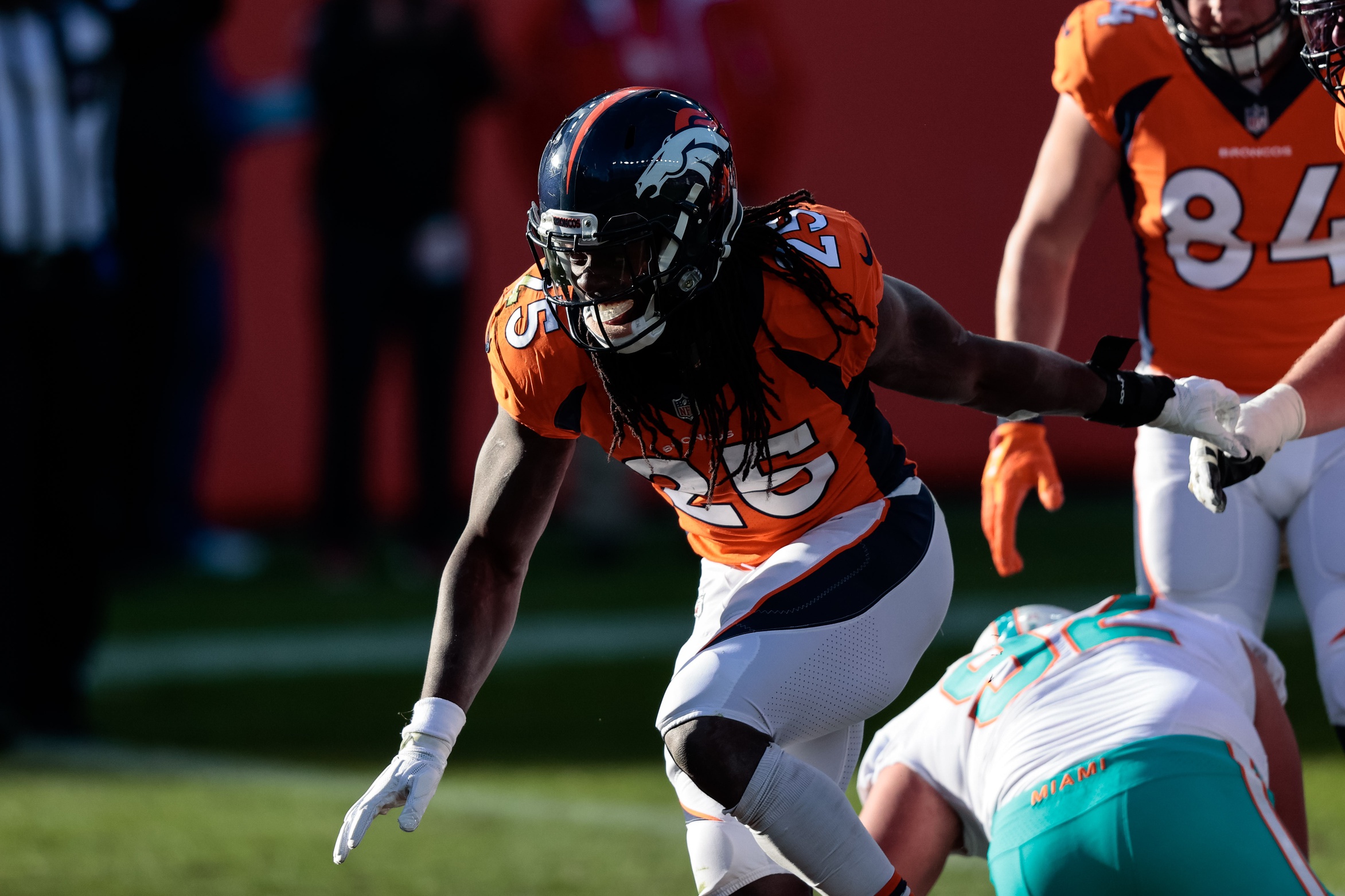 Denver Broncos Running Backs
With the news at quarterback, the Broncos will definitely be running more now. And along with more traditional carries, we could also see some non-traditional run plays. Royce Freeman has been the emergency quarterback for Denver, so he could see more playing time than usual. Denver hasn't run any wildcat offense this year, but they did last year for three snaps with Phillip Lindsay at quarterback.
Both of those players, as well as Melvin Gordon III, will see more carries than initially anticipated. The problem is that they are playing the Saints defense. Gordon was mentioned earlier in the week as having high-bust potential, as New Orleans has been the best team at preventing fantasy points to running backs. They will likely play with eight men in the box for the vast majority of the game today, making it even harder to run. The Saints have allowed a low 3.7 yards per carry without eight men in the box this year, which drops to 2.6 with eight or more.
The additional carries will get canceled out by the less effective runs. Denver could have a lot of three-and-outs, so their time of possession will also be impacted. Even if Gordon gets 20 carries, he might have a hard time reaching 50 yards. I don't have any Broncos running backs ranked in my top 30.
Taylor was placed on the Covid-19 list after being close to someone with Covid, so the Colts are left with Nyheim Hines and Jordan Wilkins at running back. They didn't activate anyone from the practice squad, despite having multiple options, so this will be a two-back committee.
Hines has played roughly twice as many snaps as Wilkins over the last three weeks. The two have close to the same number of carries, but Hines has played significantly more in the passing game.
It can be expected that the backfield will play out how it has in recent weeks, but as we've seen in Indianapolis recently, they aren't afraid of adjusting to who is playing well that day. Hines has graded out with an overall 81.5 grade over the last three weeks while Wilkins is at 55.1. If anyone gets the hot hand, the chances are it will be Hines.
The matchup against the Tennessee Titans helps both backs. Hines racked up 115 yards and two touchdowns against the Titans two weeks ago, while Wilkins ran for 28 yards. Both backs will get a larger piece of the pie this time around. Hines is a clear RB2 with RB1 potential this week. Wilkins is an RB3.
James Conner placed on the Covid-19 list
Conner was placed on the Covid-19 list after reportedly testing positive for coronavirus. The Steelers are currently scheduled to play the Ravens on Tuesday, so Conner won't be able to play — assuming that game even gets played. There is also the possibility he misses multiple weeks.
Benny Snell Jr. is the player most likely to take over as the primary ball carrier. Snell led the Steelers in snaps in Week 1 with 29, which included 19 runs. Jaylen Samuels was the receiving back in that game, with 19 pass routes. 
Snell has 39 carries to 21 by Anthony McFarland Jr. since Week 1. The most likely scenario is that Snell sees two-thirds of the carries with the rookie McFarland taking the other third for as long as Conner is out.
Samuels was ruled out of the game, so it's unclear what the Steelers will do in passing situations. Snell and McFarland have a combined for five pass routes and pass blocks on third downs this season, so it's possible that either takes the role, or they could split it. Pittsburgh has run more plays without a running back on the field than any other team this season, so it's also within the realm of possibility that they roll with four wide receivers and one tight end for the majority of third downs. Samuels will be the third-down back in the coming weeks if he is healthy before Conner is back.
The Baltimore Ravens typically have a strong run defense, but they have been dealing with injuries to their front seven, with some of those front seven players landing on the Covid list themselves. The rushing value of Snell alone leaves him as an RB2 for the week, assuming the game is played.
More Ravens land on the Covid-19 List
Five more Ravens players landed on the Covid-19 list today, with Jay Glazer reporting that another two will be placed on it tomorrow. The Ravens and Steelers game was supposed to be played on Thursday; it then got pushed to Sunday before moving to Tuesday. With more players from the Ravens testing positive, as well as a number of people from the Steelers, there is a very real possibility that this game will need to be moved to Week 18 or canceled altogether.
What you should do with the players varies based on the rules your commissioner has. In some leagues, commissioners will allow you to play players from the Ravens and Steelers but declare a backup that will become your starter if the game isn't played. If that's the case, play all of your Steelers skill players. Gus Edwards was a player to add entering the week and should also be in starting lineups. 
If your commissioner doesn't allow this, you risk scoring zero points by starting them and the game not being played. In these leagues, it would be advised to bench all Ravens and Steelers players.