Each week, PFF's fantasy football analysts post our rankings in PPR, non- PPR and 0.5 PPR formats for the league's offensive skill positions. Jon Macri and I then add our IDP rankings, making the PFF rankings pages the go-to resource for all your fantasy football decisions.
According to FantasyPros, my rankings were the third-most accurate among 129 experts in 2019, and they were also the most accurate for running backs. After 11 weeks of 2020, they are fifth-best among 160 fantasy experts.
Of course, our rankings are in a constant state of flux, with changes being made due to injury reports and personnel/usage updates, among other factors. But regardless of any changes that may occur between now and Sunday, here are 10 borderline fantasy starters whose rankings I feel confident about heading into the 12th week of the fantasy football season. These rankings are based on PPR scoring settings within their positions as of Wednesday morning.
BIG-GAME POTENTIAL
Carr has been unstoppable in recent weeks. He has four games with a PFF grade over 90 in his five-year NFL career, and two of the four have come in the last two weeks. His excellent real world play hasn't translated into QB1 fantasy success yet. He's been QB16 over the last two weeks and QB17 on the season.
The best thing that can push a QB from a mid-level QB2 into the QB1 conversation is facing the Falcons. No defense has given up more fantasy points to quarterbacks this year. They have improved as this season has progressed, thanks to certain defensive backs getting healthy. But they have still allowed every quarterback who has faced them to score at least one touchdown, and they allowed 10.1 yards per attempt in their last game. Carr is available in plenty of leagues, so he can easily be picked up and plugged into starting lineups.
Gallman has taken control of the Giants backfield as their primary runner. He hasn't been spectacular, but he's running on four-straight games with double-digit carries and at least one rushing touchdown. His total carries have increased each week.
Part of the reason Gallman hasn't put up big rushing yard totals is that he has faced good run defenses each of the last five weeks — all five rank among the top eight in preventing fantasy points to running backs. He gets the Bengals this week, and they've been below average against the run. Cincinnati has allowed 411 rushing yards to running backs in their last three games. This is the best matchup for Gallman since he became the starter, so it should be his best game.
Harris is here more so due to his potential opportunities in this game and future games rather than the opponent. He faces an average Cardinals defense and should be roughly as effective running as usual.
The reason he's worth considering even more than usual is the season-ending injury to Rex Burkhead. Harris and Burkhead mostly split first- and second-down work, while James White and Burkhead split third-down snaps. Harris should see an increase on early downs and White on third downs going forward. Sony Michel could mix in if he's healthy enough to play, but if anything they will ease him into the action. More snaps should lead to more touches. Harris is now the highest-graded running back on the season, so he should be very effective on those additional chances.
Parker hasn't fully lived up to his 2019 season, but he's still the highest-graded receiver for the Dolphins as well as the clear target leader. He's been a bigger part of the offense in recent weeks with 14 receptions in his last three games compared to six in the previous three weeks.
The matchups for Parker haven't been great recently, but he should be able to take advantage of the Jets cornerbacks Bryce Hall and Lamar Jackson. Hall has allowed eight of 11 passes thrown his way to be caught in his two career NFL games, while Jackson has allowed 17 of 20 passes for 249 yards and three touchdowns in his four career NFL games. That should make life easier for Parker compared to facing Patrick Peterson, Casey Hayward Jr. and Bryce Callahan.
Shepard has emerged as the Giants top receiving option in recent weeks. He leads the team in targets (25), receptions (22), yards (175) and first downs (9) in New York's last three games. Shepard lines up primarily at right wide receiver, so this week against the Cincinnati Bengals he will mostly face Bengals' left cornerback LeShaun Sims.
Sims has started six games this season and has allowed 27 catches on 34 targets for 359 yards and four touchdowns. In rare cases, Cincinnati has used William Jackson III to track a top wide receiver, but any time a team has used shadow coverage against the Giants, it's been against Darius Slayton. Cincinnati shadowing a wide receiver would only help Shepard.
BUST POTENTIAL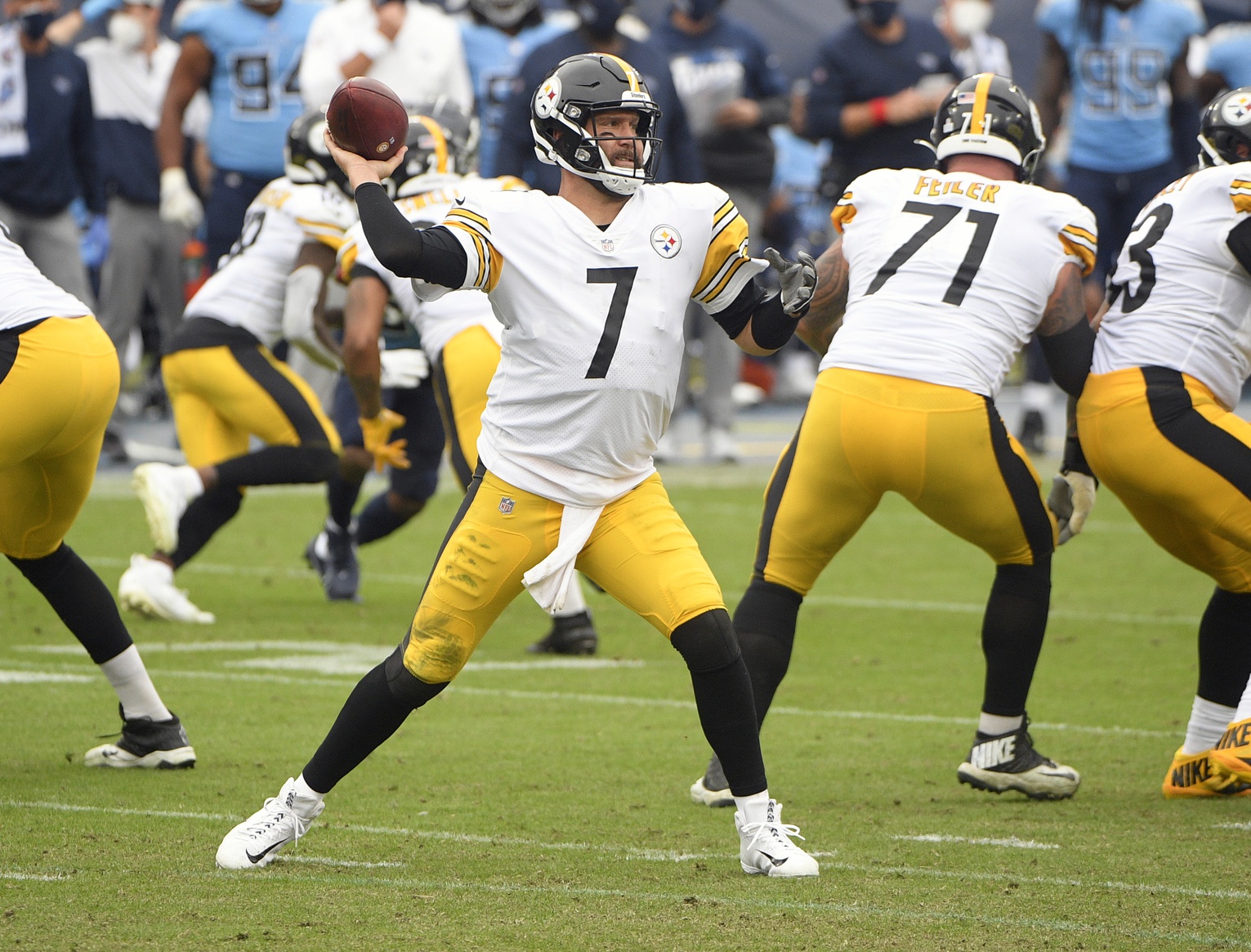 Roethlisberger is a top-12 quarterback this season thanks to so many great skill players around him. Few teams have been able to slow him down, but the Ravens in Week 8 were able to do just that.
Big Ben was held to his second-fewest passing yards on the season (182) thanks to his second-lowest yards per attempt at 5.7. Baltimore wasn't able to achieve much pressure against the Steelers offensive line — Roethlisberger's problems were mostly from the Ravens secondary. The Ravens have a combination of injuries and players with Covid on the defensive line and outside linebacker, but that shouldn't make the game much different from in Week 8. The secondary is still together and will still give the Steelers passing game problems.
Several teams have unpredictable running back rotations involving three players. The Buccaneers might have the most frustrating two-person running back by committee. Jones' rushing totals in recent games have been 9 yards, 192 yards and 24 yards. This week, Leonard Fournette is likely to end up with more playing time than Jones like last week.
The Buccaneers play the Kansas City Chiefs, and this should be a game where Tampa Bay is losing a lot of the time. Fournette has played two-thirds of the offensive snaps when the Buccaneers are losing over the last four weeks. Fournette not only runs significantly more pass routes in these situations but also ends up carrying the ball more than Jones. When the Buccaneers are winning, Jones out-carries Fournette 27-11 on average. If the game script goes as expected, Jones won't be on the field a lot.
Gordon is coming off one of his best games with the Broncos and by far his most productive game while Phillip Lindsay has been active. He ran 15 times for 84 yards and two touchdowns. Lindsay also played well, with 82 yards on 16 carries but no rushing touchdowns. They were helped by playing a Miami Dolphins team that has allowed the eighth-most rushing yards to running backs this season.
Both running backs will have a tougher time this week against the Saints run defense. New Orleans has allowed the second-fewest rushing yards to running backs and the fewest rushing touchdowns (3). The Saints haven't been a good matchup for teams who have one clear running back leading the team in carries. It's an even worse matchup when two running backs are splitting the workload.
The value for all Bengals receivers took a big hit when Joe Burrow went down with a season-ending injury. Cincinnati's starting quarterback is now Brandon Allen. One in every four of Allen's career dropbacks have resulted in an interception, sack or thrown away pass. Allen averages nearly 100 yards per game less than Burrow.
Higgins doesn't get any favors in this week's matchup against the Giants. Higgins played a majority of snaps at right wide receiver earlier in the season, but in recent weeks it's been closer to an even split on the left and right. This means he will line up against James Bradberry on a significant number of snaps. Bradberry leads the league in forced incompletions. If any Bengals wide receiver is able to have a good day, it will probably be Tyler Boyd in the slot. Boyd has a much better matchup and can avoid Bradberry.
Aiyuk is one of several rookie wide receivers to live up to expectations very early in his career. He's had his best three games of the season over his last three outings. Aiyuk has combined for 21 catches on 28 targets for 281 yards and two touchdowns.
Aiyuk faced the Rams in the game before this great three-game stretch and caught two passes for 12 yards. He gets a rematch with L.A. this week. Aiyuk spends only 19% of his offensive snaps in the slot, so the other 81% will be lined up across from Jalen Ramsey or Darious Williams. Less than half the passes thrown into either of these cornerbacks' coverage have been caught. No wide receiver has managed 70 receiving yards lined up as an outside receiver against them. There will be games this season where Aiyuk should be in fantasy lineups, but this is not one of them.