In theory, having a top-flight running back in fantasy football is something of a hall pass — you set him in your lineup and boom, that spot is secure for almost the entire season. In reality, you get weeks like the RB-pocalypse that was Week 10, where I counted no fewer than 12 running backs that might be eliciting panic (ranging from "Hm, that stinks" to "OH MY GOD WHAT") from fantasy managers who have rostered them.
Below, let's take stock of those 12 names, in ascending order of PPR points put up on Sunday, and score them on the panic index. How scared should you be? Is there something to do other than "Keep running them out there and hoping"? Let's find out.
(Sunday line: 5 carries for 2 yards, 1 reception for 8 yards, lost fumble, 0.0 PPR points)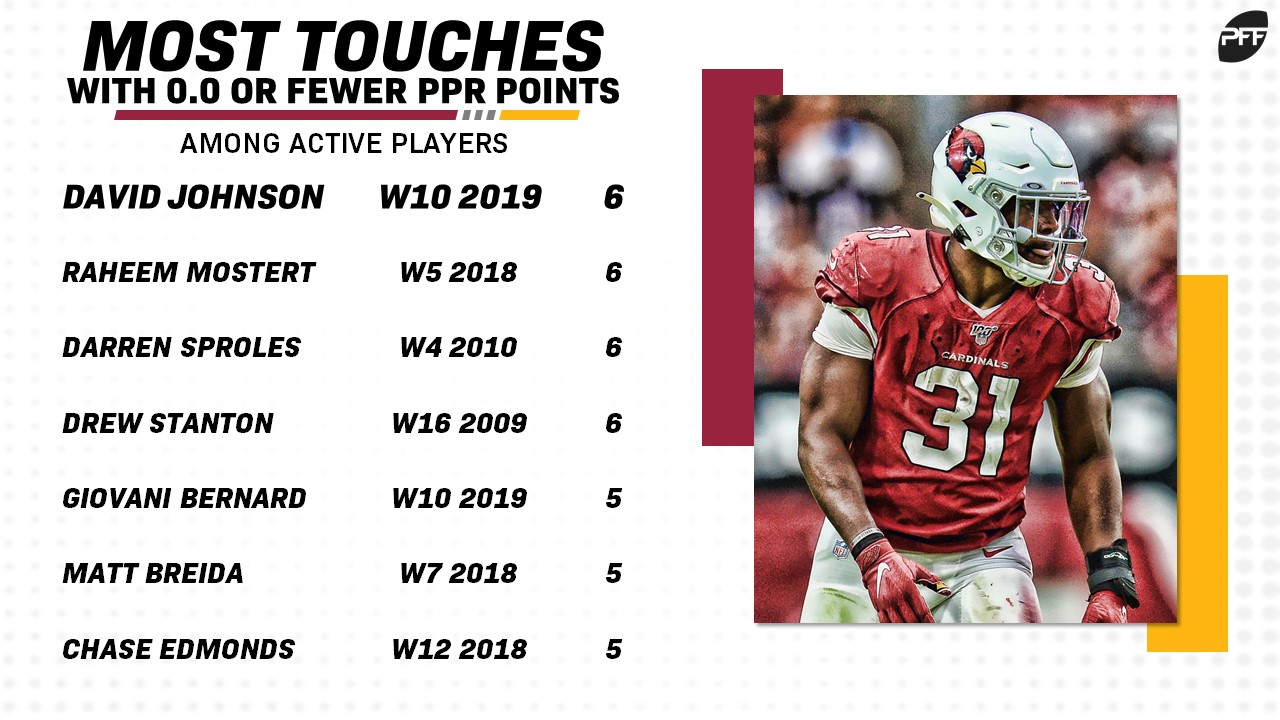 Johnson, who climbed as high as the top-five in fantasy drafts this season, put up exactly the same number of fantasy points Sunday as I did from my desk in central Kentucky. Working in his defense is the fact that the Buccaneers have been lights out against running backs this year, but working against him is almost literally everything else.
Panic meter: 10/10. Johnson will be better than he was Sunday or he just won't play. But he's been less than inspiring all season. He came into Week 10 with the second-worst yards after contact per attempt on the season (2.01 yards) and has only 5 runs of 15-plus yards. And with a Week 11 game looming against the 49ers before the Cardinals bye, Johnson needs to be firmly on fantasy benches at least until after the bye.
(Sunday line: 17 carries for 60 yards, 6.0 PPR points)
Montgomery was supposed to be the Week 10 chalk after he has the two best games of his career in the two preceding weeks and was facing a very friendly Lions defense. Instead, Mitchell Trubisky was actually … decent in the game, with only 173 passing yards but 3 touchdowns.
Panic meter: 3/10. Montgomery has a high ceiling, but it's not one we should count on him reaching with regularity. He's got essentially no receiving role in what is a subpar offense. You'd expect more than 6.0 points, but that's always a knife in his drawer.
(Sunday line: 14 carries for 29 yards, 3 receptions for 11 yards, 7.0 PPR points)
A week after establishing himself as a de facto wide receiver with 13 receptions for 73 yards, Samuels was much more lightly involved in the passing offense Sunday, catching only 3 passes. And his rushing hasn't gotten much better, with 2.1 yards per carry Sunday that brought him to all of 2.2 on the season. The team's other running backs (Tony Brooks-James and Trey Edmunds) combined for 12 yards on 10 carries, so Steelers running backs didn't manage much of anything Sunday.
Panic meter: 6/10. There is absolutely a role for Samuels in this league, but "No. 1 running back" isn't really it. Pass-catching option who can carry the ball in a pinch, a la Tarik Cohen or Darren Sproles (though Samuels is bigger) appears to be more his avenue. And with James Conner getting healthier, that's likely the role we'll see Samuels in going forward.
(Sunday line: 12 carries for 73 yards, 7.3 PPR points)
Opposite Samuels Sunday was Gurley, who is now eight games into his 2019 season and has yet to (a) carry the ball more than 18 times or (b) rush for more than 100 yards in a game. In his first eight games last year, he did those five and four times, respectively, and did the same in 2017. Malcolm Brown and Darrell Henderson combined for 9 carries (though they didn't find much success either).
Panic meter: 5/10. Gurley still has a perfectly acceptable 7 touchdowns this year, and was on a four-game scoring streak coming into this one, and his after-contact numbers are more or less in line with his career numbers. He apparently no longer has his overall RB1 upside, in part because his offensive line has gone in the tank this year. If you want Gurley to be an RB1, maybe the panic meter needs to climb to an 8/10. But for your RB2 — and in many drafts he had fallen that far — he's only mildly concerning.
(Sunday line: 10 carries for 38 yards, 3 receptions for 10 yards, 7.8 PPR points)
Speaking of running backs who haven't cracked 100 yards yet this year, we have Freeman, who actually only has two games of more than 40 rushing yards. He has contributed as a receiver, with 40-plus yards four times and his only 3 touchdowns, but he's not even on pace to crack 1,000 scrimmage yards for the year, let alone rushing.
Panic meter: 8/10. On top of all the statistical reasons for concern, Freeman left Sunday's game with a foot injury and has matchups against Tampa Bay (twice), New Orleans, San Francisco, and Jacksonville left on his schedule. Check the weekly O-line/D-line matchup chart, but Freeman's going to have more worries than not-worries the rest of the year … even if he's healthy.
(Sunday line: 8 carries for 42 yards, 3 receptions for 8 yards, 8.0 PPR points)
We were supposed to see the unleashing of Singletary Sunday after he had had a 20-carry Week 9. And he did more than double up Frank Gore in snaps (43-19), but only out-touched the old man 11-6. Singletary was still efficient, averaging 5.3 yards per carry (he's blowing away all qualifying running backs in yards per carry this year), but only 11 touches for a starting running back is underwhelming.
Panic meter: 4/10. Singletary's still a rookie, and Gore's still usable. Better days are ahead, but Singletary isn't likely to be a fantasy RB1 or particularly close to it this year, and we knew that already.
(Sunday line: 13 carries for 1 yard, 5 receptions for 30 yards, 8.1 PPR points)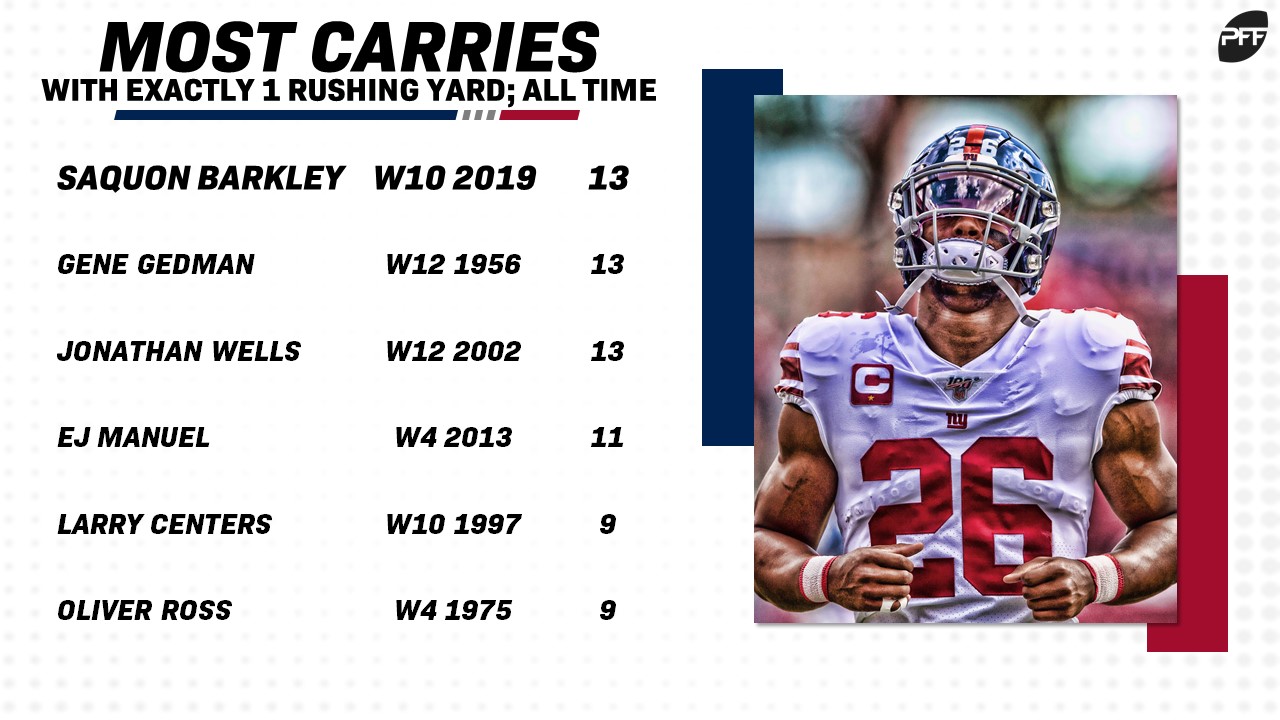 Barkley tied the all-time NFL record for most carries with exactly 1 rushing yard Sunday, equaling Gene Gedman in 1956 and Jonathan Wells in 2002, and yes I had to look both of those players up. He's now run for under 100 yards in each of his last five games (with an injury in there as well), something he never did as a rookie. Since Week 2, Barkley is averaging 2.4 yards per carry. And Giants reporters are suggesting he still isn't healthy.
Panic meter: 9/10. This isn't the Saquon Barkley we saw in 2018. He was banged up in the game. He might not have been healthy to begin with. You don't have a choice but to keep running him out there as long as he's active, but things aren't great.
(Sunday line: 20 carries for 47 yards, 2 receptions for 16 yards, 8.3 PPR points)
Elliott was a Week 10 bust candidate coming into the game, in part because of his decreased role in the passing game and in part because the Vikings have become something of a pass-funnel defense. That came to fruition, with Elliott failing to produce 10 standard points (let alone PPR) for the first time all year.
Panic meter: 2/10. Elliott had 100-plus rushing yards in three straight games before Sunday and had scored a touchdown in six of eight games on the season before Sunday. His reduced work as a receiver is still frustrating, but he's a clear RB1.
(Sunday line: 19 carries for 74 yards, 1 reception for 8 yards, 9.2 PPR points)
This was supposed to be a smash spot for Mack, against a porous Miami run defense and with a backup quarterback that was likely going to lead to plenty of carries. And while he did get the plenty of carries, he turned them into only 74 scoreless yards as the Colts offense failed to do much of anything with Brian Hoyer leading the way.
Panic meter: 4/10. Mack should get back to the good whenever Jacoby Brissett returns to the lineup and the Colts get in better gamescripts. Exactly when that happens, and exactly how good the Colts will be at that point, are the sticking points, but all in all, we aren't terrified about Mack's status.
(Sunday line: 9 carries for 34 yards and a touchdown, 9.4 PPR points)
What was supposed to be an absolute smash spot for Ingram was salvaged only by a touchdown as the Ravens rolled the Bengals mostly on the back of Lamar Jackson's incredible performance. Ingram had his fewest carries and rushing yards of the year and went without a target for the first time since Week 1, and the Ravens won by so much that Gus Edwards and Justice Hill got to finish things off in the fourth quarter.
Panic meter: 2/10. Ingram's not going to be a 20-carry-a-game back this year, but there's not much reason to expect him to have fewer than 10 carries again either. He'll be fine.
(Sunday line: 4 carries for 24 yards, 8 receptions for 50 yards, 15.4 PPR points)
Kamara's day was saved by his 8 receptions, with his yardage coming in very modestly. The Saints offense (outside of Michael Thomas) just couldn't get going Sunday, not even managing a single touchdown in one of the biggest surprise losses of the year. The team attempted only 11 rushes Sunday, with Latavius Murray (5) getting more than Kamara's 4.
Panic meter: 3/10. You'd expect the Saints to be in better gamescripts going forward, which will lead to more carries for Kamara. Murray's strong performances while Kamara was out for two games could lead to slightly more of a workload split than we'd like, but all in all, better days are ahead for the Saints back.
(Sunday line: 18 carries for 34 yards and a touchdown, 4 receptions for 34 yards, 16.8 PPR points)
Nobody is mad at 16.8 PPR points, but Bell couldn't even get to 2.0 yards per carry Sunday, bringing his season average down to a career-low 3.1. He hasn't rushed for more than 70 yards in a game and only has 3 touchdowns, and he's threatening his worst career PFF rushing grade.
Panic meter: 8/10. Bell was drafted as an RB1 in most leagues and he has very much not been that, with his season total looking respectable because of playing time. With the Jets offense scuffling mightily (before Sunday at least) and Bell putting up his least efficient season, you can't view him as anything more than a mid-range RB2.