The exact definition of a fantasy football sleeper or bust is difficult to pin down. For my purposes, I keep it simple: Sleepers are players who I expect to outperform their norm or their expectation, even by a little, and busts are players I expect to fall short. Sometimes, this means a guy is in store for a monster week; sometimes it means a little-used player needs to crack lineups.
Either way, each week in this space I'll use PFF advanced stats to try to identify a handful of the week's key sleepers and busts for fantasy.
Week 9 fantasy football sleepers
Jameis Winston, QB, Tampa Bay Buccaneers: As a consequence of his more … well, Jameis-y ways, Winston has the reputation of a middling quarterback for both fantasy and real football. And for the real game, sure, he's all sorts of risky. But for fantasy? Since Winston's miserable first two weeks, he's fourth in the league in fantasy points per game despite a league-leading 9 interceptions and another 6 fumbles during that time. Against Arizona, it might not be pretty, but a top-five fantasy week seems relatively safe.
Ryan Tannehill, QB, Tennessee Titans: When the Chiefs have kept opposing quarterbacks in check this year, they've done it very well, with Derek Carr, Jacoby Brissett, and Joe Flacco combining for barely 10.0 fantasy points a game. But the opposite is true as well — when things go well for the opposing quarterback, they go very well. Kirk Cousins, Aaron Rodgers, Deshaun Watson, Lamar Jackson, and the Nick Foles/Gardner Minshew combo have each topped 20 points against the Chiefs. Meanwhile, Tannehill is fantasy's QB5 since taking over the starting job.
Sam Darnold, QB, New York Jets: Are you a glutton for punishment? Darnold is comfortably the lowest-graded quarterback over the last three weeks (33.3, Kyle Allen is next-worst at 42.2) with an 8-interception total that is double anyone else. In his defense, those games came against the Patriots (maybe the best defense in the league), the Jaguars (still a good unit), and, uh, the Dolphins (okay, I can't really defend that one). Against the Giants and a 45.2-graded coverage unit, Darnold could get back on track in Week 10.
Mark Ingram, RB, Baltimore Ravens: You'll see on our fantasy points allowed matchup chart that the Bengals are allowing the most PPR points per game to opposing running backs. You'll see on our O-line/D-line matchup chart the only the Bills have allowed more rushes inside the 5 than the Bengals, and only the Rams and Saints have attempted more than the Ravens. And you'll see … pretty much anywhere that Ingram is getting a workhorse workload for Baltimore.
Marlon Mack, RB, Indianapolis Colts: Speaking of the O-line/D-line matchup chart, Mack's matchup this week is off-the-charts good. The Colts have PFF's second-best run-blocking grade so far this year at 75.4, while the Dolphins have bottom-10 run-defense and tackling grades. And with the Colts as heavy 10.5-point favorites in this game and with a less-than-ideal QB situation, this game should run through Mack (pun intended).
David Montgomery, RB, Chicago Bears: Montgomery season appears to be upon us, as the Bears rookie just had his best two games of the season by both playing time and fantasy production. With the Lions allowing the second-most points to the running back position and Mitchell Trubisky's performance not exactly screaming for the Bears to pass much, we can expect Montgomery's improved workload to continue.
Ty Montgomery, RB, New York Jets: Hey, accidental kismet, but let's continue the Montgomery season talk. As of this writing, Le'Veon Bell is expected to play this weekend despite knee and ankle issues coming out of last week's game, but he also hasn't practiced yet this week, so we'll see. Either way, it would seem prudent on the Jets' part to ease up on Bell's workload, and that would mean more touches for Montgomery (or Bilal Powell or newly-added-to-the-roster Josh Adams).
Davante Adams, WR, Green Bay Packers: A 2019 first-rounder a sleeper? Sort of, sure. Adams made his return to the lineup last week and put up a disappointing 41 yards, and his stock is falling as a result. At the same time, though, Adams' usage didn't go anywhere, as he had far and away the team lead with 11 targets. The targets are the important part. The yards will come.
Zach Pascal, WR, Indianapolis Colts: This easily could have slipped under the radar, but Pascal has topped 70 yards three time this year, and two of those were the two games so far that T.Y. Hilton has missed. He's averaged 6.0 targets a game when Hilton has been out, compared to 2.0 when Hilton has played. Hilton is almost certainly out this week, and against the Dolphins, that bodes well for Pascal.
Jamison Crowder, WR, New York Jets: In five games with Sam Darnold at quarterback, Crowder has averaged 8.6 targets, 7.0 receptions, 66.0 yards, and 14.9 PPR points. That 14.9-point mark would by WR20 on the season so far. Even as the Jets offense has been garbage, Crowder's PPR value has remained high.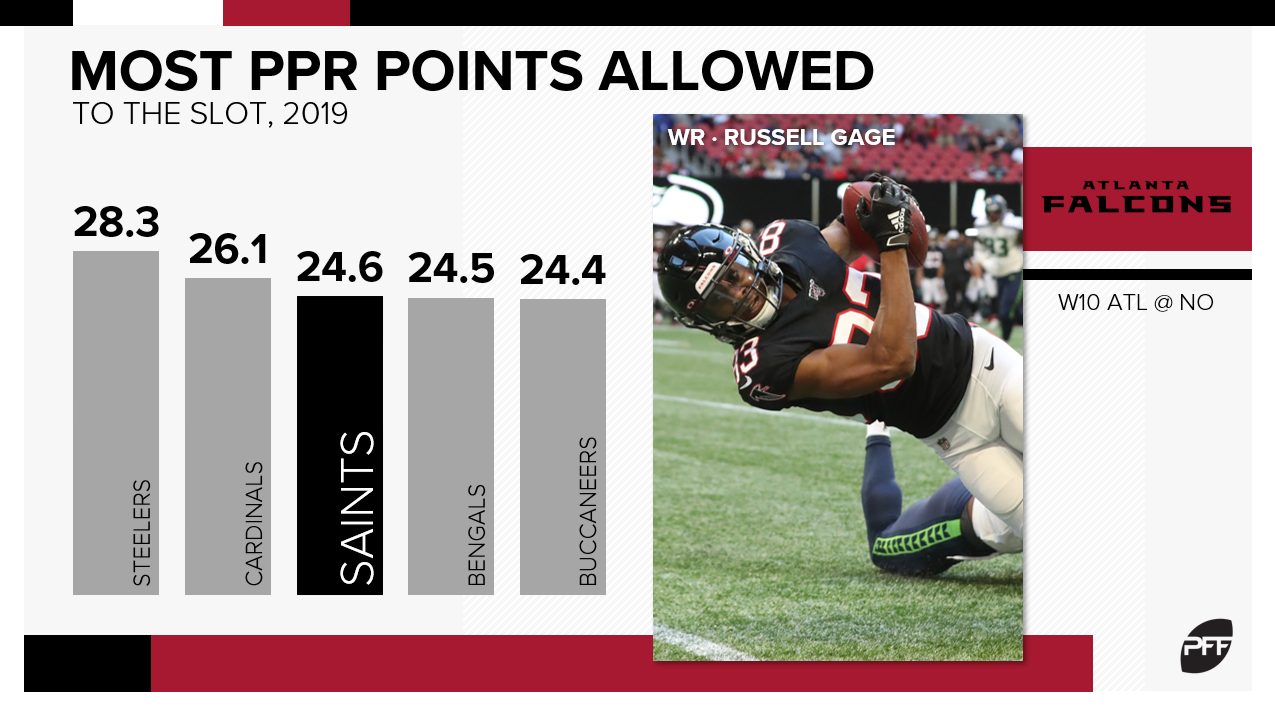 Russell Gage, WR, Atlanta Falcons: It's understandable if you've forgotten Gage; his decent Week 8 game came right before the Atlanta bye, the perfect way to be forgotten. But the 2018 sixth-rounder had 44 yards all season with no more than 2 targets or 1 reception in a game before Week 8, when he was 7-of-8 receiving for a career-high 58 yards. Not coincidentally, that came in the Falcons' first game after trading away slot receiver Mohamed Sanu. Gage inherited the slot role and now gets to face a Saints defense that has been one of the league's worst against the slot this year.
Josh Reynolds, WR, Los Angeles Rams: With Brandin Cooks officially out for Sunday, we'll see some combination of Reynolds and Gerald Everett take on a bigger role. In the eight games he played 40-plus snaps last year (in relief of Cooper Kupp), Reynolds was fantasy's WR28.
Gerald Everett, TE, Los Angeles Rams: Everett is already fantasy relevant without Cooks' absence to help him, but add that in and the fact that the Steelers have allowed two tight ends to put up multiple touchdowns, and Everett has even more appeal.
Vance McDonald, TE, Pittsburgh Steelers: McDonald averaged 3.4 targets per game until the Steelers' Week 7 bye, but that number has made a 50% jump to 5.0 in two games since. Meanwhile, after holding opposing tight ends under 10.0 PPR points in Weeks 1-3, the Rams have allowed 16.6 since, with at least 10 points each game.
Busts
Patrick Mahomes, QB, Kansas City Chiefs: At 100%, Mahomes is never really a concern. But is he 100%? It's not enough to bump him out of starting territory, or even close to it, but if you're saying you're going into the week with no Mahomes concerns at all, I'm skeptical.
Russell Wilson, QB, Seattle Seahawks: Kyler Murray had an excellent game against the 49ers last Thursday. Before that, San Francisco allowed 11.5 fantasy points to the position in total in four games Weeks 5-8. For the season, even allowing for Murray's big game, the 49ers have allowed the fewest points per game to quarterbacks.
Derek Carr, QB, Oakland Raiders: The Chargers don't have the reputation of a fearsome defense that they've had in some seasons of late, but after some early fits and starts, the unit's been strong. Since Week 3, in six games, only Ryan Tannehill has topped 11 fantasy points against this defense, with the team allowing barely 17 (real football) points per game. Only one team has scored more than 24 points against the Chargers all season.
Ezekiel Elliott, RB, Dallas Cowboys: The thing that buoyed Elliott up to (or near) the top of the running back rankings this season — at least before his holdout — was the fact that his receiving skyrocketed a year ago. Elliott's the safest fantasy play in the world, but adding almost 6.0 targets a game to his repertoire helped. Well this year, it's gone in the other direction, and he's down below 4.0 targets a game. This week, against a Vikings team that has allowed only a pair of rushing scores to opposing running backs all year, his floor is still high (of course), but you have to ding his ceiling.
Alvin Kamara, RB, New Orleans Saints: The reputation of the Falcons is as a team that allows running backs to catch an incredible number of passes — they allowed the most receptions to the position every year 2015-2018. But this year, they've allowed only 29, the second-fewest. Combine that with Kamara perhaps being less than 100% after a pair of missed games, and you have to downgrade him a tad.
Nick Chubb, RB, Cleveland Browns: Kareem Hunt's activation won't push Chubb out of starting territory. But at the very least, you'd have to expect Hunt — who carried the third-highest PFF grade among qualified running backs (87.3) across 2017 and 2018 — to have more of a role in the Browns offense than Dontrell Hilliard and D'Ernest Johnson have so far this year. Any work he takes from Chubb just lops off his teammate's ceiling.
Kenny Golladay, WR, Detroit Lions: Chicago hasn't allowed a touchdown to an opposing receiver since Week 3, believe it or not. They were middle-of-the-pack in fantasy scoring allowed to the position those first three weeks, but from Week 4 on, no team has allowed fewer points to opposing receivers than the Bears, despite facing Stefon Diggs, Adam Thielen, Michael Thomas, Keenan Allen, and Alshon Jeffery in that span.
Michael Gallup, WR, Dallas Cowboys: Gallup started the season hot, averaging 9.3 targets, 6.7 receptions, and 113.0 yards (including two of 100-plus) per game in his first three outings Weeks 1-5. In three games since, those numbers have dropped to 6.3, 3.0, and 38.3. And all that despite facing the Jets, Eagles, and Giants defenses in those three games, about as easy a slate as any receiver could ask for.
Marquise Brown, WR, Baltimore Ravens: Would you believe the Bengals have allowed the fewest fantasy points per game to outside receivers this season? Running backs eat them up. Slot receivers have no trouble — Cooper Kupp and Deebo Samuel are the only receivers to top 20 PPR points against the Bengals, and both did the majority of their damage from the slot. But between a reasonable outside defense and gamescripts that don't have opponents passing very often, the Bengals hold outside receivers in check. That makes this week more of a Willie Snead game than a Marquise Brown one.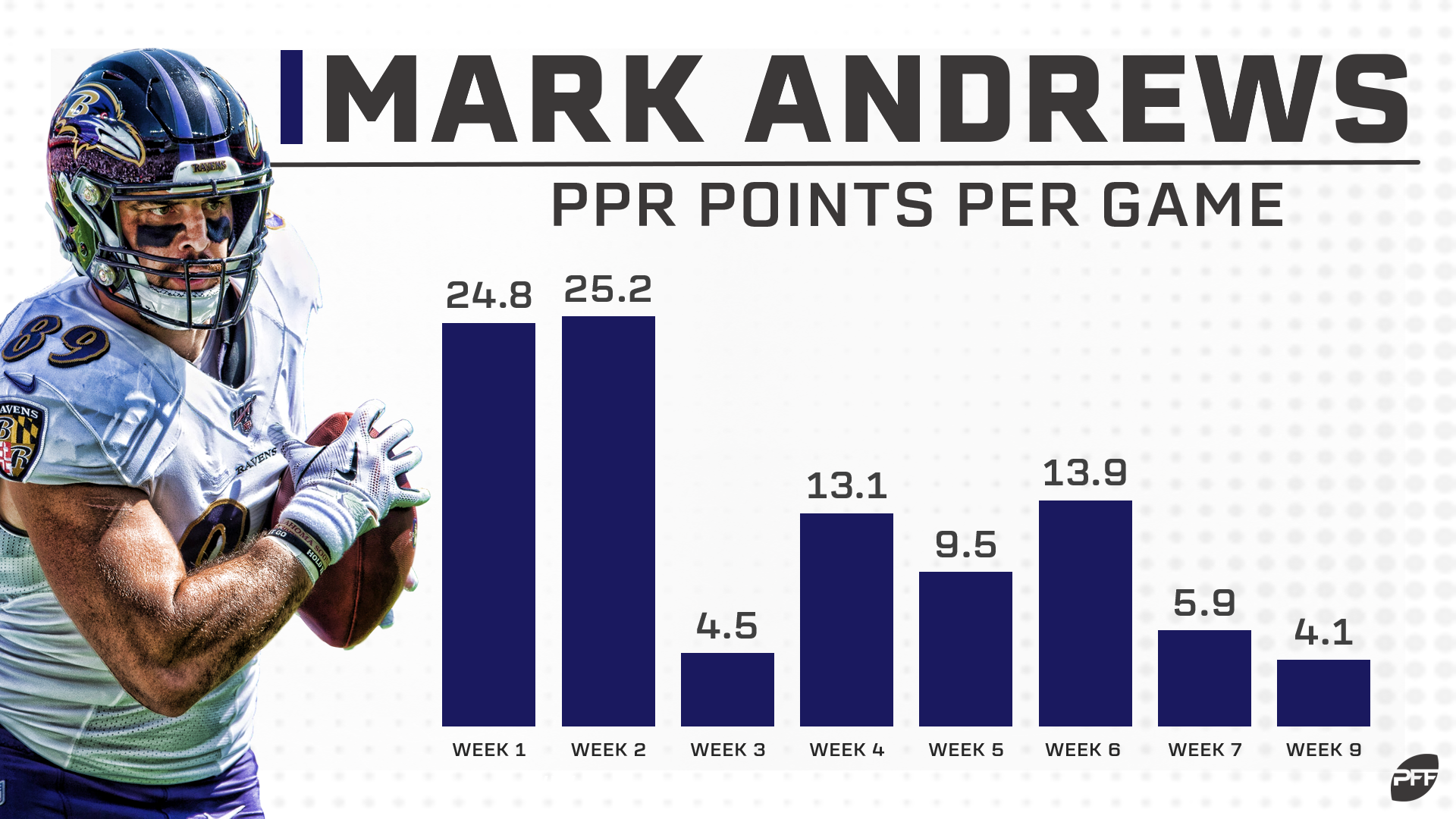 Mark Andrews, TE, Baltimore Ravens: Speaking of the Ravens, Andrews is coasting on his reputation lately. He had lines of 8/108/1 and 8/112/1 in the season's first two weeks, averaging 9.0 targets in those two games. Since then, his targets have fallen to 6.5 per game, his receptions to 3.7, and his yards to 41.7. He's fallen under 50 yards five times in six games and only scored once. Simply put, Andrews' usage hasn't kept up with his name value.
George Kittle, TE, San Francisco 49ers: This is just a call made on worry about Kittle's health. He was held out of a minipractice Tuesday, and while all indications are that he'll play (especially since the 49ers have the extended off time of a Thursday game one week followed by a Monday the next), but any limitations could cost Kittle his fantasy ceiling.