Having a good set of overall fantasy football ranking is the first step in dominating your drafts in 2019. Below you'll find the top 200 PPR rankings for 2019. Why 200? Well, that's essentially 16 rounds of players in a 12-team league. With these rankings you can get a sense of how to value players relative to each other across positions. You'll also get a sense of the trends developing in 2019 fantasy football drafts.
This year's fantasy drafts are likely to see running backs fly off the board early and often. So you'll notice below that there are more running backs in the top 50 than any other position. In total 24 backs crack the top 50. While it may be tempting to zig while others zag this year, keep in mind that so many running backs at the top of rankings actually pushes value down the board at wide receiver. So even if you go running back heavy early in your drafts, you're still likely to find solid value at wideout in the middle rounds.
One of the biggest questions in this year's fantasy football drafts is whether or not to go tight end premium. Travis Kelce, Zach Ertz, and George Kittle will all be off the board by the end of the third round (and maybe even earlier). We know that last year having one of these three players provided a major advantage on nearly a weekly basis. However, spending such a premium pick means you'll likely sacrifice landing a top-15 running back or a top-12 receiver. Is that value cost too great? The answer to that question really depends on where the next five tight ends can be had. Current rankings and ADP data suggest between Rounds 5-8. If that trend holds, it might actually be more cost-effective to pass on the Big 3 and grab one of the next five tight ends off the board.
Casual fantasy football drafters tend to overvalue quarterback. Things aren't as bad as they were a decade ago when you were likely to regularly see quarterbacks drafted in the first round. But signal-callers still tend to go earlier than their relative value suggests they should Patrick Mahomes is the consensus top fantasy quarterback this year, but you'll notice he only comes at No. 41 below. That's a mid-fourth-round fantasy draft grade. And this isn't a knock on Mahomes whatsoever. Simply put, the gap between Mahomes and what you will likely be able to get off waivers each week isn't as large as the gap between the top running backs or wide receivers and a replacement level player. Like most years, the wise thing to do this year is wait at the position a scoop value in and around the ninth or tenth round.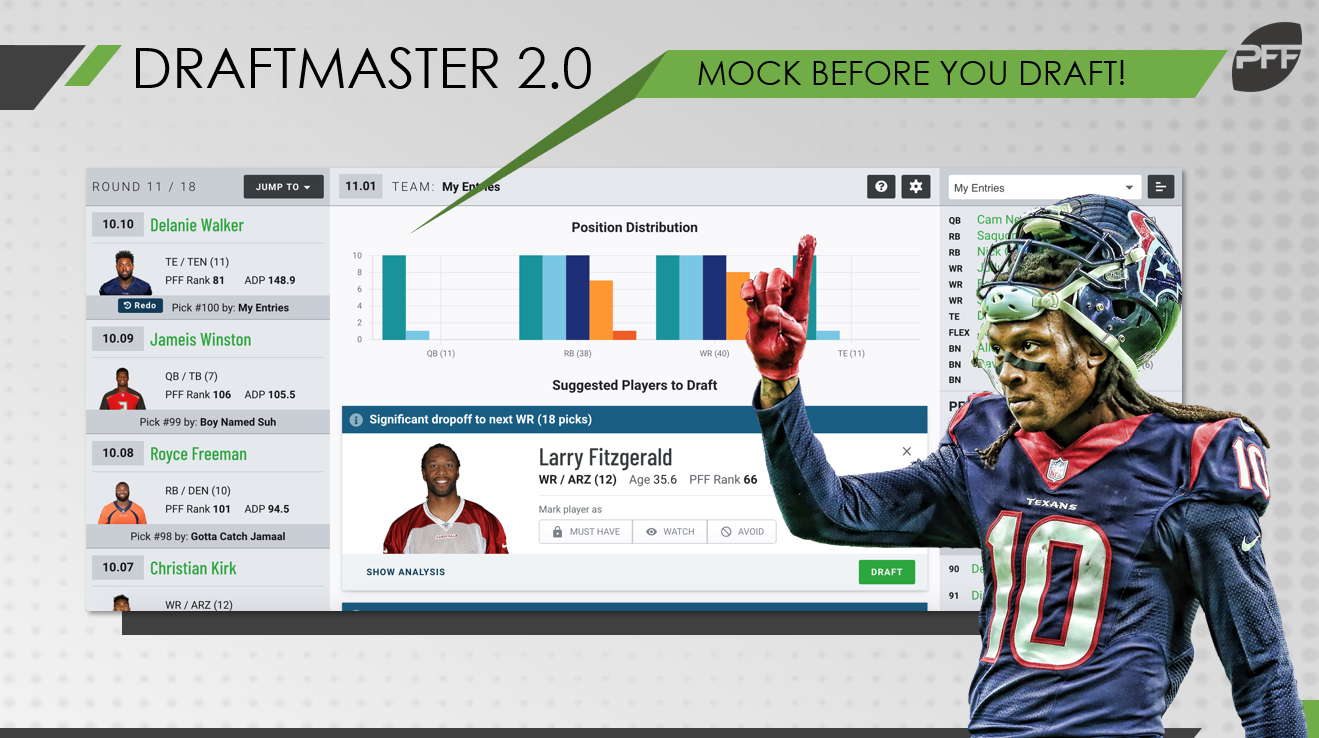 You'll also notice that the top-ranked fantasy team defense is the Chicago Bears at 177th. That's a 15th-round fantasy draft grade, which is nowhere near where they'll be drafted. Current ADP has the Bears coming off the board in the eighth round. So in selecting the Bears at market values means you're likely giving up about seven rounds of value at the position. In this same spot, you could/should be scooping value at wide receiver and running back, drafting one of the five tight ends after the Big 3, or even breaking the seal on quarterback. Any one of those moves will make your team significantly better than drafting a defense in the eighth round. Let someone else make that move. You'll have plenty of upside options to pick from in the late rounds of your drafts.
Check out the full PFF Fantasy staff rankings.
| | | |
| --- | --- | --- |
| Rk | Player | Pos |
| 1 | Saquon Barkley | RB1 |
| 2 | Ezekiel Elliott | RB2 |
| 3 | Christian McCaffrey | RB3 |
| 4 | Alvin Kamara | RB4 |
| 5 | DeAndre Hopkins | WR1 |
| 6 | Todd Gurley II | RB5 |
| 7 | Davante Adams | WR2 |
| 8 | Melvin Gordon | RB6 |
| 9 | James Conner | RB7 |
| 10 | Le'Veon Bell | RB8 |
| 11 | Julio Jones | WR3 |
| 12 | Michael Thomas | WR4 |
| 13 | Antonio Brown | WR5 |
| 14 | David Johnson | RB9 |
| 15 | Joe Mixon | RB10 |
| 16 | JuJu Smith-Schuster | WR6 |
| 17 | Travis Kelce | TE1 |
| 18 | Dalvin Cook | RB11 |
| 19 | Odell Beckham Jr. | WR7 |
| 20 | Nick Chubb | RB12 |
| 21 | T.Y. Hilton | WR8 |
| 22 | Zach Ertz | TE2 |
| 23 | Leonard Fournette | RB13 |
| 24 | Mike Evans | WR9 |
| 25 | Marlon Mack | RB14 |
| 26 | Keenan Allen | WR10 |
| 27 | A.J. Green | WR11 |
| 28 | George Kittle | TE3 |
| 29 | Derrick Henry | RB15 |
| 30 | Adam Thielen | WR12 |
| 31 | Stefon Diggs | WR13 |
| 32 | Robert Woods | WR14 |
| 33 | Devonta Freeman | RB16 |
| 34 | Damien Williams | RB17 |
| 35 | Sony Michel | RB18 |
| 36 | Chris Carson | RB19 |
| 37 | Brandin Cooks | WR15 |
| 38 | Amari Cooper | WR16 |
| 39 | Julian Edelman | WR17 |
| 40 | Aaron Jones | RB20 |
| 41 | Patrick Mahomes | QB1 |
| 42 | Phillip Lindsay | RB21 |
| 43 | Kerryon Johnson | RB22 |
| 44 | Kenny Golladay | WR18 |
| 45 | Mark Ingram II | RB23 |
| 46 | Josh Jacobs | RB24 |
| 47 | Alshon Jeffery | WR19 |
| 48 | Cooper Kupp | WR20 |
| 49 | Sammy Watkins | WR21 |
| 50 | Allen Robinson | WR22 |
| 51 | Chris Godwin | WR23 |
| 52 | Kenyan Drake | RB25 |
| 53 | Tyler Lockett | WR24 |
| 54 | Robby Anderson | WR25 |
| 55 | Lamar Miller | RB26 |
| 56 | DJ Moore | WR26 |
| 57 | Mike Williams | WR27 |
| 58 | James White | RB27 |
| 59 | Hunter Henry | TE4 |
| 60 | Andrew Luck | QB2 |
| 61 | O.J. Howard | TE5 |
| 62 | Calvin Ridley | WR28 |
| 63 | Marvin Jones Jr. | WR29 |
| 64 | Deshaun Watson | QB3 |
| 65 | Aaron Rodgers | QB4 |
| 66 | Tarik Cohen | RB28 |
| 67 | Tevin Coleman | RB29 |
| 68 | Jarvis Landry | WR30 |
| 69 | Tyler Boyd | WR31 |
| 70 | Corey Davis | WR32 |
| 71 | David Montgomery | RB30 |
| 72 | Evan Engram | TE6 |
| 73 | Latavius Murray | RB31 |
| 74 | Matt Ryan | QB5 |
| 75 | Russell Wilson | QB6 |
| 76 | Dante Pettis | WR33 |
| 77 | Will Fuller V | WR34 |
| 78 | Eric Ebron | TE7 |
| 79 | Dede Westbrook | WR35 |
| 80 | Larry Fitzgerald | WR36 |
| 81 | Miles Sanders | RB32 |
| 82 | Drew Brees | QB7 |
| 83 | Courtland Sutton | WR37 |
| 84 | Baker Mayfield | QB8 |
| 85 | Derrius Guice | RB33 |
| 86 | Jared Cook | TE8 |
| 87 | LeSean McCoy | RB34 |
| 88 | Sterling Shepard | WR38 |
| 89 | Christian Kirk | WR39 |
| 90 | Jared Goff | QB9 |
| 91 | Geronimo Allison | WR40 |
| 92 | Cam Newton | QB10 |
| 93 | DeSean Jackson | WR41 |
| 94 | James Washington | WR42 |
| 95 | Carson Wentz | QB11 |
| 96 | David Njoku | TE9 |
| 97 | Curtis Samuel | WR43 |
| 98 | Golden Tate | WR44 |
| 99 | Jerick McKinnon | RB35 |
| 100 | Emmanuel Sanders | WR45 |
| 101 | Ben Roethlisberger | QB12 |
| 102 | Royce Freeman | RB36 |
| 103 | Dak Prescott | QB13 |
| 104 | Austin Ekeler | RB37 |
| 105 | Ronald Jones II | RB38 |
| 106 | Vance McDonald | TE10 |
| 107 | Delanie Walker | TE11 |
| 108 | Jordan Howard | RB39 |
| 109 | Tyrell Williams | WR46 |
| 110 | Jameis Winston | QB14 |
| 111 | N'Keal Harry | WR47 |
| 112 | Kyler Murray | QB15 |
| 113 | Rashaad Penny | RB40 |
| 114 | Dion Lewis | RB41 |
| 115 | Chris Herndon IV | TE12 |
| 116 | Keke Coutee | WR48 |
| 117 | Michael Gallup | WR49 |
| 118 | Mitchell Trubisky | QB16 |
| 119 | Philip Rivers | QB17 |
| 120 | Adrian Peterson | RB42 |
| 121 | Devin Funchess | WR50 |
| 122 | Lamar Jackson | QB18 |
| 123 | Austin Hooper | TE13 |
| 124 | D.K. Metcalf | WR51 |
| 125 | Mecole Hardman | WR52 |
| 126 | Kenny Stills | WR53 |
| 127 | Jamison Crowder | WR54 |
| 128 | Tom Brady | QB19 |
| 129 | Trey Burton | TE14 |
| 130 | Jack Doyle | TE15 |
| 131 | Ito Smith | RB43 |
| 132 | Marquise Brown | WR55 |
| 133 | Marqise Lee | WR56 |
| 134 | Greg Olsen | TE16 |
| 135 | Mohamed Sanu | WR57 |
| 136 | Carlos Hyde | RB44 |
| 137 | Peyton Barber | RB45 |
| 138 | Anthony Miller | WR58 |
| 139 | Jimmy Graham | TE17 |
| 140 | D'Onta Foreman | RB46 |
| 141 | Kirk Cousins | QB20 |
| 142 | Duke Johnson Jr. | RB47 |
| 143 | Kyle Rudolph | TE18 |
| 144 | Matt Breida | RB48 |
| 145 | Jamaal Williams | RB49 |
| 146 | Nyheim Hines | RB50 |
| 147 | Parris Campbell | WR59 |
| 148 | Donte Moncrief | WR60 |
| 149 | John Brown | WR61 |
| 150 | Quincy Enunwa | WR62 |
| 151 | Adam Humphries | WR63 |
| 152 | DaeSean Hamilton | WR64 |
| 153 | Marquise Goodwin | WR65 |
| 154 | Deebo Samuel | WR66 |
| 155 | Darrell Henderson | RB51 |
| 156 | Chris Thompson | RB52 |
| 157 | A.J. Brown | WR67 |
| 158 | DeVante Parker | WR68 |
| 159 | Josh Allen | QB21 |
| 160 | Tre'Quan Smith | WR69 |
| 161 | Robert Foster | WR70 |
| 162 | Tyreek Hill | WR71 |
| 163 | Andy Isabella | WR72 |
| 164 | Jimmy Garoppolo | QB22 |
| 165 | Albert Wilson | WR73 |
| 166 | Jalen Richard | RB53 |
| 167 | Ted Ginn | WR74 |
| 168 | Jaylen Samuels | RB54 |
| 169 | Paul Richardson | WR75 |
| 170 | Kalen Ballage | RB55 |
| 171 | Kareem Hunt | RB56 |
| 172 | Giovani Bernard | RB57 |
| 173 | Jordan Reed | TE19 |
| 174 | Sam Darnold | QB23 |
| 175 | C.J. Anderson | RB58 |
| 176 | Marquez Valdes-Scantling | WR76 |
| 177 | Chicago Bears | DST1 |
| 178 | T.J. Hockenson | TE20 |
| 179 | Noah Fant | TE21 |
| 180 | Mark Andrews | TE22 |
| 181 | Taylor Gabriel | WR77 |
| 182 | Jacksonville Jaguars | DST2 |
| 183 | Los Angeles Rams | DST3 |
| 184 | Minnesota Vikings | DST4 |
| 185 | David Moore | WR78 |
| 186 | Mike Davis | RB59 |
| 187 | Houston Texans | DST5 |
| 188 | Los Angeles Chargers | DST6 |
| 189 | New Orleans Saints | DST7 |
| 190 | Greg Zuerlein | K1 |
| 191 | Derek Carr | QB24 |
| 192 | Gus Edwards | RB60 |
| 193 | Denver Broncos | DST8 |
| 194 | Buffalo Bills | DST9 |
| 195 | Rex Burkhead | RB61 |
| 196 | Matthew Stafford | QB25 |
| 197 | Justin Tucker | K2 |
| 198 | Stephen Gostkowski | K3 |
| 199 | Harrison Butker | K4 |
| 200 | New England Patriots | DST10 |