Our pre-Combine rookie fantasy football rankings continue today with a look at tight end. This isn't the top class we've seen in recent memory, but there's a lot of depth on this list. We're seeing more and more athletic tight ends at the college level, which should breathe new life into the notoriously boring and thin fantasy tight end position.
Of course, the learning curve at the position is steep for young players, so don't expect anyone on this list to hit the ground running and post top-10 fantasy numbers in Year 1. That being said, we do have several players on this list who have the potential to be long-term fantasy options in both dynasty and re-draft leagues.
Check out Jeff's pre-Combine quarterback rookie fantasy football rankings and all of our fantasy football rankings.
1. Hunter Bryant, Washington
A dynamic receiving tight end, Bryant put up an impressive 825 yards on 52 catches in 2019. Bryant especially excelled downfield, with 22.5% of his targets traveling at least 20 yards in the air. His 18 deep-ball targets tied for the most in the nation, and he also tied for sixth in the nation in yards per route run (2.71). Bryant lacks size (6-foot-2, 239 pounds), but we've seen players with similar body types put up strong fantasy numbers. Bryant's "move tight end" profile and ability to make plays downfield make him one of the top long-term fantasy options in this year's class.
2. Adam Trautman, Dayton
Trautman dominated at the FCS level, posting the top numbers among tight ends in the nation for touchdowns (14), receptions (70) and targets (95). While it's always tricky to project small-school players for dynasty purposes, the fact that Trautman posted the second-highest single-season grade (94.2) among tight ends in the PFF College era bodes well for his long-term fantasy outlook. In case you're wondering, the highest grade came from Dallas Goedert (94.9) in 2017.
3. Brycen Hopkins, Purdue
The son of a former NFL player, Hopkins is one of the fastest receivers in this year's class. That speed was on full display in 2019, as Hopkins racked up 61 catches for 832 yards. Over his college career, Hopkins averaged over 7.0 yards after catch per reception. He may not be the most complete tight end in this year's class, but Hopkins has a skill set that is tailor-made for future fantasy production.
4. Harrison Bryant, FAU
Like Trautman, Bryant is a small-schooler who posted very impressive numbers in 2019. He ranked second to Trautman in targets (94) and receptions (65) and led the nation in receiving yards with 1,004. On a per-route basis, Bryant was one of just three qualifying tight ends to top 3.00 yards per route run, at 3.04. The productivity is impressive, but it should be noted that Bryant's career drop rate of 6% was higher than the four tight ends above him on this list. Still, he's an intriguing prospect who is a good bet to surface on the fantasy radar sooner rather than later.
5. Cole Kmet, Notre Dame
Big and athletic, Kmet's profile is similar to that of Austin Hooper or late-season 2019 Tyler Higbee for fantasy purposes. He did very little in his first two seasons with the Irish, but Kmet posted a solid 43 catches for 515 yards and six scores in 2019. His somewhat thin resume at the college level means Kmet is far from a lock for future fantasy success, but his high long-term ceiling makes him an appealing dynasty target.
6. Albert Okwuegbunam, Missouri
Fast for his size (6-foot-5, 255 pounds), Okwuegbunam posted consistent numbers in all three seasons at Missouri. He finished his college career with 98 catches, with 23 of them going for scores. Over that span, Okwuegbunam saw 45 contested targets and covered a solid 20 of them for catches. He's far from the most polished NFL prospect, but his size and athleticism make him a name to know in dynasty circles.
7. Thaddeus Moss, LSU
You may have heard his last name before. His dad is some guy named Randy Moss, but let's be clear that the younger Moss doesn't have his father's game-breaking ability. That's not to discount his play whatsoever, though, as Moss played one season with LSU and was a big part of their success, posting 570 yards and four touchdowns. Of course, it certainly didn't hurt the cause having Joe Burrow throwing him the ball. Still, Moss's pedigree and play last season give him enough intrigue to warrant monitoring.
8. Jared Pinkney, Vanderbilt
Recruited as a wide receiver out of high school, Pinkney converted to tight end in 2016. His breakout came two years later in 2018 when he posted 50 catches for 770 yards and seven scores. Pinkney's production fell off a cliff last season with just 20 catches for 223 yards and two scores, though we shouldn't hold this against him. College numbers are often heavily scheme-dependent. Pinkney's size (6-foot-4, 255 pounds) and athleticism give him a legit shot at being a fantasy option at the pro level.
9. Cheyenne O'Grady, Arkansas
Here's a very tricky player to project. The on-field production at Arkansas was certainly impressive. O'Grady finished his career with 87 catches for 967 yards. His 12 career touchdowns were more than fellow Razorback tight ends Hunter Henry and Jeremy Sprinkle. However, O'Grady was suspended three times during his college career and left the program halfway through the 2019 season. O'Grady has an NFL skill set, but his off-field concerns make him a risky dynasty prospect.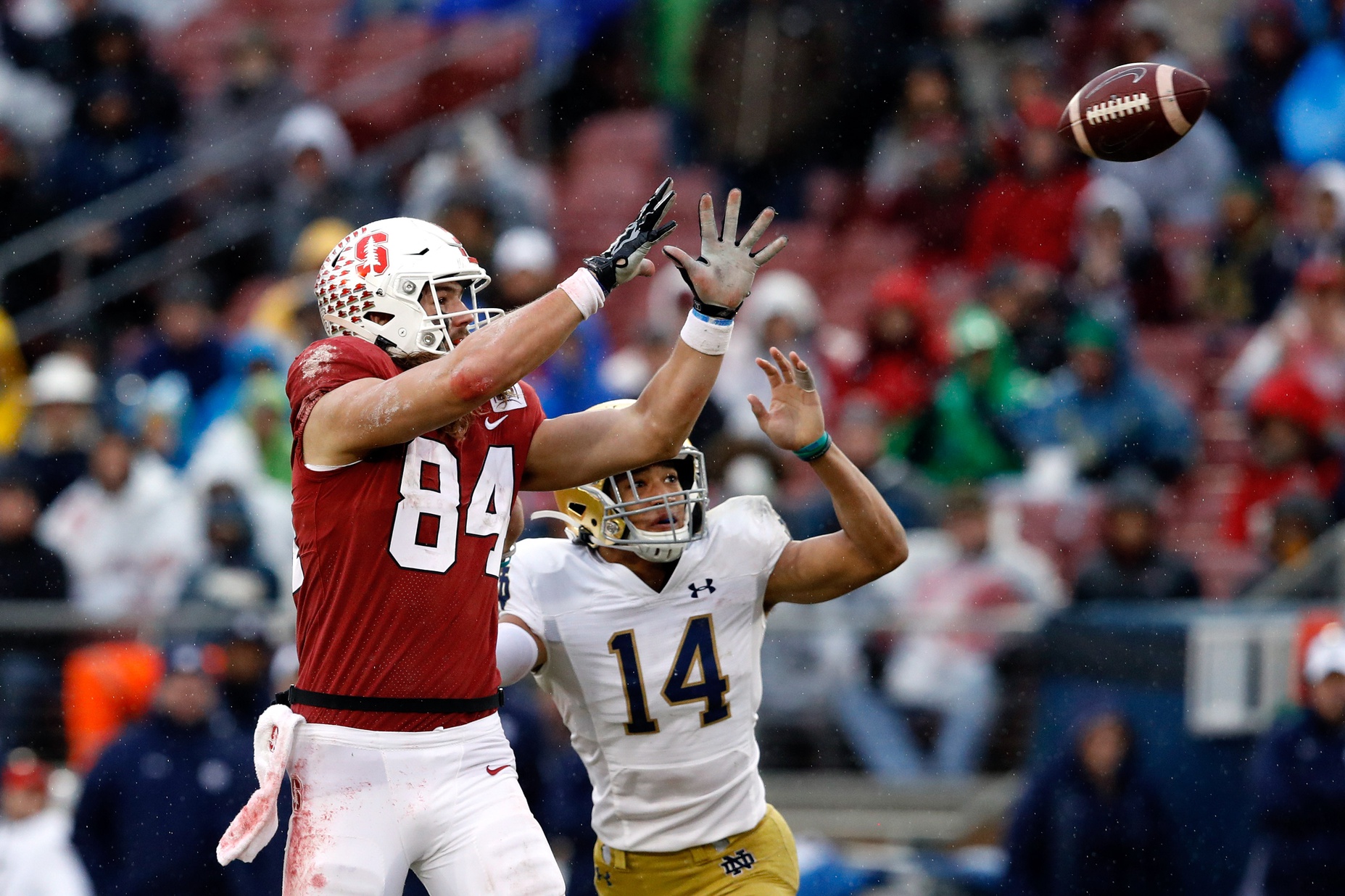 10. Colby Parkinson, Stanford
A wide receiver in a tight end's body, Parkinson averaged a healthy 12.87 aDOT over the course of his college career. That's one of the highest numbers in this year's tight end class. That being said, he wasn't the most efficient player on a per-route basis, posting 1.41 yards per route run. But that isn't the biggest knock. The question is whether he'll catch on as a big-slot type in the NFL. If he does, Parkinson has the potential to surface as a TE2 option somewhere down the line.
11. Devin Asiasi, UCLA
After starting his college career out at Michigan, Asiasi transferred to UCLA in 2017. In Chip Kelly's offense, he posted 44 catches for 641 yards and four scores last season. Despite his big frame (6-foot-3, 260 pounds), Asiasi only caught nine of 26 contested targets in his college career. There are some appealing aspects to his game, but Asiasi will need to improve in order to surface on the long-term dynasty radar.
12. Charlie Taumoepeau, Portland State
Here's another interesting small-schooler in this year's tight end class. Taumoepeau doesn't quite have the luster of Adam Trautman or Harrison Bryant, but the former Viking put up 1,876 yards on 117 catches at the college level. That's a healthy 16.0 yards per catch. Of course, the step-up in class from the FCS to the NFL is steep, and Taumoepeau is a long-shot to become a fantasy option.
13. Jacob Breeland, Oregon
A knee injury back in October ended Breeland's college career, but the former Oregon tight end was in the midst of a career-year. Through six games, he posted 26 grabs for 405 yards and six scores. Despite the solid production, Breeland doesn't project as a long-term dynasty option.
14. Stephen Sullivan, LSU
While he played second fiddle to Thaddeus Moss in the LSU offense, Sullivan was a Senior Bowl participant, catching one ball on three targets for six yards in the game. Those numbers certainly don't stand out, nor does his production at LSU. Sullivan has a background as a wide receiver and pro-level size (6-foot-5, 242 pounds), but he's a better bet to surface as a fantasy option in the XFL than he is in the NFL.
15. Josiah Deguara, Cincinnati
Reasonably productive over the last two seasons, Deguara has the makings of an H-back at the pro level. On the smaller side at 6-foot-3 and 240 pounds, he converted just 25% of his career contested targets for catches. Deguara is unlikely to be a fantasy option in the future.
16. Mitchell Wilcox, South Florida
Converting from tackle to tight end at the high school level, Wilcox projects as more of an in-line option in the NFL. He caught 100 balls in four years at South Florida, but his numbers did take a hit in 2019. Wilcox followed up his 43-catch 2018 season with just 28 receptions last year.
17. Sean McKeon, Michigan
Labeled a "run of the mill mid-to-late-round tight end" in our NFL Draft Guide, McKeon doesn't project to be a fantasy factor at the pro level. In three seasons as a starter, he saw just 97 targets, catching 58 of them.
18. Dalton Keene, Virginia Tech
Over the last three years, Keene was targeted an average of just 5.43 yards from the line of scrimmage. That extremely low aDOT doesn't bode well for him ever surfacing as a fantasy option.
19. Dominick Wood-Anderson, Tennessee
A former high school quarterback who worked his way up from the JUCO level, Wood-Anderson looks the part for the pro level at 6-foot-4 and 257 pounds. Unfortunately, his thin resume of just 38 catches in two seasons with the Volunteers makes it unlikely he ever becomes fantasy relevant.
20. Charlie Woerner, Georgia
More of a fullback/H-back type, Woerner only caught 34 balls in four years at Georgia. His 45.5 career receiving grade is the lowest of this year's tight end class.