With the 2020 NFL Scouting Combine rapidly approaching, it's time to get a lay of the land with some dynasty fantasy football rankings. Today we'll attack the quarterback position. This year's class is an interesting group that is headlined by 2019 Heisman Trophy winner Joe Burrow.
Quarterbacks often tend to offer the most value in dynasty rookie drafts due to the extremely long shelf life we see if the player ends up being a quality starter. Let's be clear that there are very few, if any, of these types of players in each draft class. Furthermore, those players aren't always the easiest to pinpoint, but these rankings will give you a good indication of the best bets.
Before we get into the rankings, we should address a common response to pre-draft rookie fantasy football rankings. It goes something like this: "Why rank players now when everything changes after the draft?" There's no doubt that the draft reshuffles the deck, but that doesn't mean we simply wait until all the picks are in to rank these players for dynasty purposes. Ranking before the draft gives us the advantage of ranking on an even playing field. With no landing spots or depth charts in place, we can compare apples to apples, and we can then use this information to provide even better rankings after the draft takes place.
1. Joe Burrow, LSU
The Heisman winner was off-the-charts good this past season. He certainly isn't the best quarterback prospect we've ever seen from a dynasty standpoint, but it's tough to ignore the numbers. Burrow posted a massive 5,671 yards and 60 touchdown passes in 2019. He has the makings of a future weekly fantasy starter who comes with a long dynasty shelf life.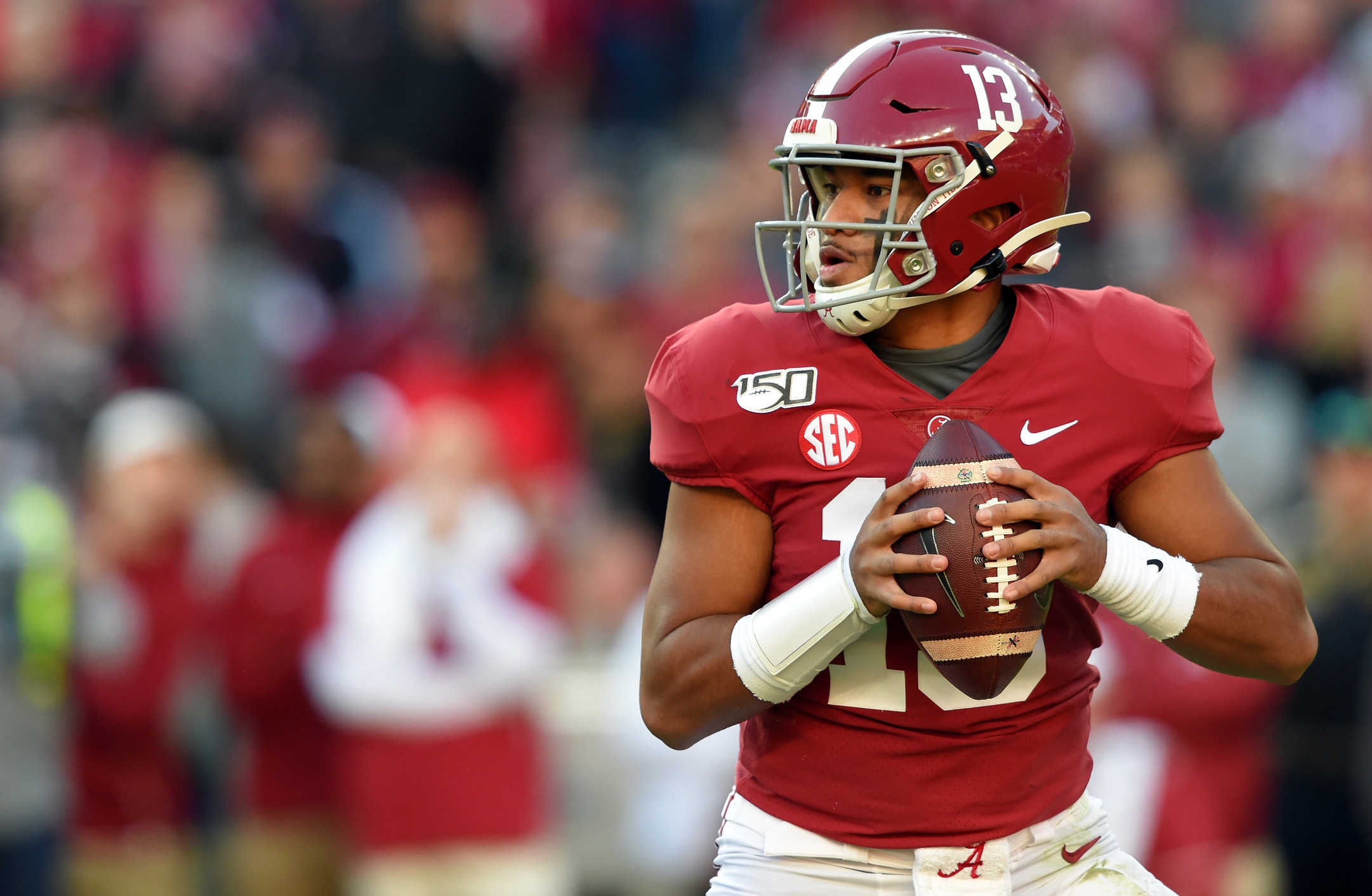 2. Tua Tagovailoa, Alabama
Injury shortened Tagovailoa's 2019 campaign, but the Alabama signal-caller was incredibly efficient over the course of his three years with the Crimson Tide. Tagovailoa completed 69.3% of his throws at a clip of 10.9 yards per attempt. He also threw a touchdown pass on 12.7% of his college throws, which actually trumps the 11.4% Burrow posted in 2019. Of course, the big question with Tagovailoa is how quickly he can recover from his injury. That being said, he still projects as a long-term dynasty starter.
3. Justin Herbert, Oregon
While he wasn't able to match the numbers Burrow or Tagovailoa put up, Herbert still managed 95 touchdown throws and over 10,000 passing yards in four years at Oregon. He certainly looks the part of an NFL quarterback, but our analysts have noted that Herbert came up small in big games in the latter part of his career. That puts a slight dampener on his dynasty outlook, but he's still the clear third rookie dynasty quarterback off the board this year.
4. Jake Fromm, Georgia
Is he the sexiest dynasty prospect in this year's class? No. But Fromm was as steady as they come in his three years as a starter at Georgia. Over that span, he posted 78 passing scores while completing 63.3% of his throws. Fromm was also careful with the football, committing just seven turnover-worthy plays on 445 dropbacks last season. Fromm doesn't project as a long-term, top-10 option in dynasty, but he certainly has the makings of a QB2 option.
5. Jordan Love, Utah State
Comped to Carson Palmer in our NFL Draft Guide, Love is coming off a disappointing 2019 season. To be fair, he experienced a lot of turnover at Utah State, both in the coaching staff and offensive personnel. Still, he did end up throwing 17 interceptions after posting just six in 2018. Love's inconsistencies don't necessarily bode well for future fantasy success, but he does have a chance of surfacing on the long-term radar if he's able to live up to the Palmer comp.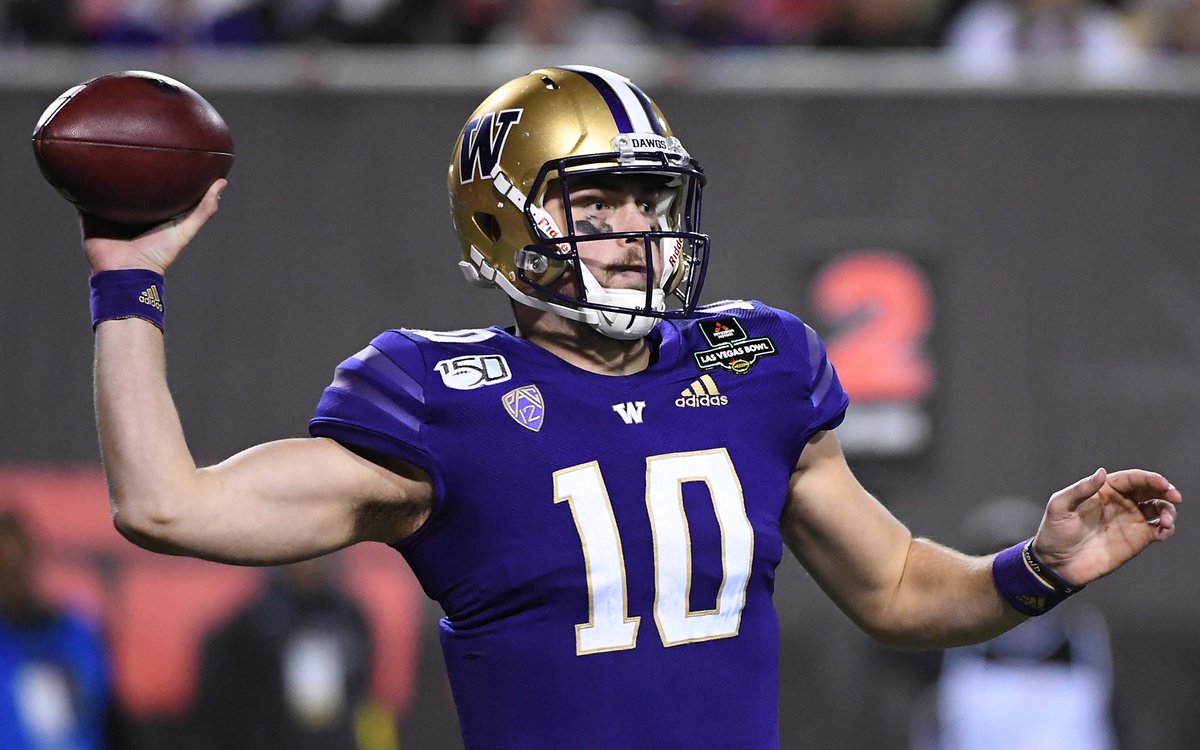 6. Jacob Eason, Washington
Like Ohio State quarterback Justin Fields, Eason transferred out of Georgia after Jake Fromm solidified himself as the starter. The move seemed to pay off, as he started all 13 games for the Huskies last season, posting a 64.2% completion rate to go along with 23 passing scores and just eight interceptions. Eason flashed a big arm last season, tying for 23rd in the nation in deep ball attempts, with 70. Eason's thin resume makes him a bit of a dynasty mystery, but he has the potential to be the fantasy dark horse of this year's class.
7. Jalen Hurts, Oklahoma
Transferring to play under Lincoln Riley worked well for Hurts in 2019, but how does his game translate to the NFL level? If it were 20 years ago, it would be tough to make a case for Hurts, but today's NFL really features dual-threat signal-callers. While Hurts is certainly impressive as a runner, questions about his ability as a passer remain. Still, Hurts has the potential to be a Tyrod Taylor-like fantasy option if he's given the opportunity to start.
8. Shea Patterson, Michigan
A former five-star recruit, Patterson began his career at Ole Miss before transferring to Michigan in 2018. While he came to Ann Arbor with a lot of fanfare, Patterson was unable to live up to the hype. Inconsistencies under center and lackluster accuracy (56.2% in 2019) make it unlikely that he'll emerge as a future dynasty option.
9. Anthony Gordon, Washington State
We have to be careful with using raw stats to evaluate college prospects, and Gordon is a prime example. In 2019, he put up 5,563 passing yards and 48 scores. Those are monster numbers, but they also came in the Air Raid offense, so don't read too much into them. Gordon's former teammate, Gardner Minshew, showed us that quarterbacks certainly have potential coming out of this system, but he's more the exception than the rule. Gordon projects as a deep dynasty bench stash to start his career.
10. Cole McDonald, Hawai'i
If there's a deeper name to know in this year's class, it's McDonald's. To be clear, that doesn't mean he's a lock to be the next Gardner Minshew, but McDonald does have an intriguing skill set. He threw for over 8,000 yards and 69 passing scores over the last two seasons in the Hawai'i run-and-shoot offense. McDonald also showed the ability to run, with 235 rushing attempts over that span. McDonald is far from a perfect prospect, but his combination of running and passing ability makes him a player to keep an eye on through the pre-draft process.
11. Nathan Stanley, Iowa
Getting to throw to the likes of T.J. Hockenson and Noah Fant certainly didn't hurt the cause for Stanley, as he posted 26 passing scores both in 2017 and 2018. That number took a hit in 2019, with Stanley posting just 16 passing scores. He also failed to crack a 60% completion rate at the college level, with a career rate of 58.3%. While Stanley's size and arm strength will get him a look from NFL teams, it's tough to envision him being a long-term dynasty option.
12. Steven Montez, Colorado
The big-armed quarterback wowed at times in his college career, but Montez also showed major inconsistencies. Despite his ability to chuck the ball, Montez managed just 14 big-time throws last season. Our team comped him to Davis Webb, which doesn't say much for his long-term fantasy outlook.