PFF has released the Midseason Update of its 2020 NFL Draft Guide!
Available to all of PFF's EDGE and ELITE subscribers, PFF's Preseason 2020 NFL Draft Guide is chock full of 347 pages loaded with background information, analysis, advanced statistics, grades, round projections, player comparisons and more on 200 potential 2020 NFL Draft prospects. Subscribe today for as low as $9.99 to receive your copy of the guide.
All existing EDGE and ELITE subscribers can download the Preseason 2020 NFL Draft guide here.
Update Schedule
Version 1 — August 12, 2019
Version 2 — October 15, 2019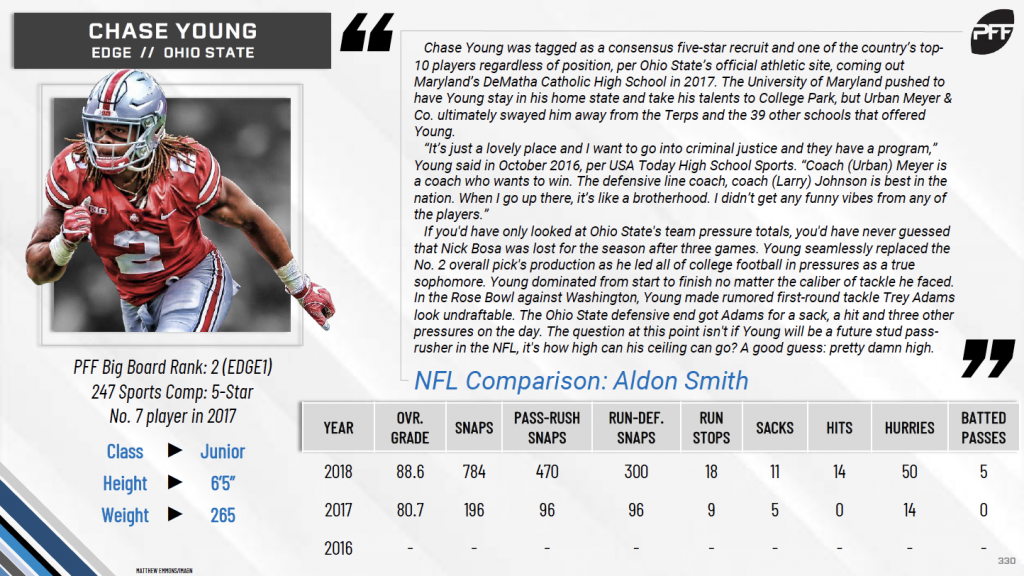 200 Three-Page Player Profiles
Page 1 of PFF's 200 three-page player profiles in the 2020 NFL Draft Guide: Midseason Update includes notable pre-college background information and valuable in-school information to preview the prospect's recruiting background, injury history, any notable off-field concerns and more. PFF's Lead Draft Analyst Mike Renner also included his NFL player comparison for nearly every prospect in the guide. On the numbers side of things, page 1 includes three-year grades and stats for every prospect in addition to listed height, weight and 247Sports Composite star status.
Moving the page 2 of the player profiles, PFF's 2020 NFL Draft Guide: Midseason Update includes more advanced stats for every player and compare those to the class average. Renner also offers his list of pros and cons for every prospect in addition to a "Bottom Line" and round projection for all 200 players.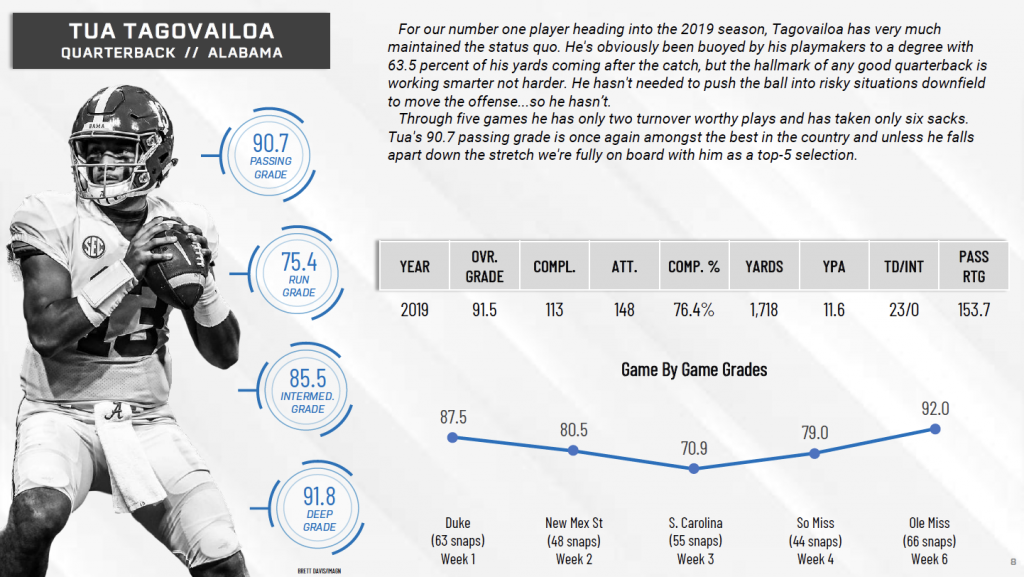 And onto page 3, we've added this page to include single-game grades for Weeks 0-6 of the 2019 college football season, commentary on every player's start to the year and key facet grades from said span.
Draft Board
Renner, in addition to loading the guide with information on 200 players, has put together an updated big board for the top 75 players in the guide. The big board and position rankings offer great insight on where Renner currently see the 2020 class.
Stats Appendix
For those interested in just the numbers, a stats appendix is attached to the back-end of the guide to provide many the advanced stats referenced in the guide in tabular format.
Conclusion
All of PFF's EDGE and ELITE subscribers have access to PFF's 2020 NFL Draft Guide: Midseason Update. Version 1 includes all of the above, and a second version will be released on October 15, 2019 with more profiles and information.
Subscribe to PFF's EDGE or ELITE subscription today to you download your copy of PFF's 2020 NFL Draft Guide: Midseason Update.