The tight end position is extremely difficult to project in fantasy football. There is a clear top five, but then there is a large group of players with a potential path to top-10 production. 
Snaps and touchdowns will be the key to identifying tight ends with top-10 fantasy upside. We want players who are projected to run a lot of routes in high-scoring offenses.
Let's preview the 2022 NFL season by breaking down breakout players, sleepers and busts at the tight end position.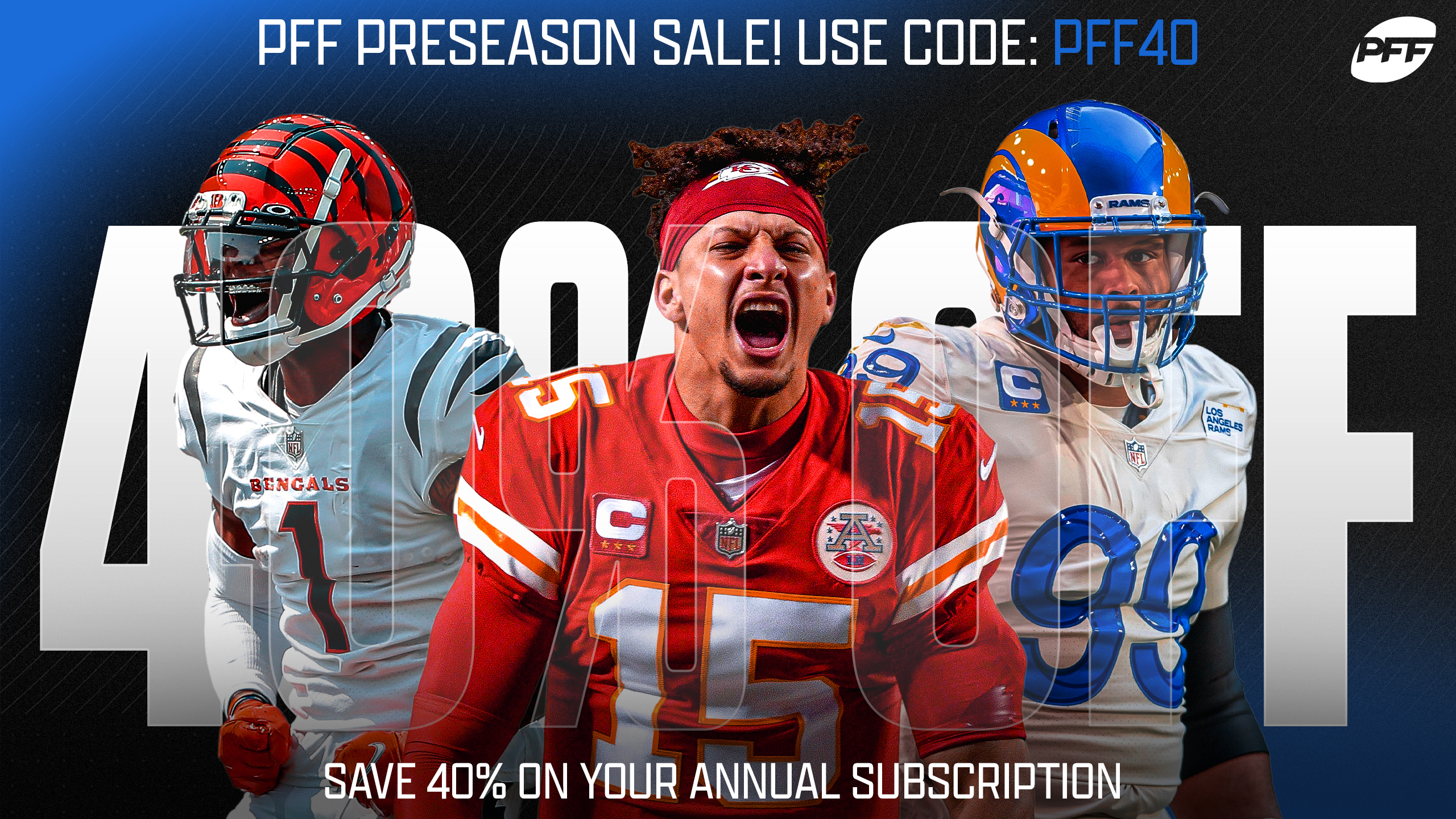 Breakouts
PFF analyst Ian Hartitz has been driving the Irv Smith hype train all offseason, and I am fully on board. Minnesota will boast a pass-first offense under new Head Coach Kevin O'Connell, and Smith will be featured in the Rams' old Tyler Higbee role. Higbee played over 90% of offensive snaps in 13 games last year — if Smith can even approach that usage number, he has the potential to be a top-10 fantasy tight end.
PFF's consensus fantasy rankings have Smith Jr. at overall TE12, which is typically ahead of his average draft position.
Albert O is a physical freak who ran a blazing 4.49 40-yard dash at the 2021 NFL Combine while measuring 6-foot-5 and 258 pounds. He registered a solid 67.3 PFF grade (16th) in his rookie season and is primed to make a leap in Year 2 with Russell Wilson under center.
Okwuegbunam was listed as a PFF fantasy football sleeper with huge breakout potential. PFF's consensus fantasy rankings have Okwuegbunam above his usual average draft position at overall TE13.
The Chargers must have big plans for Everett after signing him to a two-year, $12 million contract in free agency to replace Jared Cook. Everett flashed at times in Seattle and Los Angeles, but this is his first true opportunity to be a full-time starter.
Cook ran a route on 65% of Justin Herbert's dropbacks last season — a strong role for a player who will be catching passes from arguably the most talented quarterback in the entire NFL. With a little touchdown luck, Everett could double his touchdown total from last year and finish with eight scores. He could surprise as this year's Dawson Knox — a top-10 fantasy tight end buoyed by touchdowns.
PFF's fantasy projections are very bullish on Everett, ranking him as the overall TE12.
You might be noticing a trend in this list of breakout tight ends — they all should run a lot of routes on a high-powered offense. Higbee boasts the best route rate of them all at 85% in 2021. Routes run equals fantasy production at the tight end position. 
Additionally, Cooper Kupp is unlikely to repeat his magical triple-crown season, which means that there could be receiving production up for grabs in Los Angeles. 
PFF's fantasy projections love Higbee, ranking him as the overall TE9. 
Sleepers
At 6-foot-5 and 267 pounds, big Mo is built like an ideal red-zone weapon. He tallied 10 red zone targets last season, tied with Jack Doyle, who the Colts let walk in free agency. Alie-Cox is now the favorite to lead the Colts tight end group while gaining an even larger red zone role.
Alie-Cox posted a respectable 66.4 PFF grade (18th) last season. PFF's fantasy projections rank him as the overall TE23, and there is significant upside from here if he runs into a few extra touchdowns. 
The TE1 spot in Tampa Bay is wide open after the retirement of Rob Gronkowski. Cameron Brate is simply a catch-and-fall player — his 3.1 yards after catch per reception was the lowest mark among all tight ends last season. 
Otton saw limited receiving usage in college at Washington, but he possesses some big-play ability after averaging a career 11.3 yards per catch and 5.7 yards after catch per reception. Maybe he develops a rapport with Brady in training camp and over the course of the season. There are plenty of targets available in this offense with Gronk gone and Chris Godwin recovering from his injury.
I love targeting uncertain team situations in fantasy football because they always come at a steep discount. Otton is free in fantasy drafts — PFF's consensus fantasy rankings have him at overall TE30. 
Busts
Pitts is truly a unicorn from a talent and physical perspective, but his third-round fantasy draft price is way too high considering the Falcons likely bottom-five offense. The quarterback downgrade from Matt Ryan (74.7 PFF grade last season, 15th among all QBs) to Marcus Mariota (64.8 PFF grade in 2019, 27th among all QBs) is astronomical. 
Fantasy tight end production is driven by touchdowns, and Pitts scored a grand total of one touchdown last season. His touchdown prop is set at just 4.5 on DraftKings Sportsbook. The man is a future all-pro and fantasy juggernaut, but I will not be spending a premium draft pick on an offense coached by Arthur Smith and led by Marcus Mariota. 
PFF's consensus fantasy rankings have Pitts at overall TE3 and fantasy projections at TE4, but I would rather draft Darren Waller or George Kittle one to two rounds later. 
The young Bears tight end is an ascending player in this league, but this season he is a secondary option on an offense with serious question marks. Touchdowns are critical to fantasy production for tight ends, and Kmet failed to find the paint even once last season — his zero touchdowns on 89 targets ranked worst among all tight ends, and only Laviska Shenault Jr. posted worst TD efficiency among all players. 
PFF's consensus fantasy rankings are low on Kmet at overall TE17, but he typically comes off the board a few spots higher in fantasy drafts.