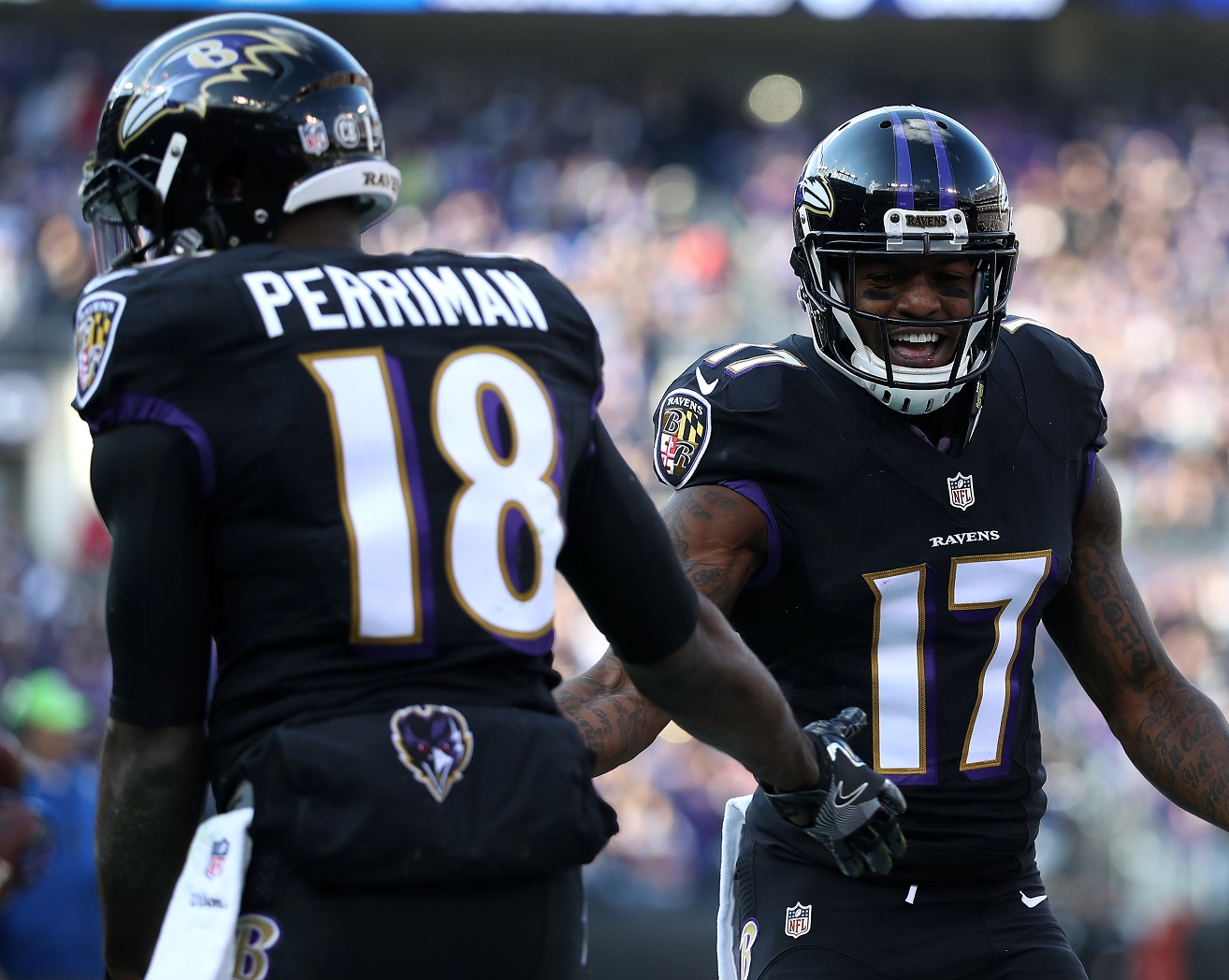 BALTIMORE, MD - NOVEMBER 27: Wide receiver Breshad Perriman #18 of the Baltimore Ravens celebrates with teammate wide receiver Mike Wallace #17 after scoring a first quarter touchdown against the Cincinnati Bengals at M&T Bank Stadium on November 27, 2016 in Baltimore, Maryland. (Photo by Patrick Smith/Getty Images)
Wide receiver battles are not just for a position, but also for opportunity. The process of winning the position includes building trust with a quarterback, which leads to higher target volume and prioritization in key situations like the red zone. Teams still use specialists, but they are more creative in deploying them effectively.
Depending on the team, some are able to support two or even three fantasy-relevant receivers. This offseason saw both free agents and rookies walk into situations where they could contribute quickly. Additionally, teams are seeing untested players emerging this offseason, pressuring the incumbent.
Below is a (not complete) group of receiver battles that could be fruitful for the winner(s). That doesn't mean the loser(s) has no value, but it could make their ability to contribute to a fantasy team more difficult.
Being a receiver on the Bears doesn't seem like a beneficial situation, but the slate is clean with everyone having something to prove. Surprisingly, the team actually ranked 14th last year in passing yards in 2016 despite having three different starting quarterbacks and finishing 22nd in pass attempts. Partially, this was the result of 77 deep pass attempts by the Bears, which would have finished fifth if the Bears only started one signal-caller.
Meredith is the favorite to be the top target in the offense. He was just one of 35 wide receivers to manage a wide receiver rating over 100 last year. Meredith has the size (6-foot-3, 200 pounds) and versatility to play the slot (52 percent of routes) or outside (48 percent) and be successful. White remains the former first-round pick who hasn't hit for the third straight offseason. Like Meredith, White has size (6-3, 210) but with only one starting season at the FBS college level and limited NFL snaps (192 total), he has to refine technique quickly to be a difference maker. The remaining three options are all primarily slot threats. While Cruz has had the most historical success, his injury history is extensive. Wright has been the most productive in recent years, but lost snaps last year to lesser receivers. Wheaton, somehow, is owed six million dollars in guaranteed money, but is also out several weeks after getting an appendectomy.
Likely starters Week 1: Meredith and White. Meredith is the easy call, but with White's inconsistencies being reported already out of training camp, the latter is much tougher. White is the only receiver who can be a jump ball option for the feather-armed Mike Glennon, so he should have a long leash if he struggles. When Meredith is not running slot routes, Wright is a gut call to be the primary option inside as the only healthy, reliable guy in training camp. Meredith is the only one to draft with confidence and could even see some of those Alshon Jeffery/Brandon Marshall levels of target volume.
There is no need to bring Sammy Watkins into this conversation. When he is healthy, the Bills have their top receiver. This is a battle for the second spot, which has added value due to Watkins' cloudy injury history. The Bills are not a pass-oriented offense — they were last in the NFL with just 474 pass attempts — but there were 11 instances in 2016 where a non-Watkins wide receiver had more than 5 targets in a game. 10 of those instances have left the team.
Second-round pick Jones is the favorite here. He is getting early looks in camp as both an inside and outside receiver, which will help keep Jones on the field. Jones led college football with an astounding 216 targets last year and still managed to finish 25th out of 264 in yards per route run. Holmes came over from the Raiders and has hovered on the outskirts of fantasy view. His special-teams ability should keep Holmes on the roster at a minimum. Corey "don't call me Philly" Brown is also new, having spent the last three years in Carolina fighting for targets. He spent 80 percent of his routes in the slot last year so Brown could find a niche in this offense.
Likely starter Week 1: Jones. The team seems committed to giving Jones every opportunity to win the job. Inconsistency will be common here as there is not enough overall volume to stabilize more than one receiving option in the offense. A season similar to Tyler Boyd's rookie year (54 receptions, 603 yards) looks like a good place to start.
Let's ignore the Joe Flacco injury for a moment and focus on what we do know. The Ravens liked to throw in 2016, leading the NFL with 679 pass attempts. They had the third-fewest rushing attempts last year and did little to move toward a ground-focused offense. The team also had 61 percent of its throws go over the middle last year, the highest in the NFL.
Of the three, we know the least about Perriman. The speed is obviously there, but his need for improvement with route running and hand catching hasn't occurred with so much time off the field. Perriman is dealing with a hamstring injury in training camp, setting his development back even further. Wallace re-emerged last year, topping 1,000 receiving yards for the third time in his career and the first since 2011. He finished 15th in routes run (585), but that was largely a result of a depleted receiving group. Maclin comes over from the Chiefs, where he topped 1,000 receiving yards in 2015, breaking a three-year drought for the team before injuries cut short his 2016 season. Maclin ran 47 percent of his routes from the slot last year, a career-high for the veteran.
Likely starters Week 1: Wallace and Maclin. The Ravens are down multiple tight ends this offseason so all three will see the field, but I suspect the veterans are leaned heavily on. The team used Steve Smith until he became a walking corpse so there is a history of using older players over young options. Perriman will likely get outside snaps when healthy, pushing Maclin to the slot when the team needs a third receiver. Maclin could be the best fantasy receiver of this group, which is likely a top-24 option.
The recent injury to Will Fuller opened the door for a disappointing youngster to emerge. The Texans will likely be a conservative offense, but Tom Savage and rookie Deshaun Watson have to be an improvement over the failed Brock Osweiler experiment of 2016. PFF rated the Texans the worst NFL passing offense largely buoyed by Osweiler's last-place rating among qualified quarterbacks. Even still, this team ranked 14th in pass attempts last year, so they were willing to throw even when it was ineffective.
Miller led the team in slot routes run (154), spending two thirds of his time in that role. However, he is not known as a deep threat like Fuller, evident by the mere three deep targets, a far cry from Fuller's team-leading 30. Strong certainly has the height (6-3) to play outside and a 42-inch vertical along with a basketball background gives him an advantage down the field in jump ball situations. Weight has been an issue but reports suggest Strong is down 30 pounds from his rookie season (198 pounds now), which could be an indication of renewed focus.
Likely starter Week 1: Strong. Talent was not the issue with Strong's early struggles. He has all the tools combine scouts love and was a successful player at Arizona State before being drafted. Expect Strong to play outside and contribute as both a receiver and run blocker. Miller should become the primary slot receiver, but that was largely known prior to the Fuller injury. His upside likely doesn't change while Strong could become a fringe flex option for fantasy owners while Fuller misses the first half of the season.
Yes, Blake Bortles is not fun to own. Fortunately, owners of Jacksonville receivers don't get penalized for interceptions. The Jaguars were fourth in the league last year in pass attempts, although the addition of Leonard Fournette will likely bring that total down. Hopefully with that balance, efficiency will improve and his PFF QB rating goes up from last year's 78.0 (third worst among qualified players).
Last year served as a reminder of why the Jaguars drafted Lee before Allen Robinson and Hurns (who was undrafted). After fighting injuries his first two years, Lee was the highest-graded Jacksonville receiver in 2016 and finished with more yards per route run (1.55) than Robinson (1.33). Meanwhile, Hurns is a former thousand-yard receiver, but had his own injury setbacks in 2016. When healthy, Hurns saw a dramatic shift in slot duties, going from 37 percent of his routes during his breakout 2015 to 70 percent in 2016. Lee likely contributed to that change.
Likely starter Week 1: Lee. Hurns has the nice contract but Lee proved to be more effective, evening finishing 16th among NFL receivers with 11 missed tackles last year. The Jaguars will have decisions to make with Lee and Robinson becoming free agents, but Hurns' contract gives them an out to terminate without much cost. Hurns should continue in the slot while Lee operates outside. Lee's 2016 (63 catches, 851 yards) seems like a realistic area to project for next year with possible improvements on the low touchdown count (three). Hurns is going to be the one to suffer in this situation as the run game and more talented options win out, barring injury.