Just because the NFL regular season is over doesn't mean the fantasy football action has to end. Postseason fantasy football is a great way to get another month of your fantasy fix or a chance for redemption if the 2019 season didn't quite go your way.
Of course, fantasy football playoff leagues come in a variety of formats. The three most common are salary cap, one-and-done, and traditional draft. Regardless of which your league uses, the idea remains the same – pick the players who are going to score the most points.
In draft-style leagues, this task is much easier in the regular season. Barring any injuries or suspensions, all players play the same amount of games. But in the playoffs, as teams are eliminated, you lose those players. The key here is to draft not just quality players, but quality players on teams that have the best chance to play multiple games and hopefully advance to the Super Bowl.
(Check out our fantasy football playoff rankings cheat sheet.)
To determine which teams you think will advance, I suggest drawing up a bracket and make your picks just as you would for the NCAA Men's Basketball Tournament. When mapping out your picks, remember that Vegas is your friend. Here are the current odds to win the Super Bowl:
| | |
| --- | --- |
| Baltimore Ravens | 9/4 |
| San Francisco 49ers | 7/2 |
| Kansas City Chiefs | 4/1 |
| New Orleans Saints | 5/1 |
| Green Bay Packers | 12/1 |
| New England Patriots | 14/1 |
| Seattle Seahawks | 30/1 |
| Minnesota Vikings | 40/1 |
| Houston Texans | 40/1 |
| Philadelphia Eagles | 40/1 |
| Buffalo Bills | 50/1 |
| Tennessee Titans | 50/1 |
The Ravens are the clear-cut favorites, with an implied probability of 30.8% to win the Super Bowl. Buffalo and Tennessee bring up the rear this year. At 50/1, both teams have just a 2% chance of winning the big game.
Of course, for fantasy football playoff leagues, winning the Super Bowl isn't as important as making it to the Super Bowl. Our goal is to target players who are going to play the most games. Here we can again use implied probability to our advantage.
| | | |
| --- | --- | --- |
| Baltimore Ravens | 5/6 | 54.5% |
| San Francisco 49ers | 5/4 | 44.4% |
| Kansas City Chiefs | 2/1 | 33.3% |
| New Orleans Saints | 12/5 | 29.4% |
| Green Bay Packers | 7/2 | 22.2% |
| New England Patriots | 7/1 | 12.5% |
| Seattle Seahawks | 14/1 | 6.7% |
| Minnesota Vikings | 18/1 | 5.3% |
| Philadelphia Eagles | 18/1 | 5.3% |
| Houston Texans | 20/1 | 4.8% |
| Buffalo Bills | 25/1 | 3.8% |
| Tennessee Titans | 25/1 | 3.8% |
You can certainly take Vegas at their word and use these probabilities to map out your playoff bracket. However, that approach will have you ending up with an extremely chalky set of picks. While the better team often wins in the NFL, it's a big long shot that top-seeded team wins every game in the playoffs. So have some fun and pick the teams you think are going to win. Here's how I see things unfolding:
Wild Card Round
Houston defeats Buffalo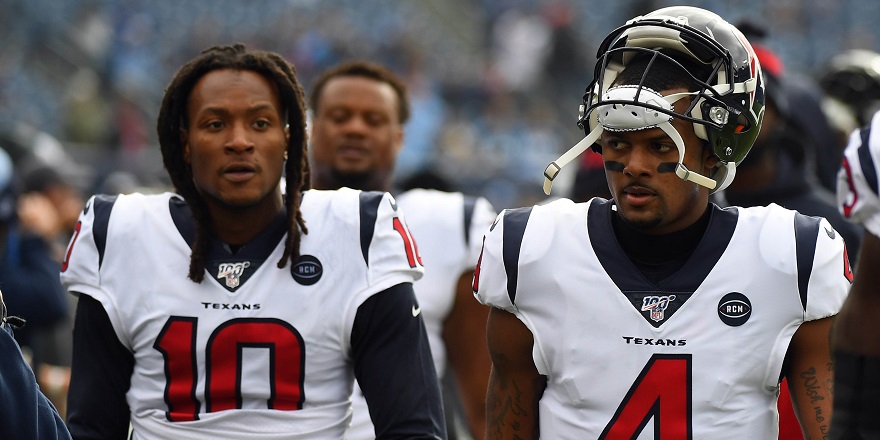 © Christopher Hanewinckel-USA TODAY Sports
The Bills have had a heck of a run this season, but it's a tall task to have to go on the road and win in the playoffs with a young and inexperienced team. Of course, this result does assume that the Texans have the trio of Deshaun Watson, DeAndre Hopkins, and Will Fuller back on the field.
New England defeats Tennessee
Mike Vrabel has a chance to get that sweet revenge against his former team, but expect Bill Belichick to have a plan in place to neutralize the league rushing champ Derrick Henry. Remember, the Pats are also quite familiar with Ryan Tannehill, having faced him twice per year when he was with the Dolphins. New England's lackluster offense will score just enough to get them by the Titans.
New Orleans defeats Minnesota
Don't expect the Minneapolis Miracle Part 2 in this one, as these are very different teams than the ones that faced each other back in January of 2018. New Orleans may not be loaded with weapons, but their top talent is elite in Michael Thomas and Alvin Kamara. Drew Brees should have no problem exploiting the Vikings secondary. Of course, key to a win for the Saints is containing Dalvin Cook and the potent Vikings run game.
Seattle defeats Philadelphia
We have two teams decimated by injuries in this contest. The Seahawks lost their entire backfield over the last month of the season, and the Eagles can seem to keep their pass catchers healthy along with Miles Sanders dealing with an ankle injury. Seattle had just enough to hold off Philly in their regular season meeting despite poor conditionals that led to a lackluster day for Russell Wilson and the Seahawks passing game.
Divisional Round
Baltimore defeats Houston
Lamar Jackson and company enter the playoffs as the favorite to win the title. The Ravens run game comes at you from all angles, and the team has been lights out in the red zone. This is a tall task for the Texans.
Kansas City defeats New England
In a matchup of two of the best coaches of the last 20 years, the Chiefs get the slight edge. Let's be clear that it's never a pushover to face the Pats in January, but the Chiefs offensive firepower will be too much even for the stellar New England defense.
New Orleans defeats Green Bay
The Packers may have had the quietest 13-3 season in NFL history. Despite not having the offensive weapons they've had in recent seasons, Green Bay should put up a fight at home. However, it's tough not to like the Saints in this one, especially because of their potent one-two punch in the backfield with Alvin Kamara and Latavius Murray.
San Francisco defeats Seattle
Round 3 this season goes to the winner of the second matchup. If the Seahawks were fully healthy, it'd be a much tougher game to pick. But as Week 17 showed us, they didn't quite have enough to get by San Francisco. The impressive season for Kyle Shanahan and company continues.
Conference Championship
New Orleans defeats San Francisco
The first meeting between these two teams proved to be one of the most entertaining of the season with a massive 94 combined points scored. The 49ers pulled out a win in that one, but we're going in the opposite direction and picking the Saints to get the win and play the coveted four-game playoff schedule.
Kansas City defeats Baltimore
Sure, we could go with the chalk here, but you can't win your fantasy football playoff leagues by picking the same winners as everyone else. Kansas City struggles against the run, so this one could be a bit of a stretch. But we're going to roll with it and pick Andy Reid to finally get back to the Super Bowl.
Super Bowl
Kansas City defeats New Orleans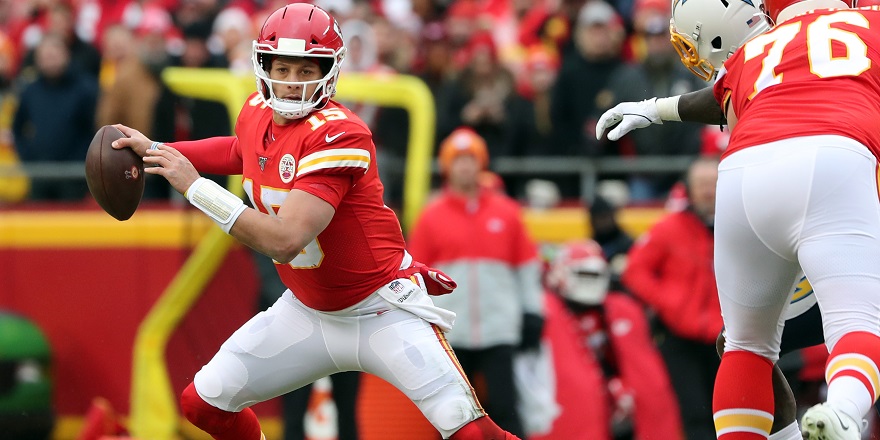 © Jay Biggerstaff-USA TODAY Sports
Patrick Mahomes battle multiple injuries this season, but that will all be an afterthought. The young quarterback cements his name atop the list of the top quarterbacks of the new generation and begins his march toward G.O.A.T. status.
So these results give use the following amount of games for each team: Saints (4), Chiefs (3), Patriots (2), Ravens (2), 49ers (2), Seahawks (2), Texans (2), Packers (1), Bills (1), Titans (1), Vikings (1), and Eagles (1).
While it's very easy to simply leave things like this, I'd strongly advise against it. Using full games, we'll end up with a set of rankings that is heavily weighted toward the three-game teams. And the reality is that the teams that we pick to lose don't have a 0% chance to win.
Based on the projected spread for each game, we can calculate the team's percentage change of winning. If you'd like to calculate the chance of winning, here's the formula: 0.0319*-x+0.5001 where "x" is the projected margin of victory. For the margin of victory, you can use your own numbers or the spreads (though you'll only have spreads for Wild Card weekend).
So given the numbers I ran in my model, these percentages can be converted to the following games played:
| | |
| --- | --- |
| Team | Games |
| New Orleans Saints | 2.72 |
| Baltimore Ravens | 2.24 |
| San Francisco 49ers | 2.18 |
| Kansas City Chiefs | 2.06 |
| New England Patriots | 2.02 |
| Houston Texans | 1.92 |
| Seattle Seahawks | 1.81 |
| Philadelphia Eagles | 1.45 |
| Green Bay Packers | 1.44 |
| Buffalo Bills | 1.40 |
| Tennessee Titans | 1.36 |
| Minnesota Vikings | 1.31 |
With these projected games, we can now put together fantasy football playoff rankings. Here's my draft board along with some additional thoughts on strategy.
1. Lamar Jackson, BLT QB1
2. Michael Thomas, NO WR1
3. Drew Brees, NO QB2
4. Patrick Mahomes, KC QB3
5. Alvin Kamara, NO RB1
6. Travis Kelce, KC TE1
7. Tyreek Hill, KC WR2
Fantasy football playoff leagues have a lot of differences from regular season leagues. One of the big ones is that you can't wait at quarterback. You don't want to be stuck with someone like Kirk Cousins this year, so It's important to nail your quarterback selections early. You'll notice three signal-callers in this top tier of names with Jackson topping the list. Prioritize getting one of the quarterbacks who you think will make it to the Super Bowl in the first round.
8. George Kittle, SF TE2
9. Mark Ingram, BLT RB2
10. Damien Williams, KC RB3
11. Aaron Jones, GB RB4
12. Derrick Henry, TEN RB5
13. DeAndre Hopkins, HST WR3
14. Jared Cook, NO TE3
15. Julian Edelman, NE WR4
Try to get the most bang for your buck in this range. Even if you don't think a team will play more than one game, players like Jones and Henry have good value in this range. And there's always the chance you're wrong on your game picks.
16. Dalvin Cook, MIN RB6
17. Raheem Mostert, SF RB7
18. Latavius Murray, NO RB8
19. Davante Adams, GB WR5
20. Mark Andrews, BLT TE4
21. Deshaun Watson, HST QB4
22. James White, NE RB9
23. Tyler Lockett, SEA WR6
24. Deebo Samuel, SF WR7
25. Marshawn Lynch, SEA RB10
26. D.K. Metcalf, SEA WR8
27. Jimmy Garoppolo, SF QB5
28. Sony Michel, NE RB11
The 49ers are tricky in this draft. While they're in a good position to potentially play three games, the regular season taught us that we can't necessarily set our watch by any of their skill position players with the exception of George Kittle. That said, the team did show us at various points this year that they can point points on the board.
29. Boston Scott, PHI RB12
30. Emmanuel Sanders, SF WR9
31. John Brown, BUF WR10
32. Russell Wilson, SEA QB6
33. Tom Brady, NE QB7
34. Josh Allen, BUF QB8
35. Carlos Hyde, HST RB13
36. Marquise Brown, BLT WR11
37. Devin Singletary, BUF RB14
38. A.J. Brown, TEN WR12
39. Stefon Diggs, MIN WR13
40. Dallas Goedert, PHI TE5
If you miss out on the first four quarterbacks, this is a good range to grab two. Wilson and Brady don't look like great bets to face each other in the big dance. However, if they do, you'll get four games out of each. That would make it very tough for you to not win your league.
41. LeSean McCoy, KC RB15
42. Tevin Coleman, SF RB16
43. Miles Sanders, PHI RB17
44. Travis Homer, SEA RB18
45. Wil Lutz, NO K1
46. Jamaal Williams, GB RB19
47. Duke Johnson, HST RB20
48. Jacob Hollister, SEA TE6
49. Kendrick Bourne, SF WR14
50. Harrison Butker, KC K2
51. Kenny Stills, HST WR15
52. Gus Edwards, BLT RB21
53. Carson Wentz, PHI QB9
54. New Orleans Saints, NO DST1
55. Aaron Rodgers, GB QB10
56. Rex Burkhead, NE RB22
57. Jonnu Smith, TEN TE7
58. Matt Breida, SF RB23
59. Adam Thielen, MIN WR16
60. Justin Tucker, BLT K3
61. Cole Beasley, BUF WR17
62. Tre'Quan Smith, NO WR18
63. Will Fuller, HST WR19
64. Greg Ward, PHI WR20
65. Zach Ertz, PHI TE8
66. Robbie Gould, SF K4
Unlike in regular season leagues, you don't want to wait to grab your kicker and defense. Again, you'll want to lean heavily on your bracket picks and draft the kickers and defenses you project play the most games. Wil Lutz will likely be the first kicker off the board with the Saints defense likely being picked in the same range.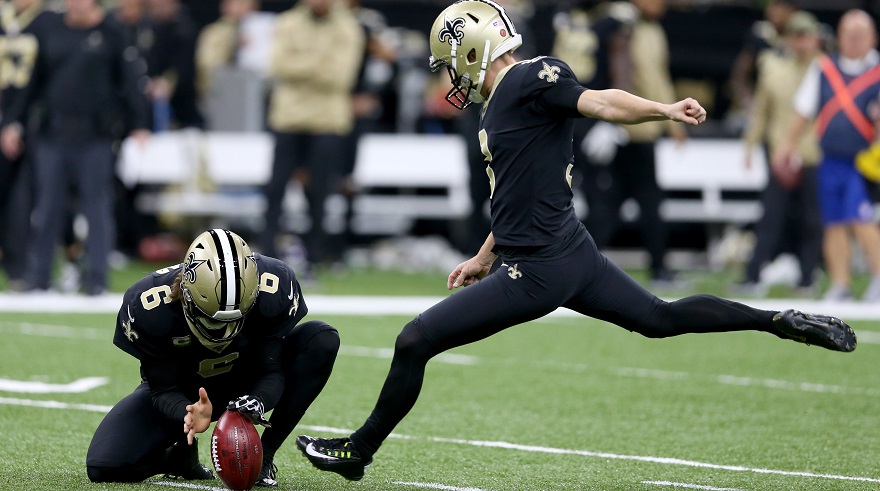 © Chuck Cook-USA TODAY Sports
From this point forward continue to load up on the teams you think will go the furthest, and don't be bashful. This means picking guys deep down the depth chart. So players like Tre'Quan Smith or Gus Edwards very intriguing in the later rounds if you happened to load up on the Saints or Ravens.
67. Kyle Rudolph, MIN TE9
68. Ted Ginn, NO WR21
69. Allen Lazard, GB WR22
70. Nick Folk, NE K5
71. Keke Coutee, HST WR23
72. Ryan Tannehill, TEN QB11
73. Darren Fells, HST TE10
74. Darwin Thompson, KC RB24
75. Jimmy Graham, GB TE11
76. Ka'imi Fairbairn, HST K6
77. Sammy Watkins, KC WR24
78. Tajae Sharpe, TEN WR25
79. Willie Snead, BLT WR26
80. Hayden Hurst, BLT TE12
81. Baltimore Ravens, BLT DST2
82. Jordan Howard, PHI RB25
83. Jason Myers, SEA K7
84. Taysom Hill, NO QB12
85. Kirk Cousins, MIN QB13
86. Seth Roberts, BLT WR27
87. Mecole Hardman, KC WR28
88. Josh Hill, NO TE13
89. San Francisco 49ers, SF DST3
90. N'Keal Harry, NE WR29
91. Adam Humphries, TEN WR30
92. Kansas City Chiefs, KC DST4
93. Mike Boone, MIN RB26
94. Jordan Akins, HST TE14
95. Nick Boyle, BLT TE15
96. Kyle Juszczyk, SF RB27
97. Dion Lewis, TEN RB28
98. Jake Elliott, PHI K8
99. Alexander Mattison, MIN RB29
100. Justice Hill, BLT RB30
101. Jeff Wilson, SF RB31
102. New England Patriots, NE DST5
103. Mohamed Sanu, NE WR31
104. Nelson Agholor, PHI WR32
105. Houston Texans, HST DST6
106. Corey Davis, TEN WR33
107. David Moore, SEA WR34
108. Jakobi Meyers, NE WR35
109. Dawson Knox, BUF TE16
110. Seattle Seahawks, SEA DST7
111. Irv Smith Jr., MIN TE17
112. Matt LaCosse, NE TE18
113. Philadelphia Eagles, PHI DST8
114. Ross Dwelley, SF TE19
115. Benjamin Watson, NE TE20
116. Phillip Dorsett, NE WR36
117. Brandon Bolden, NE RB32
118. Mason Crosby, GB K9
119. Dwayne Washington, NO RB33
120. Frank Gore, BUF RB34
121. Ryan Izzo, NE TE21
122. Malik Turner, SEA WR37
123. Olabisi Johnson, MIN WR38
124. Nick Bellore, SEA RB35
125. Green Bay Packers, GB DST9
126. J.J. Arcega-Whiteside, PHI WR39
127. Joshua Perkins, PHI TE22
128. Robert Tonyan, GB TE23
129. Buffalo Bills, BUF DST10
130. Miles Boykin, BLT WR40
131. Anthony Firkser, TEN TE24
132. Kalif Raymond, TEN WR41
133. Geronimo Allison, GB WR42
134. Isaiah McKenzie, BUF WR43
135. Marcedes Lewis, GB TE25
136. C.J. Ham, MIN RB36
137. Ameer Abdullah, MIN RB37
138. Laquon Treadwell, MIN WR44
139. Tyler Kroft, BUF TE26
140. Blake Bell, KC TE27
141. DeAndre Carter, HST WR45
142. Stephen Hauschka, BUF K10
143. Jaron Brown, SEA WR46
144. MyCole Pruitt, TEN TE28
145. Demarcus Robinson, KC WR47
146. Byron Pringle, KC WR48
147. Tennessee Titans, TEN DST11
148. Jake Kumerow, GB WR49
149. Tyler Ervin, GB RB38
150. Zach Line, NO RB39
151. Greg Joseph, TEN K11
152. Khari Blasingame, TEN RB40
153. Marquez Valdes-Scantling, GB WR50
154. Patrick Ricard, BLT RB41
155. Luke Willson, SEA TE29
156. Deonte Harris, NO WR51
157. Lee Smith, BUF TE30
158. Robert Foster, BUF WR52
159. Dante Pettis, SF WR53
160. Robert Davis, PHI WR54
161. Dan Bailey, MIN K12
162. Richie James, SF WR55
163. Anthony Sherman, KC RB42
164. Dan Vitale, GB RB43
165. Buddy Howell, HST RB44
166. Patrick DiMarco, BUF RB45
167. Cody Hollister, TEN WR56
168. Chris Moore, BLT WR57
169. Minnesota Vikings, MIN DST12
170. Andre Roberts, BUF WR58
171. Krishawn Hogan, NO WR59
172. De'Anthony Thomas, BLT WR60
173. John Ursua, SEA WR61
174. Alexander Hollins, MIN WR62
175. Matt Slater, NE WR63