A little over a month ago, I took a look at 32 different players across the NFL as they got set to embark on training camps across the country. The goal was to feature players with the most to prove for fantasy football, the most room to go up/down ADP wise, and the players involved in the most intriguing camp battles.
Today, we're taking a look back at 16 of those players to see where they're at now. Below is the AFC training camp watch list; Monday, we'll tackle the NFC. For some of these players, not much has changed. For others, the light bulb came on or slowly dimmed out entirely.
AFC East
Pryor's training camp was more publicized than most players who made our list. It started with his former Washington Redskins teammates berating him during joint practices after they supposedly shut him down during individual drills despite using safeties and not cornerbacks in coverage. It ended with Pryor catching praise on social media after showing post-catch burst on a touchdown pass from Sam Darnold with the first-team offense in the regular season dress rehearsal.
Robby Anderson appeared to be the Jets wide receiver to own prior to training camp based on his efficiency stats and rapport with Josh McCown from 2017. With a new and rookie quarterback in the mix, targets are up for grabs. There are enough red flags to consider him more of a player to monitor on the waiver wire than one to draft — Pryor appears to be locked in to either the No. 3 or 4 wide receiver job.
Drake's draft stock slightly rose but remained for the most part depressed this preseason despite the fact he nearly broke yards-after-contact-per-attempt records in 2017. The reason? Old reliable Frank Gore. If you're drafting this week, that could change fast. Drake was hyper-productive in limited snaps during his last two preseason appearances and now head coach Adam Gase is talking about getting him 15-20 carries and 6-8 targets per game.
Those numbers are not likely to be reached for Drake — or nearly any running back — but it's clear the Dolphins have big plans for him and they're not afraid to lean on him at the expense of Gore. Vegas projects the Dolphins to have one of the lowest NFL win totals (6.5), and if they do fall behind early and often in games, it's difficult to envision the coaching staff turning to Gore over Drake in catch-up mode.
The Patriots put the bubble wrap on Burkhead this preseason. Burkhead didn't practice all that much this training camp and he was not a factor in the preseason. Recently, it was reported that Burkhead is dealing with a "slight tear" in his knee. While the word tear is alarming, the Patriots consider it a minor injury and he has since returned to practice. Reporters covering the team on a daily basis believe the Patriots are being overly cautious with Burkhead because he will be a focal point of the offense. Given his red-zone and receiving efficiency in 2017, we still view Burkhead as a slam-dunk pick in the seventh round at his ADP in what should be one of the highest-scoring and fastest-paced offenses in the NFL.
It hasn't been a great offseason for Benjamin in his first full spring/summer with the Bills. First, Benjamin got himself in trouble off the field by offering controversial commentary on his former quarterback Cam Newton. Shortly after, Benjamin got himself in trouble with fans on social media for dropping an easy contested catch from rookie quarterback Josh Allen in the regular-season dress rehearsal. Benjamin's ADP hasn't moved much despite the fact that no other Bills wide receiver is making any consistent buzz at training camp or in the preseason. It's not going to be fun clicking his name, but Benjamin's target volume overall and in the red zone makes him a fine mid-round dart throw.
AFC North
The Gordon training camp tour got derailed when he decided to take some time to better prepare himself and only return to the team once Dez Bryant visited — I mean, he felt comfortable. Shortly after returning to the Browns, Gordon tweaked his hamstring in practice. further cementing the reality that owners will have to draft him with very little information at their disposal. Browns coach Hue Jackson said he won't start Gordon in Week 1, but that could simply mean he won't be on the field for the first offensive snap. Gordon remains a mid-round target based on his ability to win downfield and how that fits so well with quarterback Tyrod Taylor's skill set and offensive coordinator Todd Haley's scheme.
McDonald is another player on our preseason watch list who had his training camp muddied by an injury. McDonald missed most of the preseason with a foot injury that we received very few details on from head coach Mike Tomlin. Although McDonald is still listed as the No. 1 tight end on the depth chart, and in theory is an excellent fit down the seam for Ben Roethlisberger, there are better late-round tight end options available unless you play in a league with deep benches.
Dixon's preseason went better than initially expected after he missed the first week and change of training camp with an injury. The third-year running back has been more hype than production to this point of his career, with a torn meniscus and PED suspension derailing his 2017 season, but it was interesting to see him enter the game this preseason as the No. 2 back behind Alex Collins. In the second preseason game, Dixon showed a little of that pre-injury form in the passing game. Given Collins' small sample size of success as a lead back and Dixon's impressive production at the collegiate level, you can do a lot worse with your last-round pick.
Bengals director of personnel Duke Tobin said Mixon would be the team's bell-cow back at the combine and now the preseason has cemented this. Although Giovani Bernard has taken a few snaps with the first-team offense, Mixon has taken the vast majority. The jury is still out on the revamped Bengals offensive line, specifically in the run game, and thus Mixon has struggled rushing the football this preseason. On the flip side, he has shown excellent moves in the open field as a receiver out of the backfield where he been targeted early and often by Andy Dalton. Mixon remains a high-upside running back target in the third round of you drafts.
AFC South
Over the final three games of 2017, Miller was out-snapped by veteran retread Alfred Blue 98 to 64. Miller was also out-touched by Blue 50 to 30. Now that we're all the way through 2018 training camp and the preseason, we have seen no signs that suggest this was anything more than a game plan to finish up a lost season. Miller has operated as the featured back this preseason, he's back down to his playing weight from his Miami Dolphins days when he consistently ranked among the league leaders in our breakaway percentage statistic. Since the start of training camp, Miller's ADP has jumped, and head coach Bill O'Brien calling him a three-down back certainly played a factor in that. With major question marks about the Texans offensive line (ranked No. 32), Miller has become a less desirable draft target as his ADP has caught up to his outlook.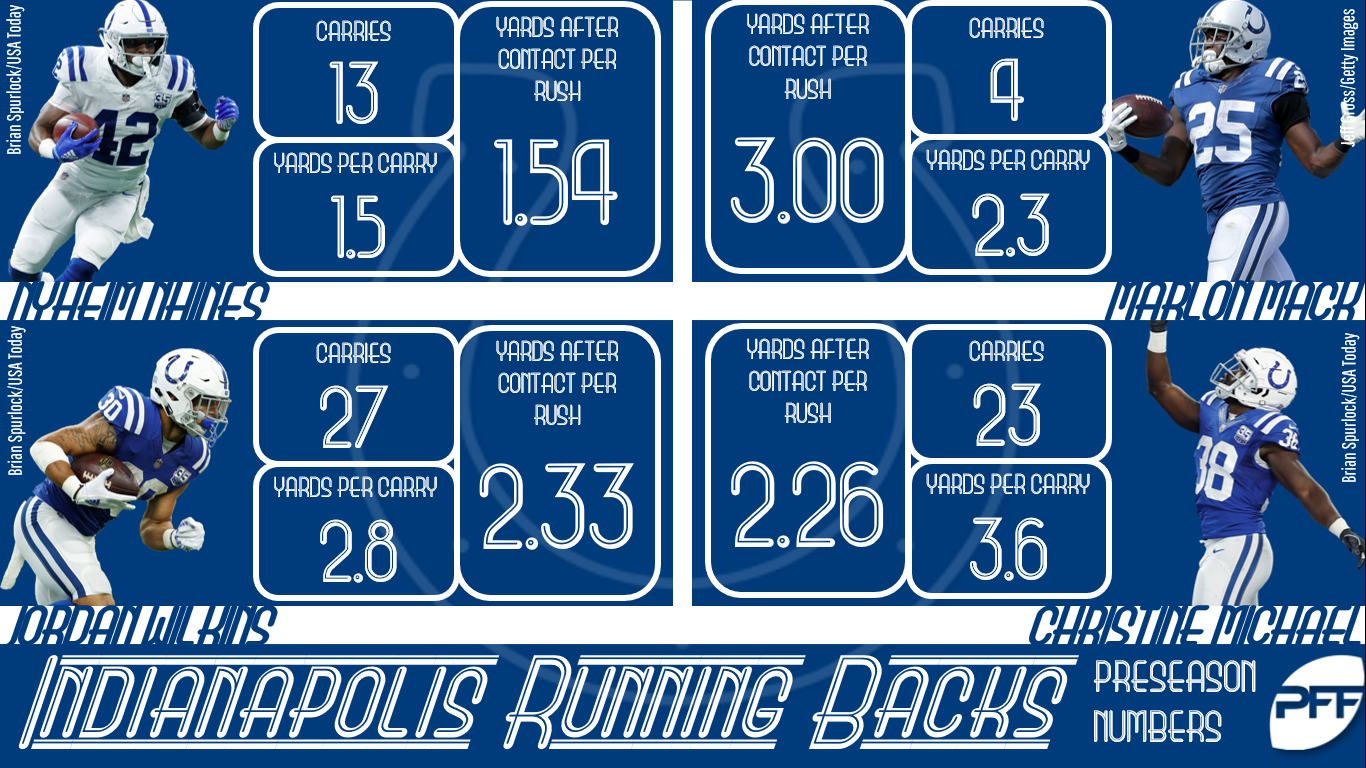 Hines is the rare case of a rookie who has seen his ADP fall after a rocky preseason. Four fumbles in his first two preseason games is not exactly a recipe for regular-season playing time. Hines remains untested in pass protection, untested as a between-the-tackles runner, and someone who is likely more valuable in deep-bench leagues as a roster stash. The Colts backfield includes Christine Michael, Marlon Mack, and Jordan Wilkins in addition to Hines.
If Davis can stay healthy during the 2018 regular season, he may have just had the perfect August for fantasy owners who want to maximize the value in drafting the talented second-year wide receiver. Davis kicked off training camp drawing praise in daily practice reports before missing time with an injury. Davis returned to practice, saw his name highlighted in practice reports again, but then just didn't put up any stats in the preseason when Marcus Mariota missed him on two plays he created separation on. Davis has been moved all around the formation, including into the slot in new offensive coordinator Matt LaFleur's scheme that draws similarities to what the Los Angeles Rams ran in 2017. The possibility remains that Davis will become Mariota's go-to focal point in the new scheme, and for that reason, combined with his talent, you won't find a mid-round draft pick with more upside in 2018.
We warned about Seferian-Jenkins a month earlier considering Blake Bortles' history with overhyped tight ends in past training camps. Nothing that has transpired since training camp or the preseason gives reason to change our mindset here. Seferian-Jenkins saw his first catch during the final week of the preseason and finished with very few targets. The injury to Marqise Lee would seem to open up more targets for Seferian-Jenkins, but the Jaguars have a deep receiver corps. More likely, Seferian-Jenkins will prove unworthy of investing a final-round pick on him and making him your TE2.
AFC West
Watkins is another case of a player who saw his ADP drop this preseason. Watkins took a backseat to Tyreek Hill with second-year quarterback Patrick Mahomes clearly favoring the incumbent No. 1 receiver while also finding more efficiency throwing to tight end Travis Kelce. With a new quarterback in the mix in Kansas City, and with Watkins joining a new scheme, it could take some time for him. However, make no mistake of it, his situation is different than it was with the Los Angeles Rams last season. Watkins was paid big money because the Chiefs envision a specific role for him within Andy Reid's offensive scheme. The big plays will come and now you can get him as a more of a discounted mid-range wide receiver flier.
A month ago, we said if Booker was going to provide much fantasy value, we would need to read about him taking the vast majority of first-team reps due to the limited upside by projecting rookie Royce Freeman in the red-zone role. A month later, Booker is splitting first-team volume with Freeman at best. Booker's ADP has dropped but not as significantly as Freeman's has risen — recency bias, in light of 2017 Alvin Kamara and Kareem Hunt performances, is hard to avoid. Even with the stark contrast in ADP, Booker doesn't feel like he like he can offer value as an arbitrage or contrarian play.
It was a big August for the 2017 No. 9 overall draft pick. Just 10 days after beat reporters said he already has earned a big role in the red zone, Williams caught a 25-yard touchdown pass in the preseason. That combination can lead to explosive results from an ADP standpoint. At the very least, Williams has become a targeted player you'll see kick off the lottery-ticket stage of a snake draft and he is no longer a $1-$3 end of your auction buy. The upside is obviously there following the injury to Hunter Henry and departure of Antonio Gates — a lot of red-zone targets are up for grabs. Just don't get carried away because overall volume could be tricky with Melvin Gordon increasing his passing-game role every season and Tyrell Williams squarely in the mix.
Nelson kicked his August off with a beat reporter observing that he's running around in practice like he's 28 years old. This provided Nelson with a slight ADP bump as nostalgia kicked in for any fantasy owner who ever benefited from the Aaron Rodgers/Nelson combination. However, Nelson's ADP has since plateaued following a quiet preseason. With a proven offensive scheme, an above-average offensive line, and Derek Carr, you can do a lot worse than Nelson for a mid- to late-round wide receiver flier.