Following up on our first article examining active NFL play-callers through a fantasy lens, today we will be looking at the rest of the teams in the NFL. Tuesday's chart focused on per-position fantasy production, while today's chart (below) looks at average target market share at each positional designation.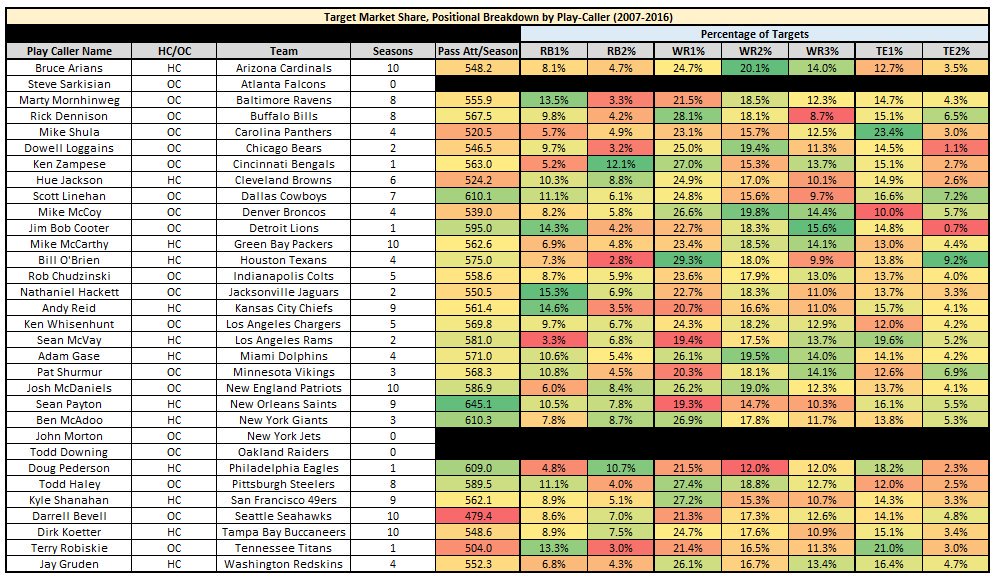 (Click to enlarge)
For each of the 16 teams below, I'll try to give one or two major takeaways from each play-caller's history:
On the surface level, little stands out for Whisenhunt during five seasons of play-calling experience. One concern is his lack of production from the running back position. His RB1s haven't been very productive, ranking fifth-worst in fantasy points per game, seventh-worst in weighted opportunity per season, and implying a lack of fondness for a bell-cow running back, seventh-worst in weighted opportunity percentage. This backs up recent comments from ESPN beat writer for the Chargers Eric Williams, that "the team doesn't want Melvin Gordon around 300 carries." Gordon was on pace for 334.7 carries and 70.7 targets prior to his Week 14 injury last season. Whisenhunt's RB1s have averaged only 205.8 carries and 48.8 targets during this five-season sample. Prior to looking at this data, I had a hard time envisioning any of Kenneth Farrow, Kenjon Barner, Branden Oliver, or Andre Williams eating into Gordon's touches. But given Williams' comments and the data at hand, I'm much more pessimistic.
We don't have much of a sample on the 31-year-old head coach, who will also be calling plays in 2017. In two years as offensive play-caller in Washington, we saw a committee backfield and a committee receiving corps. His WR1 amassed 19.4 percent of the team's targets (second-fewest), while his WR2 ranked 15th-most, and WR3 (fifth-most). This appears to be just another dent in Sammy Watkins' fantasy value following his trade to Los Angeles. McVay's RB1 averaged only 9.0 fantasy points per game (worst), and amassed only 61.0 percent of the team's running back carries (eighth-worst) and 19.8 percent of the team's running back targets (worst). Perhaps Lance Dunbar was signed in free agency to compete for the "Chris Thompson role" in McVay's offense, but following a knee injury (out indefinitely), McVay has talked up Gurley's ability as a pass-catcher. I'm confident Todd Gurley sees a workload more in line with his career norms than McVay's, and am also confident in an improvement in efficiency following the departure of mediocrity incarnate Jeff Fisher. McVay featured his tight ends in Washington and has talked about running multiple tight ends sets (including 13 personnel) in press conferences. Only three active play-callers targeted their TE1 more frequently than McVay. Part of that is, of course, due to the luxury of coaching Jordan Reed, but McVay's arrival in Los Angeles should be encouraging for the dynasty prospects of Tyler Higbee and Gerald Everett.
Subscribe to PFF Edge to continue reading
Already have a subscription? Sign In