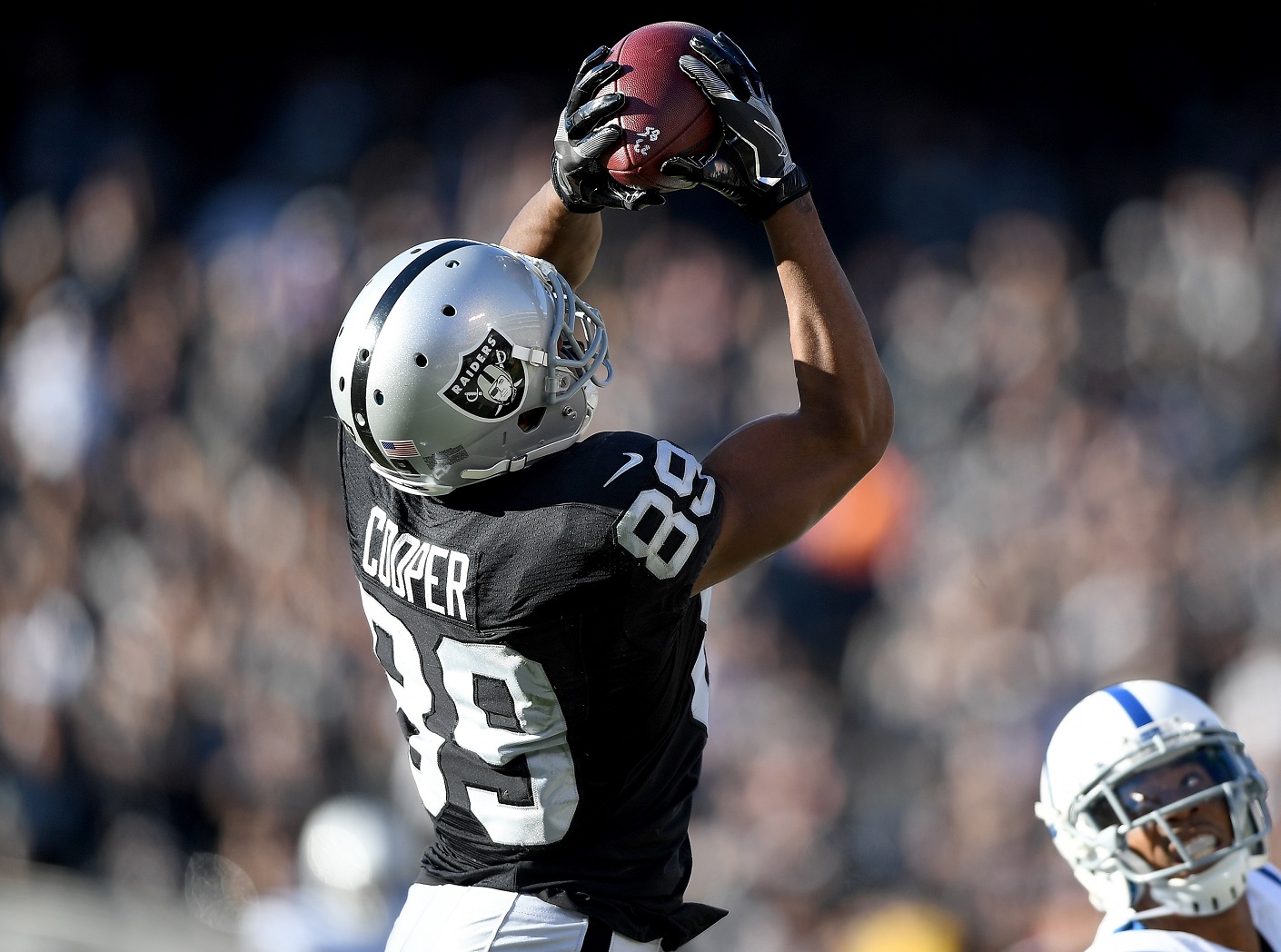 OAKLAND, CA - DECEMBER 24: Amari Cooper #89 of the Oakland Raiders catches a pass against the Indianapolis Colts during the second quarter of their NFL football game at Oakland-Alameda County Coliseum on December 24, 2016 in Oakland, California. (Photo by Thearon W. Henderson/Getty Images)
Preseason Week 2 is already underway, and we've officially reached the midway point of August, which means many of you will be drafting your 2017 fantasy squad over the weekend.
Even if you aren't drafting this weekend, fantasy football is probably still on your mind (plus we have a big slate of games to watch this weekend). To help prep you for your draft — whenever it may be — we rounded up some of the top questions from Twitter this week to answer in more than 140 characters.
Don't forget: Our subscribers are using the rankings, real-time draft tools, and customized projections available with a PFF Edge or PFF Elite subscription. Our customizable draft-prep help is available to you when you need it.
#AskPFF should i keep amari or dez as first round keeper? 10th pick

— Doyle Gilheany (@MrDoyleGilheany) August 16, 2017
At first, I thought the answer to this question was, "neither." But keeper leagues are a different beast, and Amari Cooper is a top-10 player in dynasty formats. Keeper leagues aren't exactly the same as dynasty, but they share a common thread: Young, talented players are cherished.
While Cooper isn't a first-round pick in redraft leagues this year (even though I toyed around with that possibility in a mock draft back in June), it's certainly worth the No. 10 overall pick to hang on to him for years to come.
Despite what has felt like an "underwhelming" start to his career, Cooper has put together back-to-back tail-end WR1 finishes for fantasy purposes, and he caught 83 passes for 1,154 yards last year. He'll need to catch more touchdowns to truly become elite (he had just five last year), but that number should increase with time. Remember, Cooper is just 23 years old.
And while I love Dez Bryant and think he's underrated in redraft this year, he's a top-20 dynasty asset, not a top-10 player.
#AskPFF What is the impact to Cousins and the WAS pass game with McVay gone?

— Binky (@BinkytheDorrmat) August 16, 2017
Despite McVay's obvious talents, I don't have any concerns with Cousins without McVay in town. Cousins is a consensus top-10 fantasy quarterback this year and shouldn't have trouble adjusting to life post-McVay.
If we're looking for concerns with Cousins, I'd start with his overturned armory. He lost perennial deep threat DeSean Jackson and the reliable Pierre Garcon to free agency. Those two players gobbled up 199 combined targets last year (12-13 targets per game) and 2,046 combined yards (128 per game). That's a significant amount to churn in just one offseason.
Terrelle Pryor should have no problem stepping into the team's No. 1 wideout role, and Cousins still has Jordan Reed (when healthy) and Jamison Crowder at his disposal. He'll also have a healthy Josh Doctson, a first-round pick from 2016. Cousins should be just fine — but things will certainly look a little different.
Is Jamaal Charles going to be an impact this year?

— Brad Jones (@BAJones2017) August 16, 2017
This seems pretty unlikely. Charles, a former fantasy MVP, is now 30 years old with just 83 rushing attempts to his name over the past two seasons.
A younger version of Charles will not suddenly appear in 2017, but Denver's backfield is currently led by C.J. Anderson, who doesn't exactly have a death grip on the job. If Charles really is fully healthy, he could wrestle away enough touches from Anderson to be a bye week fill-in at the flex position, but that's probably a best-case scenario. Denver is also home to Devontae Booker and De'Angelo Henderson, the latter of whom has impressed so far this preseason.
So, no, Charles won't be an impact this season. He's old, coming off two straight lost seasons, and in a crowded backfield in which he's not even the starter. That's a lot of strikes.
12 team ppr keeper league I can keep 2 of the following players David Johnson 15th, Obj – 1st, Aj green – 1st, amari Cooper – 4th

— FisforFANTASY (@FisforFantasy) August 16, 2017
It's difficult to say goodbye to names like A.J. Green and Amari Cooper, but this one is easy: Keep David Johnson for a 15th (!) and Odell Beckham Jr. for a first. Beckham is the No. 1 overall player in dynasty leagues, while Johnson is the consensus No. 4, according to PFF rankers.
There's really not much more to say here. Beckham is still only 24 years old (he'll turn 25 in November), and Johnson is not only one of the league's best running backs, he's also one of the league's best receivers. (No, seriously, he is. He won PFF's "Best Receiver" award last year. Yes, actual receivers were eligible for the award, too.)
How do you compare tier drafting in a position that requires 2 starts a week versus 1? Ex: Is a tier 2 QB better than a tier 4 RB #AskPFF

— Charles Henderson (@HidingFFTips) August 16, 2017
Great question. The primary purpose of tiers is to break players up within that certain position. Overall rankings are needed to compare players across positions. But if you're able to line up overall rankings with tiers, you'll end up with a good sense of how the cross-position tiers relate to one another.
To make things easier for you, Jeff Ratcliffe just started a great series of tiered rankings with the suggested rounds in which you should target the players in each tier. See the entire series on our draft content page.
There's not really an exact science or formula that can be applied to the relative value of one tier at one position to a tier at another position. For example, in Ratcliffe's series, he notes that Tier 1 tight ends should be taken between Rounds 2-5, while Tier 1 quarterbacks go between Rounds 4-6. However, Tier 2 quarterbacks go from Rounds 6-7, while Tier 2 tight ends go from Rounds 6-9.
These numbers could be completely different in 2018. Again, there's no set formula to make this a simple process. What you really need is tiers and overall rankings in combination (or a PFF subscription so we can just do it for you!).