Arizona Cardinals RB David Johnson was recently named the winner of Pro Football Focus' Best Receiver award for the 2016 NFL season. To see the winner of every PFF award, visit our NFL awards page.
While rewarding the best player at any given position is worthwhile, the All-Pro team takes care of the bulk of that every season. The really intriguing awards are those that cross positional barriers and reward traits and production relative to a player's peers—not just success at one position.
Arizona Cardinals running back David Johnson was selected to PFF's All-Pro team in the new designation of "flex" player, introduced by the Associated Press this season to address the changing nature of how offenses deploy their personnel. Johnson is the ultimate flex weapon in today's NFL, and it's because of his ability as a receiver, along with his running skills. That work as a receiving option is what earned him the nod as the Best Receiver in the game during the 2016 season.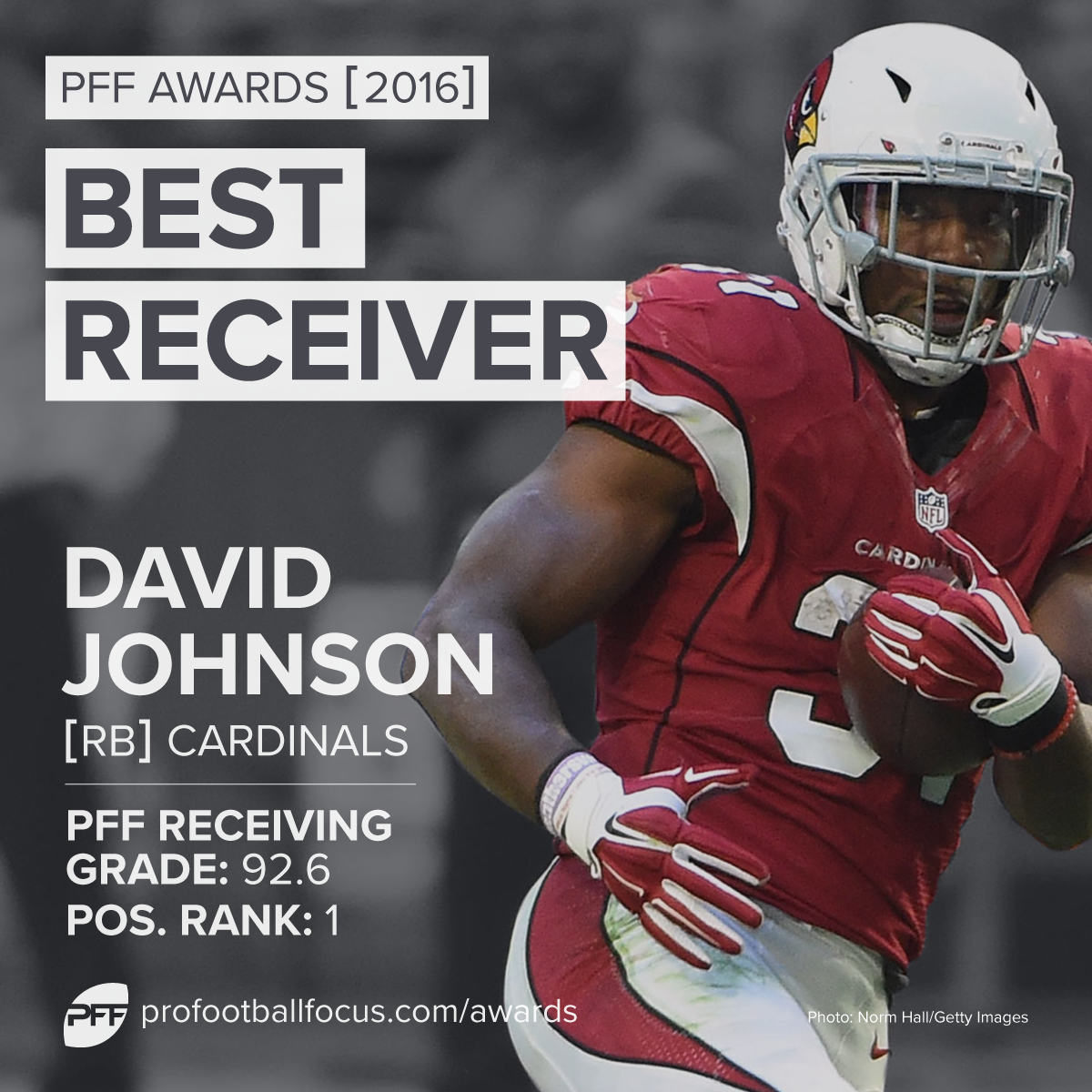 A year ago, Luke Kuechly won PFF's inaugural Best Coverage Defender award for his work in the Carolina defense at middle linebacker. That, of course, doesn't mean Kuechly would be the best player to split out and play cornerback one-on-one against WR Julio Jones in just the same way a cornerback isn't necessarily the best player to try and cover TE Rob Gronkowski. The NFL is about matchups, traits and skill-sets.
In a tight race this season, David Johnson was the best receiver in the NFL, and that can be true without meaning that he's the guy you want lined up at wideout every snap, taking on the league's best corners.
Despite checking in at around 230 pounds, Johnson lined up all over the field for the Cardinals this season, not just in the backfield. He spent time split out as a true wideout on both sides of the field, as well as at every slot position you can think of; he was by far the league's most involved back in the passing game.
Johnson led the NFL in targets (107), receptions (80), receiving yards (879) and missed tackles forced in the passing game (27) among running backs, and was some distance clear of the pack in three of those four categories.
He finished the season with the league's highest PFF receiving grade regardless of position (92.6), narrowly edging out Atlanta's Julio Jones and Tampa Bay's Mike Evans, who each had fine seasons and were firmly in the running for this award.
What separates Johnson is just how far clear of his peers he was this year, and this was a season that had some impressive receiving backs on display. Most backs—even those that are significant factors in the passing game—are really only used on screen passes, as check-down outlets, or on quick passes over the middle just beyond the line of scrimmage. The average back is targeted just 0.8 yards downfield, 11 yards shorter than the average wide receiver, and 7.4 yards shy of the average tight end target. Very broadly speaking, those three positions target three separate levels of a defense.
David Johnson, though, is versatile enough to begin to cross those divides. He had the league's highest average depth of target among all running backs, at 4.6 yards downfield. When you consider that he still has a chunk of the traditional backfield targets dragging that average down, there is a significant volume of legitimate downfield play in his game that isn't there for most running backs.
When lined up as a receiver or working downfield on wheel routes, Johnson's average depth of target was 8.2 yards downfield, more commensurate with a TE or receiver than a running back. Compare that to Pittsburgh's Le'Veon Bell, who is seen as a similar kind of versatile receiving threat to Johnson, and there is a 3-yard gap in average depth of target even on just those plays where they are split out as a receiver. Johnson is running legitimate receiver routes when he gets split out, while Bell is still restricted to shorter stuff where he can gain yards after the catch.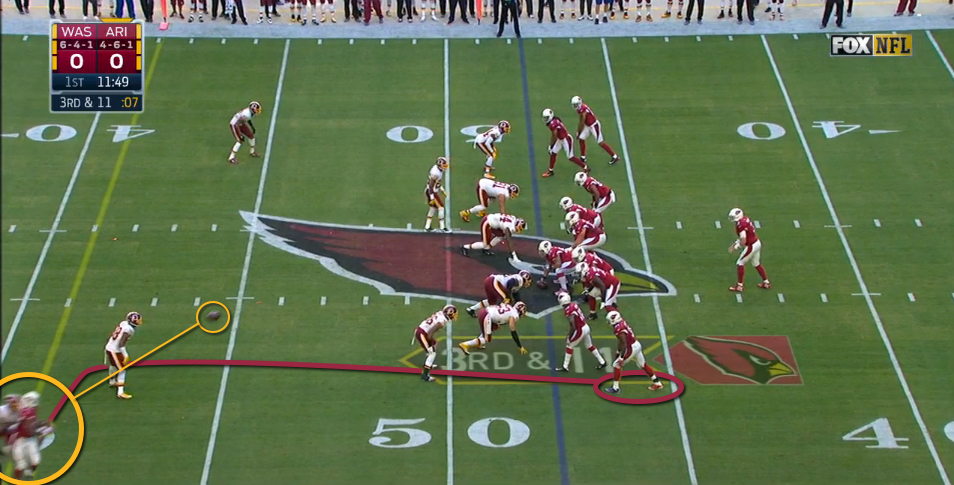 Take this play against Washington as an example. The Cardinals are facing third-and-long on their opening drive, which had gained 23 yards to that point (of which Johnson had contributed 12). Running backs typically only get the ball on third-and-long as a last resort, or an attempt to just pick up some, not all, of the yardage. The Cardinals, though, split Johnson out wide as a receiver and run a legitimate sideline pattern to pick up the full distance. He wins, makes the reception, and gains 13 yards on third-and-11.
Now, this is obviously a pretty routine play for a wide receiver, and the point isn't to compare Johnson to Mike Evans and Julio Jones route-for-route or claim that he is doing the things they are doing better, but rather to compare receiving within their respective roles.
Johnson is doing things that his peers aren't even coming close to, being asked to take on roles that most backs aren't, and has excelled in doing so. He was the best receiver regardless of position in the 2016 NFL season, earning his PFF award for exactly that.