You are drafting Leonard Fournette too early.
It's not entirely your fault. Everyone else is, too. After dominating at the college level for years, Fournette was taken fourth overall by the Jacksonville Jaguars in the 2017 NFL Draft, and the hype train picked up steam.
There's always a rookie bump right after the draft. But it's now nearly July, fantasy draft season is on the horizon, and the rookie bump hasn't stopped with Fournette.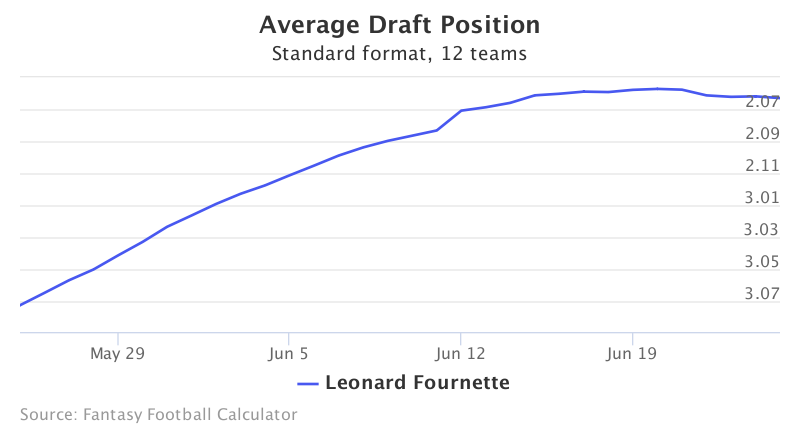 People. This is insane. And it needs to stop.
To be clear, I think Fournette will be a good fantasy player this year. I currently have him ranked as my No. 16 running back heading into draft season, meaning I have him pegged as a strong RB2. Our projections have him gaining about 1,200 total yards (1,000 rushing) and seven touchdowns (six rushing). Those are great stats.
But that's about as bullish as you can be, because there's a lot going against him, too. Namely his team.
Jacksonville ran the ball on just 33.7 percent of their snaps last year — the third-lowest rate in the league, trailing only Indianapolis and Cleveland. They ranked 27th in yards per snap. They ranked 25th in total points scored. Their run-blocking unit graded out 23rd in the NFL last year. (Although they did draft Cam Robinson in the second round, which should help.)
We could go on. There's no shortage of the-Jaguars-are-bad stats out there.
Additionally, the Jaguars still have the abjectly terrible Blake Bortles under center. They surely drafted Fournette to take the ball out of Bortles' hand more often, but the garbage-time king should still keep the scoring potential of this offense handicapped. The 2017 Jaguars wanting to control the tempo of the game with Fournette is akin to the 2017 Jets wants to win the AFC East.