Hey, did you know Alvin Kamara had a really good rookie season? He was tremendous, both for the Saints and for fantasy football players?
I know, it's a scoop. Someone really should have covered it by now.
Okay, yes, I know he's been discussed to death, and it's basically August, and you know by now that Kamara is an easy first-rounder in 2018. But I found a stat this week that I didn't know about before, and it tickles me greatly, and so I'm going to write about it a little bit.
PFF Premium Stats 2.0 (Interested? Sign up!) features a redesign, game-by-game grades, team-level grades, and so much more cool stuff. And one of the things it includes is expanded signature stats in places they weren't available before.
Example: We've always had deep receiving stats, showing production on passes targeted 20-plus yards downfield. But we've had them for wide receivers and tight ends. The reason for this is fairly obvious—running backs don't really do much on 20-plus-yard passes. It's like including a category for wide receiver performance on carries, or non-quarterbacks on pass attempts — they exist, but in vanishingly small sample sizes.
But that's just an excuse not to include them, and it's an excuse we've done away with. Because Premium Stats 2.0 includes … well, all three of the examples I included above. Find out how Mohamed Sanu has done throwing the ball, how good a runner Tavon Austin has been, and exactly how good Kamara was on deep receptions last year.
As noted above, it's rare for running backs catching deep targets. In the decade before 2017 — 2007-2016 — only 12 running backs caught more than one pass targeted 20-plus yards downfield, and none caught more than two. The leaders in that time in terms of yardage were Andre Ellington (who caught one deep pass for 81 yards in 2014) and C.J. Prosise (who caught two for 81 in 2016). David Johnson had eight deep targets in 2016, but otherwise, no back topped five targets. The entire population is sparse.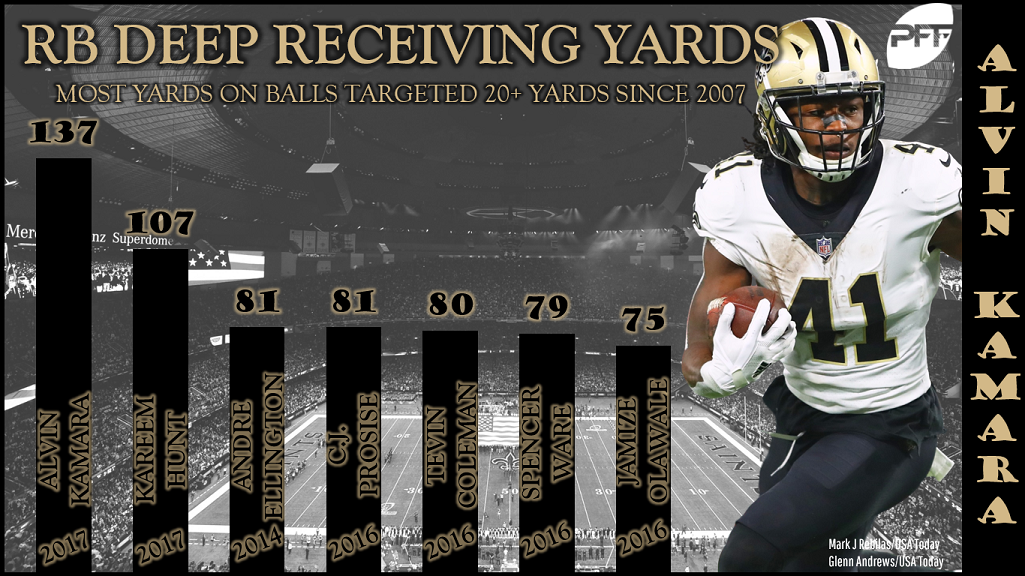 Kamara? He reset the standard for what's possible. He was targeted six times on deep balls last year (second-most since 2007). He caught four — again, twice as much as any other back. And he went for 137 yards — more than 50 yards better than any back had done in the preceding decade. (In the spirit of full disclosure, Kareem Hunt also blew past the previous standards for yardage, catching two of his three deep targets last year for 107 total yards.)
As the league gets increasingly pass-happy, running backs as a group are seeing more deep balls. Five different running backs caught multiple deep balls in 2017, after four in 2016 and eight total in the nine years before that. (In 2007, there were only four total RB catches on deep balls, let alone any back doing it multiple times.)
Number of running backs with multiple catches on deep targets
2007
2008
2009
2010
2011
2012
2013
2014
2015
2016
2017
0
0
0
0
2
0
3
2
1
4
5
What does this mean for 2018?
This can go one of two ways: Either Kamara is redefining the running back position (either for him alone or, considering the increase in deep RB catches, for the position at large), or that's part of his game that won't repeat in 2018.
Or somewhere in the middle (sorry for being boring). The chances of Kamara breaking the mold with four deep receptions again in 2018 are slim; the chances of him dropping to zero such targets feel similarly remote.
The Saints offseason featured:
You could make the argument most of those things are functionally a wash — the absence of Ingram could be absorbed by the amalgam of backs, Watson replaces Fleener, Meredith replaces what Snead was in 2016. Personally, though, I see Watson and Meredith as replacing what Fleener and Snead were supposed to be but failed to be in 2017. Between their arrivals and Smith potentially allowing Michael Thomas to float into the slot more often (where he had insane success in 2017), and considering the Saints are unlikely to face quite as many run-friendly gamescripts in 2018, I think there's an argument to be made that we as a group (myself included) have Kamara ranked at or above his ceiling this year. He's currently the No. 5 PPR running back in our staff consensus rankings, and while it would be tough to bump him down more than a spot or two, I do think that spot or two is worth considering. Kamara behind Hunt or Saquon Barkley? Think about it.