Last year, Cleveland Browns receiver Rashard Higgins ran 446 of his 471 total routes out of the slot. And 44 of his 46 targets came on slot routes. Even then, as the de facto Browns slot receiver, Higgins' rate of being targeted on 9.9 percent of his slot routes was sixth-lowest in the league among qualified receivers, and 31st-lowest from 2006 to present.
Duke Johnson bore a lot of responsibility for that, of course, as the fourth-most-targeted running back in the league. Higgins was one extreme. Around the league, wide receivers were targeted on roughly one-sixth of their slot routes (16.8 percent), with 42 of 62 qualified receivers falling between 10 percent and 20 percent. Starting in 2006, 60 percent of qualified receivers have fallen in that range. It's consistent, if not perfectly predictable, that a receiver will see about that many targets per slot route.
Which is why what Michael Thomas did in 2017 is so remarkable.
As the No. 1 Saints receiver, Thomas saw a big workload last year. He was targeted on 26.7 percent of all of his routes, second in the league to only Keenan Allen among qualified receivers. Getting targeted on a quarter of your routes run is significant! The last four years, only 11 receivers have crossed that threshold, and there's not a surprising name on the list. (The closest to a surprise: Andrew Hawkins in 2014, who was targeted on 24.9 percent of his routes — just below our threshold. But he had the "benefit" of playing for a Browns team that didn't have much to offer at the receiver position.)
Getting targeted 25 percent of the time is significant, no matter where you are running your routes. But then you look to slot routes — Adam Thielen and Robert Woods tied for the second-highest target rate on slot routes last year, at exactly 25 percent. Thomas? He ran 116 routes out of the slot in 2017 and was targeted on 47 — or 40.5 percent.
Being targeted on 40.5 percent of slot routes is basically unheard of. In the PFF era (2006 to present), it is far and away the highest percent we've seen.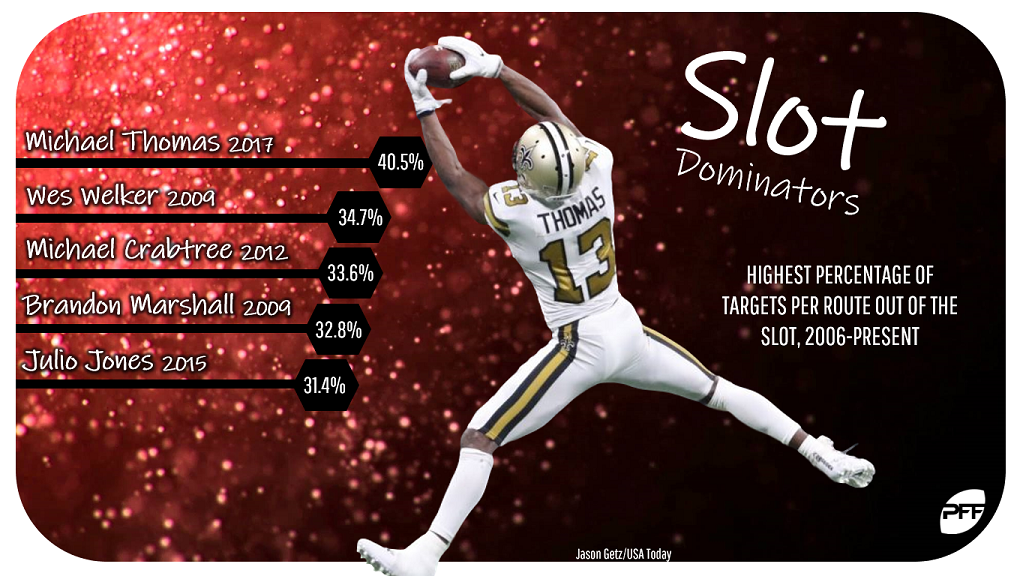 On top of that, Thomas averaged 3.63 yards per route run out of the slot. That's the second-best in the PFF era, and essentially lapping the field from 2017: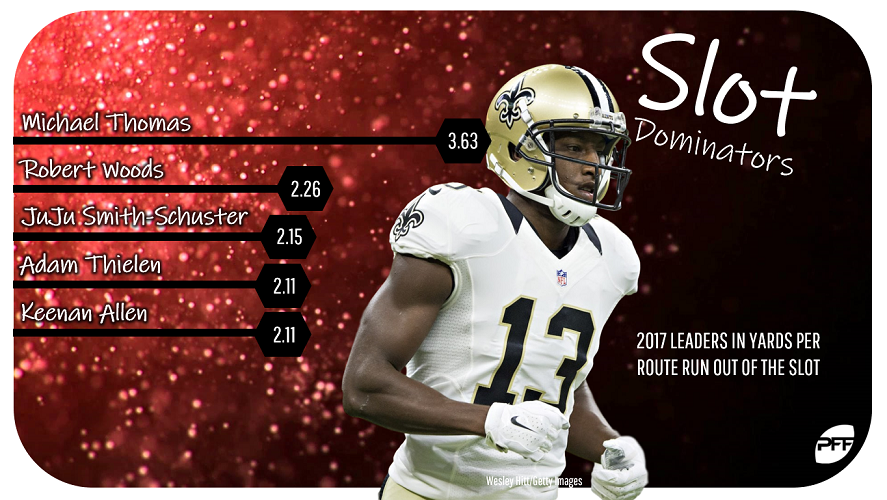 Woods averaged 2.26 yards per route run out of the slot last year. That's good! That's very good! It's also not even two-thirds of what Thomas was doing down in New Orleans.
The Saints have Ted Ginn as the No. 2 receiver to Thomas, let Willie Snead leave in free agency, and drafted Tre'Quan Smith in the third round of the draft. All of those decisions (Ginn and Smith are typically deep weapons; Snead did most of his work out of the slot) appear to make it that much easier for Thomas to do work out of the slot going forward.
Thomas saw some slot work as a rookie in 2016. He ran 13 percent of his routes from the slot, and saw a target on 18 percent of those routes. With Ginn in Carolina that season and Snead and Brandin Cooks filling the slot role in New Orleans, Thomas had to do more outside work. As the receiving corps changed heading into 2017, so too did Thomas' role.
Drew Brees isn't likely to continue targeting Thomas at a 40-percent clip, for the simple fact that that rate is nearly unheard of. But he's shown an affinity for receiving work out of the slot, and if his overall workload matches to reach some of the rates he's seeing out of the slot, then Thomas — currently the No. 5 receiver in consensus rankings and in ADP — could be a bargain even at that price.