We're nearly halfway through the 2021 NFL season, and life is good. Let's attempt to predict the future.
What follows are my best guesses for every starting quarterback's defining Week 8 storyline. This will be accomplished through a superlative format, identifying who is most likely to accomplish whatever.
Please don't confuse this as an all-encompassing preview of the position; the goal is merely to get a solid preview on the game's most-important position and attempt to learn a thing or two along the way.
---
Click here for more PFF tools:
Rankings & Projections | WR/CB Matchup Chart | NFL & NCAA Betting Dashboards | NFL Player Props tool | NFL & NCAA Power Rankings
---
Rodgers hasn't quite been operating at his world-beater form for the entirety of 2021, but his trio of scores against the Football Team were a good reminder of the sort of gaudy counting statistics the 2020 NFL MVP is capable of achieving. Overall, just four quarterbacks have double-digit games with three passing touchdowns since 2020:
Thursday night presents a stiff test against a Cardinals defense that has allowed the second-fewest fantasy points per game to opposing quarterbacks this season. Things could be especially difficult if defensive linemen Chandler Jones (illness), Corey Peters (COVID, IR) and Zach Allen (COVID, IR) manage to return to action.
Yet, it's tough to imagine pretty much any secondary truly slowing down Rodgers when everything is clicking. It should also be noted that Davante Adams (COVID, IR) is likely to miss the game versus Arizona.
Related content for you: NFL Week 8 Fantasy Football Waiver Wire Targets: All league sizes & scoring types via Andrew Erickson
Murray had arguably the single-best throw of Week 7.
Kyler Murray is pretty good pic.twitter.com/9SW217Pe4b

— Ian Hartitz (@Ihartitz) October 25, 2021
The Cardinals' third-year quarterback has posted league-best marks in PFF passing grade (99.4) and big-time throw rate (50%) when throwing at least 20 yards downfield. Only Matthew Stafford (20.8) has averaged more yards per attempt than Murray (20.2) on these shots.
Credit to the Packers' seventh-ranked scoring defense for largely limiting opponents even without the services of stud CB Jaire Alexander (AC joint, IR) and top edge rusher Za'Darius Smith (back, IR), but Murray and company are the league's only offense with at least 30 points in six games this season. Don't be surprised if the Cardinals' MVP candidate continues to add to his growing highlight reel Thursday night.
Darnold was pulled at the beginning of the fourth quarter during the Panthers' Week 7 loss to the Giants. The clock seems to have struck midnight on his fairytale comeback story, as he's been nothing short of bad over the last four weeks after a solid enough start to the year:
Week 1: 79.5 PFF passing grade (No. 10 among qualified QBs)
Week 2: 71.1 (No. 16)
Week 3: 76.3 (No. 13)
Week 4: 54.7 (No. 27)
Week 5: 44.8 (No. 33)
Week 6: 56.2 (No. 24)
Week 7: 44.3 (No. 26 pre-MNF)
The Falcons have allowed the fourth-most fantasy points per game to opposing quarterbacks, so it'd make sense if Darnold rebounds to some extent on the stat sheet. Still, Matt Rhule clarifying that Darnold will remain the starter doesn't mean as much now that we're well aware that this leash isn't very long. The reality that Darnold has turned in relatively underwhelming 2-10-0, 4-48-0 and 0-0-0 rushing lines over the past three weeks makes him particularly difficult to trust as a streaming asset in fantasy land.
This one is a repeat from last week. It looked like 2021 could be the end of Ryan's time as a high-end quarterback after a few weeks, but the 14-year veteran has largely managed to right the Falcons' sinking ship ever since:
Week 1: 59.7 PFF passing grade, Falcons scored 6 points
Week 2: 66.4 PFF passing grade, 25 points
Week 3: 51.8 PFF passing grade, 17 points
Week 4: 89.8 PFF passing grade, 30 points
Week 5: 88.7 PFF passing grade, 27 points
Week 6: Bye
Week 7: 89.5 PFF passing grade, 30 points
Ryan grades out as PFF's eighth-best passer through eight weeks, as the 36-year-old signal-caller isn't washed just yet and has the 3-3 Falcons back in the playoff race. Things won't be easy against Brian Burns and the Panthers' fourth-ranked pass rush in pressure rate, but Ryan and company are hot and look capable of putting up 30 points on just about anyone these days.
It makes sense that play-action is extra lethal when Derrick Henry is your running back:
PFF passing grade on play-action: 93.6 (No. 2 among 38 qualified quarterbacks)
Big-time throw rate on play-action: 9.4% (No. 7)
Yards per attempt on play-action: 10.4 (No. 7)
Adjusted completion rate on play-action: 83.6% (No. 7)
The artist known as TanneThrill's best-two games of the season from a PFF passing grade perspective have come in Weeks 2 and 7, which not so coincidentally coincides with two of the three games in which A.J. Brown and Julio Jones were available for all 60 minutes.
The Colts' 11th-ranked scoring defense held the Texans and 49ers to just 21 combined points over the past two weeks, but this Titans offense will be downright terrifying if Tannehill and company continue to get the passing attack grooving again.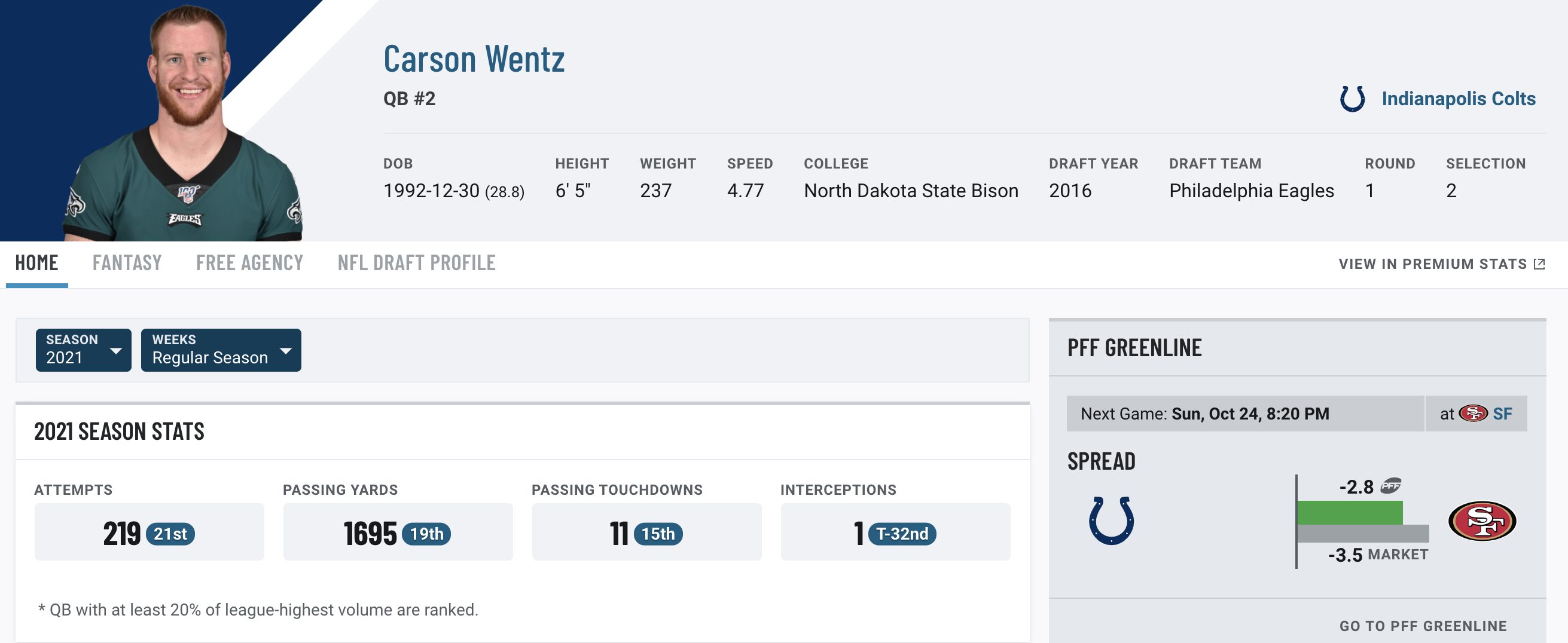 Wentz is some Lamar Jackson heroics away from leading the Colts to a four-game winning streak. Either way, the much-maligned ex-Eagles quarterback has shown up strong for the better part of the last month, particularly when asked to throw the ball downfield. Only some of the league's truly best quarterbacks have been better at consistently giving their receivers a chance on downfield opportunities:
Cardinals (70% catchable deep ball rate)

Falcons (65%)

Seahawks (60%)

Chiefs (58%)

Cowboys (57%)

Colts (57%)
The Titans deserve all the credit in the world for holding Patrick Mahomes and the Chiefs to just three points in Week 7, but this is still a bottom-three defense in both explosive pass play rate and yards per attempt allowed on balls thrown at least 20 yards downfield. Wentz and this passing game figure to be particularly lethal if T.Y. Hilton (quad) manages to return.
Tagovailoa has the sixth-quickest release and 13th-lowest average target depth among 40 qualified quarterbacks this season; yet, the Dolphins have allowed the eighth-highest pressure rate through seven weeks. Sometimes, pressure is more indicative of a quarterback simply holding the ball too long, but this group actually falls to 30th in pressure rate allowed on passes thrown in 2.5 or fewer seconds.
There have been a few ugly interceptions over the past two weeks but just realize Tagovailoa hasn't exactly gotten much help this season. No offensive line has a lower pass-blocking grade than the Dolphins (49.4) while their team-receiving grade (68.0, 25th), drop rate (7.7%, 25th) and rushing grade (69.2, 24th) also leave plenty to be desired.
Tagovailoa has yet to play with Will Fuller (finger, IR) while DeVante Parker (shoulder, hamstring) has been in and (mostly) out of the lineup. Don't expect a road trip against the Bills' well-rested second-ranked scoring defense to bring out the best from this passing game, but maybe chill on writing off the 23-year-old quarterback until there's a bit larger sample size of him playing with, you know, an actually decent supporting cast.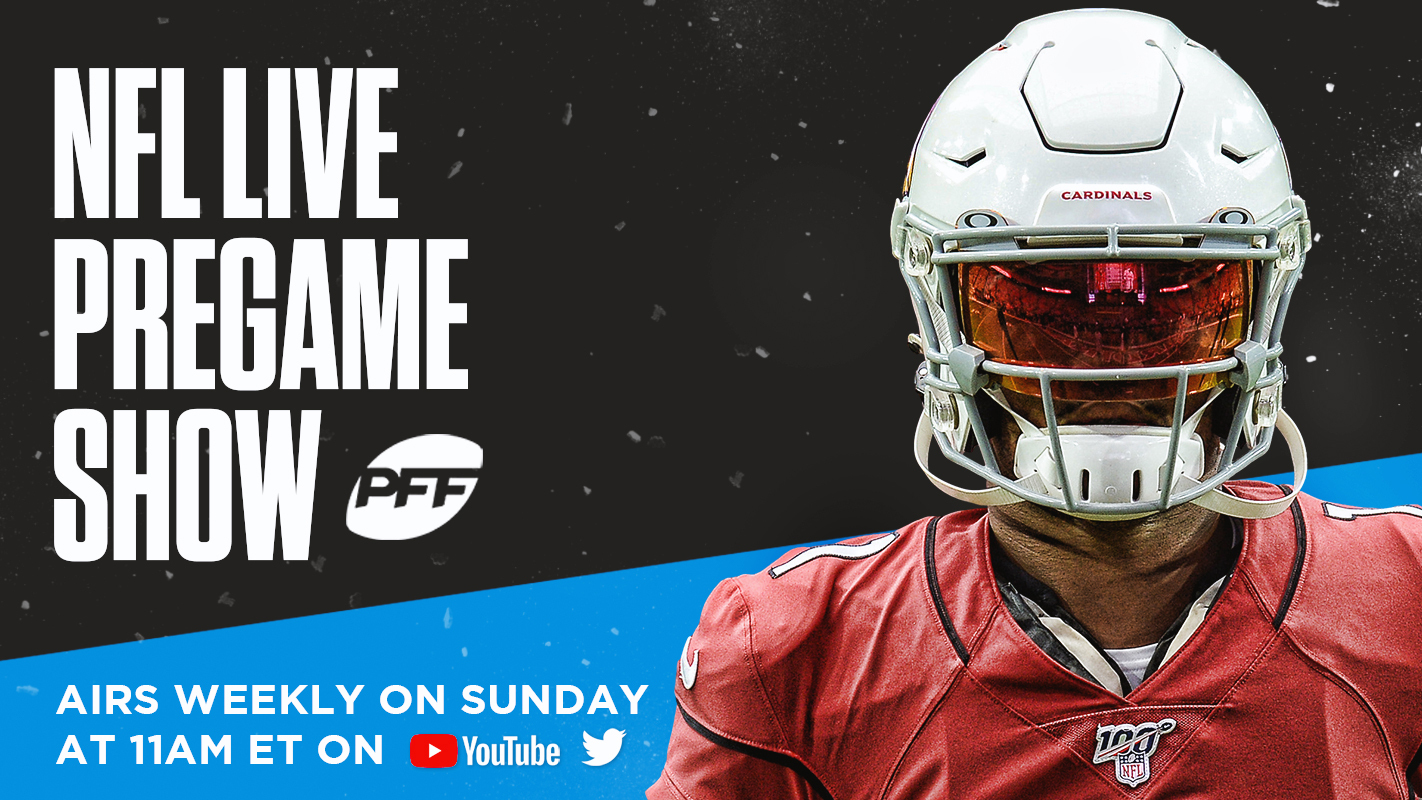 It makes sense that right-handed quarterbacks are better moving to their right than to their left. Still, Allen's discrepancy in performance this season has been rather drastic relative to other quarterbacks. Few have been better on rolls and scrambles to their right:
PFF passing grade: 89.8 (No. 2 among 32 qualified quarterbacks)
Yards per attempt: 9.5 (No. 7)
QB rating: 134.7 (No. 3)
Big-time throw rate: 20% (No. 1)
However, things have fallen apart rather quickly when defenses have managed to make Allen roll or scramble to his left:
PFF passing grade: 40.6 (No. 27 among 31 qualified quarterbacks)
Yards per attempt: 3.3 (No. 24)
QB rating: 53 (No. 24)
Big-time throw rate: 0% (tied for No. 15)
Now, there have been more examples of Allen rolling to his right (32 dropbacks) than his left (17). He also turned in PFF's third-best passing grade when moving to his left in 2020, so this could simply be a blip on the radar and a factor of small sample size.
This Bills' second-ranked scoring offense is one of the league's tougher units to stop, but perhaps the Dolphins and company could find some semblance of success by doing a better job forcing Allen to essentially (wait for it) play left-handed. The strategy certainly can't hurt, as Buffalo has hung 35, 56, 31, 37 and 31 points on Miami's defense over the last five matchups. 
Another repeat from last week. It wasn't particularly surprising to see Burrow light up the Ravens' blitz-happy defense to the tune of 416 yards and three scores in Week 7, as he's largely been the NFL's best quarterback against the blitz all season long:
PFF passing grade: 92.6 (No. 2 among 33 qualified quarterbacks)
Big-time throw rate: 9.7% (No. 5)
Turnover-worthy play rate: 1.5% (No. 11)
Yards per attempt: 11.9 (No. 2)
QB rating: 136.9 (No. 3)
The Jets (27.4%) don't send extra rushers at opposing quarterbacks quite as often as the Ravens (34.3%), but they still rank as a top-11 unit in overall blitz rate through seven weeks. 
Burrow already seems to be lightyears ahead of most second-year signal-callers from a mental standpoint, so it's tough to see the Jets having any more success than the Ravens in their attempt to force the 2020 NFL Draft's No. 1 overall pick into making too many pressure-induced mistakes.
Zach Wilson is expected to miss at least two weeks due to a PCL sprain. The Jets should bring him back slowly, as it's problematic to think about what a limited version of the 2021 NFL Draft's No. 2 overall pick might bring to the field considering his issues with limiting bone-headed plays. Overall, only Sam Darnold (12), Taylor Heinicke (11) and Ben Roethlisberger (11) have more turnover-worthy plays than Wilson (10) through seven weeks.
Unfortunately, there isn't much optimism to glean from White's NFL debut, as his 9.1% turnover-worthy play rate is the single-worst mark among 40 quarterbacks with at least 25 dropbacks this season. 
The recently acquired Joe Flacco would certainly be an upgrade over White (and probably Wilson), but either way, don't expect the Jets status as the NFL's single-worst scoring offense to be going anywhere anytime soon.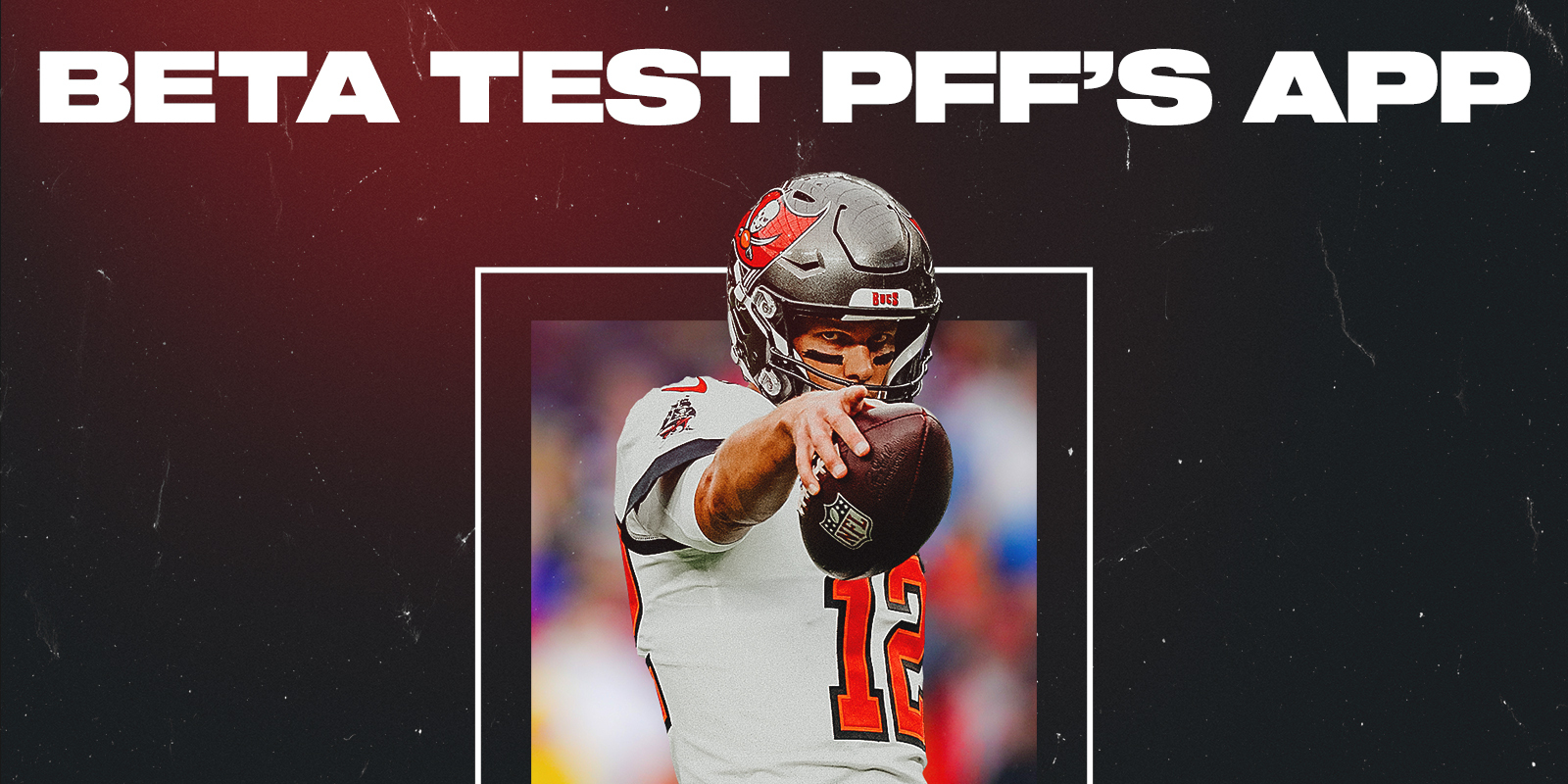 Big Ben is posting decade-long lows in just about any passing metric one can find. Whether it's PFF passing grade (57.7), average target depth (7.6) or QB rating (81.7), 2020 is basically the only comparable down year to what Roethlisberger has gone through to start 2021. The 39-year-old veteran has been playing through various ailments but ultimately ranks outside of the league's top-32 quarterbacks in both PFF passing grade and yards per attempt through seven weeks.
Things have managed to go even more south when Roethlisberger has been pressured, as only Justin Fields (23.1) and Jimmy Garoppolo (25.9) have worse PFF passing grades when under duress than Big Ben (28.8). Good luck dealing with Myles Garrett and the Browns' second-ranked defense in pressure rate. Big Ben literally already has a spot in Garrett's absolutely spectacular quarterback graveyard.
Mayfield (shoulder) didn't practice on Monday and should be considered extremely questionable for Week 8 despite head coach Kevin Stefanski not ruling him out. Case Keenum will again be under center if Mayfield is unable to suit up.
Either way, don't expect whoever is under center to throw the ball more than needed. Nick Chubb (calf) has had extended time to get right following the Browns' Thursday night win over the Broncos while D'Ernest Johnson impressed enough in his own right to shoulder another heavy workload even if Cleveland wants to ease Chubb back into action.
Ultimately, only the Titans (229) have racked up more total rush attempts than the Browns (227) this season. They rank 31st in pass play rate overall, as only the Bears (54.3%) and Saints (50.5%) posted a lower pass play rate than the Browns (54.7%) even after excluding garbage time.
All Hurts has done in his 11 career starts is put forward one fantasy-friendly performance after another:
Week 14, 2020: 167 pass yards-1 TD-0 INT, 18 carries-106 rush yards-0 TD, fantasy QB11
Week 15, 2020: 338-3-0 passing, 11-63-1 rushing, fantasy QB1
Week 16, 2020: 342-1-2 passing, 9-69-0 rushing, fantasy QB12
Week 17, 2020: 72-0-1 passing, 8-34-2 rushing, fantasy QB20 (in three quarters)
Week 1, 2021: 264-3-0 passing, 7-62-0 rushing, fantasy QB5
Week 2, 2021: 190-0-0 passing, 10-82-1 rushing, fantasy QB10
Week 3, 2021: 326-2-2 passing, 9-35-0 rushing, fantasy QB10
Week 4, 2021: 387-2-0 passing, 8-47-0 rushing, fantasy QB4
Week 5, 2021: 198-0-1 passing, 9-30-2 rushing, fantasy QB11
Week 6, 2021: 115-1-1 passing, 10-44-2 rushing, fantasy QB7
Week 7, 2021: 236-2-0 passing, 13-61-0 rushing, fantasy QB6 (pre-MNF)
Of course, Hurts has made a habit of putting up all kinds of numbers in the twilight of games. Overall, Hurts has just been the QB15 in fantasy points per game during the first three quarters before leaping to QB1 status in the final 15 minutes of games. Luckily, style points don't matter in fantasy land so continue to fire up Hurts as a weekly top-five option at the position.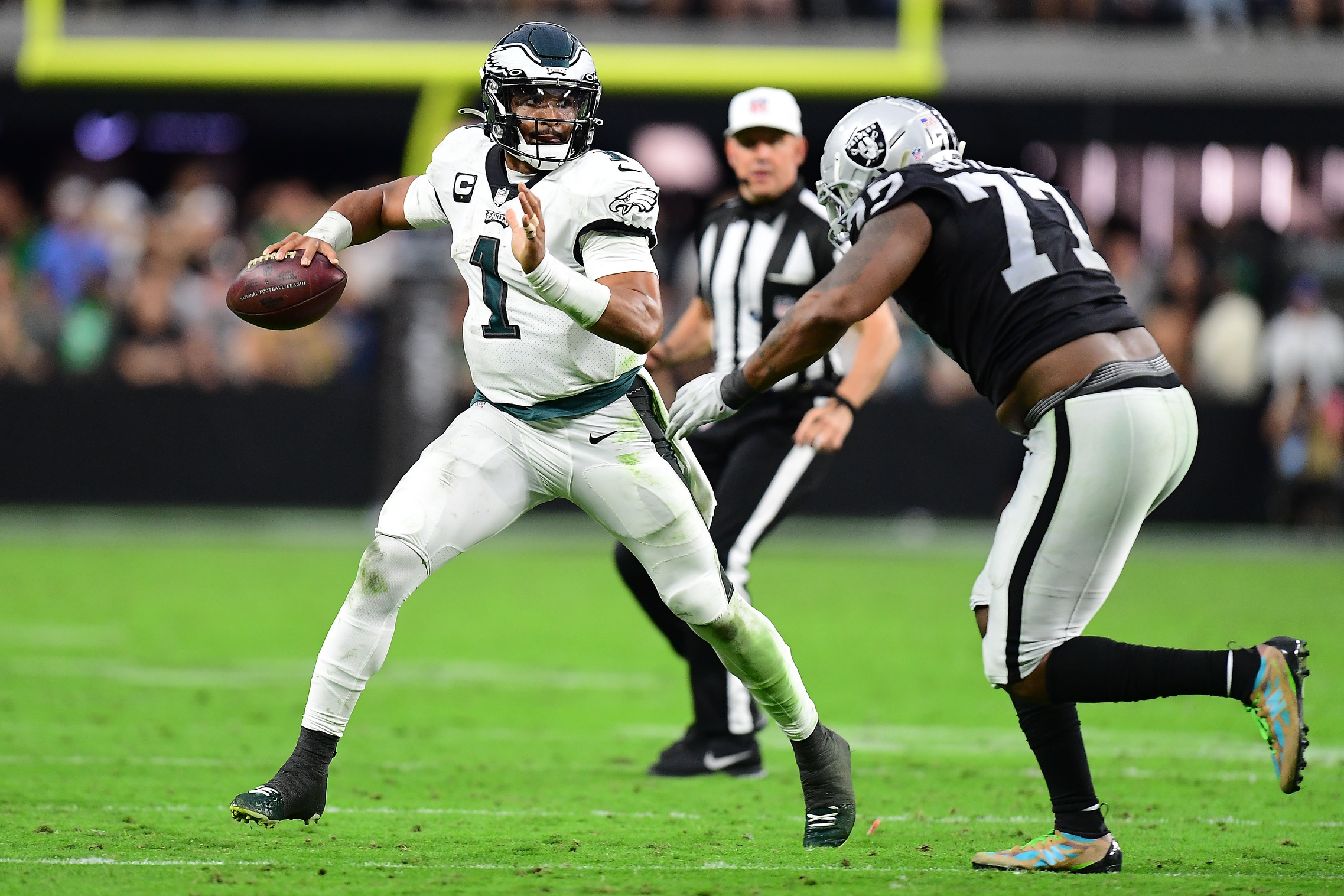 Looking at Goff's passing splits by average target depth reveals the sort of limitations he brings to an offense:
Passes thrown behind the line of scrimmage: 7.6 yards per attempt (No. 2 among 34 qualified quarterbacks)
Passes thrown one to nine yards downfield: 6.5 (No. 17)
Passes thrown 10-19 yards downfield: 8.6 (No. 27)
Passes thrown 20-plus yards downfield: 6.4 (No. 34)
Goff is rather brilliant at existing in the second or two between getting the snap and throwing a screen to D'Andre Swift; otherwise, the ex-Rams quarterback has largely struggled to get anything going for the 0-7 Lions.
The Eagles have been a top-five defense in terms of zone coverage frequency. Don't expect a massive bounce-back considering Goff grades out as PFF's 27th-best quarterback against zone coverage.
Cooper Kupp is on pace to catch 136 passes for 1,965 yards and score 22 touchdowns. Madness.
There's no doubt that Kupp deserves to be mentioned among the league's very best players at his position, but it's oddly curious just how easy his nine trips to the end zone have been this season. Credit to coach Sean McVay for consistently scheming his No. 1 receiver into success;, but that doesn't make the ease with which fantasy's top-scoring wide receiver has gone about putting up numbers any less startling.
Cooper Kupp has 9 touchdowns this season and somehow almost every one of them has looked easy pic.twitter.com/27damNRGhW

— Ian Hartitz (@Ihartitz) October 25, 2021
The Rams are 14.5-point favorites over the Texans at the time of this writing. Stafford might not be afforded all that many pass attempts due to the potential for an extremely positive game script, but it seems inevitable that at least one of these throws will be to an open Kupp in the end zone.
It's not a guarantee that Taylor is back under center in Week 8, but he will return to practice Wednesday. Head coach David Culley noted Taylor, "Was our starting quarterback, and when he's healthy, he'll be our starting quarterback,"
Taylor only saw 49 dropbacks against the Jaguars and Browns prior to suffering a hamstring injury, so there isn't a large enough sample to have any real takeaways just yet. Still, his status as an above-average signal-caller in most passing metrics is quite an improvement upon what most expected out of the 32-year-old journeyman:
PFF passing grade: 72.7 (No. 21 among 40 qualified quarterbacks)
Big-time throw rate: 6.8% (No. 6)
Turnover-worthy play rate: 2% (tied for No. 12)
Yards per attempt: 9.4 (No. 2)
Adjusted completion rate: 74.4% (No. 28)
QB rating: 122.9 (No. 2)
Squaring off with Aaron Donald and company usually doesn't bring out the best in opposing quarterbacks but either way, it's been refreshing to see Taylor maintain effectiveness after many figured his career was coming to an end following his ill-fated Hue Jackson-induced tenure with the Browns.
Most likely to have fans calling for him to be benched: San Francisco 49ers QB Jimmy Garoppolo at Chicago Bears
There's an argument to be made that Jimmy G has been the NFL's worst starting quarterback through seven weeks. He has somehow managed to simultaneously function as one of the most turnover-prone signal-callers while supplying very little in the form of big-time throws.
Big-time throw rate and turnover-worthy play rate Weeks 1-7 (PFF pre-MNF)

Down, left: Not many mistakes, not many great throws
Down, right: Not many mistakes, lots of great throws
Up, left: lots of mistakes, not many great throws
Up, right: lots of mistakes, lots of great throws pic.twitter.com/RAfr9ZMmhT

— Ian Hartitz (@Ihartitz) October 25, 2021
It remains to be seen if Trey Lance (knee) will be healthy enough to suit up come Sunday. Obviously, Kyle Shanahan is a smart guy, although his status as an offensive-minded wizard hasn't directly correlated to consistent top-tier production in the point-scoring department. Overall, Shanahan-led groups have finished inside of the league's top-20 scoring offenses just three times since 2010. Here's to hoping the eventual switch to Lance at least produces a more entertaining version of this below-average unit. 
Defending Fields' play is awfully tough at the moment, as he's PFF's second-lowest graded passer among 40 qualified quarterbacks. Blame should be cast on the rookie, his play-caller, offensive line and receivers alike, as it takes a group effort to field the league's third-worst scoring offense.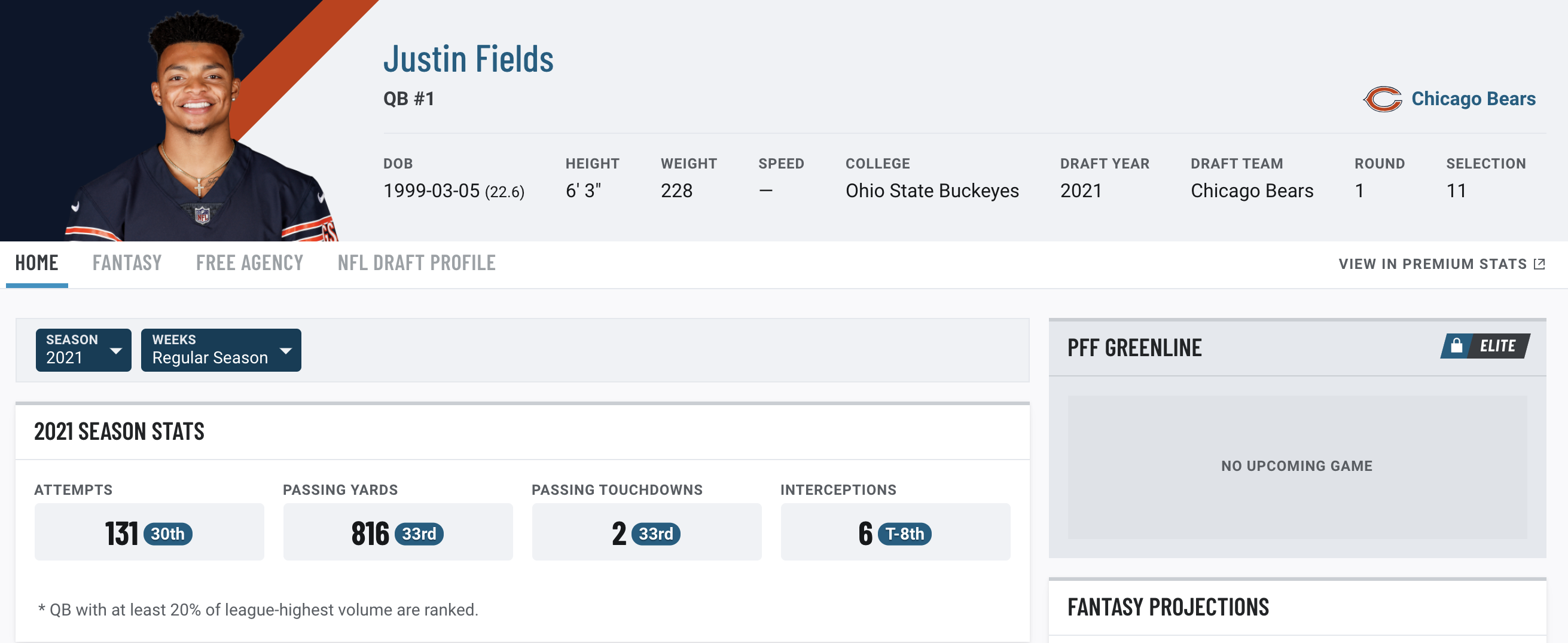 Perhaps the most frustrating part of the Fields-Matt Nagy experience has been the reality that everything has been hard. Fields has targeted an open or wide-open receiver on just 37% of his passes this season — no other signal-caller with at least 50 dropbacks is under 45%.
The Bears boast the fourth-worst team receiving grade through seven weeks, so the passing game's struggles don't fall solely on Fields. Either way, it's tough to see an imminent improvement against Nick Bosa and company so long as FIelds continues to function as arguably the league's single-worst quarterback under pressure.
Jones has been the best rookie quarterback by default this season — the bar to clear hasn't been high. Still, the 2021 NFL Draft's No. 15 overall pick deserves credit for improving his ability to beat defenses downfield as the year has gone on:
Weeks 1-5: 4 of 19 on passes thrown 20-plus yards downfield, 97 yards, 0 TD, 2 INT
Weeks 6-7: 5 of 9 on passes thrown 20-plus yards downfield, 190 yards, 2 TD, 0 INT
Overall, Jones has gone from PFF's 33rd highest-graded quarterback on passes thrown at least 20 yards downfield over the first five weeks of the season to the fifth-ranked signal-caller during the Patriots' last two games.
The Chargers have allowed the league's sixth-lowest explosive pass play rate this season, so it'd make sense if Jones struggles against Derwin James and company. However, that doesn't mean Jones' progression during the first half of his rookie season should be seen as anything other than a massive positive.
Herbert was rather brutal in Week 6, leading the Chargers to just six points during their blowout loss to the Ravens.
And yet, it wasn't the worst performance we've seen from the 23-year-old talent. That occurred last year in Week 13 against Bill Belichick, as Herbert totaled just 209 yards with a pair of interceptions during the Chargers' 45-0 loss to the Patriots.
What was interesting about the Patriots' strategy was the fact they only blitzed Herbert on five of his 56 dropbacks (9%). They sent additional rushers at opposing quarterbacks on 23.8% of dropbacks the rest of the season, so this seemed to be a concerted matchup-focused effort.
Of course, it's legal for young quarterbacks to improve with time. Herbert stands as PFF's 13th highest-graded passer when not blitzed this season while he drops to just 14th when opposing defenses have decided to bring extra rushers. This reflects the reality of the Chargers' second-year quarterback largely being dominant regardless of who he's facing. My money is on Herbert getting the better of the Patriots this time around.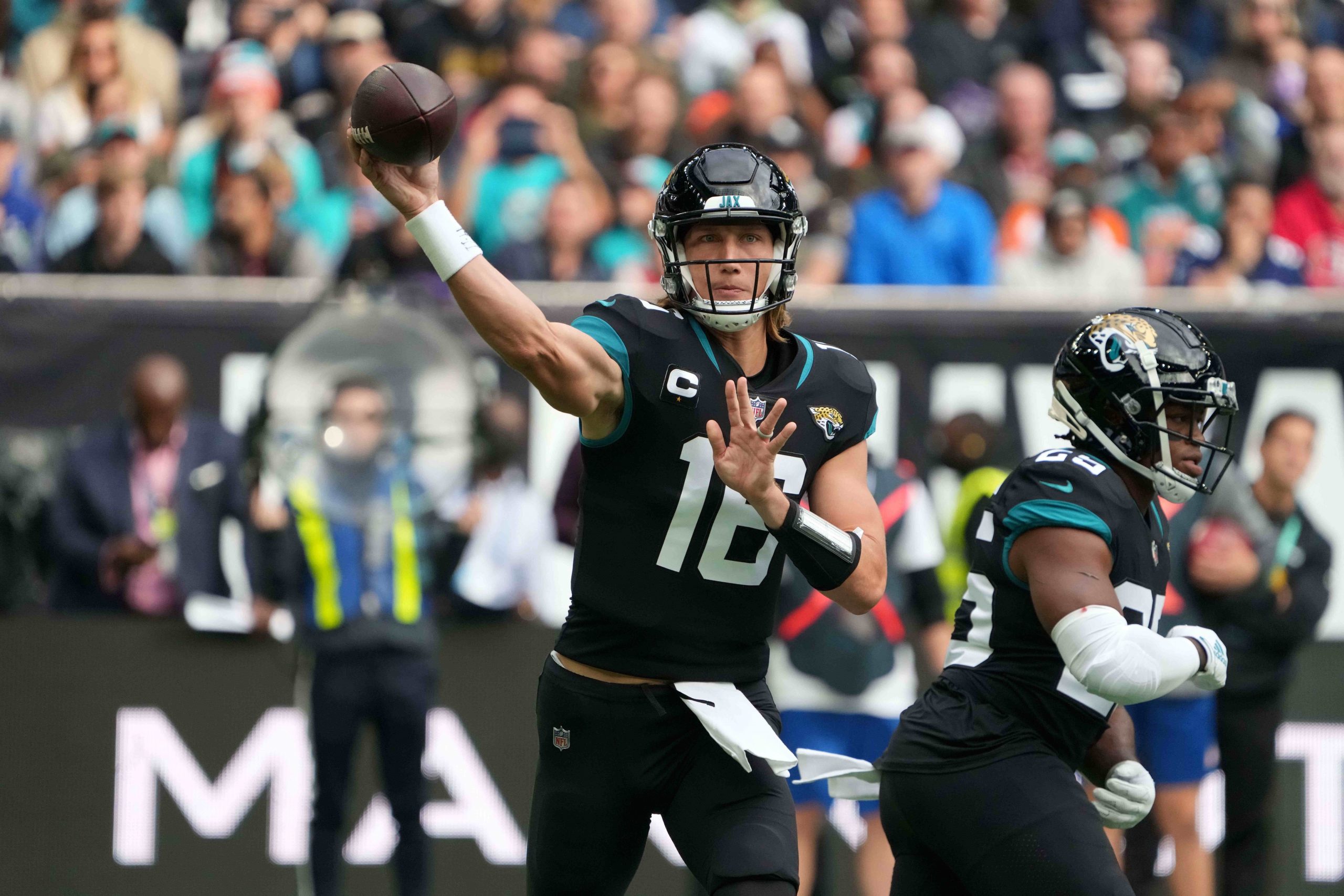 The 2021 NFL Draft's No. 1 overall pick turned in two of his best-three performances during the Jaguars' last three games before their Week 7 bye:
Week 1: 61.0 PFF passing grade (No. 26 among quarterbacks with 10-plus dropbacks)
Week 2: 40.1 (No. 33)
Week 3: 50.3 (No. 30)
Week 4: 73.5 (No. 13)
Week 5: 56.1 (No. 29)
Week 6: 82.3 (No. 6)
Losing starting WR D.J. Chark (ankle, IR) for the season is hardly ideal, but at least Lawrence has started to more frequently flash as the sort of "generational" prospect that many draft pundits lauded him as back in April. Hell, maybe there's even a version of our simulation that exists where Lawrence has a breakout party of sorts against the Seahawks' bottom-10 defense in yards per attempt and quarterback rating allowed.
Russell Wilson (finger, IR) has largely made diamonds out of trash during his time in Seattle, particularly considering the coaching staff's consistent reluctance to make anything easy in this passing game. The Seahawks once again find themselves near the bottom of the league in several metrics that usually help pinpoint which passing game is operating in a smart manner (pre-Monday Night Football):
Pressure rate: 36.6% (No. 23)
Play-action rate: 26.3% (No. 17)
Shift/motion rate: 39.1% (No. 29)
The latter metric, in particular, is frustrating considering the frequency with which offensive coordinator Shane Waldron made a point of emphasizing this very tool throughout the offseason.
Nobody has dropped a lower percentage of their targets than the Seahawks (1.3%) so maybe throwing the ball to D.K. Metcalf and Tyler Lockett more than a handful of times per game would make sense.
Brady is on pace to throw for 51 touchdowns, and it's very possible that there isn't a defense in the league capable of truly shutting down this offense.
But if there is a unit that might just simply have the GOAT's number, it's the Saints. Overall, Brady has started 27 games for the Buccaneers, and three of his bottom-seven performances have come against the Saints. His box score numbers haven't looked great either, yielding 199 yards-2 TD-0 INT, 239-2-2 and 209-0-3 performances. Brady has posted a four-to-five touchdown-to-interception ratio against the Saints and a 67-to-13 mark against everyone else. He's averaged 6.05 yards per attempt against the Saints and 7.76 versus everyone else.
Perhaps this is simply a three-game sample that will look silly this time next week, or maybe there's something about this Saints defense that makes Brady look more mortal than just about anyone else.
The Winston experience has been in full swing through six weeks. In Week 1, his five-score masterpiece produced 2021's 21st-best single-game PFF passing grade. Unfortunately, Weeks 2 and 3 produced 2021's 191st and 172nd highest-graded passing game among 130 instances in which a signal-caller dropped back at least 10 times. Winston's Week 4 performance was good for the 16th-best single-game performance of the season, but Week 5 saw Winston slip back down to a 132nd-place finish
Up next is one helluva revenge game against TB12 and company. Things could take a turn for the worst if Winston isn't afforded ample time in the pocket against the Buccaneers' ninth-ranked defense in pressure rate. Famous Jameis grades out as PFF's seventh-worst quarterback under duress among 33 qualified quarterbacks.
There's a low floor for essentially anyone other than Terry McLaurin inside of the Football Team's 22nd-ranked scoring offense. And yet, Heinicke has functioned as a fantasy QB1 for the same amount of weeks as he's ranked outside of the position's top-12 producers:
Week 2: fantasy QB13
Week 3: QB9
Week 4: QB5
Week 5: QB25
Week 6: QB25
Week 7: QB7
Note that the latter performance could have been even bigger if McLaurin held on to a well-thrown potential five-yard score, and/or the refs didn't rule Heinicke just short of the goal line after originally rewarding him with a short rushing touchdown.
Through seven weeks, Heinicke (222 rushing yards) joins Lamar Jackson (480), Jalen Hurts (361), Daniel Jones (229), Patrick Mahomes (219) and Josh Allen (214) as the only signal-callers with more than even 150 rushing yards. Heinicke leaps ahead of Jones in terms of total rushing yards when only looking at Weeks 2-7, which is when he became the Football Team's starter.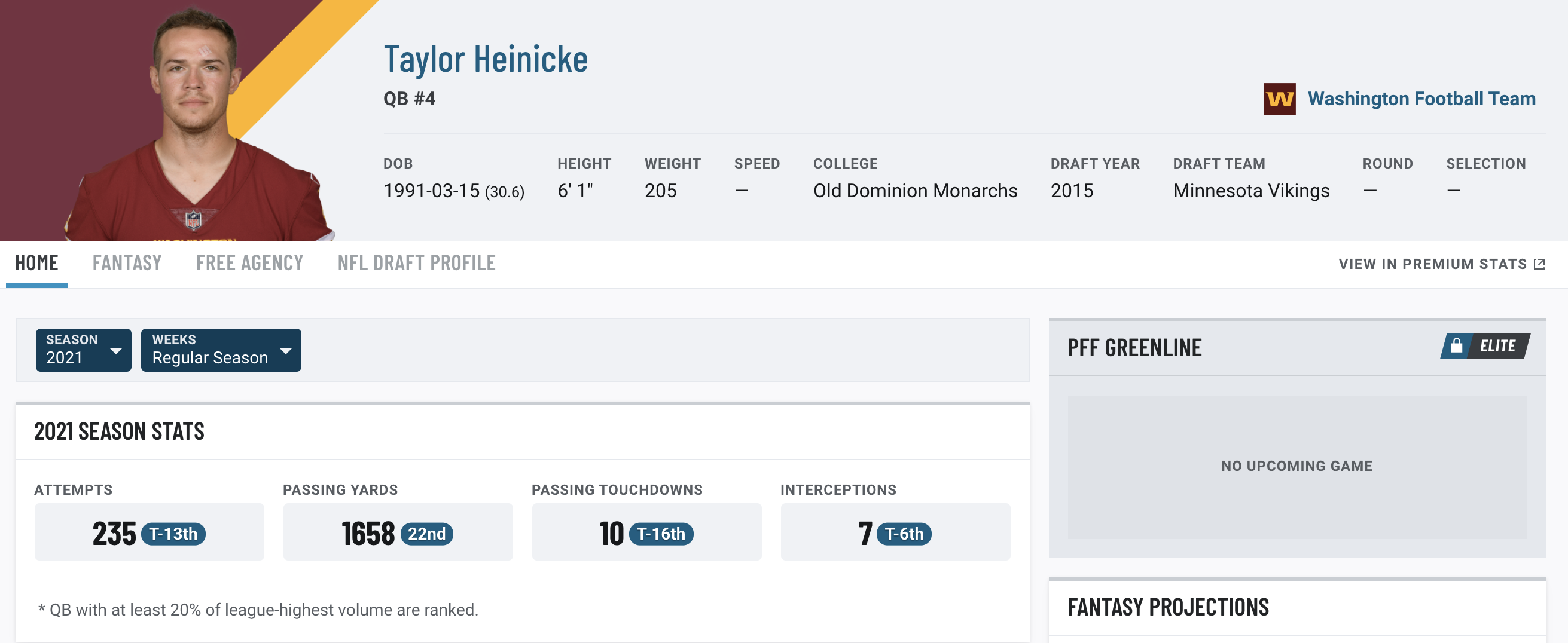 The Broncos' third-ranked scoring defense has also allowed the third-fewest fantasy points per game to opposing quarterbacks, so Heinicke is hardly a recommended start in fantasy land. Still, if he's going to put up some level of solid production — it'll likely come on the ground.
From last week: 
"Sometimes pressure is more of an indictment on the offensive line, other times it's more of an issue with the quarterback.
In the case of PFF's 16th-ranked offensive line in pass-blocking grade, Bridgewater is mostly at fault. Overall, the Broncos rank 29th in pressure rate (39.9%), but this drops to just 24.2% (19th) when accounting for throws in which the ball is out in fewer than 2.5 seconds. Only six teams have a longer average time to pressure than the Broncos.
Unfortunately, Bridgewater hasn't made a habit of getting the ball out of his hands with a sense of urgency, as his average time of release rests at 2.88 seconds through six weeks — the ninth-slowest mark among 38 qualified quarterbacks. This could be especially problematic against Myles Garrett and the Browns' league-best defense in pass-rush rate (52.5%) so don't be surprised if Bridgewater's early-season kryptonite really comes back to bite him on Thursday night."
Up next is a date with the Football Team's third-ranked defense in pressure rate. I'd be curious to see who has better odds of taking the Broncos' final snap this week between Bridgewater and Drew Lock.
The Cowboys' top-ranked scoring offense has only needed more than 60 minutes on one occasion this season, and Prescott has risen to the occasion each and every time with his back against the wall since entering the league in 2016. Overall, Prescott has thrown 18 career passes in overtime and somehow completed every last one of them for 214 yards and a trio of scores.
The Vikings' fifth-ranked defense in pressure rate managed to hold the Seahawks (17 points), Browns (14), Lions (17) and Panthers (28) relatively in check following disappointing efforts to start the season against the Bengals (27) and Cardinals (34), but at this point, there might not be a defense on the planet capable of slowing down Prescott and company when they're clicking. 
There simply aren't many better throwers of the football than Cousins when kept clean:
PFF passing grade from a clean pocket: 93.3 (No. 2 among 39 qualified quarterbacks)
Big-time throw rate: 4% (No. 18)
Turnover-worthy play rate: 1.1% (tied for No. 9)
Yards per attempt: 8.7 (No. 11)
Adjusted completion rate: 86.1% (No. 4)
QB rating: 119.3 (No. 9)
However, things have swung rather drastically in the other direction when the pocket has become muddled — only Geno Smith (-6.9 YPA), Case Keenum (-5.2) and Andy Dalton (-5) have larger dropoffs in yards per attempt than Cousins (-4.8) when pressured versus when kept clean.
The Cowboys come in as the league's eighth-best defense in pressure rate so don't be surprised if Cousins looks rather spectacular in the instances when Micah Parsons and company aren't able to disrupt his timing.
This isn't meant as a knock on Jones as a passer, as it's just tough to expect much from any quarterback when they're missing their top-three receivers. Here's to hoping Kenny Golladay (knee), Sterling Shepard (hamstring) and Kadarius Toney (ankle) are healthy enough to suit up next Monday night.
If not, look for Jones to again find most of his success as a rusher (or receiver!). Through seven weeks, only Lamar Jackson (480 rush yards) and Jalen Hurts (361) have been more productive on the ground than Jones (229). This isn't a new phenomenon, as only Kyler Murray gets added to the list of more productive rushers than Jones even after dating back to Week 1 of last season.
Nobody has allowed more rushing yards to opposing quarterbacks than the Chiefs (241) this season. While this stat is skewed because they've faced dual-threat friendly quarterbacks such as Jackson, Hurts, Taylor Heinicke, Josh Allen and Ryan Tannehill, Jones shouldn't be underestimated in this road spot (at least on the ground).
Mahomes and company are at their best when big plays seem inevitable nearly every single time a pass play is called. Obviously, it's been tough in recent weeks, but Monday night's matchup against the Giants could yield the sort of bounce-back spot the Chiefs need if this defense remains unable to limit the deep passing game.
Yards per attempt allowed on balls thrown 20-plus yards downfield: 14.9 (No. 22)
Explosive pass-play rate allowed: 48.3% (No. 26)
Pass touchdown rate allowed: 13.8% (tied for No. 25)
QB rating allowed: 119.6 (No. 27)
Despite struggling through seven weeks (for him), Mahomes still grades out as PFF's fifth-best passer when chucking the rock at least 20 yards downfield. Obviously, the 2021 season hasn't exactly gone as planned for the 3-4 Chiefs but don't be too quick to count out Mahomes and the league's eighth-ranked scoring offense ahead of this primetime get-right spot.