Now that the major pieces have re-sorted in free agency, we have a good idea of the locations for veteran players and can start to piece together what their 2020 will look like. Our Jeff Ratcliffe has had his fantasy rankings ready for a while now, and we've added fantasy projections, which leverage the modeling capabilities of Eric Eager and our research and development team. This series of articles — which started with running backs, quarterbacks and wide receivers — now moves to tight ends. Let's go through the top fantasy players by best ball ADP and compare their relative positional value according to our rankings and projections.
It's not intuitive, but projections and rankings aren't interchangeable. Each provides valuable insight, but through different methods. Our projections are based on a combination of model-based efficiency projections and analyst-informed share assumptions. Rankings are informed by projections, but the former combines more nebulous effects like upside, floor and contingency value that are more difficult to model. 
While acknowledging that projections aren't a substitute for rankings, in this piece I've translated our projections into positional rankings for comparison with our current rankings and ADP ranks. Projections aren't a better way for ranking players, but they aren't as influenced by market sentiment and can be a more independent view of player value. 
Below I've visualized the top 24 fantasy tight ends by current ADP, contrasting their ranks by ADP, PFF rankings and PFF projections. Often our rankings and projections are in agreement about the valuation of players relative to ADP, identifying players who should be prioritized or faded in drafts. What we find are some substantially misvalued players, and the visualization provides an easy way to judge the magnitude of the differences in rankings.
THE TOP-12 TIGHT ENDS
The tight ends below are listed in order of positional ADP rank, with the green points representing ADP, blue showing PFF ranking and red marking the rank by PFF projections. When two or more of the measures fall on the same positional rank, the color of the point will represent a mix: purple for PFF ranking and projections, brown for ADP and PFF projections, and a darker turquoise for PFF ranking and ADP. The lines between points illustrate the magnitude of the difference between the maximum and minimum ranking for each player.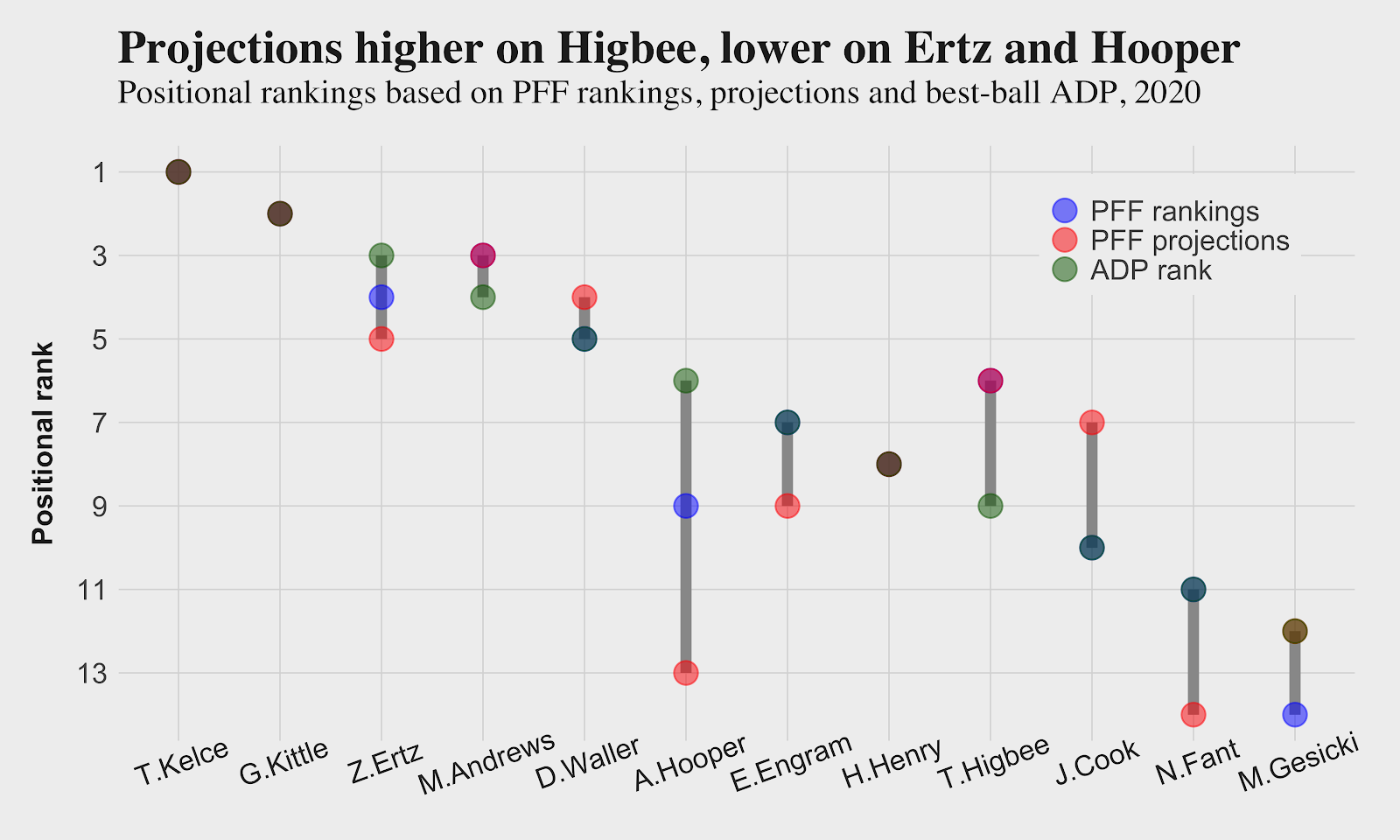 Our projections and rankings align with consensus on Travis Kelce and George Kittle but have a less sanguine view of Zach Ertz. Our rankings have Ertz one spot lower than ADP at TE4, and our projections a notch below that at TE5. Our projections move Mark Andrews to TE3 with Darren Waller next at TE4.
We're lowest on Austin Hooper relative to his TE6 ADP. Hooper was TE6 in PPR leagues last season playing only 13 games, so he has upside. The question will be how Hooper's role with the Cleveland Browns compares to the fruitful one he had playing alongside Julio Jones and Calvin Ridley.
Our projections have Tyler Higbee and Jared Cook three spots higher than their respective ADPs. Higbee was one of the most productive tight ends in the NFL the last six games of 2019, yet his TE9 ADP is one spot lower than his 2019 finish.
SECOND-TIER TIGHT ENDS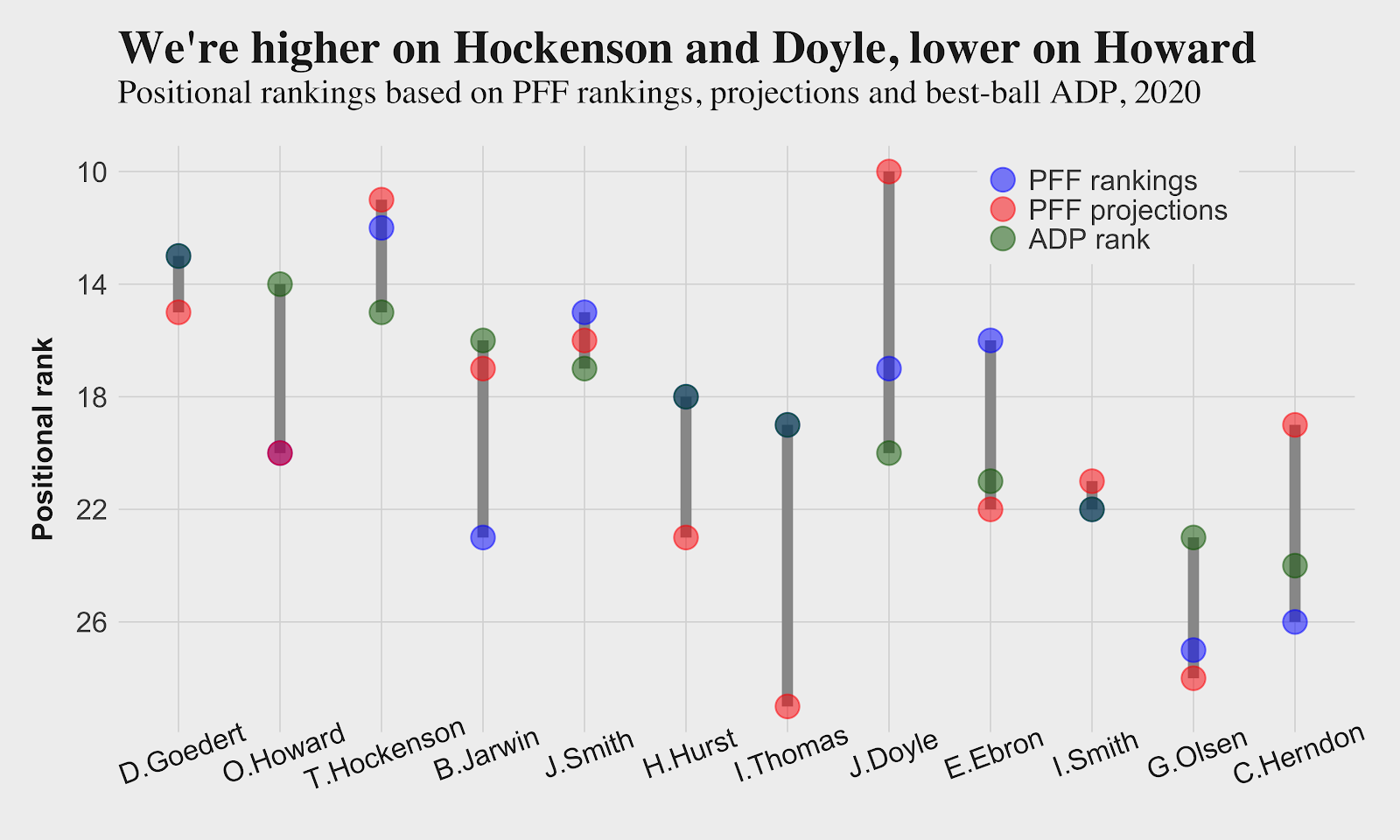 Our projections and rankings are still in wait-and-see mode with O.J. Howard, while drafters are more confident Tom Brady's arrival will translate into success. The same goes for Hayden Hurst and Ian Thomas in new roles this season. Jack Doyle is our most undervalued tight end according to projections at TE10 versus TE20 ADP, while our rankings are highest on Eric Ebron relative to price.