Now that the major pieces have re-sorted in free agency, we have a good idea of the locations for veteran players and can start to piece together what their 2020 will look like. Our Jeff Ratcliffe has had his fantasy rankings ready for awhile now, and we've added fantasy projections, which leverage the modeling capabilities of Eric Eager and our research and development team. This series of articles, which started with running backs and is moving to quarterbacks, will go through the top fantasy players by best ball ADP and compare their relative positional value according to our rankings and projections.
It's not intuitive, but projections and rankings aren't interchangeable. Each provides valuable insight but through different methods. Our projections are based on a combination of model-based efficiency projections and analyst-informed share assumptions. Rankings are informed by projections, but the former combines more nebulous effects like upside, floor, and contingency value that are more difficult to model. 
While acknowledging that projections aren't a substitute for rankings, in this piece I've translated our projections into positional rankings for comparison with our current rankings and ADP ranks. Projections aren't a better way for ranking players, but they aren't as influenced by market sentiment and can be a more independent view of player value. 
[Find a full collection of analysis and insights on PFF's 2020 fantasy football projections for all 32 NFL teams. Check back as more articles will be added each day.]
Below I've visualized the top 24 fantasy quarterbacks by current ADP, contrasting their ranks by ADP, PFF rankings and PFF projections. Often our rankings and projections are in agreement about the valuation of players relative to ADP, identifying players who should be prioritized or faded in drafts. What we find are some substantially misvalued players, and the visualization provides an easy way to judge the magnitude of the differences in rankings.
The Top-12 Quarterbacks
The quarterbacks below are listed in order of positional ADP rank, with the green points representing ADP, blue showing PFF ranking and red marking the rank by PFF projections. When two or more of the measures fall on the same positional rank, the color of the point will represent a mix: purple for PFF ranking and projections, brown for ADP and PFF projections, and a darker turquoise for PFF ranking and ADP. The lines between points illustrate the magnitude of the difference between the maximum and minimum ranking for each player.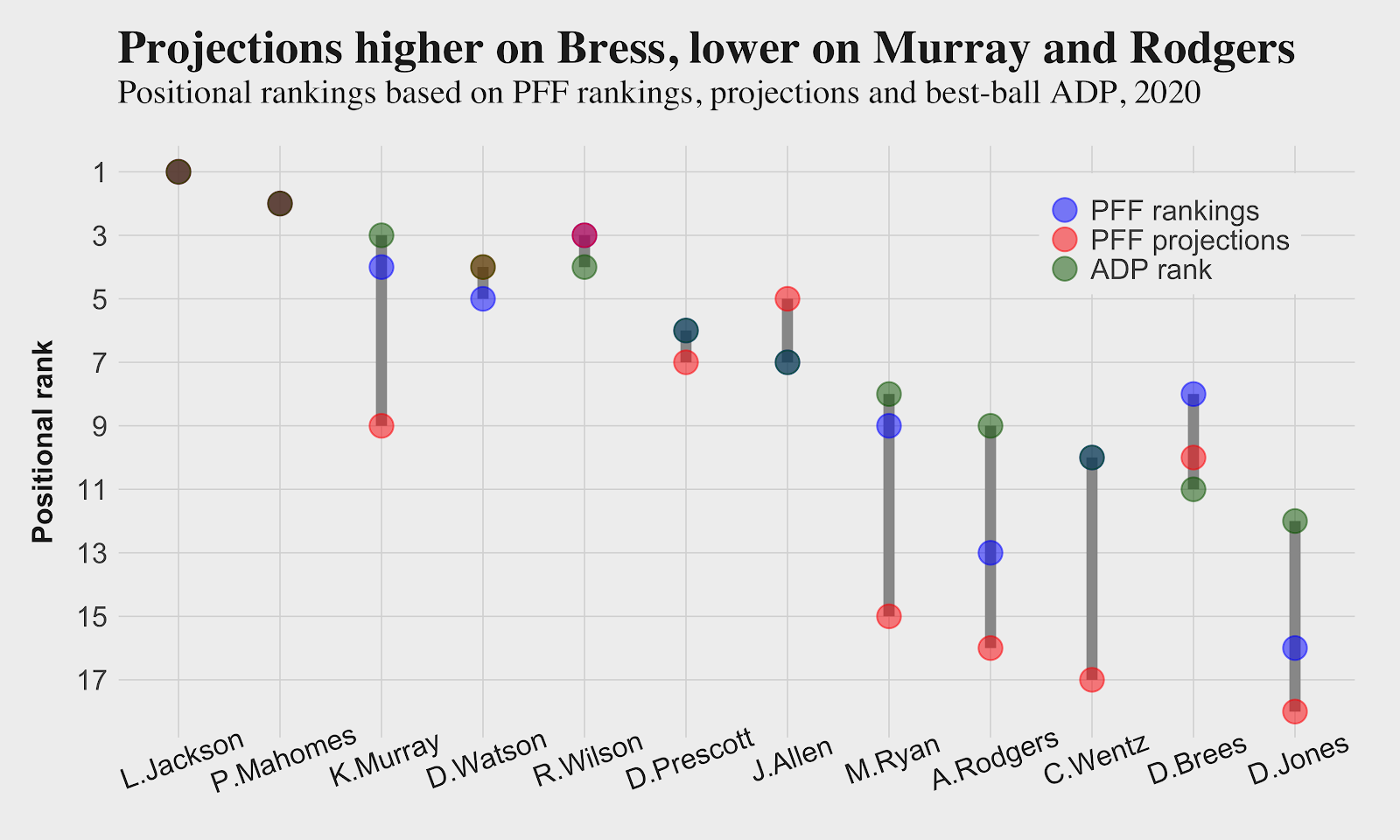 The ranking for the top two quarterbacks are aligned, but our projections and rankings, to a lesser degree, aren't as high on Kyler Murray as his current QB3 ADP. Murray finished 2019 at QB7 — above Patrick Mahomes, who only played 13 games. Murray's ascension ahead of Deshaun Watson and Russell Wilson isn't irrational with the expectation of a second-year leap, though perhaps a year or two early.
Like Murray, our projections are less enthusiastic on the 2020 prospects for Matt Ryan, Aaron Rodgers, Carson Wentz and Daniel Jones. Our rankings are roughly aligned with ADP for Ryan and Wentz, leaving Rodgers and Jones as the clear fade candidates among the top-12 quarterbacks. Rodgers was QB12 last year, so projecting him higher a year older reflects an optimistic view of either his volume or efficiency. Jones is another second-year-leap candidate with Murray, and like Murray the projections don't see the upside in his mean projection.
Second-Tier Quarterbacks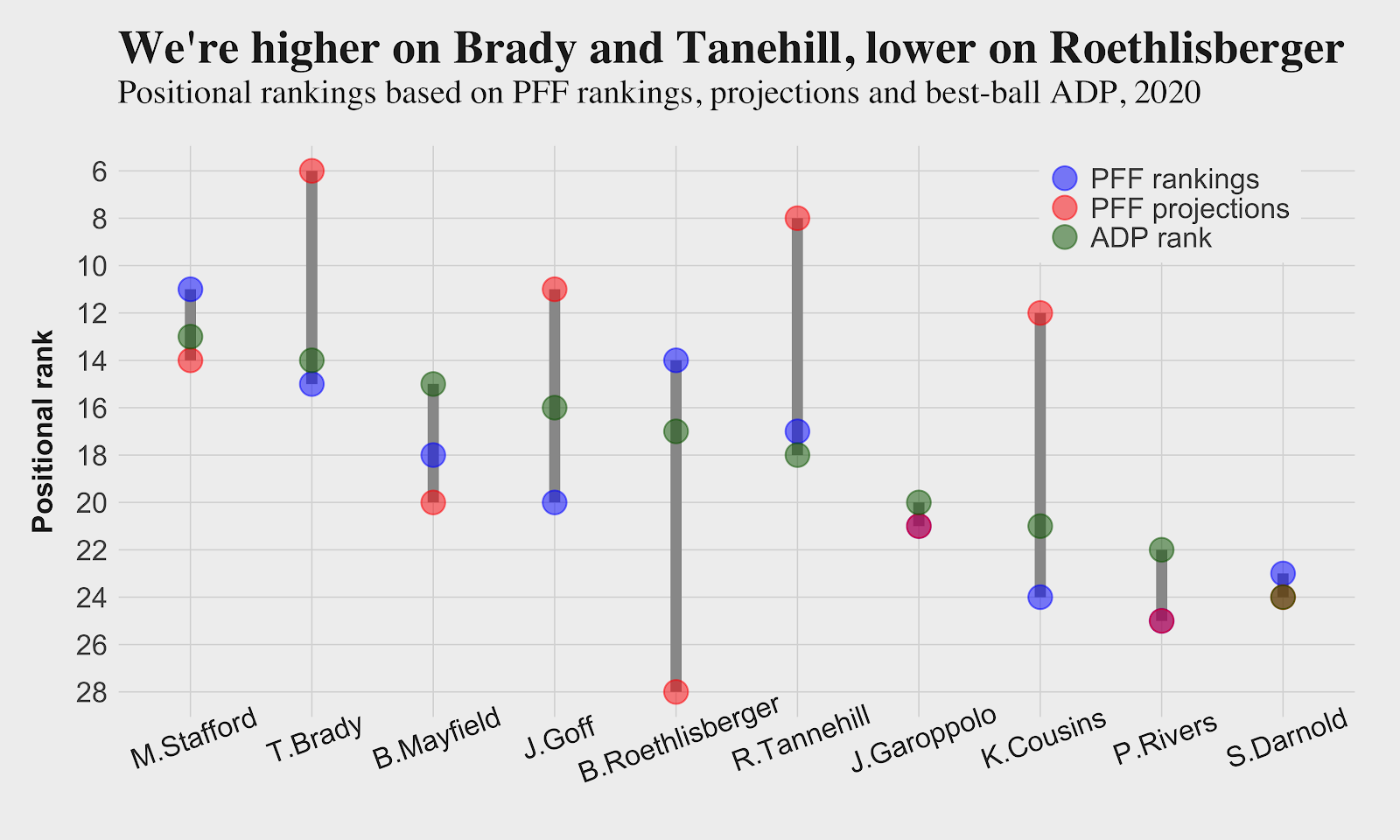 Tom Brady isn't the most exciting option after falling out of the top 10 fantasy quarterbacks in 2018 and 2019. Our projections see Brady approaching the top-five finishes that used to be commonplace now that he's playing with Mike Evans and Chris Godwin. 
Ryan Tannehill was QB23 last season but in the top 10 on a per-game basis when counting the games he started. Tannehill will have largely the same supporting cast this year, leading our projections to have him as QB8. Kirk Cousins is another quarterback with a strong projection relative to ADP, but our rankings are on the opposite side of the fence with a ranking worse than ADP.
Our projections and rankings also disagree on Ben Roethlisberger, with the former ranking him as QB14 and the later at QB28, largely based on lower volume. If Roethlisberger can stay healthy, he'll easily outpace our projections.