(Metrics that Matter is a regular offseason feature that examines some aspect of fantasy through a microscope to dive into the finer details. Follow the whole series here.)
Throughout this series we've focused mostly on PFF's Signature Stats and how they relate to fantasy football and what they mean for the 2018 fantasy season. This week and last, we shifted our focus to PFF's grades. Today, we'll discuss tight ends.
To access our 2017 season-long grades (if you're an Edge or Elite subscriber) you can go here. If you'd like to read more about our grading process, click here. If you'd like to hear a few personal anecdotes as to how our grades helped me spot a few breakout candidates before the rest of the fantasy world, I'll refer you back to the intro article here, where I discuss quarterbacks. I have also discussed running backs and wide receivers.
Here are the five tight end grades I found to be most surprising.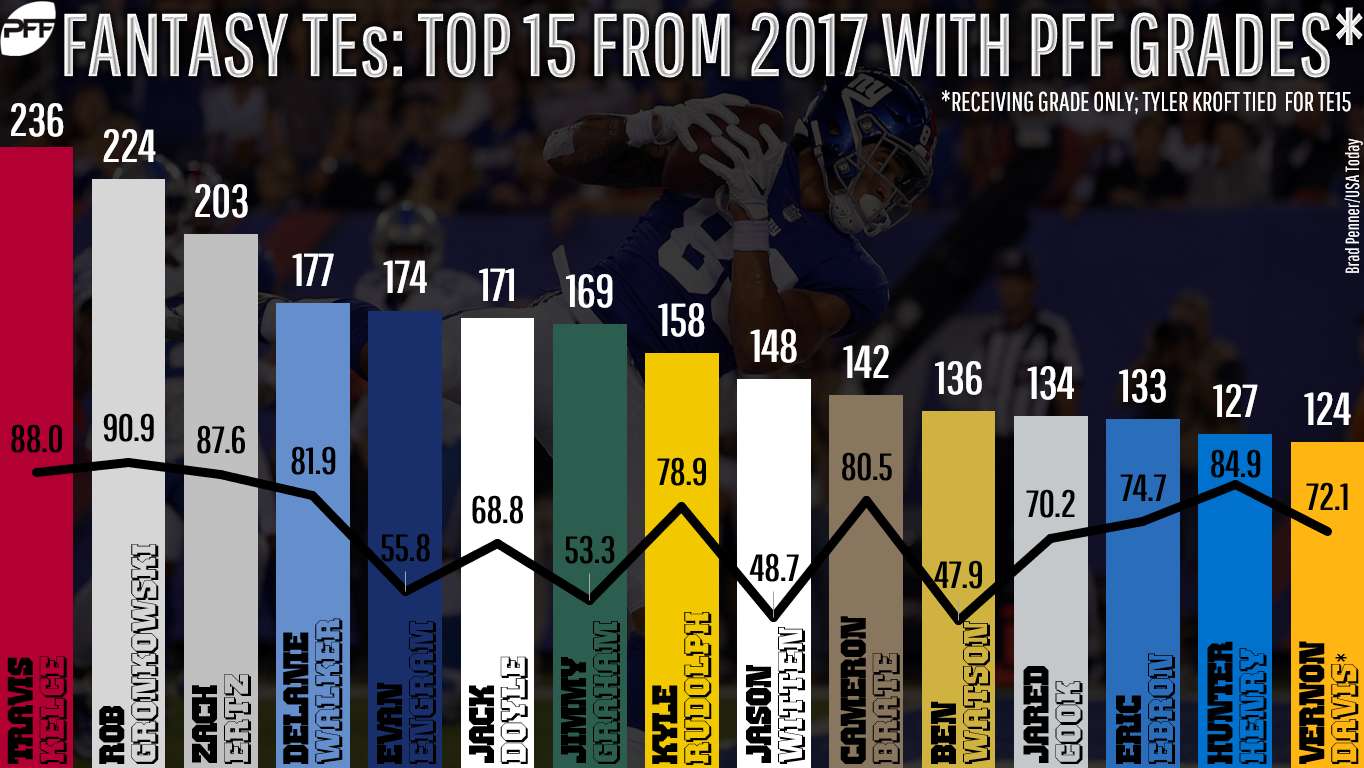 Note: As we argued have elsewhere, blocking doesn't matter much at all for fantasy tight ends, and actually might be a detriment for fantasy, so our focus here with be on PFF receiving grade rather than overall grade.
Even after factoring in poor quarterback play, I came away disappointed with Njoku's debut. Njoku forced a missed tackle on 31.3 percent of his career receptions in college, the highest rate of any Power-5 tight end of the PFF College era (2014-2017). Last year, he forced only two missed tackles. He caught just 32 of 58 targets and just two of nine end-zone targets. Still, our graders must have caught something I missed, grading Njoku as our 10th-best receiving tight end. Production should improve in Year 2, as it always does with tight ends, as should efficiency with a quarterback-upgrade to either Tyrod Taylor or Baker Mayfield under center.
While Njoku's receiving grade was a pleasant surprise, the opposite was true for Engram, who graded out 32nd of 55 qualifying tight ends. Part of his low ranking is due to drops, as he led the position with 11 (four more than next closest). It's likely he improves in this category next year, but his volume is also unlikely to be anywhere near as good as it was last year, when Odell Beckham Jr., Sterling Shepard, and Brandon Marshall combined to miss a whopping 28 games. With Beckham returning, and after the team spent their No. 2 overall draft pick on running back Saquon Barkley, Engram feels like an easy fade at his current price tag (sixth-round ADP, TE6).
Seferian-Jenkins has gotten some buzz this offseason, but his performance last season has me pessimistic. As a receiver, he graded out 43rd-best of 55 qualifying tight ends. He drew 74 targets and averaged just 4.83 yards per target, which was the 16th-lowest rate of 581 qualifying tight ends since targets became a stat (1992). His ADP is low enough (TE16) that he might still be a decent value, but he's not someone I'm going out of my way to acquire.
Watson has been one of my favorite fantasy values this season, now in New Orleans with a 15th-round ADP, but there are concerns. He's 37 years old and graded out just 47th of 55 tight ends as a receiver last year. Still, he led his team in receptions last year, and New Orleans has a strong history of coaxing high-end production from their tight ends, in part because Sean Payton rarely asks his tight ends to block. Watson saw career highs in targets, receptions, yards, and touchdowns in his last year with New Orleans (2015) and also finished the year as fantasy's No. 7 tight end. Coby Fleener was underwhelming in New Orleans, but that was in part because he played so poorly. Prior to Fleener's arrival, New Orleans had ranked top-six in team fantasy points scored by tight ends in seven of eight seasons, including 2008-2010 when Jeremy Shockey led the team in tight end targets.
Although Seals-Jones and Eifert didn't play enough snaps to technically qualify, both would have graded out No. 10 overall in receiving. Seals-Jones ran only 68 routes last year but drew 28 targets for 201 yards and three touchdowns, making him easily the most efficient tight end on a per-route basis. Arizona beat writers are projecting Seals-Jones to enter camp as the starter and with an expanded role in the offense. In each of four seasons coached by Mike McCoy (now calling plays for the Cardinals), Antonio Gates totaled at least 85 targets. Seals-Jones is a strong ADP value, typically going in the 15th round in most drafts. Eifert, meanwhile, has as much upside as nearly any tight end when on the field. Injuries are a major concern, and he might not even be ready for camp, but he does rank fifth at the position in fantasy points per game since 2015 (13.0), despite playing hurt for much of this stretch. Contrasting his upside with his injury risk, and factoring in he did grade well when on the field last year, he's appropriately priced but a boom-or-bust pick at ADP (TE10).