(Metrics that Matter is a regular offseason feature that examines some aspect of fantasy through a microscope to dive into the finer details. Follow the whole series here.)
What if I told you there was a wide receiver frequently going undrafted in most leagues (ADP WR74) even though he's been one of the league's most efficient at the position and is next in line to replace a wide receiver who finished top-five in fantasy points scored last year? Would you make him one of your top draft-day targets?
That's exactly what I've done with Miami's Albert Wilson, who has quickly become one of my top-sleepers and most highly owned players this offseason.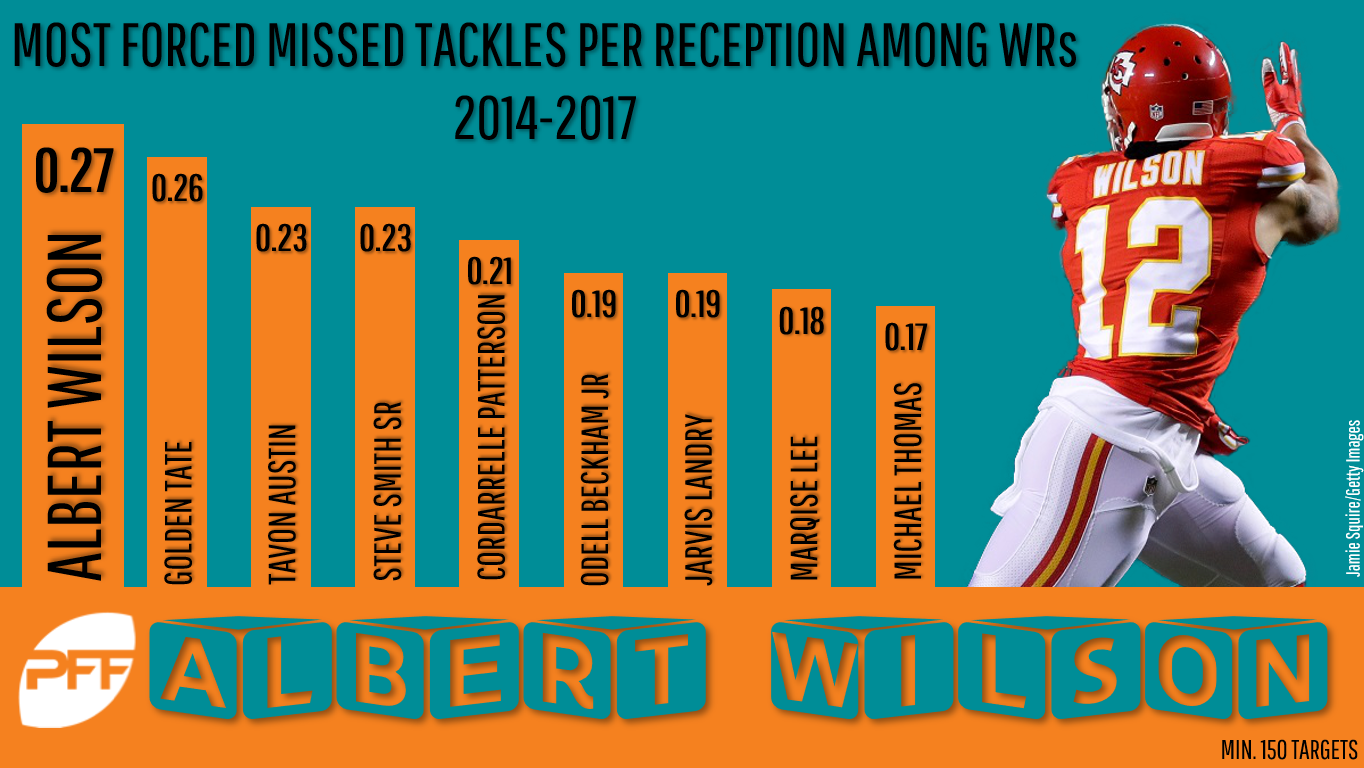 Since entering the league in 2013, Wilson ranks first of 108 qualifying wide receivers in missed tackles forced per reception (0.27) and fourth-best in yards after the catch per reception (6.6). These numbers put him in a close competition with Golden Tate for being the league's most efficient wide receiver (once the ball in his hands) over this stretch. As good as these numbers are, he looked even better last year.
In 2017, Wilson ranked first in missed tackles forced per reception (0.36), first in first downs per target (51.6 percent), first in average separation (4.1), second in yards after the catch per reception (7.5), fourth in passer rating when targeted (123.7), and fourth in depth-adjusted yards per target (+2.8).
Miami led the league in slot wide receiver targets last year by 17 (156 total) and starting slot wide receiver Jarvis Landry finished fourth in fantasy points per game last season while running 64.8 percent of his routes from the slot (87 slot targets). For perspective, Wilson ran 70 percent of his routes from the slot over the past two seasons while in Kansas City.
Wilson isn't a lock for Landry's now-vacated role, and certainly not for Landry's near-league-leading target-volume (156 targets last year), but it is within his range of potential outcomes. He'll have to contend with fellow free agent acquisition Danny Amendola for full-time slot duties this year. Kenny Stills also signed a new contract with Miami this offseason and will spend some time in the slot. He ran 47.0 percent of his routes from the slot last season and scored 66.2 percent of his fantasy points from the slot last year. Stills and Wilson are both now making $8 million per year, while Amendola signed a shorter contract for $2 million less per year (and with nothing guaranteed after this year).
Amendola can't touch Wilson in terms of per-target efficiency, and the contract differential also leans in Wilson's favor, but Amendola has consistently beaten Wilson in PFF grade over the past few years. Amendola graded out 25th-best among wide receivers via the pass last year, while Wilson ranked 33rd. In 2016, Amendola failed to meet the minimum snap threshold while Wilson graded out 12th-worst of 97 qualifying wide receivers. In 2015, Amendola graded out 22nd-best of 102 qualifying while Wilson ranked 70th. Wilson represents a rare instance where our grades strongly clash with our efficiency metrics. I'm not sure what to make of this but it is a reason to also consider Amendola at his nearly equally depressed price tag (ADP WR68).
Miami's passing game struggled mightily last year but should improve drastically moving from Jay Cutler back to Ryan Tannehill, as I outlined here. For this reason and a few others, I also like DeVante Parker's value (ADP WR39) and upside, though he's been woefully inefficient throughout his short career (ranking last of 56 qualifying wide receivers in WR rating since entering the league). It appears all of these wide receivers are strong fantasy values despite a low likelihood of all proving to be fantasy-relevant.
With Wilson in particular, there are enough positive trends to get really excited about his potential within this offense, and there's almost zero downside at his ADP. We should know very quickly into the season just how valuable this role is – if Amendola will be starting over him, if head coach Adam Gase will instead employ a committee between the two, or if the slot role in Miami is nowhere near as lucrative as it was last season – meaning, even if Wilson busts, you can quickly drop him for a player with more upside early into the season.
In 2018 drafts, I've been going out of my way to target Wilson a round or two early and have even paired him with Amendola for added safety in some drafts. In dynasty leagues, after turning just 26 years old earlier this month, Wilson's ADP appears even more nonsensically low (ADP WR84) and I've been trying to acquire him in all of my dynasty leagues this offseason.