Ranking players by position is an important part of fantasy football preparation, but grouping them into tiers is crucial to identifying the value you might be leaving in the draft room. If you're on the clock and looking at several quarterbacks in the same tier, it could make sense to wait a round — someone equally as good will probably be available with your next pick.
Tiers can also help group players with similar expectations, whether that means grouping the reliable vets or the risky young players with upside. Either way, we don't want to pay more than the next drafter for a similar player. After going through my running back tiers a few weeks ago, here are my tight end tiers.
Subscribe to PFF's EDGE or ELITE subscriptions to get access to the following tools, charts, etc. 
– All Premium Article Content
– Fantasy Football Rankings & Projections
– Fantasy Football Draft Guide, Cheat Sheets & Advanced Stats
– Fantasy Football Mock Draft Tool (DraftMaster)
– Fantasy Football Strength of Schedule Matrix
– NFL Player Grades
– NFL Premium Stats
TIER 1 – TE1: ELITE TALENT AND UTILIZATION
Travis Kelce, Kansas City Chiefs
George Kittle, San Francisco 49ers
Both Kelce and Kittle are the consensus top two tight ends across PFF rankings. There is some debate between who is number one, but both are elite options. In 2020 drafts, it is feasible to consider either of these players as early as Round 2 in 12-team PPR formats. They carry fewer questions than several backs and receivers in that range and offer a weekly positional advantage over your opponents.
Kelce has finished as the top fantasy tight end in four straight seasons. He will turn 31 this October but has shown no signs of slowing down. He ranked fourth in receiving grade (88.5) in 2019, which ranked fourth out of 49 players with a minimum of 25 targets. His big-play ability is still evident in his 31 receptions of 20-plus yards over the past two seasons — second-most for tight ends. He plays with an elite quarterback and an adaptive play-caller who is willing to channel his offense through the passing game. This offense has perennial 40-passing-touchdown upside with that pairing.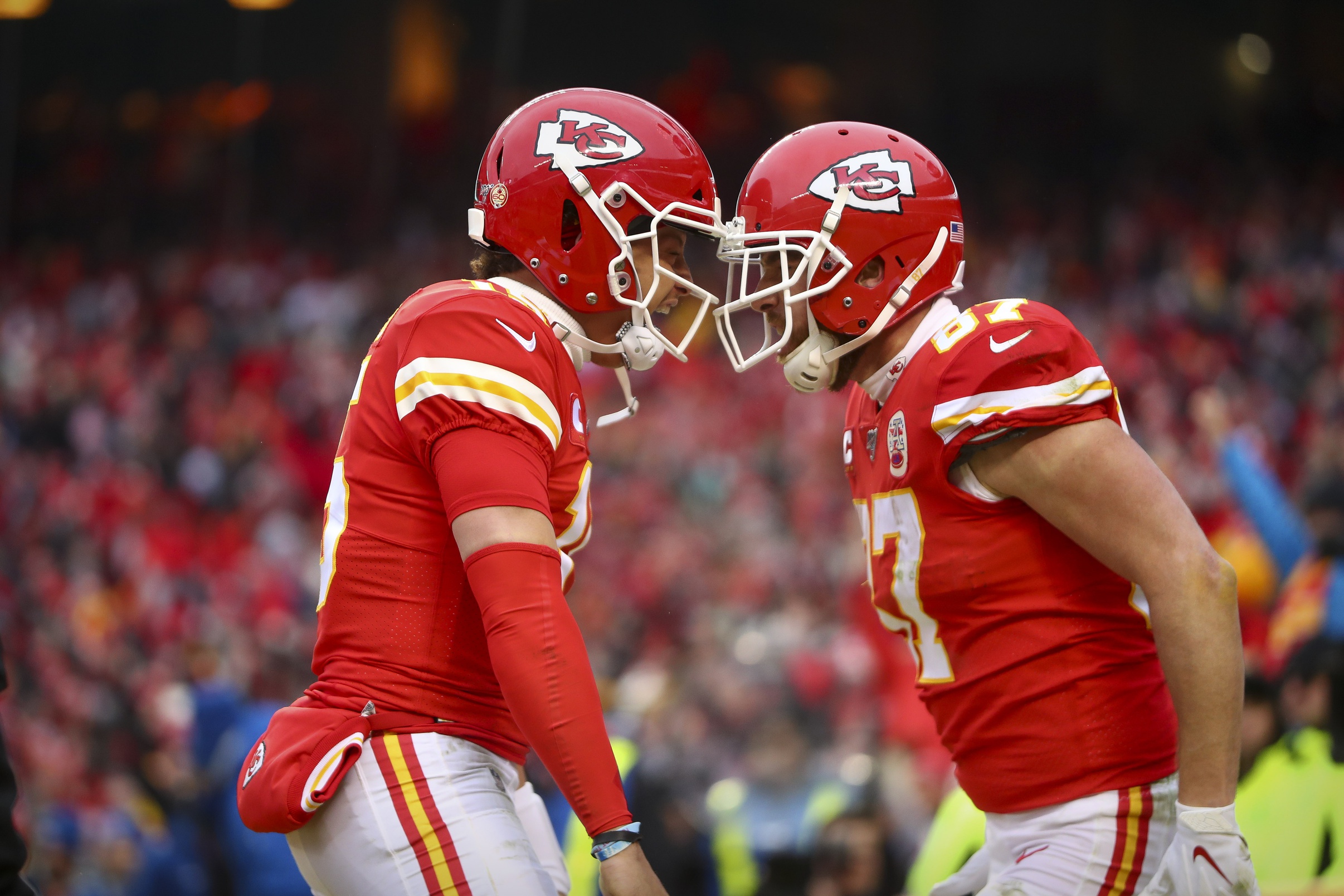 The Chiefs dropped back to pass on 66.3% of their plays in 2019 — sixth in the NFL despite an 8.9-point average margin of victory. Head coach Andy Reid throws the ball more than the league averages in all leading, tied and trailing scenarios. And Kelce has led the Chiefs in red-zone and end-zone targets each of the past two seasons. Cumulatively over that same span, he ranks fifth (73) and 19th (19), respectively. Kelce's schedule is the 10th-toughest for tight ends over the first 12 weeks.
Kelce is a lock for 125 to 135 targets in an elite offense that stiff-arms the notion of running when ahead. He sees high-leverage targets in the red zone and end zone and still can deliver big plays. Kelce checks every critical box for a top fantasy producer.
Kittle received the top receiving grade for tight ends (95.0) in 2019. He is a perfect fit in Kyle Shanahan's scheme, where he creates mismatch problems versus linebackers and safeties. Once the ball is in his hands, getting him to the ground is a complicated task — among tight ends with at least 30 receptions, he leads the position in yards-after-the-catch average (8.6) over the past two years. The freakish talent has 36 grabs over 20 yards in that span, the most in the NFL. And Kittle owns two of the top six yards per route run figures in a season since 2007 (3.12 in 2019 and 2.82 in 2018) among tight ends with 25 season targets,.
Unlike Kelce, Kittle plays in an offense that prefers to run as much as possible. The Niners threw the ball at the third-lowest rate in the NFL (53.5%) in 2019. Kittle has led San Francisco's passing game on a per-game target share over the past two seasons (25% and 24%). He could push for slightly more work in 2020 if the coaching staff decides to utilize him more in the passing game. Deebo Samuel is the team's No. 2 receiver and won't be ready early on due to a Jones fracture.
Kittle's utilization in the red zone and end zone are similar to Kelce's from a percentage perspective (19% and 26%). Still, he lags in raw numbers (46 and 16) due to the difference in offensive philosophy. The Niners' tight ends draw the fourth-easiest schedule over the first 12 weeks of the season.
TIER 2 – TE1: STRONG TALENT AND ELITE UTILIZATION
Mark Andrews, Baltimore Ravens
Zach Ertz, Philadelphia Eagles
Darren Waller, Las Vegas Raiders
Each member of this trio offers an opportunity to own their offense's No. 1 target. I am willing to draft all of these tight ends at their current ADP or slightly above it.
Mark Andrews is an excellent example of how a scheme fit is vital. He arrived at fantasy stardom ahead of the typical long-learning curve that can encumber tight ends because he is an ideal fit in Greg Roman's system. Defenders facing the challenge of maintaining run integrity while also keeping track of the young athletic tight end often weren't up to the task.
Andrews' 90.2 receiving grade ranked second out of 47 tight ends with 25 or more targets in 2019. For additional perspective, it ranks as the fourth-best rookie or second-year season since 2007 out of 133 qualifiers. Only Rob Gronkowski, Jimmy Graham and George Kittle eclipsed that mark. Of that group, only Gronk and Graham topped 2 yards per route run (YPRR) in each of their first two seasons — another feather in Andrews' hat (2.89 and 2.01).
Despite fewer targets than some of his peers, Andrews led all tight ends with 16 plays of 20 or more yards in 2019. He was the most-targeted Raven (24% per game) despite playing in a three-tight-end rotation that limited him to a route on only 61% of the team's dropbacks. With Hayden Hurst's 41% of snaps departing for Atlanta, there is an opportunity for Andrews to see the field more. He also has a chance to play healthier; he limped through 2019 with foot, shoulder, knee and ankle injuries.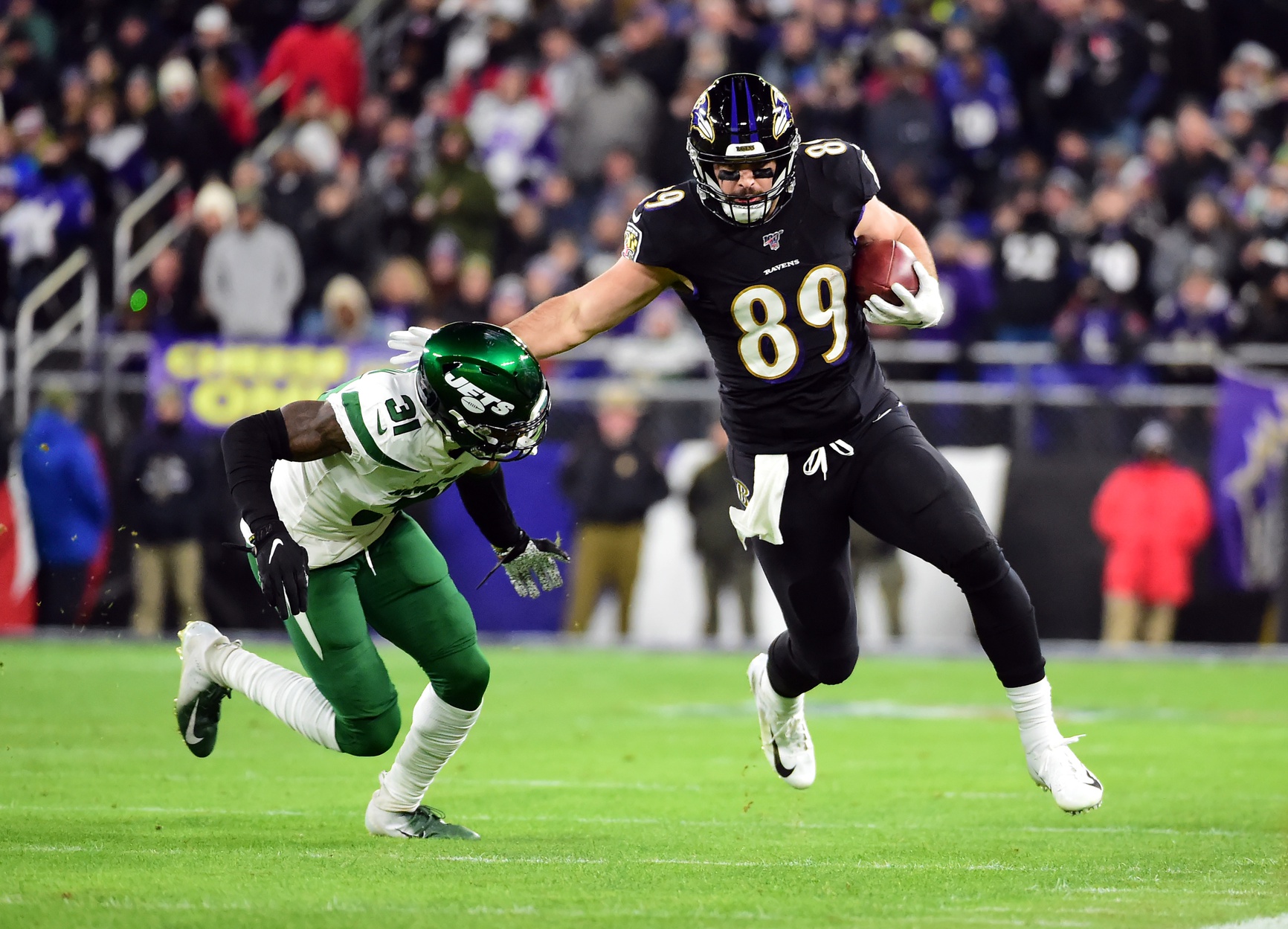 Expect some touchdown regression from the Ravens' passing game this season, but Andrews should remain the top option and has the upside to push for more opportunities. He isn't wholly risk-free — the team could continue to curtail his routes, and this is a run-first attack, making his floor lower than Ertz's. If he sees more looks and the Ravens pass more in 2020 — they were last in the NFL (48.5%) in 2019 — he could springboard into the top tier.
Zach Ertz has finished as the fourth, second, third and sixth tight end over the past four seasons. He is a staple in the Eagles' passing game, always a lock to top 21% of his team's targets. His utilization near the end zone is similar, coming in at 22% and 23% in the past two seasons. Ertz doesn't bring as much sizzle by way of yards after the catch (3.1), but he still makes big plays, hauling in thirteen 20-plus yard receptions last year.
The Eagles' pecking order behind Ertz is a bit up in the air. They are expecting big things from rookie first-rounder Jalen Reagor, but he will have to get up to speed. DeSean Jackson was electric in his one game in 2019 but carries injury risk. Alshon Jeffery will start the season on the PUP. Dallas Goedert gets a boost from the Eagles' league-leading usage of 12 personnel (50%) but still isn't on the field every play.
Ertz is often the fourth tight end off the board and sometimes slides too far in drafts. His efficiency (1.69 YPRR) isn't on par with the tier above, but he is a steady producer. Given the Eagles' current roster construction, he remains one of the safest volume tight end picks on the board.
Darren Waller lived up to his preseason buzz in 2019 in a big way. He led the Raiders with a 22% target share (115) and averaged a whopping 12.7 yards per catch — fueled by a healthy 6.6 yards after the catch. Active in creating big plays — fourth most 20-plus yard plays — and finishing second on the team with 21% of end-zone targets (6), the second-chance tight end proved to be a versatile weapon. In his first full season of action, he graded out as PFF's sixth-highest tight end in receiving grade.
The Raiders revamped their offensive weaponry this offseason by adding Henry Ruggs III in the first round, landing Bryan Edwards in the third and nabbing veteran tight end Jason Witten via free agency. All of this movement has some fantasy owners torn on Waller's value heading into 2019.
There is some speculation that Witten could eat into Waller's snaps in run-blocking situations. While you can never count out Jon Gruden when it comes to getting older players involved, Waller and Witten's run-blocking grades were close in 2019 at 58.2 and 60.1, respectively. Witten isn't the blocker he once was.
The athletic tight end (4.46 speed) is still an ascending player despite being 28 years old this season. Waller — who averaged an elite 2.42 yards per route run — should remain the centerpiece of the Raiders' attack in 2020, which has featured speed-mismatch tight ends for two consecutive years. With a little help from his new teammates, Waller could also see more scoring opportunities.
TIER 3 – TE1: STRONG TALENT WITH INJURY CONCERNS IN CROWDED OFFENSES
Rob Gronkowski, Tampa Bay Buccaneers
Hunter Henry, Los Angeles Chargers
This group doesn't have the same upside to lead their teams in targets, but they could all have healthy roles in their offenses. For the most part, this isn't a tier I am heavily targeting in 2020 — there are less-proven players later in the draft who offer a similar opportunity. If they slide, then I am happy to select them.
At 6-foot-3, 242 pounds with a 4.42-second 40-yard dash, Evan Engram is a physical mismatch for most players who line up across from him. However, injuries and inconsistency have held him out of the upper echelon of fantasy tight ends. He has played eight, 11 and 15 games over the past three seasons and has topped out at 1.83 (2018) yards per route. Engram's combine hype has shown up in yards after the catch (7.2) — ranking fourth out of 59 tight ends with at least 30 targets over the past two seasons.
Jason Garrett, his new offensive coordinator, has never been shy about utilizing tight ends, but he has always had an every-down option. There is some concern that Engram, who has never graded well as a run blocker, could lose snaps to free-agent signee Levine Toilolo. While this could put a small dent in Engram's upside, he should be on the field for most passing plays, which is what matters most for fantasy owners.
Engram has averaged 21%, 16% and 19% of targets in his first three seasons. Sterling Shepard, Golden Tate, Darius Slayton and Saquon Barkley will battle for looks in 2020. His utilization in the red zone and end zone isn't on par with his peers above, but he did garner 30% of end-zone looks in his rookie season (15 games). Sterling Shepard led the team last season with 27% and was second behind Odell Beckham Jr. with 30% in 2018.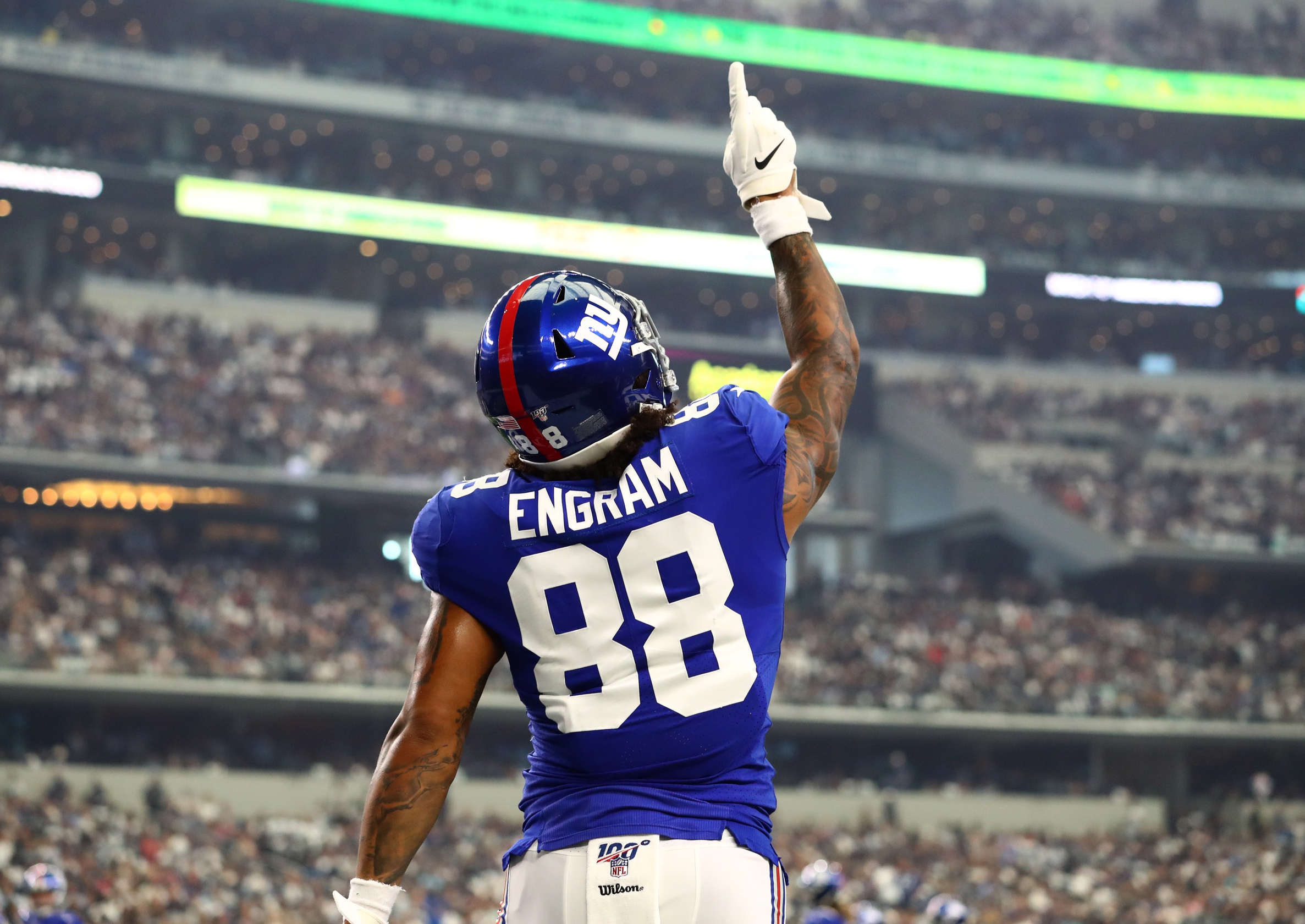 Entering only his fourth NFL season, Engram still brings an element of upside to the table, but it will likely need to come from efficiency. He could lead the Giants in targets, but it is tough to see him breaking away too far from the pack without some help.
Rob Gronkowski will likely rank third in targets behind Mike Evans and Chris Godwin but could be part of an elite offense in his reunion with Tom Brady. In 2019, O.J. Howard and Cameron Brate combined for 16% of the Buccaneers' targets while Evans and Godwin accounted for 22% and 21% after adjusting for games played. Evans led the team in end-zone targets with 14 (27%) — an area where Brady peppered Gronk in the past.
Rob Gronkowski End-Zone Target Rate | 2010-18
| | | | | | | | | | |
| --- | --- | --- | --- | --- | --- | --- | --- | --- | --- |
| | 2010 | 2011 | 2012 | 2013 | 2014 | 2015 | 2016 | 2017 | 2018 |
| EZ Tgt% | 21% | 37% | 32% | 10% | 23% | 38% | 10% | 33% | 17% |
| Targets | 6 | 19 | 13 | 4 | 9 | 11 | 4 | 13 | 6 |
| Games | 16 | 16 | 11 | 7 | 15 | 15 | 8 | 13 | 13 |
The last time we saw the now 31-year-old tight end, his yards per route figure had dipped below 2.0 for the first time in his career. Gronk was hampered all of 2018 by an ankle injury that caused him to be listed as questionable in eight games and miss three. He still managed 14.5 yards per catch but registered a career-low 3.8 yards after the catch average. It's possible that Gronkowski's efficiency tumble was tied to his injury, but given his ability to perform through injuries, it might also link to skill deterioration.
Expecting elite efficiency isn't a good starting point for 2020, but after a year away from the game, there is a better than zero chance Gronk could get closer to those marks than we expect.
Hunter Henry is in a similar situation to Engram, except the Chargers do have a clear top option in the pecking order — Keenan Allen. Austin Ekeler and Henry will likely form the next most consistent layers of this passing attack. In his healthy outings, Henry saw 19% of targets per game played. Melvin Gordon III has moved on to Denver, which could open up a few additional opportunities for Henry and Allen. The Chargers get Allen and the big-bodied Mike Williams involved near the end zone, which caps Henry's upside in high leverage situations.
Also, like Engram, Henry has had issues with staying healthy. He has missed three, four, 16 and four games over his first four NFL seasons. It is hard to know for sure what the 25-year-old might be capable of when fully back up to speed. He has posted 1.99, 2.05 and 1.67 yards per route run figures while battling through injuries. With Philip Rivers in Indianapolis, this offense will likely be led by some combination of Tyrod Taylor and rookie Justin Herbert. The eighth-best schedule for tight ends might help early on as the team adapts.
TIER 4 – TE1: MEDIUM RISK, HIGH REWARD
Tyler Higbee, Los Angeles Rams
Higbee is the most polarizing tight end in the fantasy community this season. He was a non-factor for most of the 2019 season but exploded over the final five weeks after Gerald Everett went down. It would be easy to point to Everett's injury as the only reason for Higbee's emergence, but there are several layers of nuance to evaluate.
The obvious one is that Everett returned to a full week of practice in Week 16 and wasn't on the injury report in Week 17, yet he didn't factor in at all. Instead, the team stuck with the hot-handed Higbee in Everett's old role, and Johnny Mundt took over for Higbee as the blocking tight end. Mundt received the seventh-best run-blocking grade out of 112 tight ends with at least 50 passing-down snaps, while Higbee earned the third-highest receiving grade among tight ends (90.1) with at least 25 targets and averaged 2.6 yards per route run.
The Rams might consider the combination of Higbee and Mundt to be their best combination in 12 personnel, which McVay went to more as the season progressed. Cumulatively, the Rams utilized 12 personnel on 22% of their plays in 2019 — up from 6% in 2018. This movement also coincided with a reduction in Brandin Cooks' part in the offense after he missed multiple games with a concussion.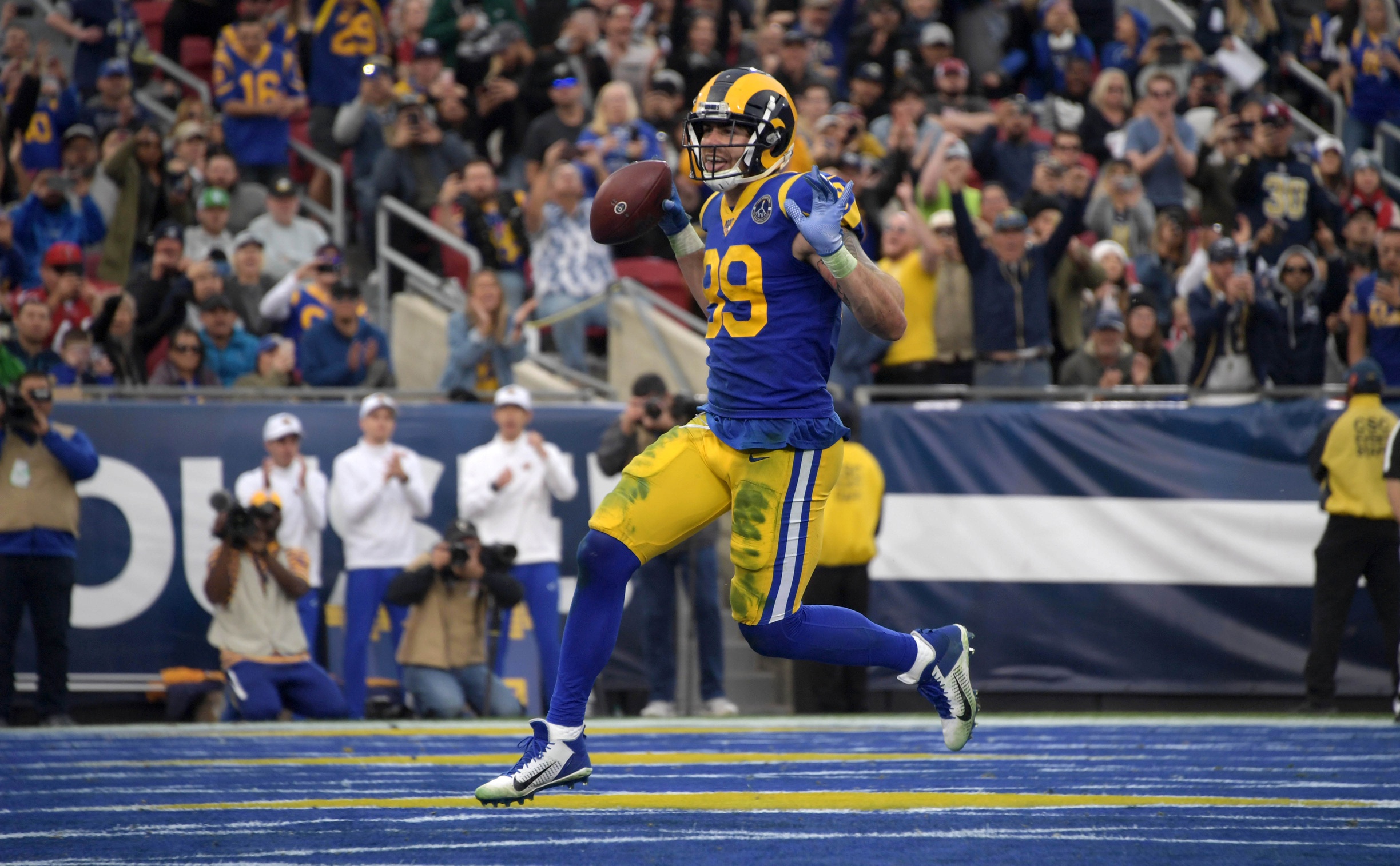 Cooks, Josh Reynolds and Cooper Kupp all rotated based on personnel set after Week 12. Higbee and Robert Woods were the only two players to remain on the field for most snaps during that period. With Cooks departing for Houston this offseason via trade, it is plausible that the end of 2019 was a glimpse at the blueprint for 2020. I detailed how this might impact Kupp in my ADP values and fades article.
Many assume that Gerald Everett will return to eat into Higbee's production, which is also plausible. However, the Rams drafted Brycen Hopkins in the fourth round, and Everett is in the last year of his rookie deal. It is also reasonable to believe the Rams are preparing for life without Everett unless he catches fire this year.
Higbee has a floor that could lead to a frustrating year of highs and lows. He could lose snaps to Everett and will have to compete with Kupp and Woods for targets. Yet, the allure of the 11 targets (25%) per game and five end-zone targets over the final five games in 2019 is tough to ignore when considering the Rams may have revealed their vision for the 2020 offense in that span.
In the most simple terms, McVay has pushed a balanced attack across three primary weapons — that could easily be Woods, Higbee and Kupp moving forward. Here are the Rams' target shares per game:
Target Share % for Rams' Receivers
| | | | |
| --- | --- | --- | --- |
| Player | 2017 | 2018 | 2019 |
| Robert Woods | 21% | 22% | 22% |
| Cooper Kupp | 19% | 17% | 21% |
| Brandin Cooks | – | 19% | 12% |
| Sammy Watkins | 14% | – | – |
If you're looking for a home-run swing at tight end in the middle rounds, Higbee is your guy. The tiers below are either missing his upside or don't have a proven path to value.
TIER 5 – TE1: YOUTH WITH A PATH TO STRONG UTILIZATION
This quartet of young pass-catchers each has an opportunity to serve as an arbitrage play to their Tier 3 counterparts. Their offensive situations are a slight downgrade overall, and they haven't all proven they can perform, but their roles will likely be similar.
Gesicki accounted for 13% of targets and 29% of end-zone looks with the Dolphins in 2019. It was a tale of two seasons where he averaged 9% of targets before Preston Williams' injury and 16% after. Williams is still recovering from his mid-season injury, leaving the door open for Gesicki to establish himself early. Expect him to either be No. 2 or No. 3 in the Dolphins pecking order this fall. He averaged only 1.09 yards per route run and didn't add much after the catch (3.6 yards after the catch average). He will need to take steps forward in these areas to bring efficiency upside to the table.
Hurst will replace Austin Hooper, who averaged a 17% target share per game and accounted for 31% of end-zone looks. Dirk Koetter's offense has a history of utilizing tight ends closer to the end zone, but he also had some unusual ones like Tony Gonzalez. We don't know much about the former first-rounder due to limited playing time in Baltimore, but the Falcons traded a second-round pick for him. He slots in firmly behind alpha Julio Jones and Calvin Ridley. Hurst carries less upside to climb the ladder in the pecking order but resides in a pass-heavy offense.
As a rookie, Fant accounted for 12% of the Broncos' targets despite running a route on only 66% of the team's dropbacks. With the arrival of Pat Shurmur, expect Fant to be on the field for the majority of passing plays, which will mostly come from 11 personnel. Fant brings excellent athleticism to the position, and it showed in 2019 through his 8.3 yards after the catch average. Courtland Sutton is the odds-on favorite to lead the team in targets, while Fant and Jerry Jeudy will either battle for the next position or evenly split that work. If Fant distances himself as the No. 2 option, he will leap into Tier 3; if he doesn't, he will need this young offense to mature quickly to make him a viable weekly play.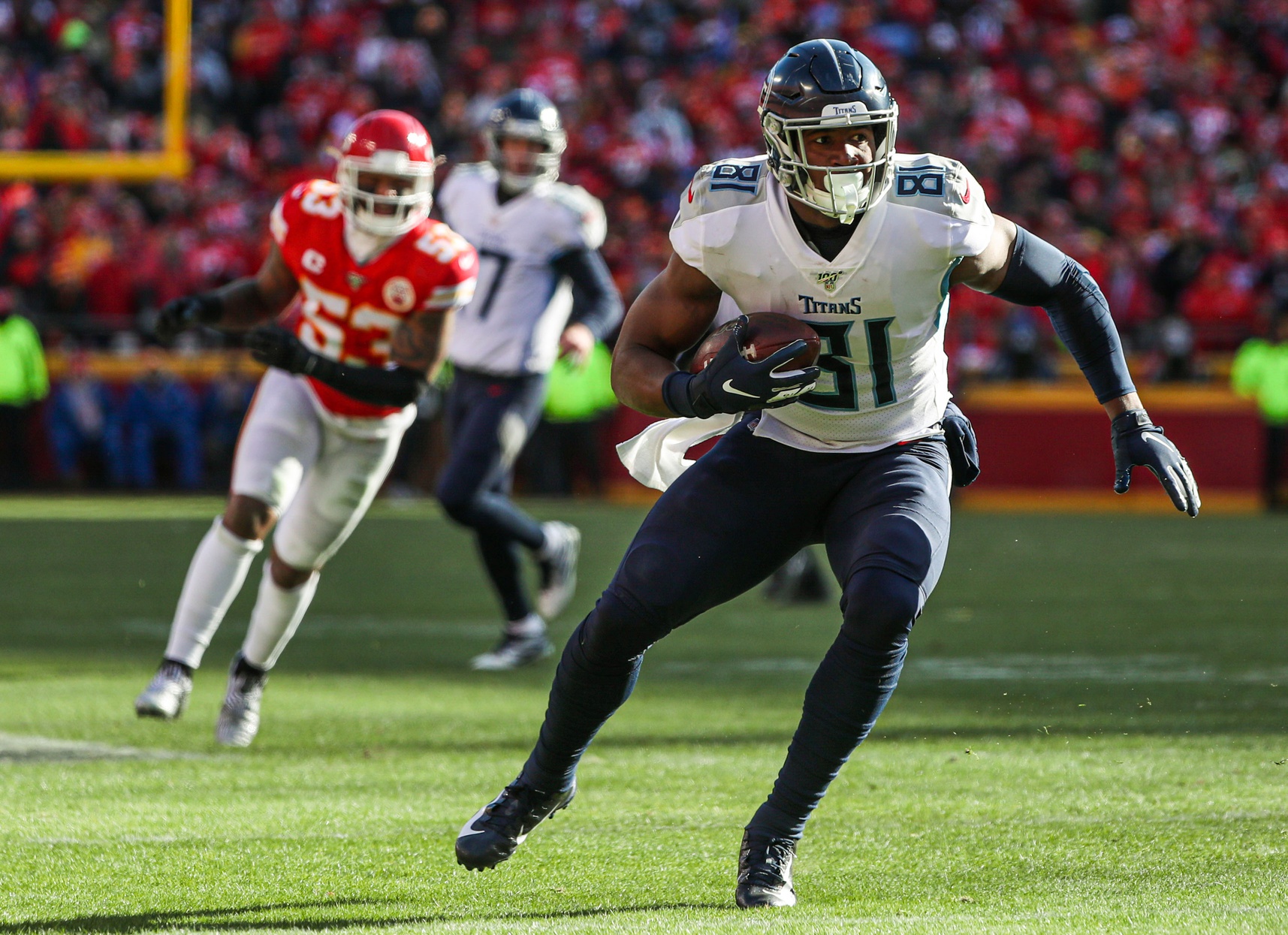 Jonnu Smith would already be in Tier 3 if he had flashed last season after Delanie Walker went down to injury. In those games, he still mustered only 13% of targets and registered 0% in two games. Despite picking up snaps after Walker's injury, Smith didn't have a high routes per dropback figure, indicating the team might value other receivers more by keeping him in to block. Smith has shown some juice after the catch, averaging 9.2 and 8.1 yards, but was a non-factor in the end zone with only one target. The No. 2 option in this offense is up for grabs behind A.J. Brown, and it is plausible the fourth-year tight end figures things out and asserts himself over Corey Davis.
TIER 6 – TE2: ELITE TALENT WITH UTILIZATION BARRIERS
Dallas Goedert, Philadelphia Eagles
The Hockenson and Goedert duo has cloudy and unpredictable paths to utilization, but each oozes with talent. Drafting them as your starter is a risky business, but it is never unacceptable to bet on ability. If you grab one of these tight ends, be sure to tuck away a more known entity from Tier 6 below or at least throw another dart at Tier 7 if you want to go with an all-upside approach. Think of this tier as Higbee arbitrage plays.
Hockenson struggled to find consistency in his rookie year, which ultimately came to an early end after an ankle injury in Week 13 sent him to injured reserve. Hockenson averaged a measly 1.23 yards per route run with a 13% target share per game and wasn't a choice target in the end zone (13%). Tight ends can take time, and the 2019 first-round pick owns one of the highest grades at the position for a college season in the past five years. In 2018, the former Hawkeye posted a 90.8 receiving grade — ninth out of 116 tight ends with a minimum of 25 season targets. Hockenson was the top tight end on PFF's Big Board in 2019.
Kenny Golladay, Marvin Jones Jr. and Danny Amendola each ran more routes and out-targeted Hockenson last year, though. He also shared time with Jesse James, which limited his routes per dropback to 58% in 2019. Hockenson could push for the No. 3 role by passing Amendola, and he would provide value in that spot if the Lions' offense brings the same heat as it did in early 2019 before Matthew Stafford went down with injury. If he gets log-jammed as the No. 4 or co-No. 3, he will need extreme efficiency to be trustworthy in lineups.
Some will argue that Goedert belongs in Tier 5 or even Tier 4, which is fair. He proved he was up to handling more of the offense over the last seven games (similar to Higbee) of 2019, accounting for 18% of targets — second on the team to Ertz. The concern is the roster construction at that time versus the beginning of 2020. Unlike Higbee, Goedert faces additions on offense with the return of DeSean Jackson and the addition of first-rounder Jalen Reagor. At some point, Alshon Jeffery could also return from the PUP.
The Eagles deployed 12 personnel more than any other team in 2019 (50%) — 15.1% more than the next squad. While Doug Pederson will likely remain committed to this grouping, it could dip significantly with more receivers available. Goedert is firmly behind Ertz as the No. 1 option, and the dependence on personnel usage is a tricky variable to consider in his potential range of outcomes. Goedert could land anywhere from second to fourth in the Eagles' distribution of targets. When considering him versus Hockenson, one potential tie-breaker is his TE1 upside should Ertz miss time.
TIER 7 – TE2: ESTABLISHED VETS LIKELY IN TERTIARY ROLES
Jared Cook, New Orleans Saints
Austin Hooper, Cleveland Browns
Jack Doyle, Indianapolis Colts
The first two players in this tier don't have a shot at growing their utilization shares as much as their younger peers in Tier 5, but each can be a low-end fantasy starter. Doyle does have a chance but doesn't bring much upside in the way of efficiency.
Jared Cook is one of Drew Brees' favorite targets near the end zone — he led the team by a large margin with a 37% share. Unfortunately, he doesn't see much work outside of that, amassing only 11% of the team's total targets last year. Cook does have the athletic ability to break a few big plays but will also be facing stiffer competition for targets with the addition of Emmanuel Sanders.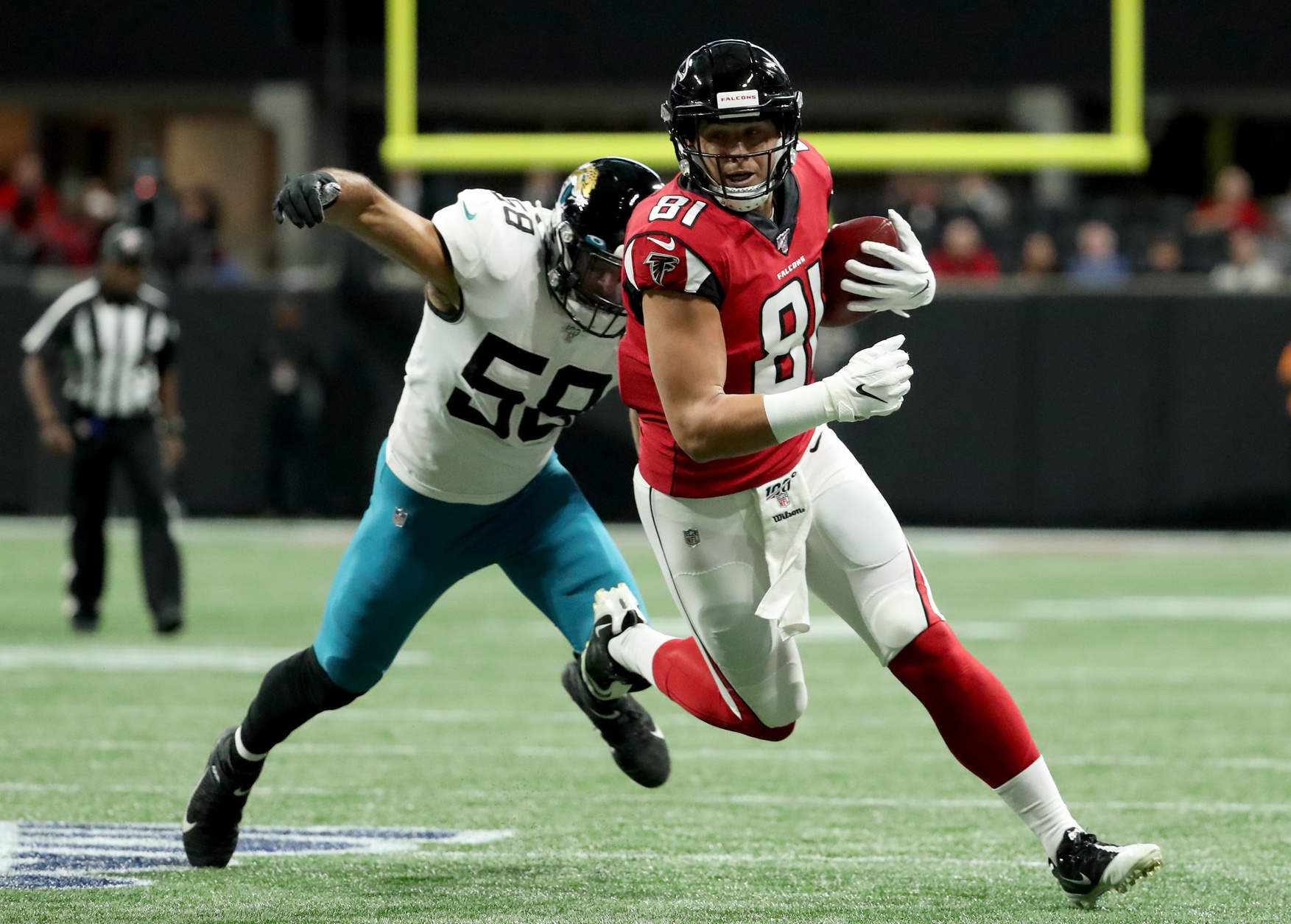 Similar to last year in Atlanta, Hooper's upward mobility will be blocked by two proven wideouts in Odell Beckham Jr. and Jarvis Landry. He will factor near the end zone as the biggest target on the team, which will provide some additional punch. If Landry remains on the PUP, it could open up more looks for Hooper early in the season and possibly even longer if the receiver's injury lingers.
Doyle will operate in the underneath passing game along with Parris Campbell — both of whom will benefit from an improved quarterback situation versus last season. The totem pole is wide open behind T.Y. Hilton on a team filled with unproven youth, led by rookie wideout Michael Pittman Jr. Doyle could become a dependable option for Philip Rivers; he has never added much value after the catch, but volume is king, and he is the one in this group who could surprise with higher-than-expected involvement in the offense.
TIER 8 – TE2: UPSIDE WITH RANGE OF UTILIZATION OUTCOMES
Irv Smith Jr., Minnesota Vikings
Jace Sternberger, Green Bay Packers
Eric Ebron, Pittsburgh Steelers
Irv Smith Jr. was a second-round pick who took on more work down the stretch in 2019, and now the Vikings have a large hole to fill with the departure of Stefon Diggs. I discussed this in detail in my ADP values and fades article. He is a Goedert arbitrage play.
Similar to Smith, Jace Sternberger is entering his second year in an offense that doesn't have a clear second option behind target hog Davante Adams. Unlike Smith, Sternberger was unable to push for much playing time in 2019. Think of Sternberger as a Tier 5 arbitrage option.
Chris Herndon's train never left the station in 2019, playing in only four games. He could make some noise in 2020 in a reloaded Jets passing depth chart. The team drafted Denzel Mims and brought in free-agent Breshad Perriman to work outside while Herndon and Jamison Crowder will work inside.
Mims ranked 10th at wide receiver in the 2020 PFF Draft Guide, and while he brings some elite traits to the table, it could take some time for him to develop. Perriman, a former first-round pick, has finished the last two campaigns strong but hasn't put together a meaningful full season yet. Herndon will get an opportunity to push for a role that could be anywhere from second to fourth in line for Sam Darnold's consideration. He has a chance to serve as a Tier 5 arbitrage option.
The Panthers added Robby Anderson to go with D.J. Moore, Curtis Samuel, and Christian McCaffrey. It is tough to see Thomas pushing any higher than third with Moore and McCaffrey locked into substantial roles. Samuel is still the better bet, but Thomas could surprise.
Blake Jarwin is in a similar spot to Thomas, but he sits behind two proven commodities in addition to first-round pick CeeDee Lamb. The upside for Jarwin will need to come from efficiency in a high-octane attack.
Eric Ebron could help diversify the Steelers' attack down the seams while Diontae Johnson and JuJu Smith-Schuster work outside. Ebron has been inconsistent but has flashed big-play ability and end-zone appeal at times. He has a shot to out-target James Washington and rookie Chase Claypool in the 2020 iteration of the Steelers' offense. Ebron is a decent Jared Cook arbitrage play.
TIER 9 – TE2: AGING WITH RANGE OF UTILIZATION OUTCOMES
Tyler Eifert, Jacksonville Jaguars
Kyle Rudolph, Minnesota Vikings
Olsen will battle Will Dissly in what could become a time-share situation with a slight edge to the veteran in playing time. If Olsen takes the role outright, it will still be tough to trust the third option in a run-first offense, but he could turn in a few worthy performances.
Eifert is always an injury risk, but the Jaguars' offense is still in an anemic state. Outside of D.J. Chark Jr., there is an opportunity for Eifert to push for a more significant role than we expect. Jay Gruden loves to attack the interior of the field. This is most likely a muddled week-to-week situation.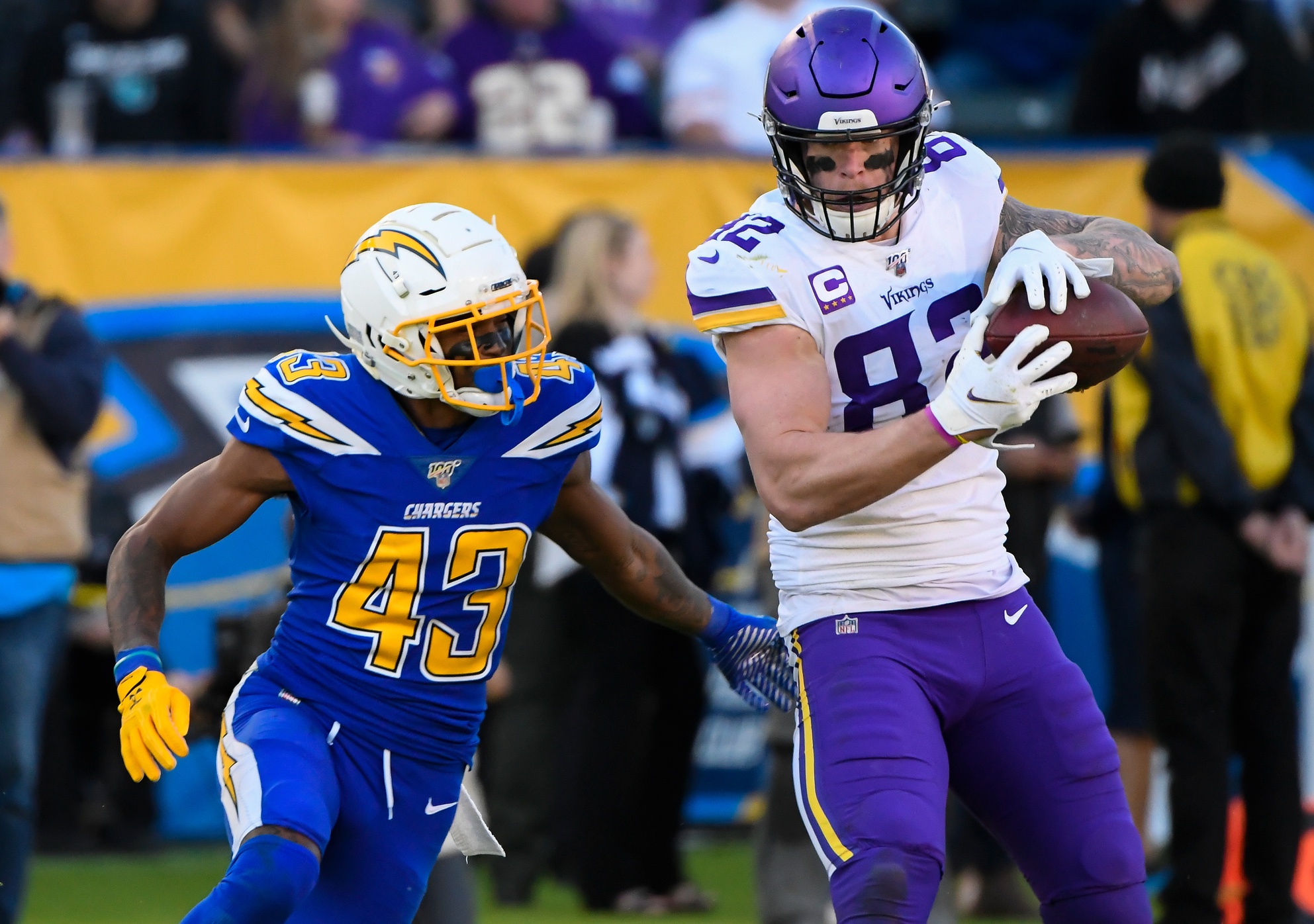 Rudolph is likely on borrowed time with Smith Jr. pushing for more work. It is tough to see a scenario where he goes back to dominating this role, making his best potential outcome a shared one with the second-year tight end, rendering both useless. He does serve as a possible bye-week filler due to his touchdown appeal, and he carries some upside should Smith get injured.
TIER 10 – TE3: YOUTH WITH HIDDEN UTILIZATION UPSIDE
O.J. Howard, Tampa Bay Buccaneers
Gerald Everett, Los Angeles Rams
Each of these tight ends will see the field in specific personnel groupings and play in offenses where they are the primary backup to a strong or decent starting option. With COVID-19 introducing additional paths to missed time this season, these players carry increased value. In deeper leagues or tight-end premium leagues, Howard and Everett make great late-round darts. In shallower leagues, be ready to move them up the board if injuries to starters strike in training camp or early in the season.
Bruce Arians is on the record stating that 12 personnel will be his team's primary grouping. It is tough to see Howard pushing for extensive work due to the presence of Mike Evans and Chris Godwin, but he could easily outproduce ADP. If Gronkowski goes down, Howard has top-12 upside.
The Rams didn't use Everett often with Higbee in 12 personnel last year, but there is a chance that changes in 2020. There is some percentage chance Everett reclaims his role from early last season. In the worst-case scenario, he serves as a movable chess piece based on matchups but is next up if Higbee or Cooper Kupp goes down. He's a talented player with several paths to making an impact.
Levine Toilolo probably beats out Kaden Smith for some of the 12 personnel looks for the Giants, but Smith has shown he can produce should Engram miss time for the third straight season.
Njoku could see a spike in value if Landry's injury causes him to miss more time than expected or curtails his ability. He could also be traded after requesting it this offseason, but that's unlikely after he reneged.