Fantasy football values are always shifting. Sometimes a player moves from a fringe starter to a surefire starter; sometimes the move is in the opposite direction. Every other week in this space, I'm taking a look at players whose fantasy values are most notable rising or falling heading into the next week.
This is the stock market for Week 8.
Risers
Quarterback
Aaron Rodgers, Green Bay Packers: Rodgers hasn't been the same old Aaron Rodgers from past years. His potential — "He's Aaron Rodgers" — kept him high in the rankings, but actually seeing him put up a monster game like he did Sunday will boost his stock.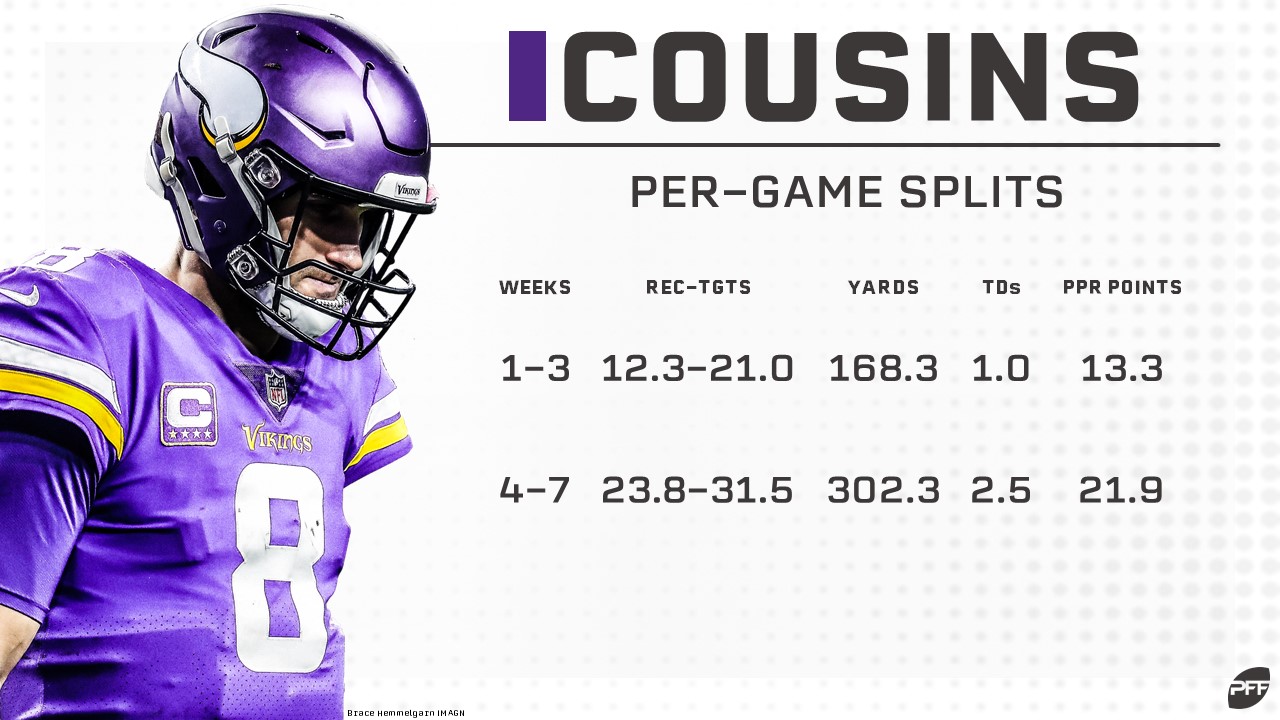 Kirk Cousins, Minnesota Vikings: Through Week 4, Cousins was the No. 25 fantasy QB and had 738 passing yards in four games. Since, he's QB2 and has 976 passing yards in three games. That's better.
Jacoby Brissett, Indianapolis Colts: Brissett isn't Andrew Luck. Brissett doesn't have to be Andrew Luck. He's still been a borderline QB1, and should be treated as such going forward.
Ryan Tannehill, Tennessee Titans: In his first start for the Titans, Tannehill threw for 312 yards. That's more than Marcus Mariota had in a game since Week 4 of last season. He's not going to fix the entire team, but he's worth looking at in deep leagues.
Running back
Josh Jacobs, Oakland Raiders: Jacobs had to leave Sunday's game briefly due to injury, but he still set a career-high in rushing yards (124, one more than he put up in his last game). He's eighth in the league in rushing yards and is a borderline RB1.
Chase Edmonds, Arizona Cardinals: This is not a Wally Pipp situation, but it's not not one. David Johnson is still going to be the Cardinals' RB1, but after the monster game Edmonds put up Sunday, and good performances in three straight, we're likely to see more of him going forward.
Mark Walton, Miami Dolphins: Walton appears to have taken over the Dolphins' No. 1 job, between Kalen Ballage's ineffectiveness and Kenyan Drake being on the trade block. It's the Dolphins, but it is a No. 1 job.
Ty Johnson, Detroit Lions: We'll see how much time Kerryon Johnson misses, if any, but Ty Johnson is a must-add if Kerryon is out for any time.
Wide receiver
Amari Cooper, Dallas Cowboys: The knock on Cooper for his career before this year has been inconsistency. And while that's not completely gone — he has a 48-yard game and a 3-yard game that he left with injury — it's been very muted this year, with at least 14 PPR points in five of seven games. He's solidly a mid-to-high WR1.
DeAndre Hopkins/Kenny Stills, Houston Texans: It wouldn't have been unfair to downgrade Hopkins slightly (only slightly) in rankings after his cold few weeks, but he got back to the good Sunday with Will Fuller forced from the game to injury. And in Fuller's absence, Stills made his return, and both guys topped 100 yards. Hopkins is near the top of the rankings no matter what, and if Fuller misses time, Stills is a flex consideration.
Dede Westbrook, Jacksonville Jaguars: As I noted in the Week 7 "what we learned" piece, D.J. Chark's performance so far might make him look like the clear-cut No. 1 receiver in this offense, but usage shows that it's really a 1/1A situation, and Westbrook is just as relevant.
Allen Robinson, Chicago Bears: Robinson has at least 7 targets in every game this year and set season-highs in receptions and targets Sunday. There isn't much in this Bears offense other than him, but even with a(nother) bad quarterback situation, Robinson's a must-play.
Marvin Jones, Detroit Lions: Jones is going to have highs and lows, so if you start him and he struggles … well, that's part of the game. But Jones' usage had taken a serious backseat to Kenny Golladay for most of the season before Sunday. The fact that he still has these sorts of games in his chamber keeps him relevant.
Corey Davis, Tennessee Titans: Did Tannehill fix Davis? The former first-rounder was averaging under 40 receiving yards a game through Week 6 with Mariota starting, but had 80 yards and a score on a season-high 7 targets and 6 receptions Sunday despite facing the Chargers' above-average secondary.
Golden Tate, New York Giants: Tate had a quiet Giants debut, but in the last two weeks, he has 12 catches on 20 targets for 182 yards and a score. With Sterling Shepard still hurt and Evan Engram re-hurt, Tate's got good upside.
Mohamed Sanu, New England Patriots: The early Tuesday-morning trade that sent Sanu to New England might not make him a must-start in fantasy (especially not right away), but Sanu wasn't getting enough work in a floundering Atlanta offense. This is at least a chance for him to do more.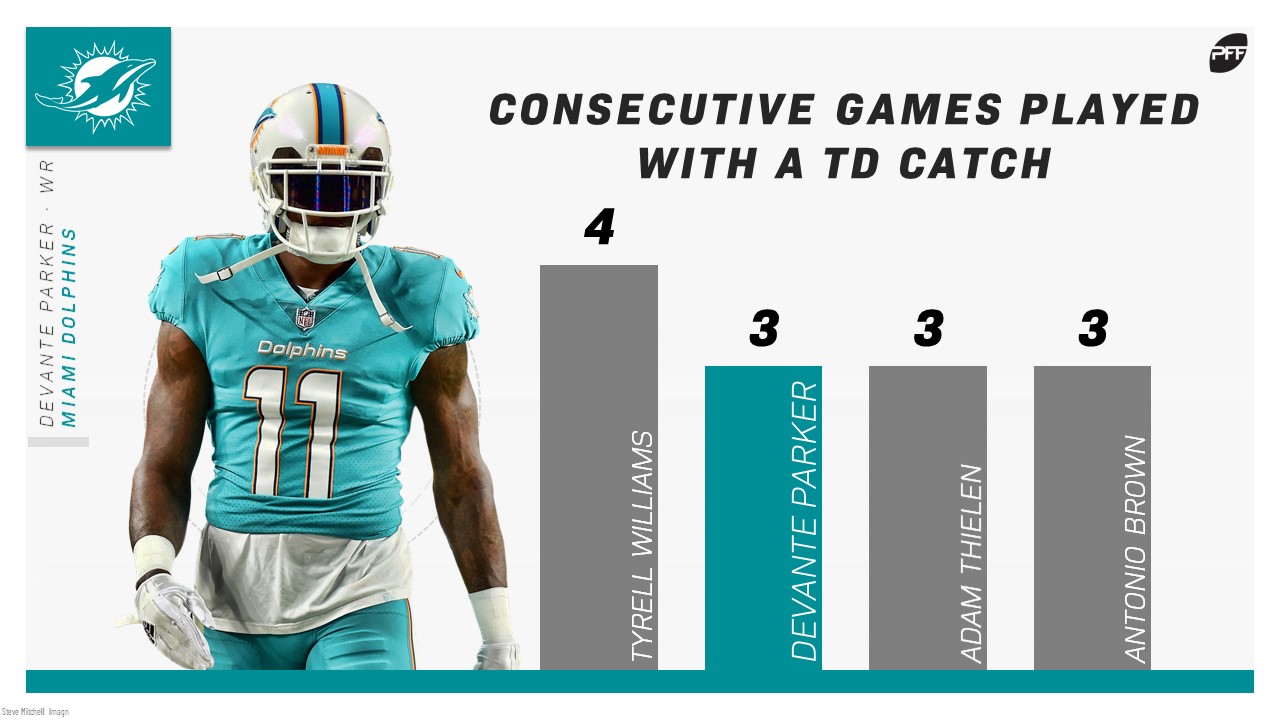 DeVante Parker, Miami Dolphins: Tyrell Williams has scored a touchdown in every game he's played this year (and who knows when we'll see him again). Other than that, Parker's streak of three straight games with a receiving touchdown is ted with Antonio Brown and Adam Thielen for the longest active streak in the league (if Brown's counts).
Alex Erickson, Cincinnati Bengals: The Bengals have a surprising number of receivers we have had to pay attention to for fantasy, with A.J. Green lurking, Tyler Boyd having a good year, John Ross starting well, and Auden Tate coming on lately, but it was Erickson who came out of nowhere Sunday to put up 137 receiving yards (he had 109 yards on the season before Sunday). Boyd, Tate, and if-he-returns Green will make it tough for Erickson to have staying power, but we can't just ignore him
Zach Pascal, Indianapolis Colts: Pascal has had three touchdowns in his last four games, with 50-plus yards in three of the four. In the absence of Devin Funchess and Parris Campbell, he appears to have seized the No. 2 receiver role.
Olabisi Johnson, Minnesota Vikings: Adam Thielen left Sunday's game with an injury, and in his stead, Johnson saw a career-best 7 targets, catching 4 for 40 yards and a score. If Thielen misses time, the rookie seventh-rounder is likely to be the No. 2 alongside Stefon Diggs.
Tight end
Darren Waller, Oakland Raiders: The knock on Waller coming into Sunday was that, for all the work he was getting, it wasn't coming in scoring situations—he had 3 red-zone targets and 0 end-zone targets before Sunday. Well, that got fixed Sunday, with 3 red-zone targets and 2 end-zone against the Packers alone, notching his first two touchdowns. If that's going to happen, he's one of the top two or three tight ends in fantasy.
Gerald Everett, Los Angeles Rams: Everett was one of my top sleepers entering the year — he's been fine in limited play before this season. The last month, he's started to realize that potential, averaging almost 8 targets a game, with 239 yards and 2 touchdowns. He's a starting tight end.
Kyle Rudolph, Minnesota Vikings: Like Olabisi Johnson above, Thielen's injury Sunday provided a real boost to Rudolph's fantasy stock, as he set season highs in targets (6), receptions (5), and yards (58) in that game and scored his first touchdown of the season. If Thielen's out for any time, Rudolph is back on the fringes of fantasy relevance.
Josh Hill, New Orleans Saints: Jared Cook's absence Sunday put Hill in play, and he responded with 3 receptions for 43 yards and a score. If Cook stays out, we'll have to monitor Hill.
Fallers
Quarterback
Matt Ryan, Atlanta Falcons: Ryan's first awful game of the season (159 yards and 0 touchdowns after 300-plus yards in every game before Week 7) was enough, but add in an ankle injury (he could be fine for Week 8, but he's unlikely to be 100%) and we have no choice but to downgrade him.
Carson Wentz, Philadelphia Eagles: Wentz now has under 200 passing yards in three of his last four games and only one passing touchdown in three of seven games this season. He's not getting a lot of help from his pass-catchers, but … those are the pass-catchers he has, so his fantasy stock is taking a hit.
Andy Dalton, Cincinnati Bengals: Dalton's three-picks-in-five-plays stretch in the fourth quarter Sunday might not have been enough to get him benched (he was actually fine otherwise in the game), but it was enough to get us wondering if it was enough to get him benched.
Sam Darnold, New York Jets: The impressive version of Darnold we saw in Week 7 was completely absent in an abysmal Monday night showing, and while everybody struggles against New England, you can't blame all of that on his opponent.
Daniel Jones, New York Giants: It wasn't that hard to forgive Jones for his struggles the last few weeks as his opponents got progressively tougher, but he continued to struggle Sunday despite a very appealing opponent.
Running back
Melvin Gordon, Los Angeles Chargers: Gordon's played three games now. He has a total of 115 scrimmage yards, hasn't topped 2.6 yards per carry in any game, and fumbled twice on Sunday. Austin Ekeler has looked like the better running back in every way, and while the Chargers don't look like they're going away from the starter, fantasy managers are under no such delusion.
Joe Mixon, Cincinnati Bengals: We've already been downgrading Mixon pretty significantly, but not significantly enough it seems. His fantasy day Sunday was bailed out by a 2-yard receiving score, but on the ground, Mixon had 10 carries for all of 2 yards, his four time this season averaging under 2.0 yards per carry in a game. He's not usable in fantasy right now.
Chicago Bears running backs: David Montgomery has 55 yards in his last two games combined. Mike Davis hasn't had a touch since Week 3. Tarik Cohen had 9 receptions Sunday! … for 19 yards. You're free to ignore this backfield entirely.
Kansas City Chiefs running backs: This backfield was enough of a conundrum with Patrick Mahomes playing. Lower the ceiling of the entire offense with Mahomes out, and it's hard to imagine trusting any of these guys.
Rashaad Penny, Seattle Seahawks: You could forgive Penny's light usage while he was hurt, but by all accounts he was fully healthy Sunday and had two snaps zero touches in that game, while C.J. Prosise had six snaps. Penny's not even really rosterable at this point.
Wide receiver
Brandin Cooks, Los Angeles Rams: Cooper Kupp engendered enough positive early in the season that two relatively quiet weeks aren't enough to be off him. And while Robert Woods hasn't been a monster this season, he has at least 7.6 fantasy points in every game but one. Cooks, though? He hasn't scored since Week 2, hasn't reached 60 yards since Week 4, and has 106 receiving yards in his last three games combined. You can't drop him, but you can't start him either.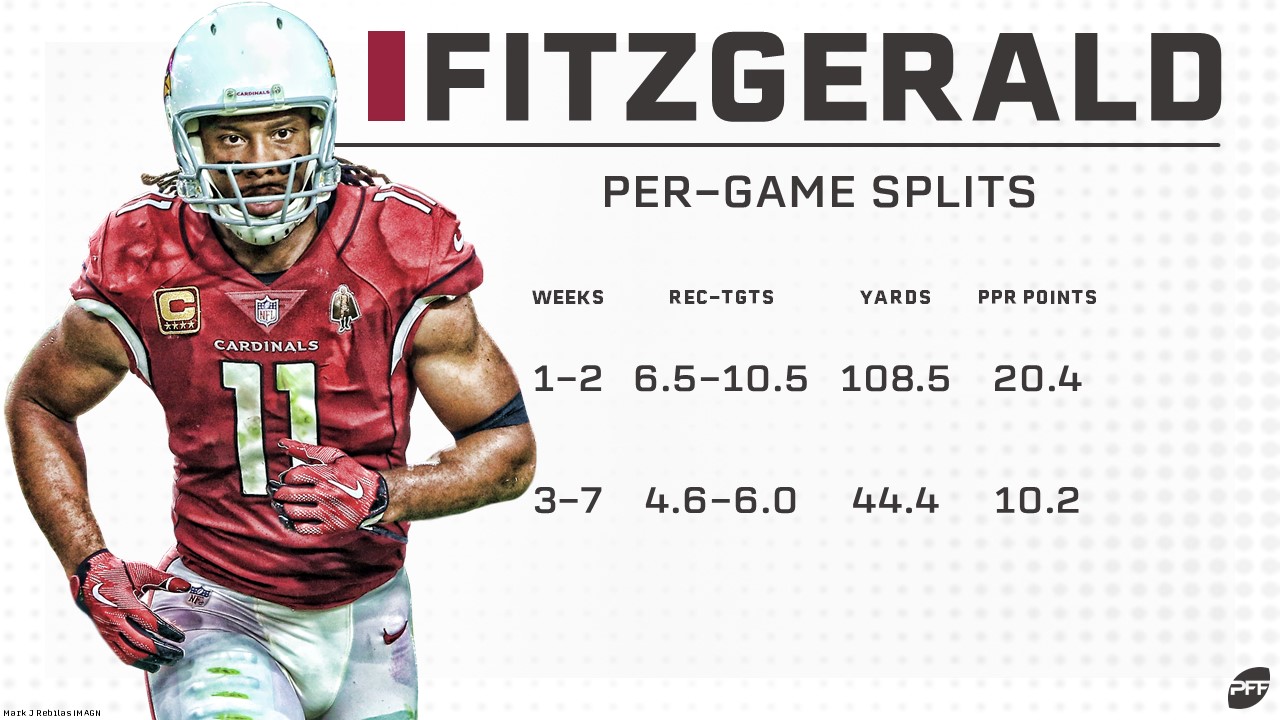 Larry Fitzgerald, Arizona Cardinals: I've listed Fitzgerald as a fantasy upside play in literally every week since Week 2, and not without reason, as he's had one good matchup after another. And in those five games, he's totaled 23 catches, 222 yards, and 1 touchdown, bottoming out with 1-for-3 receiving for 12 yards Sunday. I make this solemn vow to you now: I will not hype Fitzgerald for Week 8. (He will now have 150 yards and 2 touchdowns.)
Kansas City Chiefs wide receivers not named Tyreek Hill: The Chiefs receiver situation has been a mishmash all year long, with no one really proving to be reliable on a weekly basis while Hill was out. Even with Matt Moore at quarterback, Hill's a WR1 or close, but the rest of the group can safely be benched and/or dropped now.
Tight end
Zach Ertz, Philadelphia Eagles: Across his first seven games a year ago, Ertz averaged 88.3 receiving yards per game. For the season, he averaged 72.7. He hasn't had more than 72 yards in any of his seven games this year. He's still a TE1, but not like he was.
Mark Andrews, Baltimore Ravens: Andrews had three drops Sunday after having five across his whole career before that. That alone isn't enough to hurt his ceiling, but for all the good Andrews has offered this year, his passer rating when targeted is only 33rd at the position among 50 tight ends with at least 10 targets, at 87.7.
Evan Engram, New York Giants: Engram was supposed to have a monster game. It was against the Cardinals, after all. Instead, he had a single catch for six measly little yards, and we saw Rhett Ellison get the TE touchdown. Better days are ahead, but between Daniel Jones' struggles and Engram's injury concerns, he's worth a downgrade.
Delanie Walker, Tennessee Titans: Walker barely played Sunday as he got hurt again, and in his absence Jonnu Smith had 3 catches for 64 yards. Is it possible the Titans, 3-4 and not doing a lot well, will start to move on from the 35-year-old, twice-injured Walker and look more at the 24-year-old Smith? It'd be hard to blame them.