As fantasy gamers continually deepen their knowledge thanks to the ever-growing resources available to us, concepts like "game flow" have crept from fringe to front-and-center. These days, we can't even wade through a few fantasy articles without tripping over a "game script" or "situation-neutral" reference. And that's a great thing.
If yards and touchdowns are the "What" of fantasy football, while carries and catches are the "How" – game flow is the "Why." It makes sense a team throws more often when losing, or an offense hands off at a higher rate when grinding clock while winning in the fourth quarter. The scoreboard dictates everything — from snap volume, to field goal attempts, to fourth quarter fantasy points.
Those fourth-quarter points, which are so influenced by late-game flow, can tip weekly fantasy matchups or accumulate to best-ball-winning levels. For several seasons, we've leveraged Vegas win totals as a proxy for expected game flow. When compared to what running backs dealt with the prior season, it can reveal who is in a better or worse point-producing position.
The method has not been flawless, as everyone who bought into the first back listed below knows too well, but it has gotten us into the ballpark more often than not. For the most updated win totals, we will use Warren Sharp's projections – which incorporate betting odds shifts for a more accurate forecast.
(Subscribe to PFF and get all the content with an Edge subscription, or go even deeper with a subscription to Elite.)
Crowell led this article off last year. It wasn't pretty. Often drafted in the third round, he finished 30th in fantasy points among running backs, and was even less usable than that on a weekly basis. Along with several promising performance indicators, the main premise was the Browns couldn't be any worse after a 1-15 season that saw them lead during only seven percent of fourth quarter snaps. Crowell investors were left holding Hue Jackson's beer.
Crowell went from deriving only 17.6 percent of his fantasy points in the fourth quarter of 2016 games, to a comically low 11.9 percent last season. He still received a slightly positive rushing grade but couldn't overcome the fantasy succubus that was the winless Browns. Scoring two touchdowns on 206 handoffs is no way to go through life.
The main culprit, once again, was late-game script. Crowell ranked 12th in rushing attempts during the first three quarters, but he received the 49th-most fourth-quarter carries. The Browns led on only 3.8 percent of fourth-quarter plays – by far a league low (the Giants' 13.8-percent ranked 31st), or roughly half of their 2016 lead rate. Last year's Browns were the only team to not run a single fourth-quarter play while winning by more than a touchdown.
Now Crowell is with the Jets, who are projected for 5.8 more wins than what he experienced last season. They signed him to a respectable-for-running-backs three-year, $12 million contract with $4 million guaranteed. New York had the 15th-highest run rate last year, and the 13th-highest during situation-neutral plays. They led on 27.5 percent of fourth-quarter snaps and are projected for an additional win. Crowell should get fed this year, and deeper into games than in recent seasons. Relative to his eighth-round ADP, he is shaping up as a solid value. For real, this time.
Speaking of the Browns, at the risk jumping into the same lake as last year, Cleveland is looking at far better late-game scripts in 2018. They project for 5.7 more wins, and that may be on the conservative side. Tyrod Taylor provides an encouraging baseline of competency at quarterback, and they received a talent influx for a roster that was stronger than their winless record indicated. They underperformed their Pythagorean expectation by 3.3 victories.
Although it would be tough to tell from a quick glance, especially given the Browns' 38-percent run rate (fifth-lowest), Jackson wants to hand the ball off. He always has. However, Jackson is notoriously sensitive to game script, and when it went south last season, Cleveland was pass-happy even with an over-his-head rookie quarterback. On the rare occasions they were in neutral game script, the Browns had the fourth-highest run rate (47.8 percent).
Despite Joe Thomas' retirement, the Browns still boast our 14th-ranked offensive line. They have legitimate passing game weapons and a mobile quarterback, which has been shown to boost running back effectiveness. The only question for fantasy – and it's a big one – is who will get the lion's share of the early-downs work?
We know Duke Johnson has passing downs on lock, but he'll take a hit not only from increased backfield competition, but also due to improving game scripts. Few running backs scored a higher percentage of their fantasy points during fourth quarters last year (33.6 percent in PPR formats), and a shift toward more handoffs almost certainly lightens Johnson's workload. While he isn't expensive in fantasy, and he remains a PPR asset, we are unlikely to see Johnson break out before he gets out of Cleveland – and that might be a while.
Projecting the workloads of Hyde and Chubb is less simple, although it's potentially more rewarding. Unfortunately, the most likely outcome is they split roughly 250-275 carries fairly evenly, with Hyde earning the bulk of the early-season work as the rookie gets his feet wet. If either soundly beats out the other, or an injury strikes, we are staring at a running back who obliterates his ninth- (Hyde) or 10th-round (Chubb) price tag. Until we know more, their current ADPs are fair. Adding some cheap exposure to each in a fantasy portfolio is not a bad idea.
Hunt was a revelation last season. He led the league with over 1,300 rushing yards, caught more than 50 passes, and finished as the fourth-highest-scoring fantasy running back. Despite a workload-induced lull in the middle of the season, Hunt had a lot go right for him. His main competition for backfield touches, Spencer Ware, suffered a preseason knee tear and handed the lead back job to Hunt.
Hunt also took full advantage of the Chiefs late-game scripts. They led on 52 percent of their fourth-quarter plays (12th highest), and no one enjoyed more fourth-quarter handoffs than Hunt (82). Among all 100-point fantasy running backs, only Derrick Henry and Javorius Allen produced a higher portion of their points during the fourth quarter than Hunt (37 percent). It helped that he led all running backs with five fourth-quarter touchdowns (four rushing).
Now Hunt is a late-first-round pick, with the expectation this season will go as well as last year did. The Chiefs have a new quarterback, they lost the playcaller who helped provide a late-season boost in both scoring and pace, and they are projected for fewer wins and RB-friendly game scripts. Hunt may have a workload problem.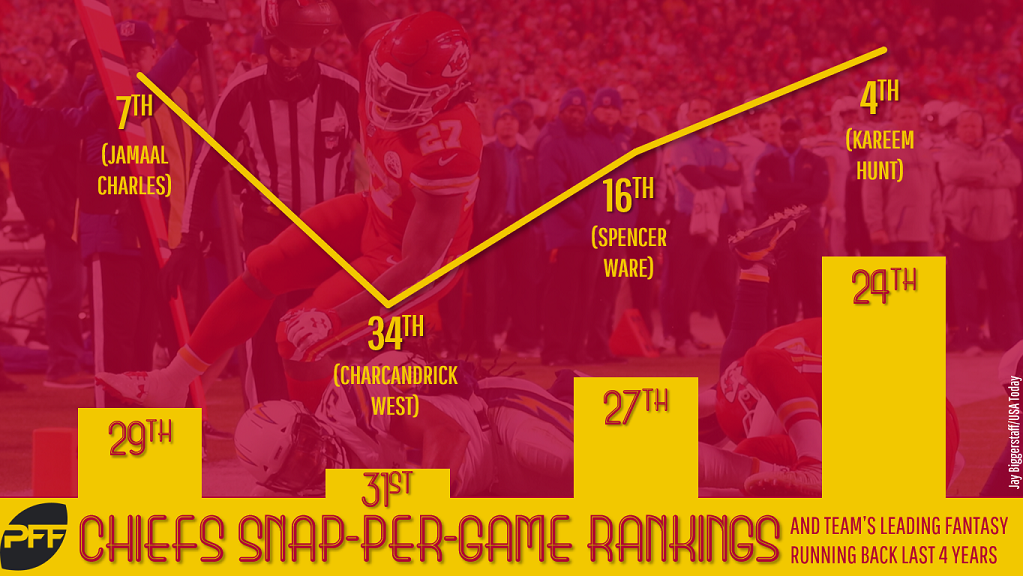 Ware is not going to retake his workhorse role from 2016, but he will siphon touches from Hunt. The Chiefs may also run fewer plays – and they already ranked (reading backward from 2017) 24th, 27th, 31st, and 29th in snaps per game the last four years. When Andy Reid called plays last season, Kansas City ranked 31st in snaps per game. They are consistently one of the slower-paced offenses in the league.
Throw that background behind likely diminished fourth-quarter opportunity, and Hunt stands on significantly shakier ground than he did as a rookie. By no means is he someone to avoid in drafts, and he belongs among the top-12 fantasy running backs. However, his current cost ignores, among other things, the late-game flow changes coming to Kansas City.
Anderson is not someone who requires a hefty fantasy investment. His ADP is in the eighth-round, although it's risen of late. He presumably has a secure role as the early-downs, between-the-tackles grinder for the Panthers, with Christian McCaffrey handling some carries and significant passing-game work.
While Ron Rivera recently spoke hallucinated about McCaffrey receiving 25 to 30 touches per game, let's assume he stays closer to last season's 117 carries than his coach's dream of 200. In this scenario, Anderson would garner something in the neighborhood of Jonathan Stewart's 198 carries from last season. This theoretically will be enough for him to pay back the eighth-round draft cost.
However, the Panthers are projected for 2.2 fewer wins – the league's fifth-largest decline. Carolina led on 54 percent of their fourth-quarter plays last year (ninth-highest), and Stewart was still marginally involved. He had a representative 47 fourth-quarter carries, but only three targets. Anderson will presumably do more with his opportunities than the calcifying Stewart – who averaged 3.2 yards per carry and didn't score once in the fourth quarter – but those opportunities may be scarcer than last year.
The Panthers are staring at play volume concerns under new offensive coordinator Norv Turner, shrinking the pie for everyone. It is a pie that's also being divided into more pieces than in recent seasons. That's good news for Cam Newton, but it doesn't help Anderson's touch expectation.
It also doesn't help that the offensive line he'll be running behind is in shambles. Carolina graded 10th-best in run blocking, but the grade was buoyed almost entirely by the departed Andrew Norwell and now-injured Daryl Williams. Norwell's replacement also recently had knee surgery.
Drafting Anderson as a reasonably priced, playable depth piece in non-PPR leagues is not a crazy idea. However, he looks like a PPR league liability who we'll never want to start due to a low floor in negative game scripts – which seem increasingly likely to occur more often than last year. Higher upside running backs and players at other positions are better ways to spend an eighth-round pick.
Notables