(This is the seventh of an eight-part, four-week series from Pat Thorman attempting to answer pressing fantasy football questions in each of the NFL's divisions. Follow the whole series here.)
As we do every July during the run-up to training camp, let's take a spin around the league to ask – and attempt to correctly answer – one fantasy football-relevant question of each team. Links to all divisions can be found here, and the AFC West is up next. This season, the division takes on the NFC West and AFC North.
(Want to research your questions for yourself? Sign up for a PFF Elite subscription and get access to all our stats.)
Besides the top two wideouts, is there fantasy value to be mined in Denver?
The relatively casual fantasy attention being paid to the Broncos centers mostly on their new signal-caller and the draft values he unlocks at wide receiver. John Elway replaced his quarterbacking clown car with Case Keenum in one of the most significant positional upgrades of the offseason.
Keenum finished seventh in passer rating while under pressure, while Trevor Siemian (39th of 40 qualifiers) and Brock Osweiler (35th) folded like cheap tents. Keenum ranked fourth in adjusted completion rate. Osweiler (28th) and Siemian (30th) were somewhat less accurate, to be kind.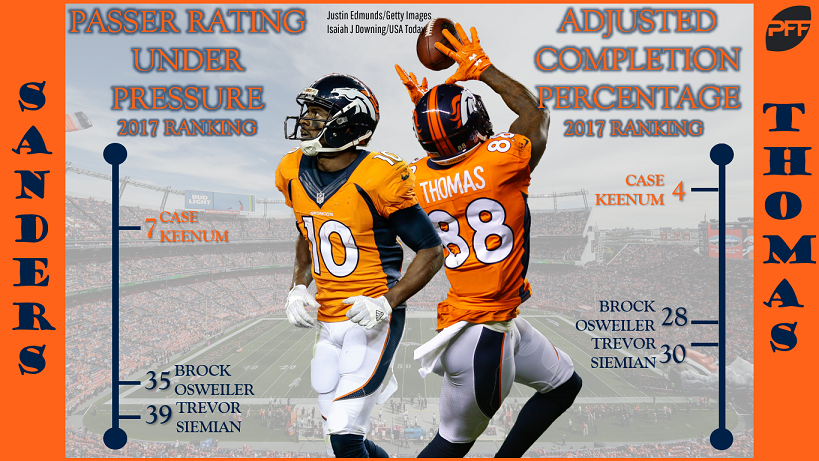 Keenum supported two top fantasy wideouts, as Adam Thielen finished 10th and Stefon Diggs 13th in PPR points per game. Their WR ratings ranked second (Diggs, 120.4) and 12th (Thielen, 104.4). Emmanuel Sanders (39th) and Demaryius Thomas (44th of 45 qualifiers) were left for dead, but Keenum should revive them.
Thomas costs only a late-fourth- or early-fifth-round pick, and Sanders is even cheaper (late-seventh round). With 197 PFF-charted targets vacated from 2017 – and Thomas already saw 136 – it's no wonder they are often mentioned as prime value picks.
The backfield production, however, may be nearly as fruitful and affordable. C.J. Anderson's departure leaves a significant void. 63 of the aforementioned vacated targets were ticketed for running backs, along with a league-high 314 handoffs.
Subscribe to PFF Edge to continue reading
Already have a subscription? Sign In