•Preseason first-team snap rates are far superior in predicting future workloads than unofficial team depth charts
•Monitoring who the No. 2 running back will be for the Los Angeles Chargers, San Francisco 49ers and Arizona Cardinals (among others) could provide some cheap fantasy value
•Buffalo Bills WR Isaiah McKenzie might just be able to lock up an awfully fantasy-friendly role as Josh Allen's starting slot receiver
---
Preseason football is finally upon us. While the actual action that unfolds won't have much, if any, impact on how 2022 winds up going for all 32 teams, fantasy football managers can learn a lot more about a team's workload plans from looking at first-team preseason usage, as opposed to unofficial depth charts.
What follows are 10 key questions that (hopefully) will be answered in the upcoming weeks and could have major ramifications on the 2022 fantasy football season.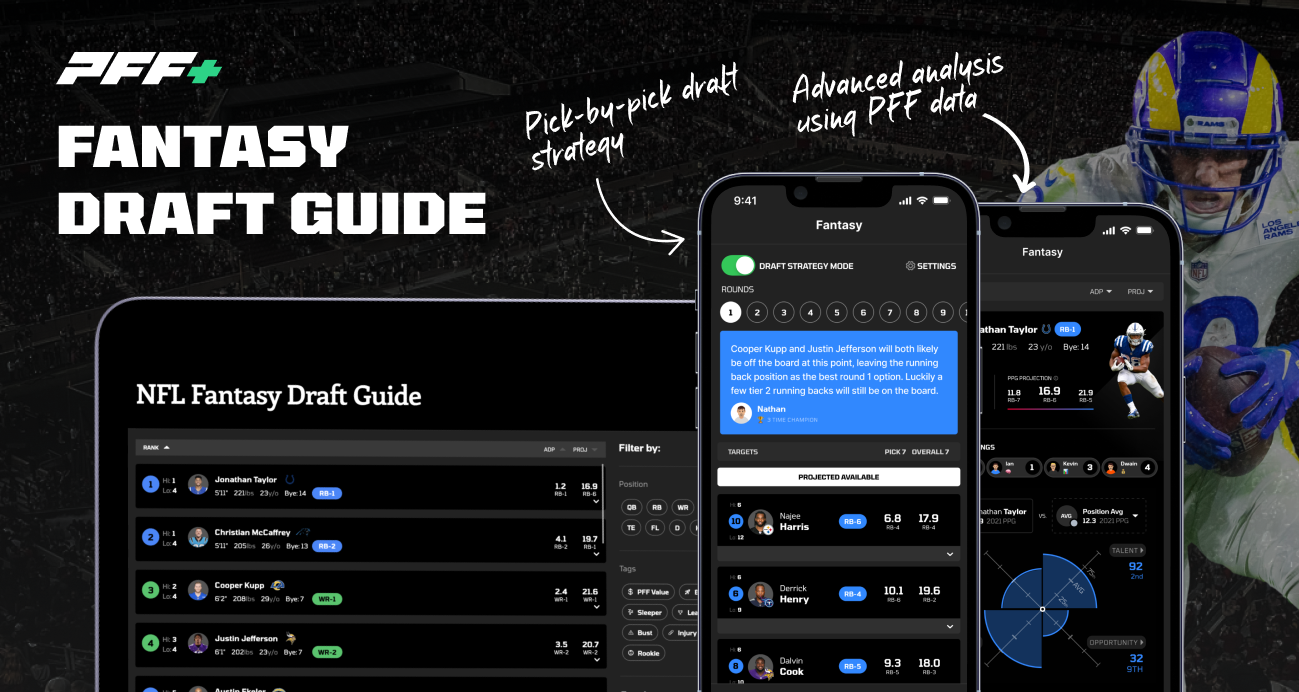 1. Who are the No. 2 running backs in murky backfield situations?
Rankings will need to be adjusted in a hurry depending on how the backup situations on the following nine teams shake out:
Only five rookie running backs have posted top-24 PPR production after not being drafted inside the top-three rounds of the draft over the past decade: 2012 Alfred Morris, 2013 Zac Stacy, 2016 Jordan Howard, 2018 Phillip Lindsay, and 2020 James Robinson.
Of course, the Chiefs' seventh-round rookie finds himself in a perennially loaded offense without many proven commodities at running back. Clyde Edwards-Helaire was once upon a time a first-round pick, and veterans like Ronald Jones, as well as Jerick McKinnon, have flashed over the years. But Andy Reid's historical success at the position, combined with his willingness over the years to turn the backfield over to a single-unheralded back, leaves a bit of ambiguity in this backfield.
Pacheco might not be just a guy — his prospect profile is borderline erotic from a size/speed perspective, and his upside with even a small role in this sort of offense can't be denied. Ultimately, it'll be a lot easier to believe the hype after seeing his usage with the first-team offense in an actual game setting, as opposed to practice.
3. Will the real Jets and Rams bell-cow running back please stand up?
Sean McVay has been more willing to hand his running back a workhorse role than just about anybody over the years. And yet, his comments during training camp reflected a potential desire to utilize more of a committee between Cam Akers and Darrell Henderson. It's 2022 — fantasy managers can live with two-RB committees, but more clarity surrounding the actual touch distribution between Akers and Henderson has the potential to boom either player up the ranks.
And then there's Breece Hall, who finds himself playing for one of just three play-callers who haven't given a single running back even one game with a snap rate north of 75% with their present employer. Obviously, this could change — the Jets traded up in the second round to acquire Hall for a reason. Still, Michael Carter has the sort of underlying advanced metrics that guys like Javonte Williams and Kenneth Gainwell are regularly lauded for. It's anyone's guess as to how this committee will shake out at the moment.
4. What should we expect from the Jaguars' new-look backfield?
Robinson's shockingly quick recovery from last December's torn Achilles demonstrates how awesome science can be sometimes. Of course, Travis Etienne – reportedly the most-explosive player in Jaguars' camp – will remain plenty involved with or without J-Rob working as the team's starting back. ESPN's Michael DiRocco noted the following about the expected split:
"Educated guess: Robinson has more carries than Etienne, but Etienne could have a slight lead in total touches by the time the season ends."
My personal expectation for this backfield: AFC version of the Lions, with Etienne serving as this offense's version of D'Andre Swift, and Robinson as Jamaal Williams. Another possibility could be the 2021 Cardinals with Chase Edmonds (Etienne) and James Conner (Robinson). It's best to take your chances with the pass-catcher in these sort of split backfields, especially when they also possess true big-play and three-down ability like Etienne.
5. Who will be the Steelers' Week 1 quarterback and will they be capable of leading a competent offense?
1. Probably Mitchell Trubisky.
2. I kind of doubt it. This is like the "two badass dragons and one silly dragon" meme except all three are silly.
Down the stretch of 2021, neither Cole Beasley nor McKenzie played more than 51% of the offense's snaps in a single game from Week 17 through the Divisional Round. Still, the potential for either McKenzie (the favorite) or Crowder to seize the sort of starting role that Cole Beasley had for most of 2019-2021 is an awfully tantalizing prospect.
Consider this: Beasley is one of just 10 players with at least 100 targets in each of the past three seasons. It's not a guarantee that either McKenzie or Crowder fully locks down this same volume-heavy role, but more information on the matter could boom either's ADP in a hurry.
For better and for worse, the Cowboys will continue to feature Zeke ahead of Tony Pollard. There's also little doubt that they will take their No. 1 alpha wide receiver or franchise-tagged tight end off the field for all that many snaps.
The question then becomes: Just how willing are the Cowboys to keep Pollard on the sideline? There remains no real timetable for Michael Gallup's (ACL, PUP) return, which leaves rookies WR Jalen Tolbert and TE Jake Ferguson, alongside long-time backup WR Noah Brown as the next-most-likely pass-catchers.
Note that Pollard nearly caught as many passes (104) as he had rush attempts (139) during his three seasons at Memphis. While the Cowboys (like most teams) haven't made a habit of staying woke with two-RB formations over the years, the electric 25-year-old talent has made the most out of his spare opportunities as more of a true receiver.
MORE pic.twitter.com/HmQhfjP7t0

— Ian Hartitz (@Ihartitz) August 10, 2022
8. Which rookie wide receivers will actually be starting from day one?
Unofficial depth charts put together by interns (or somebody) work the fantasy crowd into a frenzy every year. Of course, Chris Olave isn't really going to be a third-string wide receiver on the Saints, and it'd be awfully surprising if Treylon Burks truly works behind Nick Westbrook-Ikhene for a substantial amount of the regular season.
With that said: Each of Drake London, Olave, Garrett Wilson, Jahan Dotson, Burks, George Pickens, and Jalen Tolbert should be starting inside of three-WR sets from day one. Injuries will likely keep Jameson Williams (ACL) and Christian Watson (knee) from joining that group, but the likes of Wan'Dale Robinson, Alec Pierce, Skyy Moore, and Velus Jones also profile as rookies that won't be spending too much time learning from the bench. Hell, David Bell, Danny Gray, Tyquan Thornton, and perhaps even training camp superstar Romeo Doubs manage to earn preferred treatment sooner rather than later.
Preseason first-team usage will help clarify all of this.
Just as running back rooms can get too crowded to produce a single fantasy star when three or more players are involved, wide receiver cores that rotate four to five wide receivers regularly struggle to see the same sort of target volume as players in more consistent three-WR sets. Sometimes these situations can just be accordingly ignored if the quarterback/offensive environment is bad, but other times, getting an early lean on the projected pecking order can help reveal legit late-round value.
The following five teams all boast potentially prominent wide receivers that aren't exactly highly regarded at the moment in fantasy land (ADP data courtesy of FantasyPros):
10. Will there be a tight end by committee system in Denver or Chicago?
It can be tough to know exactly what new NFL head coaches/play-callers have in mind when their roots are from a system that they didn't exactly run themself. Coaches like Kyle Shanahan, Matt LaFleur, and Sean McVay all call their own plays, so it's unclear exactly how much influence guys like Mike McDaniel, Luke Getsy, Nathaniel Hackett, and Kevin O'Connell had in past tendencies.
I'm particularly interested to see what Getsy (Bears offensive coordinator) and Hackett (Broncos head coach) have in mind for their respective tight end rooms. Only the Bengals, Jets, and Rams gave their tight ends a lower target share than the Packers in 2021. Overall, the Packers rank 23rd in targets to tight ends under the LaFleur/Aaron Rodgers partnership since 2019. No individual tight end has reached even 60 targets in a single season during this span.
Robert Tonyan had more touchdowns (12) than incomplete targets (6) in 2020 and proceeded to play just 62% of the offense's snaps in the first seven games of 2021 before he was injured. This sort of committee approach could be detrimental to the breakout chances of Albert Okwuegbunam and Cole Kmet. Obviously, both Albert O and Kmet should be considered the projected leaders in their respective tight end rooms; just realize the difference between a full-time role and something closer to what Tonyan had in Green Bay could be the difference in a double-digit or triple-digit season-long target total.