Each week, PFF's fantasy football analysts post our rankings in PPR, non- PPR and 0.5 PPR formats for the league's offensive skill positions. Jon Macri and I then add our IDP rankings, making the PFF rankings pages the go-to resource for all your fantasy football decisions.
According to FantasyPros, my rankings were the third-most accurate among 129 experts in 2019, and they were also the most accurate for running backs. After eight weeks of 2020, they were 11th-best among 166 fantasy experts.
Of course, our rankings are in a constant state of flux, with changes being made due to injury reports and personnel/usage updates, among other factors. But regardless of any changes that may occur between now and Sunday, here are 10 borderline fantasy starters whose rankings I feel confident about heading into the ninth week of the fantasy football season. These rankings are based on PPR scoring settings within their positions as of Wednesday morning.
BIG-GAME POTENTIAL
Hasty has several things going right ahead of his upcoming matchup with the Green Bay Packers. Hasty's role in the offense has been increasing as the 49ers suffer more injuries. Even with Tevin Coleman available at the start of the game last week, Hasty still had part of the early-down role. After Coleman went down again, Hasty had a career-high in carries with 12, along with his first rushing touchdown in the NFL. Over the last four weeks, Jerick McKinnon has played less than 20% of first and second downs. This should give Hasty a chance to see the vast majority of carries for the 49ers. San Francisco should be running even more than usual with Jimmy Garoppolo, Deebo Samuel and George Kittle all injured. Kendrick Bourne tested positive for Covid-19 yesterday, and Brandon Aiyuk will likely be shadowed by the best cornerback in the NFL this year.
Hasty should see plenty of work and find success. The last time San Francisco faced the Packers, Raheem Mostert ran for 220 yards and four touchdowns. Green Bay's run defense hasn't gotten any better since then. This past week, the Packers allowed 163 rushing yards and three rushing touchdowns to Dalvin Cook. No defense has given up more fantasy points to running backs this season. Hasty should be in all starting lineups.
Harris has been a positive addition to the Patriots' offense over the last month. Harris has the fourth-best average yards per carry among running backs with over 45 carries. The Patriots offense has the highest team run-block grade on the season, helping him to a very high 3.0 yards before contact per carry. New England was already one of the most run-heavy teams, but the injuries at wide receiver and tight end have led them to rely even more on the run.
The New York Jets are an interesting opponent for Harris and the Patriots. New England is in the midst of a four-game losing streak but is expected to win this game. That should prevent the Patriots from ever getting away from the run. If there is one thing the Jets are good at, it's stopping the run. They haven't allowed a rushing touchdown by a running back in the last three games. They're coming off a game against the Kansas City Chiefs where they limited Kansas City backs to 2.6 yards per carry. The reason this game will be different is the Patriots' run blocking. The Jets' recent opponents were average in run blocking, but the Patriots will present a more difficult challenge. This should lead to plenty of carries and yards for Harris.
Jefferson has some of the best wide receiver performances on the season so far. Players have hit 160 or more receiving yards eight times this season, and Jefferson is the only player with two of those performances. Some of his recent games haven't been as good. In two of the last three games, he's had three catches for 23 and 26 yards. Part of the problem is opposing teams have been viewing Jefferson as the Vikings' top wide receiver and covering him with their best defenders accordingly.
This week against the Lions, it shouldn't matter as much who is covering Jefferson. The Detroit Lions haven't allowed a 160-yard game yet, but they have allowed two receivers to go over 135 yards. Detroit has the fourth-lowest PFF coverage grade. The Lions' highest-graded defenders in coverage are at linebacker and safety. The team has needed to use several cornerbacks this season due to injury, and none of them have a PFF coverage grade above 60. Jefferson should be able to take advantage of any cornerback across from him.
Cooks had a slow start to the season in his first year with the Texans. He was held to four or fewer targets in three of his first four games. Things turned with an eight-catch performance for 161 yards and a touchdown in Week 5. That performance was against the Jacksonville Jaguars — the same team Cooks faces this week.
Cooks has remained a major part of the offense ever since. He has 16 catches on 17 targets for 128 yards and a touchdown over the last two weeks. These were both against teams that are above average in PFF team coverage grade. Jacksonville, on the other hand, remains in the bottom five. Every sign indicates Cooks should see plenty of targets, and against the Jaguars he could put up big numbers again.
Fant was mentioned in this article last week. After missing a few games due to injury, he finished TE8 on the week. He was tied for the second in catches for the week at 7. He would have been the second-highest scoring tight end on the week had he scored a touchdown instead of backup Albert Okwuegbunam.
What made him a good play last week is the opponent in the Los Angeles Chargers. Los Angeles is in the top 10 in fantasy points allowed to tight ends. The team at the top of that list is the Atlanta Falcons, whom Fant happens to be playing this week. Fant should again see plenty of targets and has top-five potential this week.
BUST POTENTIAL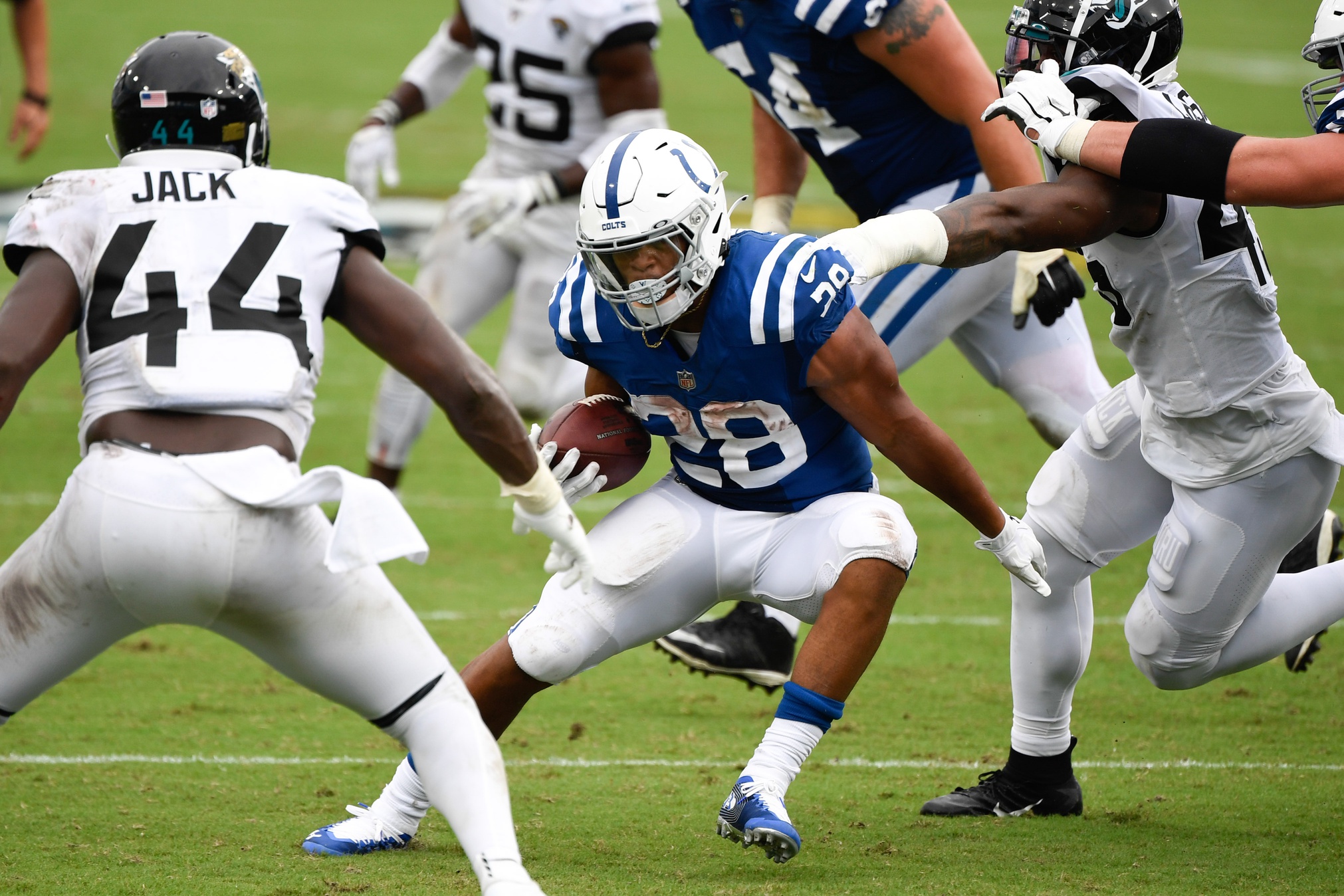 Taylor is a very risky player to start this week, assuming he plays. He did not receive the majority of carries last week, losing work to Jordan Wilkins as the game went on. Taylor reportedly has an injury but hasn't shown up on an injury report, and he practiced on Wednesday. Wilkins has outplayed Taylor by PFF grade, has avoided more than twice as many tackles despite having half the carries and has 1.3 more yards after contact per carry.
There is a chance Wilkins only saw more playing time because of an injury, or it could be because of Wilkins' play, or both. Regardless, we probably won't know how much time Wilkins will take from Taylor in this upcoming game. It also doesn't help that they are playing the Baltimore Ravens, who have allowed a low 19 fantasy points per game to running backs this season. Only one back has had more than 75 rushing yards against them. Of the seven backs with 10 or more carries against the Ravens, five were held to 3.5 yards per carry or less. Even a fully healthy Taylor with a normal amount of playing time would struggle against this defense. Add everything together and he should probably be left on the bench.
Singletary's playing time has diminished significantly over the last month. When Zack Moss was injured, Singletary was up to 88.2% of offensive snaps in Week 5. That has fallen each week and was below 50% for the first time in Week 8 at 49.1% of snaps. What also hurts is that Moss has been the goal-line back for the Bills. Singletary's only rushing touchdown of the season came in a week when Moss wasn't healthy.
Moss is ranked higher for me this week and will be ahead as long as these trends in playing time continue. The Seattle Seahawks have been average at stopping the run but not as good at stopping wide receivers. Expect the Bills to pass a lot in this game, which should hurt both running backs.
Lamb was a candidate for offensive rookie of the year early in the season, but those odds have decreased over the last two weeks because of the Cowboys' quarterbacks. Over the season's first six weeks, Lamb saw at least six targets per game, leading to at least 64 receiving yards per game. He's been held to four catches on 10 targets for 27 yards the past two weeks. At this point, we aren't even 100% sure who will be the Cowboys quarterback this upcoming week.
The matchup also isn't great for Lamb. While the Pittsburgh Steelers have allowed plenty of fantasy points to wide receivers this season, it hasn't often been from the slot. Two of the last three teams the Steelers faced were held to 40 receiving yards or less from all of their wide receivers lined up in the slot. They have allowed a lot more yards to outside wide receivers.
Chark has been very inconsistent from one week to another in terms of targets. He's seen a high of 14 targets but also multiple weeks with four or fewer. Both Keelan Cole and Laviska Shenault Jr. are very close to Chark in terms of targets on the season, and both of them are ahead in PFF grade. Having a new quarterback would also make things difficult for Chark.
Against the Houston Texans, Chark will likely get shadow coverage from Bradley Roby, who has yet to allow more than 45 yards in a game this season. Part of that is because Roby is having one of the better seasons of his career. There are also several other areas in the Texans' secondary that can more easily be attacked, so quarterbacks have looked elsewhere. In the first matchup, Chark was held to his lowest yardage total of the season (16). We could see a repeat of that this week.
Graham has been a surprise top-10 fantasy tight end this season in part thanks to four touchdown catches. His days as a top-10 fantasy tight end might be numbered due to a decline in his playing time. He was averaging over 70% of snaps throughout the first seven weeks but was down to 62.8% this past week. That coincides with second-round rookie Cole Kmet seeing his highest percentage of snaps on the season. Kmet is the future at the position for Chicago and is grading better than Graham in all facets of play. This is a trend that should continue including this week.
The Bears face a Tennessee Titans team that has given up a lot of points to wide receivers, but they have been average against tight ends. Chicago's best chance will be to throw the ball early and often to Allen Robinson II and Darnell Mooney. This could leave Graham with few targets.