Each week, PFF's fantasy football analysts post our rankings in PPR, non- PPR and 0.5 PPR formats for the league's offensive skill positions. Jon Macri and I then add our IDP rankings, making the PFF rankings pages the go-to resource for all your fantasy football decisions.
According to FantasyPros, my rankings were the third-most accurate among 129 experts in 2019, and they were also the most accurate for running backs. After 14 weeks of 2020, they were sixth-best among 155 fantasy experts.
Of course, our rankings are in a constant state of flux, with changes being made due to injury reports and personnel/usage updates, among other factors. But regardless of any changes that may occur between now and Sunday, here are 10 borderline fantasy starters whose rankings I feel confident about heading into the 15th week of the fantasy football season. These rankings are based on PPR scoring settings within their positions as of Wednesday morning.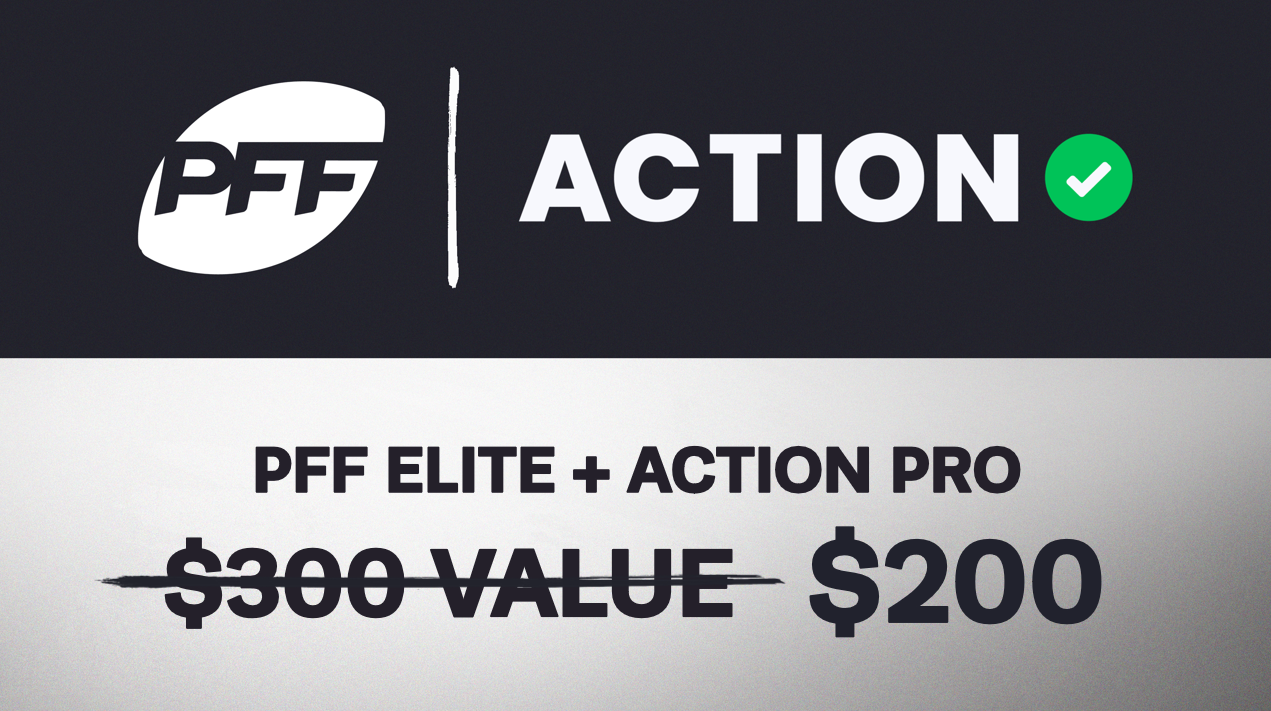 BIG-GAME POTENTIAL
Goff is sitting at QB13 this season and for most of his career has been a borderline starting fantasy quarterback. His receivers are relatively healthy, and he has arguably the best matchup of the week.
The Jets defense has given up a league-high 28 passing touchdowns, including 12 in the last four weeks. Every team to face New York has thrown for a minimum of 200 yards. The Rams receivers have the second-most yards after the catch on the season, while the Jets have given up the fourth-most yards after the catch. Goff will be able to throw short passes to his receivers, let them do most of the work and rack up the fantasy points. He might not have the highest ceiling, but his floor is very high.
Dobbins' fantasy value has trended up all season. He started the year playing less than both Mark Ingram II and Gus Edwards on early downs but taking most of the third-down work. He's lost some of his third-down snaps to Justice Hill but has made up for it in a big way on first and second downs. His stock is way up, as Ingram only played in the first offensive snap last week, allowing Dobbins to take two-thirds of the early-down work while Edwards' role remained the same.
Dobbins' expanded role didn't lead to a huge boom in fantasy performance, as Edwards scored more touchdowns against an above-average Browns defense. This week, they face a Jaguars defense that has already given up 1,519 rushing yards to running backs this year. The Ravens should be able to build up a lead through the run game, which will just lead to more running late. Several Ravens wide receivers were placed on the Covid-19 list this week, so that might make Baltimore even more committed to the run. The only potential problem is if Hill mixes in too much in the fourth quarter. Even if that happens, Dobbins should accumulate enough points in the first three quarters to make it worth starting him.
Swift is another rookie back who has seen increased opportunities as the season's progressed. Swift has clearly been the best running back for Detroit this season, which earned him his first start in Week 10. He saw a season-high 43 offensive snaps in that game and looked poised to be a top-10 running back the rest of the season. A concussion halted that momentum, but Swift returned to action last week.
Swift went back to being the clear lead back for Detroit, but it didn't necessarily translate to a lot of fantasy success. The Packers won the time of possession battle, and Detroit spent most of the game behind. This only led to seven carries for Swift, but they did include a touchdown. He was also involved in the passing game with four catches. This week Swift plays a Titans defense that he should be able to take advantage of.
Aiyuk has been unstoppable in recent weeks when he's been available. He is the WR4 over the last two weeks, having led all wide receivers in targets last week with 16. Part of the reason for the high target share was an injury to Deebo Samuel, which will likely end his season. The combination of his target share and talent means he should be started regardless of opponent.
Aiyuk's prospects look better than ever this week against the Cowboys, who have given up a league-high 22 touchdowns to wide receivers. Twelve different wide receivers have gained at least 80 receiving yards against them. The last four teams Aiyuk has faced are in the top six in preventing fantasy points to wide receivers. If Aiyuk can put together big games against them, he definitely can against these Cowboys.
Brown has had a roller coaster of a season since joining the Buccaneers. At his peak in Week 11, he caught eight of 13 passes for 57 yards. This past week, he played in a season-low 26 offensive snaps. The Vikings nearly doubled the Buccaneers in time of possession, leading to the low snap total. When Tampa Bay had the ball, they typically had a lead and were spending more time running than passing. The Buccaneers have used Brown almost exclusively in three or more wide receiver sets. Tampa Bay didn't use Brown any differently last week — they just ended up not using formations with him on the field as much.
Things should be back to normal this week against the Falcons. Atlanta has given up the second-most fantasy points to wide receivers this season. They've improved as the season has gone on, but their points of strength and weakness within the secondary have remained the same. Their left and right cornerbacks have given up the most yards in the league this year, while the middle of their defense hasn't been as bad. Brown is lining up on the outside the vast majority of the time, so he, Mike Evans and at times Chris Godwin will get to take advantage of their weakness. First round rookie A.J. Terrell has been tracking top wide receivers recently, which means Terrell might follow Evans. If that's the case, Brown has an even bigger advantage.
BUST POTENTIAL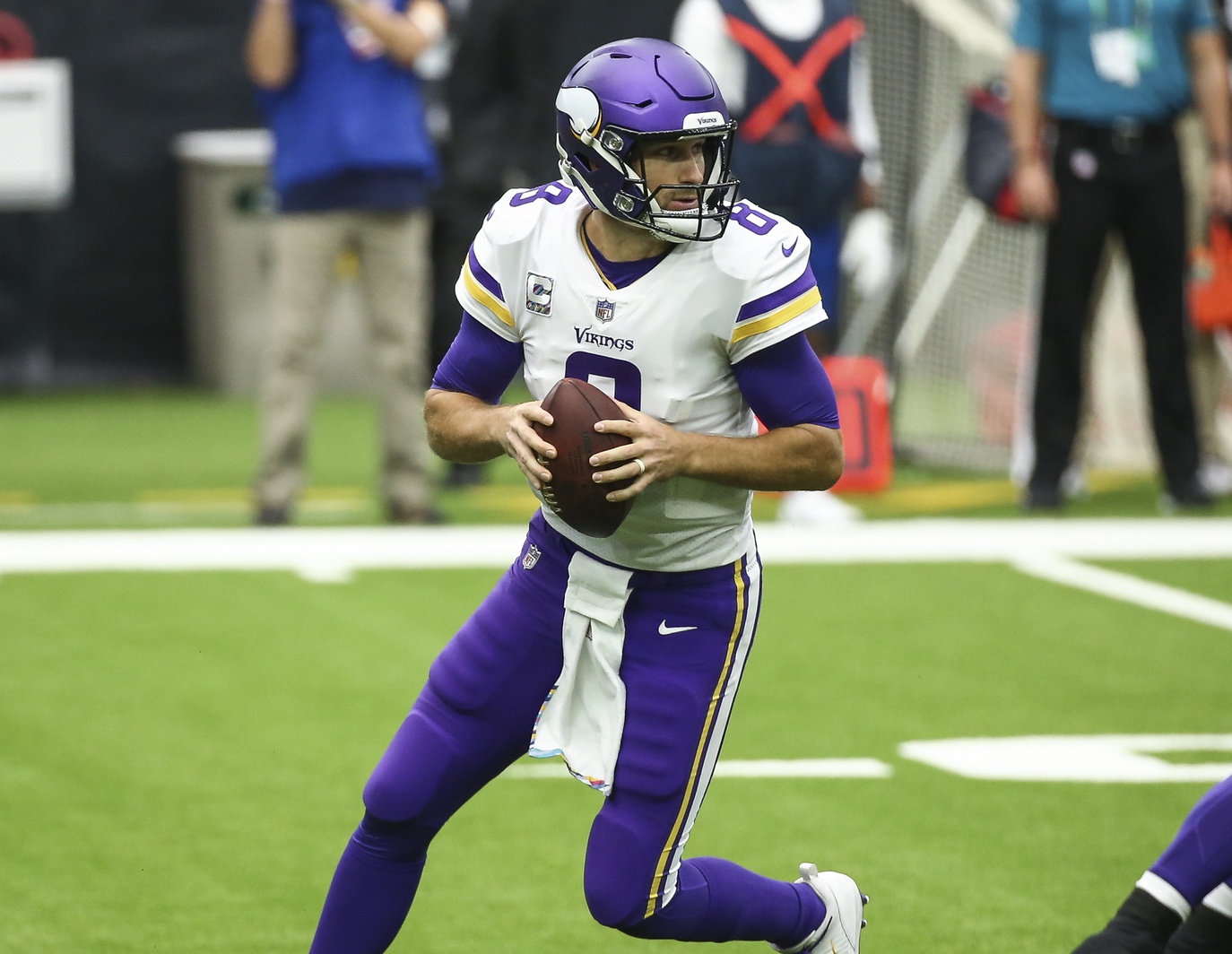 Cousins is QB4 since Week 8, but that likely won't be the case after this week. His decline already started last week when he faced a great Buccaneers pass defense. He still finished QB16 on the week, but it took him 47 dropbacks to get there. His 0.36 fantasy points per dropback were 25th best for quarterbacks last week.
Now he gets a Chicago Bears defense that is even better at stopping quarterbacks. Cousins played the Bears in Week 10 and finished QB11, but it was one of his highest-graded games of the season. It was also the third-most passing yards Chicago has given up this year. We can expect worse play from Cousins this time around and better play from the Bears secondary, which lands Cousins outside the top 12 quarterbacks for the week.
Gordon has been running the ball very well in recent weeks, with the eighth-best PFF run grade since Week 10. He's run for the eighth-most rushing yards in that time and has avoided the eighth-most tackles. He has gained 5.5 yards per carry, while teammate Phillip Lindsay is tied for the fewest rushing yards per carry at 2.9.
This hasn't resulted in an increase in playing time for Gordon, unfortunately. Gordon ran the ball 13 times last week compared to 11 for Lindsay. This means Gordon can still only be trusted when he's faced with a good matchup. The Bills are just an average run defense, but the Broncos will probably be playing from behind. The Bills are tied for the second-most first-quarter touchdowns, while Denver is tied for the fewest. Gordon has the third-lowest PFF receiving grade among those with at least 10 targets, so he won't factor in much to the pass game if Denver is down. The split playing time and likely minimal run plays for Denver makes this a matchup to avoid.
Johnson started the season as an intriguing fantasy option seeing over 90% of offensive snaps. Anyone with that type of workload has a lot of fantasy value. Then Duke Johnson Jr. came back, which cut into David's playing time, but he was still seeing 15-plus carries per game. David missed a few games with injury, and when he came back he basically split playing time with Duke.
David landed on the Reserve/Covid-19 list for Week 14  and is expected back this week. His problem now is that the Texans are eliminated from the playoffs and are playing for 2021. Houston started getting Buddy Howell heavily involved in the offense in the second half last week, and he could be involved again going forward. The man who brought David to the Texans is gone, and he's a likely cut candidate this offseason. His role could greatly be reduced over these next three games. Throw in the Colts' strong run defense, and he should be strictly avoided.
Agholor has played well for the Raiders in recent weeks and is WR19 since Week 11.  He's been a popular waiver wire addition, but this might not be the best time to start him. The Raiders' skill players are very game-script dependent. Agholor is averaging 30 yards per game when Las Vegas wins and 70.8 yards per game when they lose. Running back Josh Jacobs has the opposite problem with more than double the rushing yards in wins than losses. That trend makes intuitive sense because teams run more when they are ahead and pass more when they are behind, but the Raiders and are more extreme in this regard than most teams.
The Raiders are expected to beat the Chargers, which makes it a good week for Jacobs and a bad one for everyone else. When you throw in that Los Angeles has been better at stopping wide receivers and not as good at stopping running backs, Agholor's floor lowers even further. The first time these two played, Agholor had two catches on three targets. He was helped by one of those catches going for a touchdown. Agholor still has upside because he catches a touchdown every other game, but this is a very risky week to play him. 
Higgins fantasy managers in dynasty leagues have plenty of reason to be excited about the rookie going forward. He's played over 90% of the Bengals offensive snaps the past four weeks after playing under 90% in every other game. His target share remains high, with just two games under eight targets since Week 5. He's caught five passes in each of the three games, giving him a nice floor despite the Bengals' quarterback situation.
The ceiling is also low because of the Bengals' current quarterback play. Higgins did a great job against the Steelers a few weeks ago when he gained 115 yards on seven catches with a touchdown. The Steelers have played four games since then, and only three wide receivers have reached 50 yards. The receivers that have made it past 50 aren't always the ones you would expect, with Pittsburgh at times focusing on stopping a team's best receiver. There should be higher-upside plays with similar floors on your roster.