Each week, PFF's fantasy football analysts post our rankings in PPR, non- PPR and 0.5 PPR formats for the league's offensive skill positions. Jon Macri and I then add our IDP rankings, making the PFF rankings pages the go-to resource for all your fantasy football decisions.
According to FantasyPros, my rankings were the third-most accurate among 129 experts in 2019, and they were also the most accurate for running backs. After 11 weeks of 2020, they are fifth-best among 160 fantasy experts.
Of course, our rankings are in a constant state of flux, with changes being made due to injury reports and personnel/usage updates, among other factors. But regardless of any changes that may occur between now and Sunday, here are 10 borderline fantasy starters whose rankings I feel confident about heading into the 13th week of the fantasy football season. These rankings are based on PPR scoring settings within their positions as of Wednesday morning.
BIG-GAME POTENTIAL
Cousins has been on fire in recent weeks with the third-highest PFF passing grade since Week 10 at 89.9. His strong play on the field correlates directly to fantasy success. He's scored the fourth-most fantasy points for a quarterback at 69.7. This includes putting together the third-best performance of Week 12 despite not having his top wide receiver, Adam Thielen, or his top receiving tight end, Irv Smith Jr..
This week Cousins faces the Jaguars defense. Each of the last five quarterbacks to face Jacksonville have scored a minimum of two passing touchdowns to go along with at least 250 passing yards. Jacksonville has been without its top draft pick, C.J. Henderson, who will again be missing in this game. Thielen has been activated off the Covid-19 list, so he should be ready to help the offense. The only reason to be concerned about this matchup is if the Vikings end up running a lot and only pass a dozen or so times.
Montgomery is another player who is playing his best football in the second half of the season. He put together his first 100-yard performance of the season a week ago against the Packers. Montgomery's 2020 PFF grade is up to 79.2, making him the eighth-highest graded running back on the season.
Montgomery gets a second shot at the Detroit Lions this week. He averaged 4.9 yards per carry against them in Week 1 despite his longest run going for 10 yards. Tarik Cohen was still healthy for the Bears in that game and the two split time. Montgomery is now the every-down back and will get the chance to rack up even more yards this time around. The main problem for Montgomery from a fantasy perspective is his lack of touchdowns. The Lions have given up the most rushing touchdowns to backs as well as the most receiving touchdowns. Montgomery should pick up plenty of yards and have a good chance of scoring.
Mostert returned to the 49ers starting lineup last week. He played in just under 50% of first- and second-down snaps, but that was enough time for him to put together 16 carries and a touchdown. He averaged 2.7 yards per carry, but that came against a Los Angeles Rams defense that has allowed the fourth-fewest rushing yards this season.
The 49ers were likely easing him back into action, so he should get at least a little more playing time this week. Against the Bills defense, Mostert should be able to put up bigger numbers. Buffalo's defense as a whole has played better in recent weeks, but that's had more to do with their pass defense than run defense. They've allowed the eighth-most rushing yards this season and have allowed three 100-yard rushers in their last six games. Mostert should see a few more touches and have a lot more production per touch compared to last week.
Thomas was typically the first wide receiver off the board in fantasy drafts in August. He's missed games with injury, which is disappointing, and even when he's played his numbers haven't been nearly as great as last season. By far his best game this season happened in Week 11 against the Falcons, when he caught nine of 12 targets for 104 yards.
He gets to face Atlanta again this week, and he should be able to put up similar numbers. There is some concern with how much the Saints ran this past week, but that's what the game plan called for in that matchup. The only way the Saints could lose to Denver was if they beat themselves, so they kept things on the ground to avoid mistakes. This week they will need to score against a Falcons team that put up 43 points last week. The best way for the Saints to put up a lot of points will be to feed Thomas the ball.
Pittman became the top wide receiver for the Colts mid-season, and he is WR29 over the last four weeks. He's been inconsistent, with a combination of big plays and big drops. His two catches of 40 or more yards and his three drops are both tied for third among wide receivers since Week 9. Each of the four teams he's faced in that span are among the top half of the league in preventing passing plays of 40 or more yards.
Pittman will potentially have huge gains this week against the Texans. Houston has given up 39.3 fantasy points per game to wide receivers. The Texans are down their top-graded cornerback, Bradley Roby, for the rest of the season due to suspension. The Texans have given up the third-most passing plays of 40 or more yards at eight. Pittman will only need one or two big plays to be worth having in your starting lineup.
BUST POTENTIAL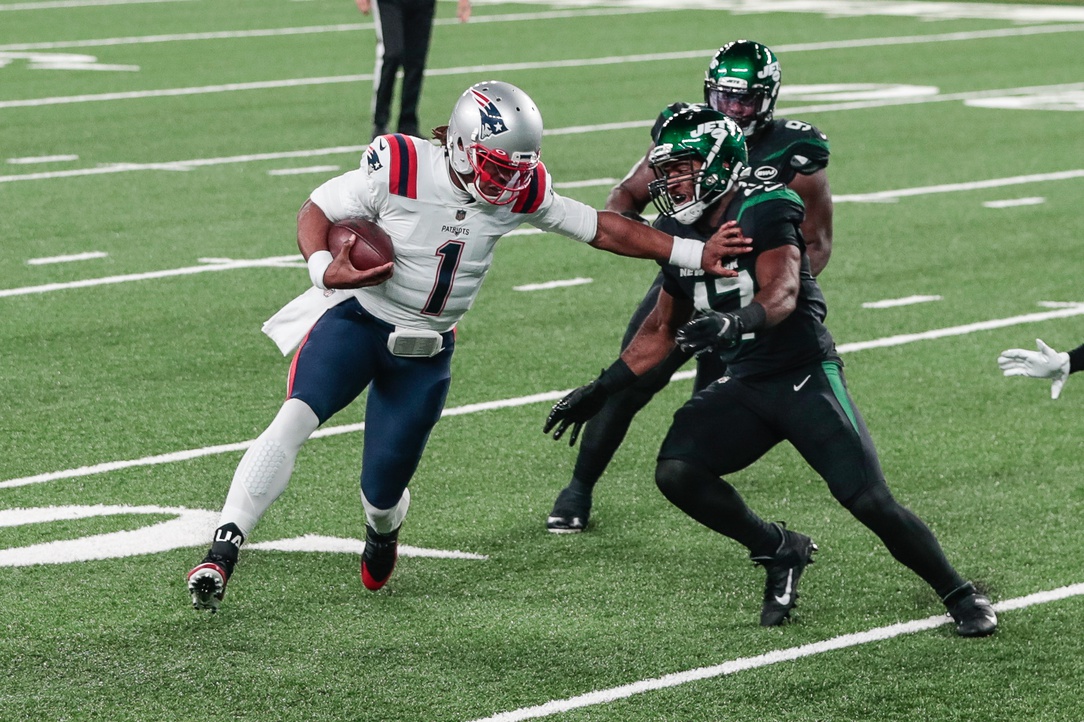 Newton has been one of the most interesting fantasy quarterbacks this season. His 0.61 fantasy points per dropback are sixth-highest among quarterbacks this season. His nine rushing touchdowns are tied for the fifth-most regardless of position. This helps his floor, but his passing yardage floor is as low as it gets for a fantasy-relevant quarterback. He threw for 365 yards two weeks ago and followed that up with an 84-yard performance last week.
Newton faces a Chargers defense that will probably leave him near his floor in passing performance. Los Angeles has allowed the sixth-fewest fantasy points to wide receivers but ninth-most to tight ends. The Patriots don't have a tight end to take advantage of the Chargers defense. Chris Harris Jr. has been activated off of injured reserve, so Los Angeles should be even better than usual against wide receivers. Newton will still be able to get his usual production on the ground, but that won't be enough to make him a top-12 quarterback this week.
Moss is the clear lead back in Buffalo. He's been given more carries than Devin Singletary and scored all three of the Bills rushing touchdowns by running backs over the last six weeks.
There are two big concerns for Moss heading into Week 13: Singletary gained more rushing yards than Moss despite having fewer carries over the last four weeks; the two backs are used pretty interchangeably, so it's possible that Singletary receives more carries than Moss this week.
The other concern is that they play the 49ers. The only running backs with more than 65 rushing yards against San Francisco in a game play for the Rams. San Francisco's six rushing touchdowns allowed to running backs are tied for sixth-fewest. The combination of low ceiling and potential for fewer carries is enough to leave Moss on the bench for this week.
Akers is a popular waiver wire option this week because of his back-to-back games with a touchdown and that lack of other RB options these days. He gained significantly more yards than Darrell Henderson against a strong 49ers defense this past week. Despite the big numbers recently, nothing has really changed for the Rams.
All three backs are used significantly near the goal line. Akers, Henderson and Malcolm Brown have two snaps each for the Rams when they are within four yards of scoring over the last two weeks. Akers happened to score on both of his snaps. The week before that, all three backs had one snap each in this situation.
Akers' high rushing total largely came from a 61-yard run. Without that, his rushing was largely comparable to Henderson's. Akers outplayed Henderson over the last few weeks, so there is a chance Akers ends up with more carries. He offers very little receiving value with three career targets. The Rams play the Cardinals, who are pretty good against the run themselves. At best, Akers will see roughly half of the team's carries and a target.
Meyers' floor is pretty high despite the state of the Patriots passing game. He's gained at least 50 receiving yards in five of his six games with significant playing time. One issue for Meyers is that he hasn't scored a receiving touchdown yet, with no sign he will score one anytime soon. He's been targeted once every other game in the red zone. When New England is within 10 yards of scoring, they've only targeted a receiver three times in the last six weeks.
He will be facing a lot of Casey Hayward Jr. based on where Meyers and Hayward typically line up. Hayward has allowed the second-lowest completion rate among all cornerbacks at 45.6%. As a team, Los Angeles is tied for the third-fewest red zone completions allowed with eight. This is unlikely to be the game where Meyers scores his first touchdown and could be his second game since becoming the starter where he's under 50 yards.
Much of Williams' value comes from big plays. His 17.1 average depth of target is the highest among wide receivers with at least 50 targets. Two of his four touchdowns and 241 of his 529 receiving yards have come from deep passes. This makes him a high-risk/high-reward start any week.
The Patriots aren't the type of defense that allows receivers like Williams to post big numbers. New England has allowed the fifth-lowest completion percentage on deep passes at 31.8%. They are tied for second for most interceptions on deep passes at five. The Chargers have yet to play a team this good against deep passes. Williams should have a few catches, but without his usual big-play potential, it's best to leave him out of your lineup.