While preparing my fantasy football rankings each week, I come across statistics and trends worth monitoring. The following are 32 interesting stats — one for each NFL team — that helped inform my Week 8 rankings.
Several can be found in premium stats as well as the PFF fantasy stats. (These numbers do not account for the Thursday night Falcons-Panthers game.)
Arizona Cardinals – The Cardinals as a team have 478 rushing yards before contact. This is 39 yards more than any other team and 220 yards more than the league average.
Atlanta Falcons – The Falcons' 83 red-zone plays are tied for the most in the league.
Baltimore Ravens – Mark Andrews has only run the 19th-most routes among tight ends (151). After six games last year, Andrews had run 158 routes.
Buffalo Bills – Cole Beasley has a league-leading 2.49 yards per route run from the slot.
Carolina Panthers – D.J. Moore and Robby Anderson each have 14 explosive plays this season, tied for seventh-most among receivers. 
Chicago Bears – Jimmy Graham has 17 catches that have led to first downs — the fourth-most for tight ends this season.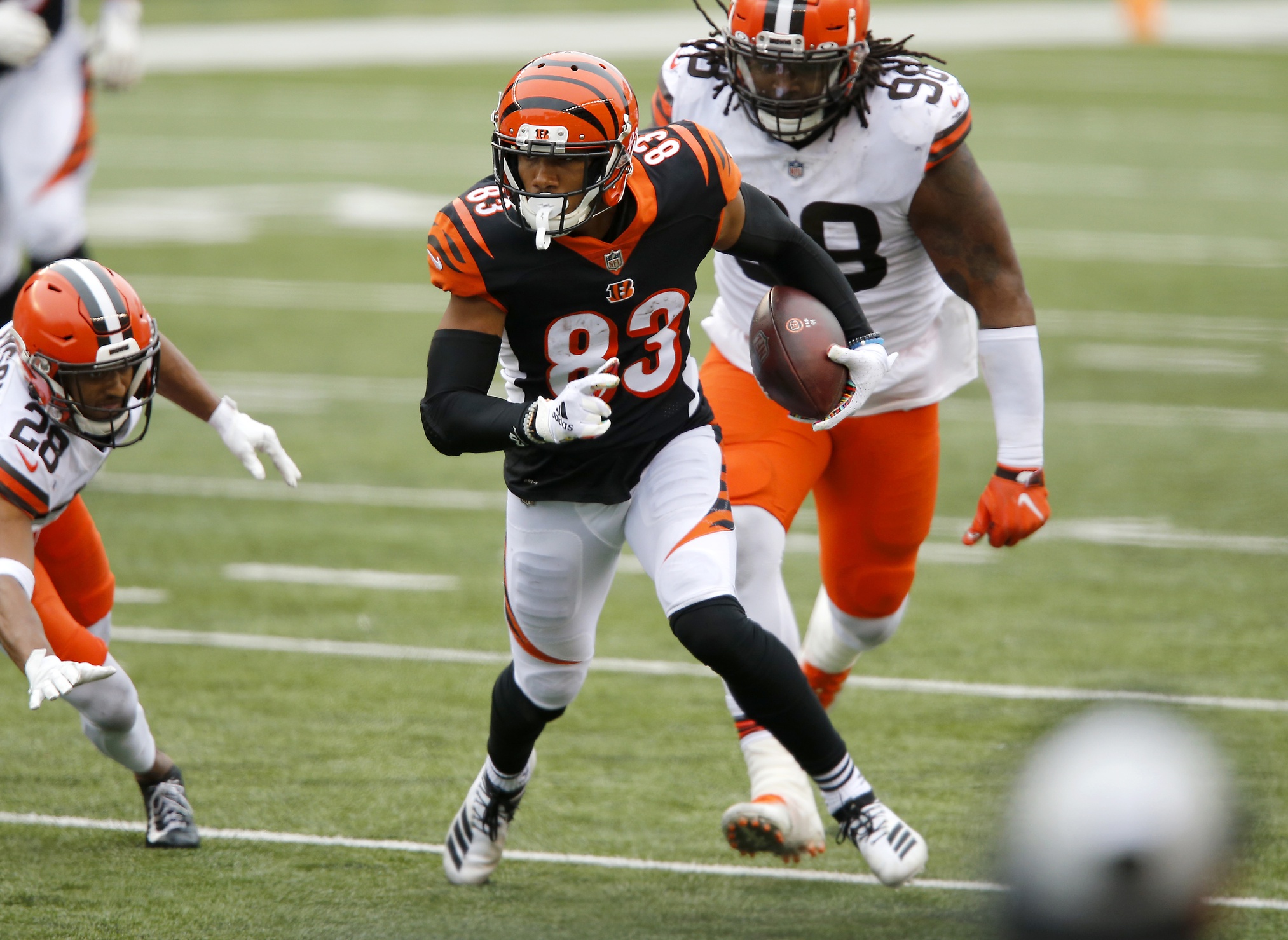 Cincinnati Bengals – Tyler Boyd has 29 first downs from the slot. That's five more than any other receiver.
Cleveland Browns – Austin Hooper has been the best tight end at contest catches this season. He's caught all seven passes thrown his way that have been contested. Other than Hooper, no one has caught 100% of their contested targets and had more than four contested targets.
Dallas Cowboys – Dalton Schultz's 149 yards after the catch is the fourth-most among tight ends.
Denver Broncos – Albert Okwuegbunam has the second-best yards per route figure for a tight end regardless of sample size at 3.18. On 33 routes, he's caught nine of 13 passes for 105 yards.
Detroit Lions – Kenny Golladay is up to third in yards per route run by a wide receiver this season at 2.77. Last season, he was outside the top 10 at 2.03.
Green Bay Packers – Packers cornerbacks have given up 269 receiving yards when lined up on the outside. That is 67 fewer yards than any other team and less than half the league average of 552 yards.
Houston Texans – Deshaun Watson has thrown short of the first down marker on 42.9% of his throws — the lowest rate among starting quarterbacks.
Indianapolis Colts – Colts wide receivers have caught a combined two touchdown passes. That's the second fewest for a team. On the bright side, their wide receivers have also dropped only two passes, which is tied for the fewest for a team.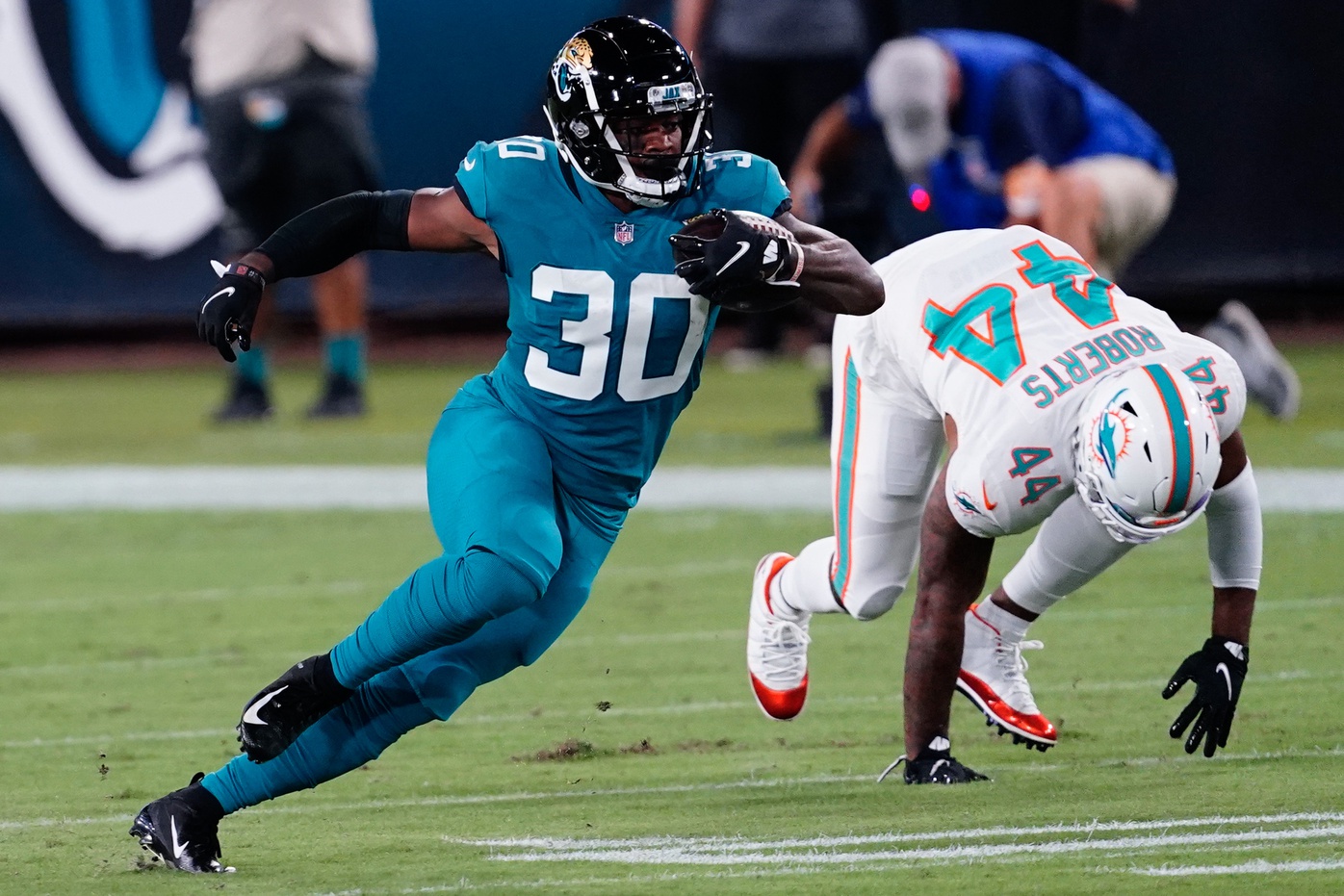 Jacksonville Jaguars – James Robinson has 329 rushing yards after contact. That is seventh-most by an undrafted rookie in the last decade. He is on pace to take the top spot before December — he is only 148 yards behind first place.
Kansas City Chiefs – Tyreek Hill has 1,274 receiving yards from deep passes over the last three seasons. That is 179 yards more than any other receiver in that time.
Las Vegas Raiders – Darren Waller has the third-most receiving yards over the last calendar year at 1,130. While both Travis Kelce and George Kittle are a little ahead of him, the gap between Waller and the next-closest tight end is over 300 yards.
Los Angeles Chargers – Austin Ekeler is tied for the league lead with Christian McCaffrey in receiving yards over the last calendar year at 767. But it took Ekeler 26 fewer targets to get to 767 yards.
Los Angeles Rams – The Rams have been the best team at defending against deep passes. They've allowed five of 22 to be caught for 173 yards, with no touchdowns and two interceptions. They've allowed the fewest yards and are tied for the fewest completions allowed and touchdowns allowed in these situations.
Miami Dolphins – Running backs who have faced the Dolphins gain four or more yards on 53.5% of their carries. The Dolphins are the only team to allow 4.0 or more yards on over half the attempts against them.
Minnesota Vikings – The Vikings have been the worst team at defending against deep passes. They have allowed the most completions (19), yards (625) and touchdowns (19).
New England Patriots – The Patriots have only thrown four deep passes in the first halves of games this year. That is the fewest by a team at this point in the season since the 2014 Chiefs. Only one of those four passes was complete for exactly 20 yards, and another one fell incomplete.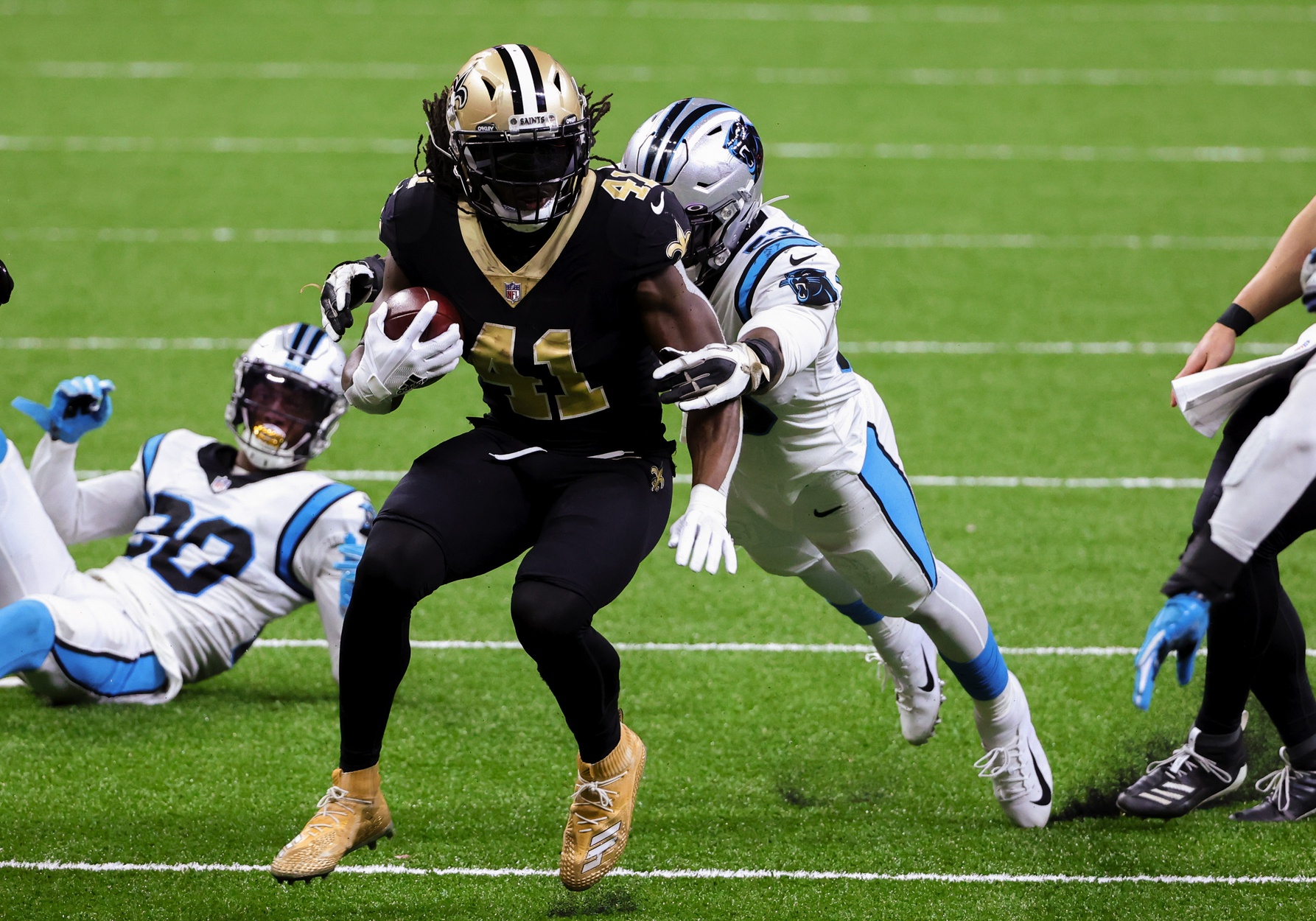 New Orleans Saints – Alvin Kamara has been the most targeted receiver on screen passes this season. He's caught 12 of 14 for 150 yards and a touchdown. The two incompletions were dropped passes.
New York Giants – Devonta Freeman has made six contested catches on seven contested targets in the last calendar year. No other running back has more than three.
New York Jets – The Jets defense has first contacted opposing rushers in the backfield on a league leading 40% of rushing attempts against them.
Philadelphia Eagles – The Eagles have tackled opposing running backs for a loss or no gain on 30.1% of rushing attempts against them. That's the best rate in the league.
Pittsburgh Steelers – Quarterbacks facing the Steelers have a league-low 63.4% completion percentage on targeted throws.
San Francisco 49ers – George Kittle has exactly 3.0 yards per route run over the last two seasons. No tight end with over 50 routes run is within a half yard of him.
Seattle Seahawks – Russell Wilson has the highest average time to throw on the season at 3.07. Last season, he wasn't in the top 10 at 2.88 seconds.
Tampa Bay Buccaneers – The Buccaneers defense has allowed only three rushing attempts to go for more than 10 yards. Every other team has at least double that, while the league average is 15.
Tennessee Titans – Derrick Henry has more yards after contact (1,407) in the last calendar year than any player has total rushing yards in that time.
Washington Football Team – Kyle Allen has thrown 30% of his passes beyond the first down marker — the lowest rate among quarterbacks this season.