Welcome to our weekly look at IDP streaming options. It's Week 4 of the NFL season, and for fantasy football players in leagues that use defensive players, finding a weekly pickup to use can be crucial.
It was another solid week of streaming IDPs as we had several players from last week's advice with big fantasy days. Lineman Matt Ioannidis tacked on another sack against the Packers while safeties Jessie Bates and Devin McCourty added eight and five tackles apiece. Our Ravens linebackers made a lot of plays as well with Kenny Young recording 10 tackles while Patrick Onwuasor only had three tackles but picked off a pass. Really the only whiff was lineman Taco Charlton, who recorded just three tackles but no big plays. So 3- or 4-for-5 isn't bad and, let's face it, if you're having to stream five players on your fantasy team, it's going to be a tough road.
Of course, that was before bye weeks kick in like they do this week. Fantasy teams are relatively unscathed as only two teams are on byes in Week 4 but, nonetheless, there will be plenty of reasons to stream so let's jump right in.
Defensive line
Rochell's streaming potential is due to the injury bug on both sides of the field. Obviously, he's seeing more action thanks to a lingering injury to starting edge rusher Joey Bosa. He's behind only Melvin Ingram as far as snaps for Chargers lineman this season but is leading them in tackles.
This week is especially appealing to Rochell because of his opponent. The Chargers host the 49ers who are led, at the moment, by quarterback C.J. Beathard thanks to an injury to Jimmy Garoppolo. The 49ers come into the game giving up 4.3 sacks per game so far this season, good for fourth-worst in the league. Their offensive line also has the fifth-worst pass-blocking PFF grade. And If that wasn't bad enough, Beathard was sacked an average of three times per start last year with at least three in four of five starts. There's little chance Ingram is available in your league (and if he is, pick him up now) but Rochell will have just as many opportunities this week.
I'm not sure how much longer Mayowa will be available to stream but he's an excellent candidate this week. He faces a Seattle team that is tied for the lead in sacks allowed this season at 4.7 per game including six in each road game this season which is the same situation the Seahawks are in this week.
Opponent aside, Mayowa has been fantasy relevant in his own right. He has only two sacks so far but his 11 quarterback pressures leads the team and is more than even Pro Bowler and teammate Chandler Jones. It also helps that Mayowa has seen the field more than most any other lineman in the entire NFL, currently ranking 11th in snaps through the first three weeks. The opportunity plus the situation puts Mayowa in a good position to make a big play.
As an interior lineman for the Packers, Clark isn't prone to a lot of fantasy-friendly stats like sacks or pass defensed. But so far this season, Clark has notched both and is on pace for career-highs across the board including 85 tackles, more than five sacks, more than five fumble recoveries and double-digits in passes defensed.
And even though it's not a guarantee he'll be able to keep this pace up throughout the season, he should be able to continue the good play this week. He's been on the field for 80% of the Packers defensive plays and the 160-plus snaps he has seen is good for 20th among all linemen in the NFL. He will go up against rookie Josh Allen and the Bills, who give up a league-leading 4.7 sacks per game. The Bills also gave up to the opposing defense last week, the Vikings, three sacks and three fumbles by Allen (none of which were lost). Interior lineman Linval Joseph didn't tally any sacks or other big plays but did notch six tackles, an above-average total for a tackle.
Clark is in a good situation this week and even better if your league gives a scoring boost to defensive tackles.
Linebackers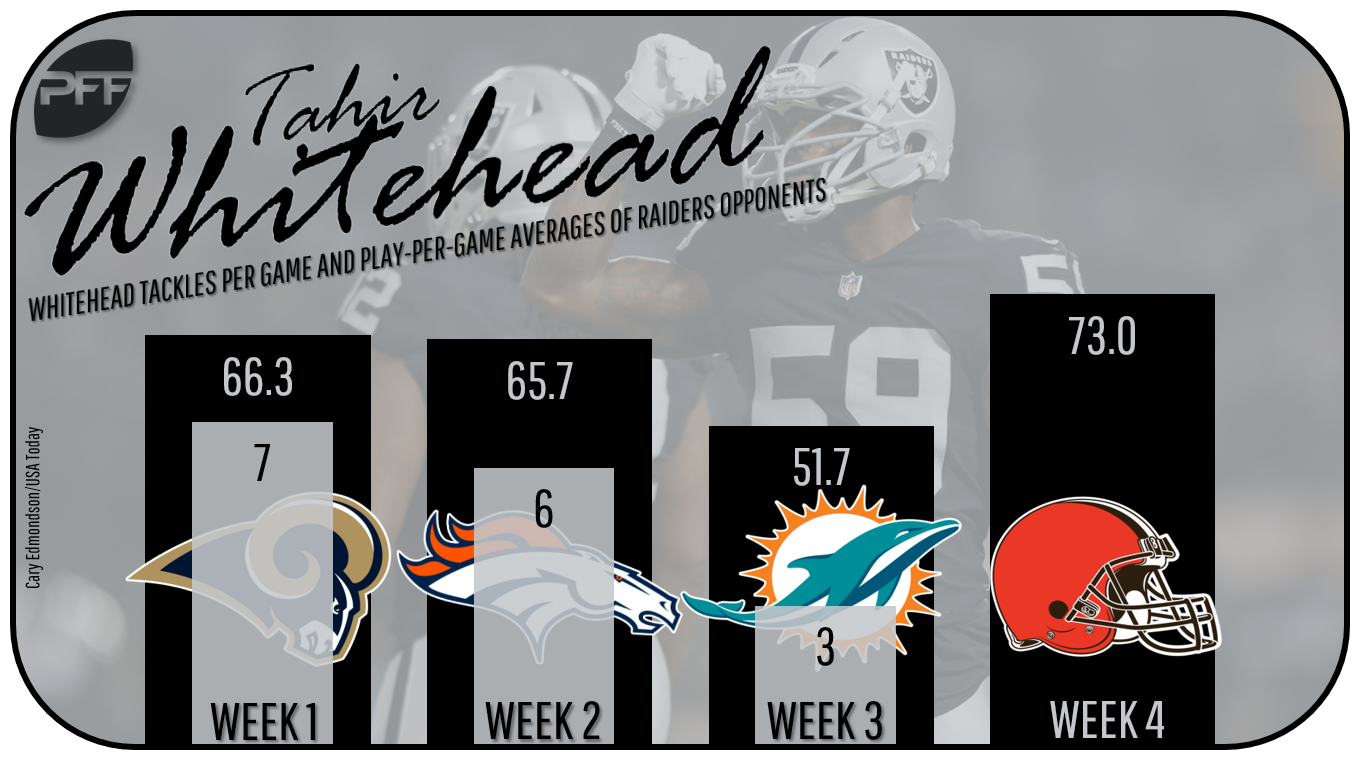 Whitehead isn't a sexy pick but for linebackers, but number of plays is important, and Whitehead should see plenty this weekend. He's currently manning the middle for Oakland and has seen every defensive snap for them but a few. His Raiders now play the Browns who are currently second in the league in 73 offensive plays per game, which means plenty of chances for tackles for Whitehead. Just look at the trend this season for Whitehead's opponents where both the Rams and Broncos, who average about 66 plays per game, allowed Whitehead to total seven and six tackles, respectively. But when he played the Dolphins, who average the second-lowest total of 51.7 plays-per-game, he totaled only three tackles.
It's not as if Whitehead hasn't been able to notch the high tackle numbers before as he's coming off back-to-back 100-tackle seasons in Detroit. His signing with Oakland was a little under the radar, which is why he's probably still available in a lot of leagues. But his role has been confirmed and is an easy stream.
Secondary
Heath hasn't exactly set the world on fire this season, which is why he's probably still available in most leagues. But if there's any week for Heath to be of value, it's this one as Dallas plays Detroit and Matthew Stafford this week. Heath will have every opportunity as the Lions are currently leading the NFL in pass attempts per game with a stout 47 per. It should also be noted that in two of the three Lions games this season, the opposing defense's leading tackler was in the secondary. Heath is recovering from an ankle injury, so you'll have to monitor that but if he's good to go, he could see a lot of tackles.
The Steelers and Ravens has the potential to be a shootout as Pittsburgh is currently third in pass attempts (46.3) while Baltimore is fourth (44.3), which is also good news for both teams' secondaries.
For Burnett, it's possible he's still available in your league as he hasn't totaled 100 tackles in a season, often a gold standard in IDP scoring, since 2014. Injuries have played a part as he hasn't played in a full 16 games since 2012. This season is off to a similar start as Burnett wasn't active last week thanks to injury. Even when healthy, he's only had eight tackles to this point but will get plenty of opportunity against the Ravens.
If Burnett isn't available, or pops back up on the injury report, Edmunds is a viable substitute. He played 100% of the snaps last week in the wake of Burnett's injury and managed to even pick off a pass. But even if Burnett does play, Edmunds still sees the field plenty, totaling over 100 snaps the first two games. Whomever gets the start should not only see a lot of tackle opportunities but the Ravens have also allowed an average of seven passes defended in each game this season, a good sign for more to come for the Steelers secondary.