Every week in this space, I'm offering up IDP streaming ideas for that weekend in fantasy football. As we head into Week 3, here are some good plays for the week.
For the first edition of this year's IDP streamers, I'd say we did pretty well. Our secondary picks last week lit it up. Lions safety Quandre Diggs totaled five tackles and two passes defended. The Redskins' duo of Montae Nicholson and D.J. Swearinger were even better, with Nicholson recording six tackles and a pass defended while Swearinger picked off two more passes. Our linebackers did their jobs, with the Falcons' duo of Duke Riley and De'Vondre Campbell recording nine tackles apiece. Our defensive linemen could have done better and almost did — Colts tackle Margus Hunt had a sack called back because of a penalty away from the play and ended up with only three tackles, two of them for a loss. Meanwhile our Saints and Giants recommendations tallied a few tackles but not the sacks or, even better, turnovers we were looking for. We'll do better with our linemen this week while keeping our hot streak at linebacker and the secondary.
Defensive line
Honest to God, I almost recommended Ioannidis last week after he tallied a sack in Week 1. Turns out I should have, as he racked up another against the Colts in Week 2. I'm not making that mistake again as Ioannidis has a great matchup against a leaky Packers offensive line this week. They actually have graded out well in pass-blocking — currently ranking as PFF's eighth-best unit — but they've given up four sacks in each of the first two weeks while Aaron Rodgers is still running around on a gimpy knee and doesn't figure to be as mobile.
Enter Ioannidis and his previously mentioned sack in each game to start the season. That's been a function of how effective he's been in pass rush, currently ranking third among all lineman in PFF's pass-rush productivity rate of 11.8. The formula not only takes into account sacks but hurries and hits relative to the number of rushes by a player. Simply put, Ioannidis has been really good at rushing the quarterback this year and there's no reason for it to stop this week.
It's not as if Charlton himself has been dominant so far, recording just one sack on the season to go along with a fumble recovery and a pass defended. But the Cowboys' opponent this week is just too juicy to pass up. I'm of course talking about the dumpster fire that is the Seahawks and, specifically, their offensive line. While they've graded out as an average unit when it comes to pass-blocking, they've given up six sacks in each of their first two games this year, forcing Russell Wilson to run for his life.
As a team, Dallas' pass rush has been very good so far, totaling nine sacks in the first two games. The star of the group is Demarcus Lawrence, who should be owned in all leagues. Chances are his fellow linemate Charlton won't be and represents great exposure against this Seattle line. It'll almost be a disappointment if he doesn't record a sack.
Linebacker
As of Wednesday, IDP stud C.J. Mosley had yet to practice for the Ravens, meaning it's less likely he plays this week against Denver. He suffered a fairly serious knee injury at the beginning of Week 2's game and didn't see the field again which allowed third-year Onwuasor and rookie Young to split time filling in. It turned out to be a productive stint as both recorded eight tackles. Look for the Ravens to rotate the two again if Mosley can't go against a Denver offense that has averaged 68 plays per game, good for ninth in the league.
Secondary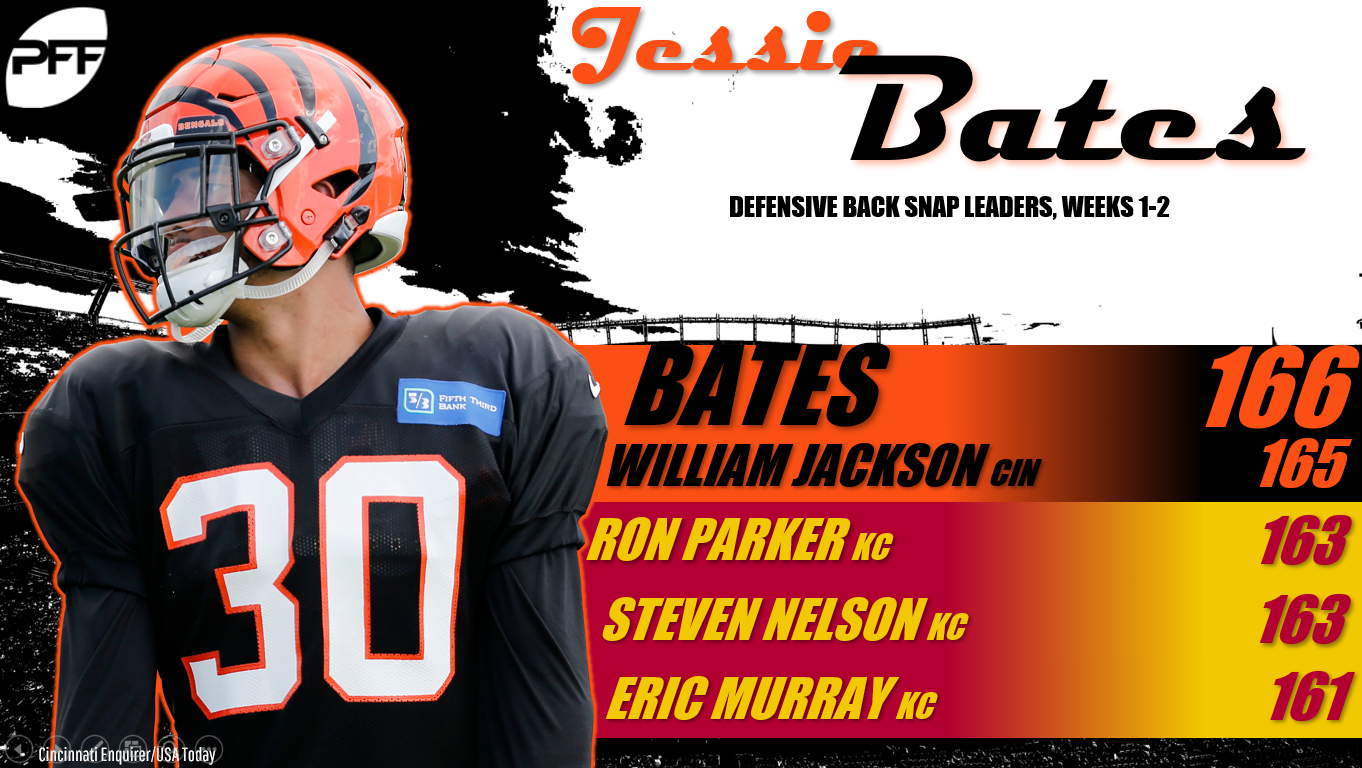 Thanks to back-to-back weeks of opposing quarterbacks throwing it at least 50 times, Bengals rookie Bates leads all defensive backs with snaps played. And with more snaps, obviously, come more opportunities to tally fantasy points. But Bates' opponent this week, Cam Newton, only threw it 50 times in a game for the first time last year and hasn't done it since so don't look for the same type of opportunity. However, it doesn't mean Bates still isn't a good play.
For starters, the Panthers are the middle of the pack when it comes to plays and pass attempts through the first two games, so the opportunity level will be average. But the chances for a pick or pass defensed will be high with Cam Newton, who has never been accurate and has completed more than 60 percent of his passes in just one season so far. It helps explain why Newton has already had nine passes deflected over the course of the first two games with multiple deflections by the secondary. It's good news for Bates, who has been on the field for nearly 100 percent of the Bengals defensive snaps and figures to do so again.
The Lions might be a streaming option all year for IDP purposes, especially if they throw it 50 times a game like they have. They play the Patriots and McCourty this week, where 50 pass attempts is a high probability again both because of the previous two weeks, but also if the game goes like Vegas thinks it will, the Lions will be down by a touchdown or more and playing catchup. All of this means another air show from Lions quarterback Matthew Stafford. For McCourty, he's the quintessential streamer. He's never recorded 100 tackles in a season and hasn't recorded double-digit passes defensed since 2012, which explains his low ownership. But he'll be playing every snap against a team that will air it out a lot and can easily be plugged in.