As we head into the weekend of Week 16, it's time again to look at our top IDP streaming options for fantasy football.
It is my honor to step in for Michael Moore and deliver the IDP streaming options for the final two weeks of the season. The stakes continue to get higher for teams still in the playoffs (or championship game) in Week 16. There have been even more injuries, making streaming options vital.
These are the top streaming options for Week 16 who could be available.
Defensive linemen
There's a high likelihood Nassib is available on the waiver wire, as Jason Pierre-Paul and Gerald McCoy are bigger names. After two nondescript seasons with the Browns, Nassib has blossomed into a sneaky-good fantasy option after being claimed off waivers by the Buccaneers.
Nassib has already set a career high in sacks with 6.5 and has been particularly effective over the last five games. Over that time, Nassib has played roughly 73% of the snaps and responded with 14 total tackles along with 2.5 sacks and a pair of forced fumbles. He has been bringing consistent pressure over the last five games, with 16 total quarterback pressures. Even in his worst performance — a goose egg against the Panthers in Week 13 — Nassib had six total quarterback pressures. Look for the pressures to translate into sacks this week against a Dallas offense that has allowed 12 sacks to defensive linemen in the last three games.
After an extremely slow start to the 2018 season that saw him manage just one sack in the first nine games, Quinn is likely available as frustrated owners cut bait. And as always, one man's trash is another man's treasure. That's the case regarding a resurgent Quinn who has once again become fantasy relevant — better late than never at this crucial point in the fantasy season.
Entering Week 16, Quinn is riding a three-game sack streak and has 4.5 in the past five games as well as a forced fumble in that time. The tackle totals have been modest in those games, but Quinn has managed nine solos.
Quinn has also improved from an overall NFL standpoint, as he has graded out above-average in three of the last four games. This is a great matchup to continue his sack streak and help IDP owners secure a championship — the Jaguars offense has continued to struggle with Cody Kessler under center and just allowed six sacks to the Redskins last week.
Linebackers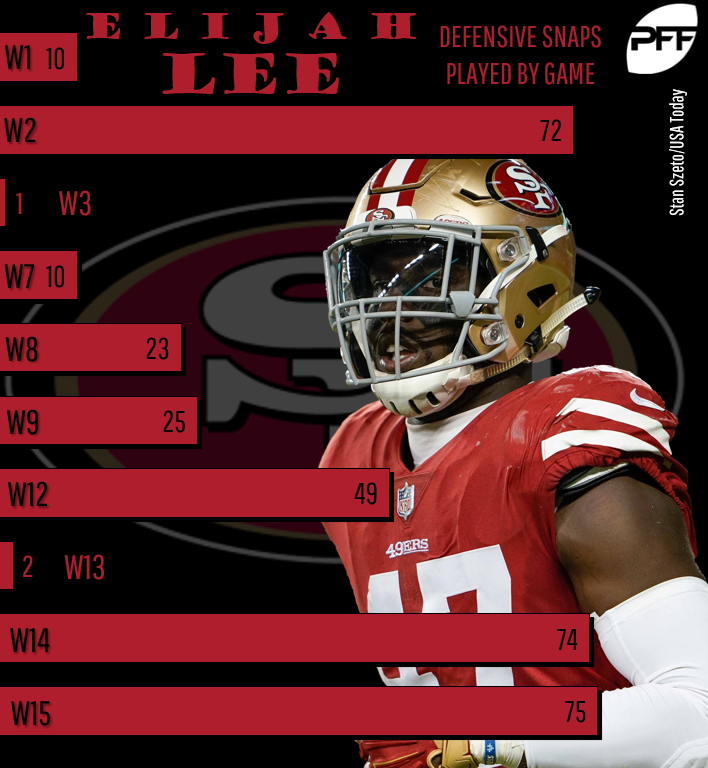 This is the time of year when teams out of contention decide to take a look at some younger options and Lee seems to be such a case. Selected in the seventh round of the 2017 draft out of Kansas State, Lee has played every defensive snap in the last two games. With veteran Malcolm Smith dealing with an Achilles issue, Lee is making the most of his opportunity — in the 49ers Week 15 win over Seattle, he posted double-digit tackles.
It may surprise some folks to learn that it wasn't the first time in the 2018 season that Lee topped 10 tackles. In a Week 2 spot start, Lee had a dominant game against the Detroit Lions with 10 solo (12 total) tackles along with a sack and forced fumble. The potential for splash plays is there for Lee as he's been brought on the pass rush 14 times in the past two games and has been credited with a pair of quarterback hurries.
With Barr currently sitting outside the top-50 in balanced-scoring formats, there is a very good chance he's available on the waiver wire. A closer look at Barr's recent performance indicates he's healthy again after missing time with a hamstring injury. In the last three games, Barr has played every defensive snap and been very productive from a fantasy standpoint. In that time Barr has put up 16 solo tackles with three sacks and been credited with eight total quarterback pressures. Barr has been a solid LB2 over the last three weeks and has a great Week 16 matchup.
After allowing just a single quarterback pressure in Week 14 against the Cardinals, the Lions allowed 15 last week in their loss to the Bills. Barr missed the Week 9 sackfest against the Lions due to the hamstring injury but is good to go for Week 16. With a strong pass-rush productivity from both the left and right side bodes, Barr should fare well against a patchwork Detroit offensive line. In Week 12 Minnesota rolled up 10 sacks against the Lions and their defense was credited with 34 total pressures according to PFF.
Defensive backs
The fourth-year free safety has not so quietly emerged as a productive fantasy option over the last three games. Adams burst on the scene in Week 12 when he had three interceptions against the Carolina Panther while playing just 32 of 70 defensive snaps. That performance obviously caught the eye of the coaching staff as Adams has played 87.8% of the snaps in the past two games.
The increased playing time has seen Adams produce 10 solo (12 total) tackles in the last two weeks and more importantly he has lined up in the box or on the line of scrimmage 50 times in those games. The Cowboys have been a fantasy gold mine to defensive backs over the last three games allowing an average of 38 tackles per game to the position. Dallas has also offered up big-play opportunities in that time giving up three interceptions, two forced and one recovered fumble to defensive backs. Let's grab Adams off the waiver wire and get him in our Week 16 lineup.