Most of what we write for fantasy football in this space is geared toward 12-team, one-quarterback, PPR leagues. It's the most popular format these days (I think), and it's also middle-of-the-road enough that everyone can learn something from it even if their leagues aren't exactly in that vein.
That said, there are other league formats, league sizes, and league approaches that are very popular, and today I'm looking at how we should alter our approaches for some of the next-most popular ones.
8- or 10-team leagues
In these formats, the shallowness of the running back position isn't quite as big a deal, and the depth at the quarterback position is even more of one. But the advice for both is the same: You can wait longer. In 12-team leagues, my running back advice tends to be that you want to make sure you get one in the first round, or the second at the latest, because the cliff comes early. As such, the top receiver in my part of the PFF Fantasy staff rankings doesn't appear until pick 10. In a smaller league? I'd be much more likely to take one of the top-flight receivers at fifth or sixth overall with the knowledge that a top-flight running back like Dalvin Cook or Nick Chubb will be available in the second, and even a Josh Jacobs or an Aaron Jones will be an easy third- or fourth-rounder.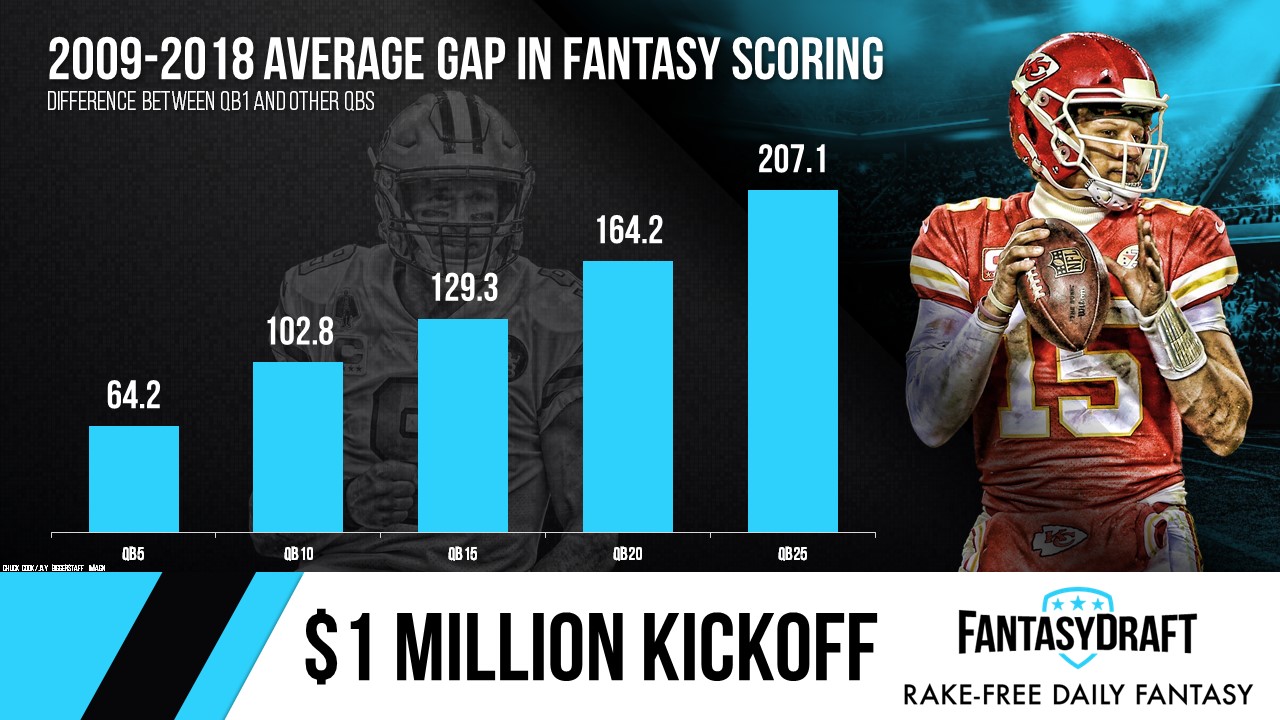 At quarterback, I'm liable to not take one at all until the very end in these leagues. My general thinking in fantasy is that (absent two-QB leagues), everyone will take one quarterback, and about half the teams will take two. In a 12-team league, that means 18 quarterbacks go off the board. The No. 19 quarterback in our consensus staff rankings is Josh Allen, who could be miles below the No. 1 (Patrick Mahomes in our rankings). But for a 10-teamer, that means 15 quarterbacks, and our No. 16 quarterback is Kirk Cousins — still a far cry below Mahomes, but it's a significant difference. On top of that, in a 10-teamer, Cousins is likely to be available on waivers, along with other names like Philip Rivers, Tom Brady, and Ben Roethlisberger. In a 12-teamer? Your replacement level is going to be more like Allen, Sam Darnold, and Jimmy Garoppolo. So the smaller the league, the longer you can wait on quarterback, because the better the player you can get late.
Because you can wait longer on quarterback and running back, I'm liable to take a receiver earlier in a small league. Replacement-level guys like Robby Anderson and Mike Williams have value in deeper leagues, but in shallow ones, they aren't likely to offer as much upside. I'm more likely to want to end up with a DeAndre Hopkins or a Julio Jones or a Davante Adams in shallow leagues.
16-team leagues
Unless the draft just works out horribly for me, I will come out of a 16-team league draft with a running back in the first round, and if that fails, I'm not waiting past the second. Chris Carson and Mark Ingram are perfectly fine running backs, but if they are my RB1, I'm a little worried. You want someone higher than that.
Similarly, Mahomes, Deshaun Watson, and the other top-flight quarterbacks get a boost in deep leagues. Over the last decade, the average No. 1 quarterback has outscored the No. 13 by 118.3 points. The No. 1 advantage over the No. 19 is 155.0, over No. 25 is 207.1. Replacement level in deeper leagues just becomes awful, which makes the top-flight guys that much more valuable. I'm still not taking a quarterback in Round 1 in 16-team leagues, but I wouldn't fault anyone for pouncing on Mahomes in the middle of the second, Watson by the end of the third.
Because it's that much more important to get running back and quarterback earlier, you're naturally going to wait on receiver. The aforementioned guys like Anderson and Williams offer more valuable in this format, and you'll be trolling more for super-deep guys who can pop.
Two-QB or superflex leagues
Obviously, the non-quarterback positions don't change a whole lot in these formats, except as it relates to differing approaches to quarterback.
In 16-team leagues, I assume about 24 quarterbacks off the board — maybe a little more for more backups, but that's a decent approach. In a 12-team two-QB league, though, there might not be more than one or two starting quarterbacks going undrafted. To wit: I had a 12-team superflex draft this past weekend in which 31 quarterbacks were drafted. The only NFL team that didn't have a quarterback picked was, unsurprisingly, the Dolphins (though it was Dwayne Haskins, not Case Keenum, who was drafted from Washington as a future stash). Replacement value in two-QB or superflex leagues is essentially nil.
As such, you can easily take a top-flight quarterback like Mahomes in Round 1 if you're so inclined, and if you make it through more than five rounds without any quarterback (especially in home leagues, where quarterbacks tend to go earlier naturally), you might not like what you end up with. One of the last teams to take their first quarterbacks in my aforementioned league ended up with Philip Rivers and Mitchell Trubisky; the other with Dak Prescott, Derek Carr, and Eli Manning. Disastrous? No. Amazing? Definitely not.
Non-PPR leagues
Slot receivers and third-down backs get a big boost in PPR leagues, of course, so when you take that away, the pool of players you want to draft starts to dry up. Bell cow backs are bell cow backs are bell cow backs, so the fact that Saquon Barkley had 91 receptions only matters so much; in non-PPR leagues he slipped from first all the way to … second. But the guys whose value is entirely wrapped up in receptions — say, Nyheim Hines or Jalen Richard — become virtually unusable without the PPR value. Hines was the No. 29 PPR back last year, Richard No. 30, basically both low-end flex options in a pinch. Without PPR? Hines falls to 39th, Richard to 41st.
An important note: This only really matters to the middle-of-the-road receiving backs. Exceptional guys are exceptional no matter the format. In PPR leagues, James White was the No. 7 back, Tarik Cohen the No. 11. They were third and sixth at the position in receptions. Take away all their PPR value, and they fall, but not much — White to No. 11, Cohen to No. 17. So downgrade the exceptional pass-catching backs, but only a little. It's the less exceptional ones who really see their value evaporate.
Point-per-first-down leagues
PPFD has shot up in popularity in recent years, and … I think it's awful. That's hard editorializing, but too bad, it's true. The virtue of PPR is widening the player pool. The Richards and Hineses go from pointless for fantasy to offering some value, which means a team that didn't land two surefire backs can still make a go of it. Top receivers suddenly have comparable value to top running backs. Without PPR, you might as well go to one-RB leagues, the way much of the NFL uses running backs these days.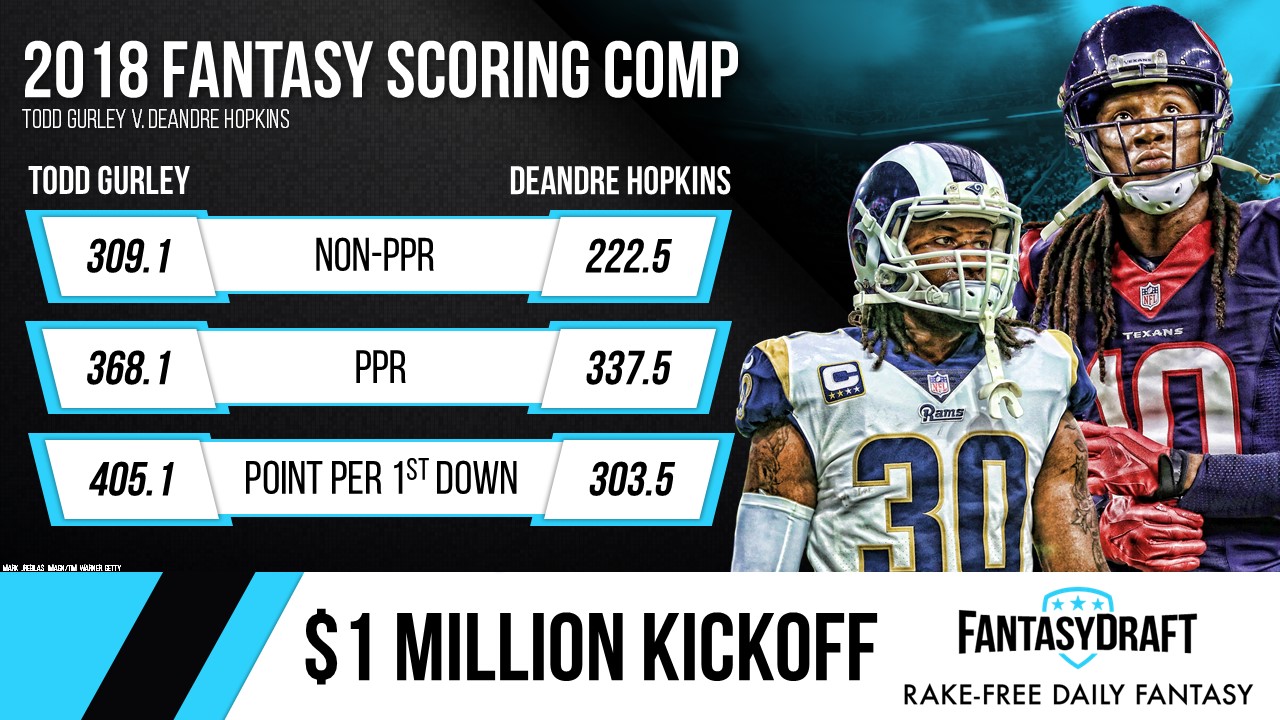 PPFD only accentuates that problem, pushing the value to the top running backs. Todd Gurley led all running backs in first downs last year, with 96; DeAndre Hopkins' 81 led wide receivers. In PPR leagues, running backs already outscore receivers. And that's with receivers getting more receptions than running backs. Change it to PPFD — where that imbalance is flipped — and the top running backs are that much more valuable, and the top receivers that much less so. As proof: Gurley had 368.1 PPR points last year, Hopkins had 337.5. That's an advantage for Gurley, to be sure. But switch that to PPFD leagues (with receptions removed), and the gap becomes huge: 405.1 for Gurley, 303.5 for Hopkins. It levels off later, but the value in landing the No. 1 running back in PPFD leagues is so massive that, in a PPFD league, I'm not drafting a wide receiver until the second round at the earliest.