For all intents and purposes, you can divide quarterback fantasy football scoring into three categories: passing yards, passing touchdowns, and rushing. You could separate the rushing into yards and touchdowns, but it's such a small part of most quarterbacks' production that it's more informative to lump them together.
(Yes, there are occasional receptions on trick plays and the like, but they're so vanishingly rare that I'm not worrying about them for today's exercise.)
Therefore, you can break down a quarterback's production by percentages — he gets X% of his points on passing yards, Y% on passing scores, Z% on touchdowns. (I'm also ignoring turnovers in this exercise, because fumbles can come on runs or on passing attempts, and interceptions would affect passing yards and scores.)
Across the last decade, then, you can figure out a leaguewide breakdown of performance from the average quarterback:
| | | |
| --- | --- | --- |
| Passing Yards | Passing TDs | Rushing |
| 55.3% | 33.9% | 10.9% |
Over the last decade, quarterbacks have gotten roughly a third of their fantasy scoring on passing touchdowns, roughly a tenth on rushing, and the rest on passing yards. Comparing that to individual yearly scoring, and the most "average" quarterback season over the last decade belongs to…
Jay Cutler, Chicago Bears, 2012
Cutler in 2012 put up 55.0% of his points on passing yards, 34.4% on passing scores, and 10.6% on rushing. If you're evaluating quarterback fantasy scoring and ignoring turnovers, then mid-career Cutler does feel like a fairly good example of an average QB, so this checks out.
What about over a career? Over the last decade of performances, who has had the most average career?
Ryan Tannehill, Miami Dolphins
Tannehill has put up 55.7% of his career points on passing yards, 33.6% on passing scores, and 10.7% on the ground. Again, in my opinion at least, this checks out with what we'd expect. Tannehill has been fine. He has decidedly not been great, but fine.
So these numbers more or less align with our expectations. With that in mind, let's look at some of the players at the extremes of the percentages, both in 2018 (min. 200 dropbacks) and over a career, and see if there's anything to learn.
Passing yards
Highest percentage
2018: Joe Flacco, Baltimore Ravens (65.3%/31.8%/3.0%)
Flacco is relatively lead-footed (he's only topped 100 rushing yards in a season twice in his career, and zero since 2013) and had a crew of receivers in 2018 who didn't do much after the catch (Mark Andrews led the team's qualifiers with 5.8 yards after the catch per reception, only 58th in the league). That's a combination that allows for very little rushing production and not a lot of unearned touchdowns, putting Flacco right near the top of the list.
Career 2009-2018: Tom Savage, Houston Texans (79.4%/19.8%/0.8%)
Take the description of Flacco and turn it up to 11, and you get Savage, owner of 8 career rushing yards and only 5 passing touchdowns on 315 attempts. He wasn't much for passing yards, either, but at the least those are slightly easier to accumulate than the other factors. The moral of the story here is that you aren't finding many top-flight quarterbacks high on the list here.
Lowest percentage
2018: Lamar Jackson, Baltimore Ravens (28.0%/14.0%/58.0%)
Not that you needed another way to illustrate it, but you get one anyway: The Ravens could scarcely have made a more drastic change at quarterback in the middle of the 2018 season. The lowest percentages here belong to Jackson, 2011 Tim Tebow, 2018 Josh Allen, 2015 Cam Newton, and 2010 Michael Vick. In other words, you are (obviously) a rushing quarterback if you are putting up such low percentages on passing yards.
Career 2009-2018: Tim Tebow, Denver Broncos/New York Jets (28.9%/20.3%/50.9%)
Jackson actually has a slightly lower percentage, but, well, you just saw his results. So here's Tebow, further cementing the aforementioned "here are rushing QBs" point.
Passing touchdowns
Highest percentage
2018: Patrick Mahomes, Kansas City Chiefs (46.0%/45.1%/8.8%)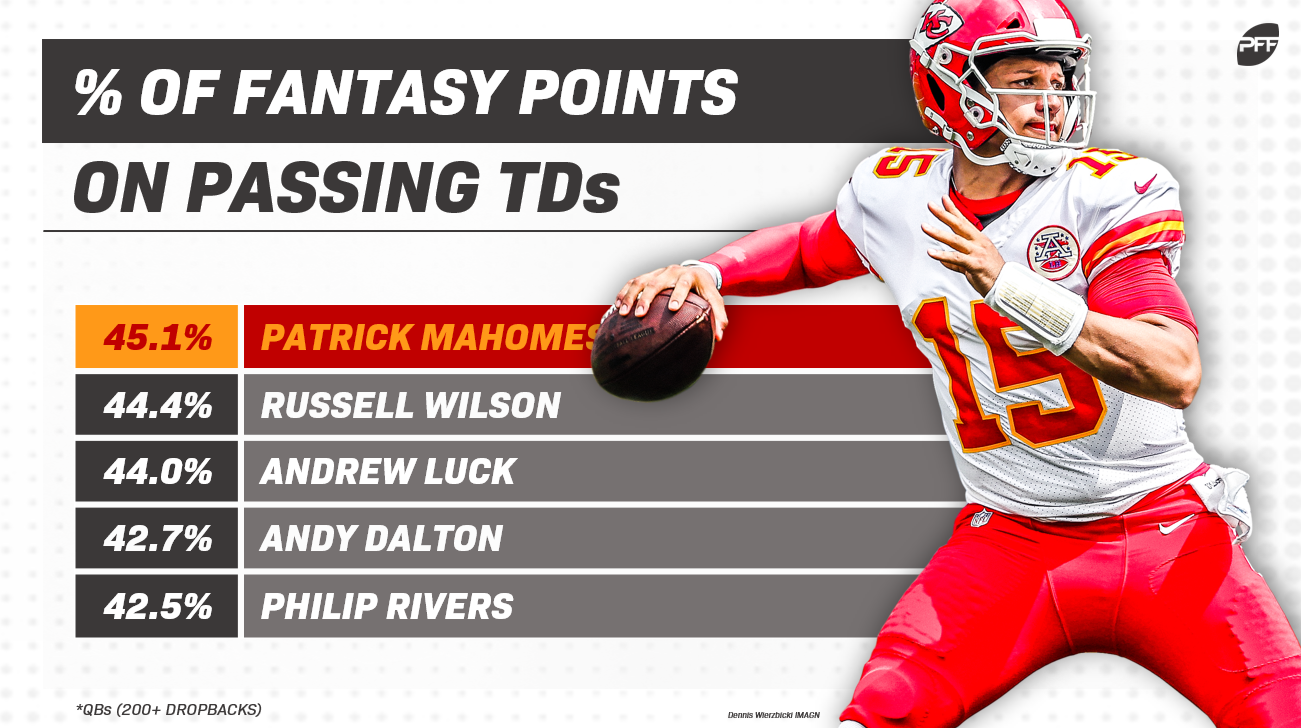 There aren't many ways in which you could be disappointed in Mahomes' 2018 season, but it is worth noting that quarterbacks who rank particularly high on this list fit one of two descriptions: All-timers (Peyton Manning had three top-11 seasons in 2012, 2013, and 2014; Drew Brees had two top-12 seasons in 2011 and 2012) and flukes (Sam Bradford in 2013, Matt Cassel in 2010). Obviously, the expectation is that Mahomes is more the former than the latter, but it's worth noting.
Career 2009-2018: Peyton Manning, Indianapolis Colts/Denver Broncos (56.1%/43.9%/0.1%)
Unlike Mahomes, who actually contributed something on the ground, Manning was essentially worthless as a rusher (he had 667 career rushing yards and a total of -55 in four years in Denver). That explains why his extreme passing-score total is accompanied by a still above-average percentage in passing yards. That "0.1%" in the rushing category is almost comical.
Lowest percentage
2018: Jackson, Ravens
It's the same general point here as it was above, with the exception that the quarterbacks down in this area in passing scores tend to be … not very good. Also down in this range with Jackson are Brady Quinn, John Skelton, Jimmy Clausen, Terrelle Pryor, and post-injury Robert Griffin III. Jackson is an electric rusher, but that's not been enough for a lasting career.
Career 2009-2018: Jacoby Brissett, New England Patriots/Indianapolis Colts (54.8%/20.3%/24.9%)
Brissett was relatively competent filling in for Tom Brady in 2016 and Andrew Luck in 2017. Nobody was disappointed in his performance. On the other hand, you … well, you wouldn't want him over Russell Wilson, I'll say that much.
Rushing production
Highest percentage
2018: Jackson, Ravens
Josh Allen, Buffalo Bills (35.4%/17.1%/47.5%)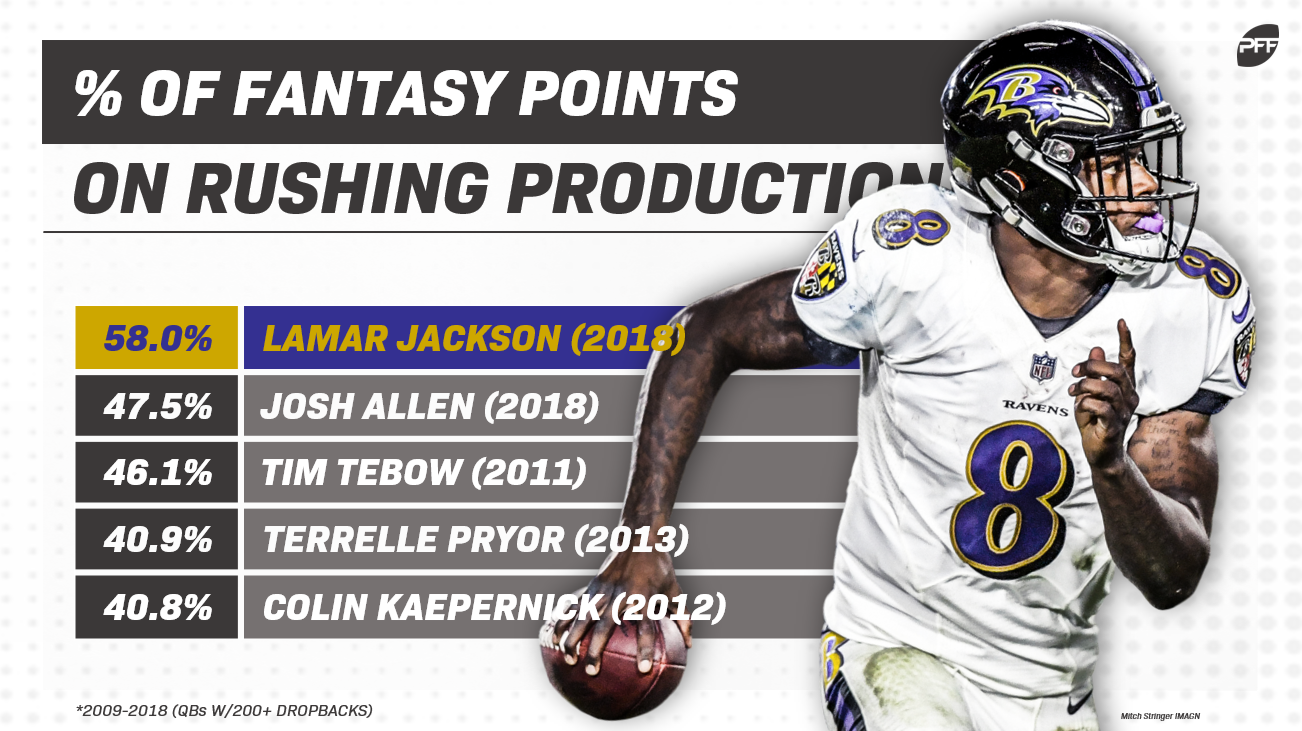 We've covered Jackson in this space, but Allen warrants just as much mention. Rushing is great as a strong component of a quarterback's fantasy production. History has shown, though, that it's tough to maintain as the primary driver of that production. If Allen doesn't show more as a passer, his fantasy-relevant career could be short.
Career 2009-2018: Tyrod Taylor, Baltimore Ravens/Buffalo Bills/Cleveland Browns (43.7%/24.3%/32.0%)
Taylor, Vick, and Newton managed the most lasting success among players high on this list; if Allen and Jackson are going to have length fantasy-relevant careers, they are the inspiration.
Lowest percentage
2018: Philip Rivers, Los Angeles Chargers (57.2%/42.5%/0.2%)
The longest rush of Rivers' career was 18 yards, back in 2013. He hasn't had a run longer than 10 yards since 2014, hasn't had a rushing score since 2011, has totaled 5 rushing yards across the last two seasons. Rivers is a very good quarterback, but he's not Peyton Manning as a passer, and his lack of rushing production keeps him from having the highest of ceilings and makes him a best ball risk.
Career 2009-2018: Rivers, Chargers (58.7%/39.5%/1.8%)
Manning is obviously at the extreme here, as are late-career Kurt Warner and Brett Favre. But Rivers and Eli Manning (59.9%/38.0%/2.1%) are the next big-name quarterbacks to appear. Long careers can be made with lead feet.