The Fantasy Focus is a weekly column that breaks down everything you need to know to set your fantasy football lineups. Make your start and sit decisions with fantasy facts, injury information, matchups stats, predictions for the week and more.
Making start/sit decisions doesn't have to be a complicated process. Simply start the best players and they're you have it. Okay, I know. Easier said than done. But there is a way to streamline your process: don't overthink it.
One of the great things about fantasy sports is this activity allows you to dive deep into the stats. But sometimes this abundance of information can cause us to overload and weight things more heavily than we should.
For example, I've seen this question a lot: "Should I start Wide Receiver X because my opponent his quarterback?" On the surface, the logic is easy to understand. But this line of thinking overlooks the prime objective of fantasy sports: to score the most points. So in this example you would start Receiver X if he's better than all of you other options, but he rides the pine if he isn't.
Obviously, none of us actually knows who is going to score the most points each week, but we can establish a range of potential outcomes. If a game is played 100 times, how many times will Player A outscore Player B. From there, you start the player who scores the most points more than 50% of the time.
Of course, there are many factors that will impact that range of outcomes, among which is certainly the player's matchup. But that's another area that often gets more weight than it deserves. Sure, the matchup will affect fantasy output, but it's something that should only move the player up or down just slightly in your rankings.
Just two weeks ago, there were fantasy players who sat Ezekiel Elliott due to a "bad" matchup against the Eagles. That didn't work out so well. And while it's certainly one of the more extreme examples, Elliott's performance was certainly within his range of potential outcomes given his role in the Cowboys' offense and his skill level. You've probably heard the phrase "start your studs" many times before, and this is wise advice. But a better piece of advice is to "start your best players."
Fantasy facts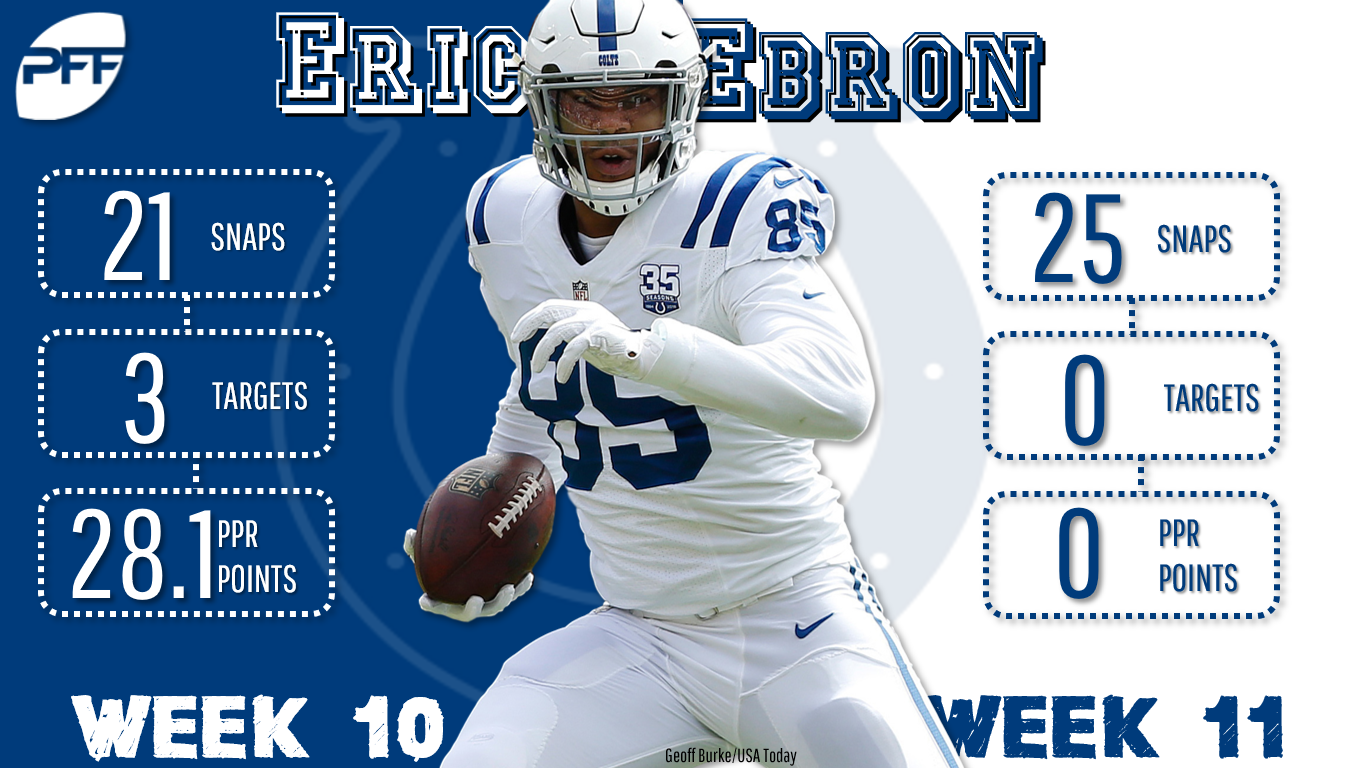 Eric Ebron has been a study in polar opposites over the last two weeks. He went from the top fantasy tight end to a fantasy goose egg. But the funny thing is very little changed for Ebron in terms of his usage. In Week 10, Ebron racked up three touchdowns, but was only on the field for 21 snaps. Last week, Ebron played 25. The moral here is simple: Ebron's minimal usage means volatility for fantasy purposes.
For most quarterbacks, converting 33% of your completions for touchdowns would mean that you tossed somewhere in the range of eight or nine scores. But last week, Josh Rosen was able to accomplish that rare rate because he only completed nine passes. The volume in the Cardinals passing game isn't particularly encouraging, but the fact that Arizona is trending up bodes well for the fantasy success of the Arizona skill position players down the stretch.
It was like 2005 all over again last week, as Antonio Gates turned back the clock and posted five catches for 80 yards and a score. While it may seem that Gates was able to tap into the fountain of youth, don't get too carried away with his performance. Gates has been largely non-existent for much of the season.
Injuries
Alex Collins missed Thursday's practice with a foot injury. His absence could pave the way for another healthy dose of Gus Edwards. Last week's unlikely fantasy breakout is in the back-end RB2 conversation for Week 12. Of course, Edwards benefited from the presence of Lamar Jackson, who is looking likely to see his second-straight start with Joe Flacco still sidelined for the Ravens.
More injury notes: The Bengals could again be without A.J. Green, as the star wideout has yet to practice this week. … Doug Baldwin also hasn't practiced this week and is trending toward not playing in Week 12. If Baldwin sits, expect an uptick for Tyler Lockett and David Moore. … Likewise, Devin Funchess has missed two practices this week. His absence would swing the door wide open for another big workload for D.J. Moore.
Wide receiver matchups
Odell Beckham Jr. is rolling with four touchdowns over his last four games. This week, he'll face an Eagles defense that is truly scraping the bottom of the barrel at cornerback. Philly lost Ronald Darby to a torn ACL two weeks ago and will also likely be without Sidney Jones this week. There's a chance Jalen Mills will return for this contest, but the Eagles are perilously thin even with Mills in the lineup. Look for Beckham to dominate this matchup just like the Saints wideouts did last week.
The Texans offense is coming off a down performance, but don't let that cause you to doubt DeAndre Hopkins this week. Hopkins will draw coverage from Titans second-year man Adoree' Jackson. Just two weeks ago, he was the talk of the town after a strong performance against Josh Gordon. But Andrew Luck and the Colts exposed Jackson last week, lighting him up for double-digit catches at a clip of over 17 yards per and two scores.
Many a fantasy owner complained about Jarvis Landry's performance when we last saw him, as the Browns wideout managed just two catches for 22 yards. And while they aren't wrong to be disappointed, Landry did see five of Baker Mayfield's 20 pass attempts. In a different gamescript, that sort of target share would have translated to more volume. He could very well see that gamescript this week against a struggling Bengals defense. Landry will draw primary coverage from Darqueze Dennard out of the slot. Dennard has been very generous to opposing wideouts, allowing a 78% catch rate.
Another slot receiver with a plus matchup this week is Julian Edelman. In his six games this season, Edelman has racked up 56 targets, and he's topped 100 yards in two of his last three contests. Edelman will see his share of Buster Skrine, who has struggled for much of the season. Skrine allows a 75% catch rate and has surrendered three touchdowns in his coverage.
D.J. Moore exploded for the Panthers last week. The rookie first-rounder racked up seven catches for 157 yards and a score. With Devin Funchess unlikely to play, Moore will slot in as the de facto No. 1 receiver for Cam Newton this week. Better yet, he draws a favorable matchup against a Seahawks secondary that has been prone to giving up big plays this season. Seahawks CB Shaquill Griffin is allowing a 66% catch rate at a clip of 14.3 yards per catch.
After a rough start to the season, Larry Fitzgerald has been trending up over the last several weeks. While his uptick is encouraging, fantasy owners are going to want to downgrade Fitzgerald this week against the Chargers. Fitzgerald will draw primary coverage from Desmond King, who is quietly one of this year's breakouts on the defensive side of the ball. King is allowing just 8.8 yards per catch, and currently grades out as our No. 2 corner.
Whether or not A.J. Green returns this week, it's a good idea to fade John Ross. The speedy wideout is a good bet to draw a shadow from Browns rookie Denzel Ward. So far this season, Ward is holding opposing wideouts to just 10.6 yards per catch with a stingy 55% catch rate in his coverage.
Matchup stats to know
Nick Chubb has been a revelation since taking over the starting duties in Cleveland. In four games as the lead back, he's averaging 19.5 carries at a clip of 5.2 yards per with three rushing touchdowns scored. Chubb is in the RB1 conversation this week against a Bengals defense that has been reeling over the middle part of the season. Cincinnati has allowed five of the last six backfields they've faced to top 100 rushing yards, with the Saints exploding for 220 yards on the ground just two weeks ago. The Bengals have also surrendered eight rushing scores to running backs over that span.
The legend of Gus Edwards may end up being just a one-week wonder, but the stars really seem to be aligning for the rookie runner. With Alex Collins banged up, Edwards should get another crack at lead-back duties. Better yet, he's going to face a Raiders defense that is allowing the second-most yards per carry to running backs at 5.2 per attempt. Opposing backfields have topped 100 yards against the Raiders in each of their last five games.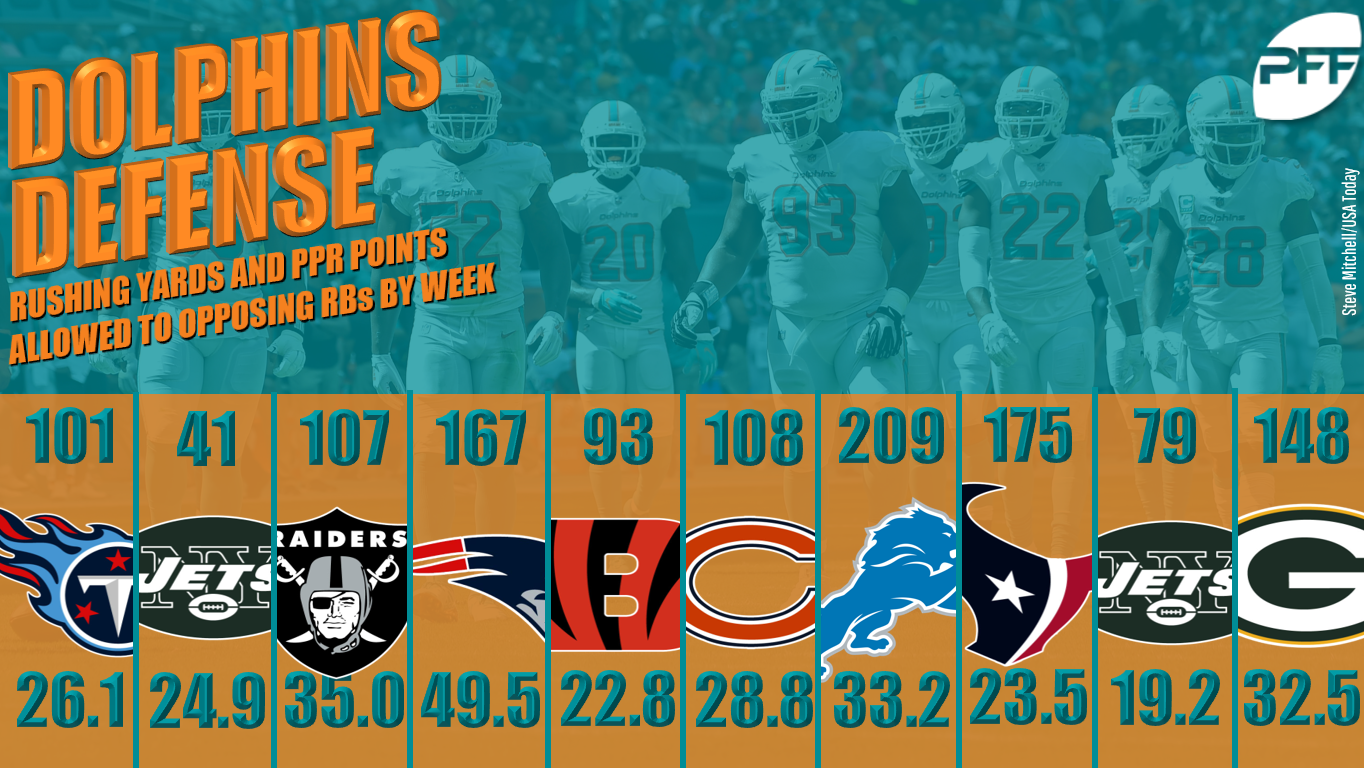 Marlon Mack hasn't been the definition of a "safe" fantasy play over the course of his career, but Mack is in play as a strong RB2 option this week. He gets to face a Dolphins defense that has been one of the best PPR matchups for running backs all season. Opposing backfields have found pay dirt against Miami in 7-of-10 games this season.
The pickings are slim at running back, but even so, it's going to be tough to trust Doug Martin this week. The veteran was dinged up last week and has to face a tough Ravens run defense that allows just 3.5 yards per carry to opposing backs. Only the Bears have held running backs to fewer yards per carry.
Jacksonville was able to accomplish the rare feat of holding James Conner in check last week. That's bad news if you're looking to start LeSean McCoy this week. The Jaguars haven't allowed a rushing score to a running back since Week 7, and just three backfields have managed to top 100 yards against Jacksonville.
If recent trends hold, then streaming Baker Mayfield will end up being a rock-solid fantasy play this week. Cincinnati has really struggled on the defensive side of the ball this season. Sure, the Bengals didn't allow a passing score last week, but that was because they faced Lamar Jackson. In their previous three games, Cincinnati yielded 10 passing touchdowns. Mayfield racked up three scores in his last game and should have no problem dissecting this Bengals defense.
Eli Manning is also in play as a streamer option this week. Manning has heated up over the last two weeks with five passing scores. Better yet, he's facing a Philly defense that has been utterly decimated in the secondary. Manning may not replicate Drew Brees' performance against the Eagles last week, but he's a good bet for solid numbers.
You could also look to stream Nick Mullens in a plus matchup against the Bucs. Opposing quarterbacks have tossed two or more passing touchdowns in all but two games against Tampa Bay this season. Mullens is far from safe, but he has flashed upside already this season.
Don't sleep on the Cardinals defense. Arizona is yielding the second-fewest fantasy points per game to quarterbacks with just four of the 10 signal-callers they've faced throwing for more than one score. Arizona has also allowed more than 300 yards just twice this season. That's bad news if you're looking to roll with Philip Rivers this week.
Like the Cardinals, Tennessee's defense has flown somewhat under the radar this season. The Titans held Tom Brady in check just two weeks ago and are currently the sixth-worst fantasy matchup for quarterbacks on the season. Deshaun Watson is still in play as a QB1 option but temper your expectations for him this week.
Other matchup upgrades:
Carson Wentz vs. NY Giants
Andrew Luck vs. Miami
Kirk Cousins vs. Green Bay
Josh Adams vs. NY Giants
Dalvin Cook vs. Green Bay
Peyton Barber vs. San Francisco
Other matchup downgrades:
Russell Wilson vs. Carolina
Blake Bortles vs. Buffalo
Phillip Lindsay vs. Pittsburgh
Aaron Jones vs. Minnesota
Isaiah Crowell vs. New England
Kenyan Drake vs. Indianapolis