The fantasy football landscape continued to change Thursday morning, as the Houston Texans acquired Duke Johnson from the Cleveland Browns. Details of the trade are still emerging, but this move will certainly have negative impact on Lamar Miller's fantasy football value.
Disgruntled for much of the offseason, Johnson publicly stated his desire to be traded back in June. At that point, the Texans weren't in the mix, but that all changed this past weekend when Houston waived D'Onta Foreman. Johnson now slots in as the No. 2 back on the depth chart and is a strong bet to be heavily involved on passing downs.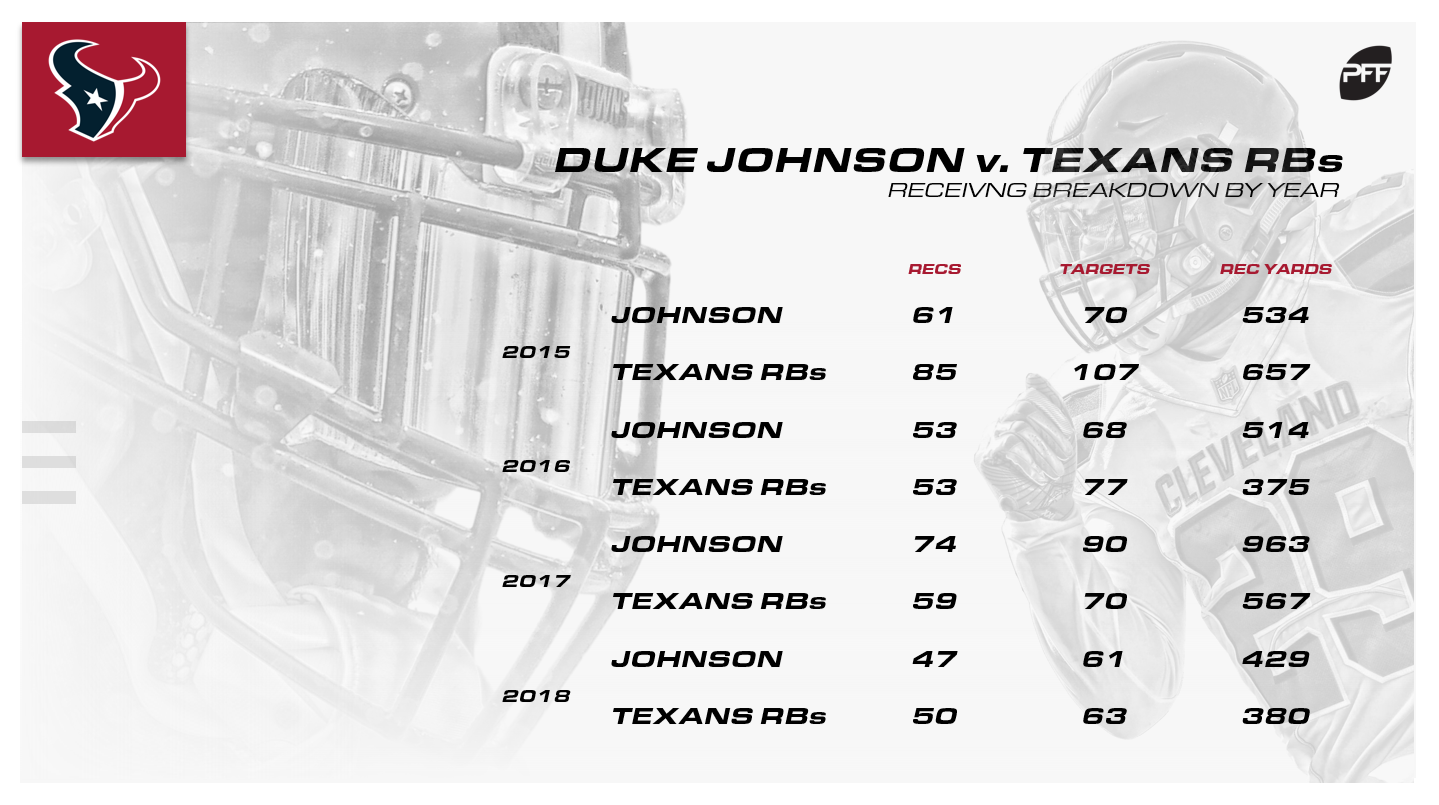 Johnson's numbers in the passing game took a bit of hit last season, as he managed just 47 catches on 62 targets. However, he was one of the most heavily targeted backs in the league in 2017 and finished the season fourth among running backs in catches with 74. Thanks to his involvement in the passing game, Johnson was a surprise PPR RB1 with an 11th-place finish at the position in fantasy scoring.
That was also five spots ahead of Miller in 2017. To his credit, Miller did rank 15 spots ahead of Johnson last season, but that was at a somewhat lackluster 23rd in PPR scoring. While Miller doesn't necessarily do a ton in the passing game, he has posted at least 25 catches in each of his last six seasons. That number isn't likely to go down much, but Johnson's presence on this roster will lead to a slightly reduced target share for Miller.
For fantasy purposes, fewer targets will mean fewer touches for Miller this season. While that may only be a handful of touches, it's not the direction we want to see his volume trend. Given Miller's overall lack of efficiency, he really needs a healthy workload to produce viable RB2 fantasy numbers. At this point, that's looking like an unlikely outcome. Miller is a gamescript-dependent RB3, who is likely to be very volatile from week to week.
While the move doesn't necessarily hurt Johnson's value, it also doesn't really help it. In Cleveland, he was slated to be the passing-down back at least until Kareem Hunt returned from suspension. He won't have the same situation in Houston, as he's now locked into that role for the Texans. But target volume isn't likely to come anywhere near the numbers he saw in the first three seasons of his career. Johnson is a guy to keep an eye on, but not someone worth drafting as anything more than a later-round PPR dart.
In Cleveland, Nick Chubb is now on a path to potentially be a three-down option over the Browns' first eight games of the season. The Browns don't have much behind Chubb with Hunt suspended, so there's a good chance he's one of fantasy's top-scorers over the first two months of the season. That said, Chubb owners will need to have a plan in place for when Hunt returns. His presence on the field will almost certainly eat into Chubb's workload. And that comes at a critical time in the fantasy calendar with the fantasy football playoffs looming on the horizon.