Welcome to the Week 8 edition of the fantasy football facts and stats to know for DFS. In this column, we leverage PFF's extensive football data to uncover player and team matchup-specific situations with important fantasy football and DFS implications.
Week 7 was one of the weirder fantasy football days in recent memory (hello surprise slate-breaker Chase Edmonds!), and yet this column still hit on several key plays: Darren Waller, Dalvin Cook, John Brown, Leonard Fournette, and T.Y. Hilton.
Let's get straight to the facts and stats for Week 8:
Sometimes the obvious play is simply the right play, and let's not overthink this spot for Dalvin Cook as a 16-point home favorite. Minnesota has 225 rushing attempts this season (third-most) while the Redskins have faced 213 rushing attempts (fourth-most). Cook has racked up 467 rushing yards after contact (third-most) and 38 forced missed tackles (second), while the Redskins defense has missed 63 tackles (second-most). PFF's offensive line/defensive line matchup chart projects the Vikings with a 40% chance of a rushing touchdown.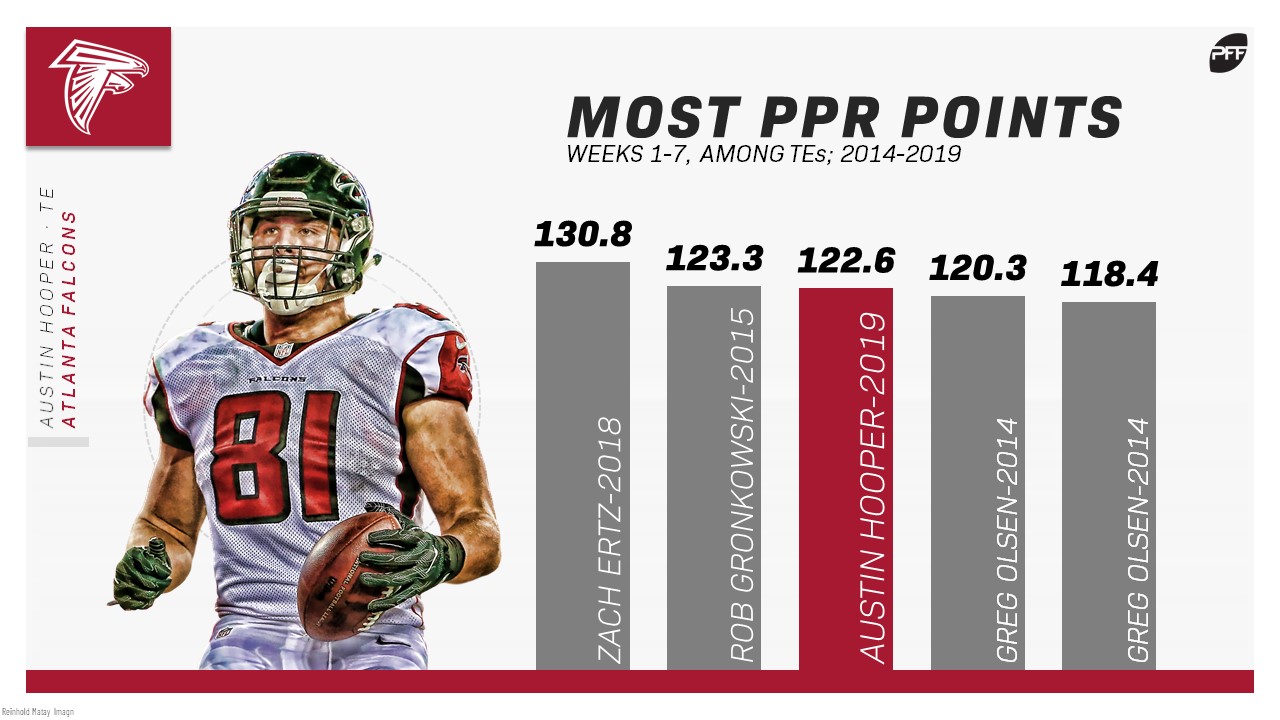 Austin Hooper has been the No. 1 fantasy tight end by a country mile through the first seven weeks, and he is set up well once again in Week 8. PFF's tight end matchup chart ranks Hooper with this week's top matchup against a Seahawks defense that is dishing out fantasy points to opposing tight ends like Halloween candy — Mark Andrews dropped a touchdown and a several other easy balls in this matchup last week, which may suppress Hooper's ownership (check out the DFS ownership projections). Here is the production the Seahawks are allowing to tight ends — 55 targets (fifth-most), 474 yards (third), and three touchdowns (eighth).
Positive touchdown regression is going to hit D.K. Metcalf hard one of these weeks as he leads all wide receivers with nine end zone targets yet has hauled in just two touchdowns. Remember what Will Fuller did to the Falcons a few weeks back? It would not be crazy to think that Metcalf could also use Atlanta's Swiss-cheese coverage to fuel his own breakout. The Falcons have been torched by outside wide receivers — 62 targets (sixth-most), 1,020 yards (second), eight touchdowns (second), and a preposterously high 142.6 passer rating (worst).
The Emmanuel Sanders trade opens 21% of the Broncos available targets, a large chunk of which will likely filter to second-year breakout wide receiver Courtland Sutton. PFF's WR/CB matchup chart ranks Sutton with the No. 4 matchup this week in the projected shadow coverage of Pierre Desir. Sutton lines up as an outside wide receiver on 84% of snaps, an area where the Colts have struggled to defend this season — four touchdowns (11th-most), 127.4 passer rating (third), and 15.0 yards per reception (seventh). Sutton will likely be an extremely popular play, and for good reason — he is PFF Fantasy's consensus ranked No. 15 wide receiver this week, yet Sutton's DraftKings $5,300 price tag is WR28.
Last week, we targeted the Titans via the slot with Keenan Allen, who ultimately flopped despite collecting a league-high 209 air yards. Sadly, there are zero fantasy points awarded to theoretical air yards, but the predictive factor in this matchup remains strong. Now facing the Titans, we have the God himself and fantasy's No. 1 wide receiver to date, Chris Godwin. Tennessee slot cornerback Logan Ryan has seen a league-high 42 slot targets (five more than anyone else), while allowing 26 receptions (second-most), 267 yards (second), and 150 yards after catch (second). Godwin ranks sixth with 2.53 slot yards per route run and has two slot touchdowns. Priced up at $7,100 on DraftKings, Godwin may come in as a solid low-owned contrarian play.
Michael Thomas is the hottest wide receiver in the NFL, but faces a difficult matchup this week in the shadow coverage of Patrick Peterson. Serial game log watchers will see the Saints are at home and automatically plug Thomas into lineups, as he is currently projected to be the slate's highest-owned wide receiver. In his first game back last week, Peterson was his usual sticky self in coverage – 49 cover snaps, four targets, three catches, and 39 yards. Thomas will undoubtedly see volume, but if he only catches eight balls for 80 yards, fantasy owners will be very disappointed.
For all of Cincinnati's defensive woes, they have clamped down fairly well on the No. 1 pass-catching option for opposing offenses:
Tyler Lockett: 1-44-1
George Kittle: 3-54-0
John Brown: 4-51-0
JuJu Smith-Schuster: 3-15-0
Larry Fitzgerald: 6-58-0
D.J. Chark: 3-53-0
It could be a good week to fade the expensive Cooper Kupp and pay down for Robert Woods or Brandin Cooks in a game where the Rams have a 30-point team total. Woods in particular is due for positive touchdown regression — in 10 red-zone targets, he has yet to score a touchdown.
John Brown paid dividends for us in Week 7, and let's go right back to the well this week. PFF's WR/CB matchup chart lists Brown with the 10th-ranked matchup against the Eagles Jalen Mills, where Brown has a massive speed advantage – his 4.34-second 40-yard dash time is light years better than Mills' sloth-like 4.61. After suffering a preseason injury, Mills returned to the field last week and promptly saw 8 targets, allowing 6 catches for 74 yards. Mills hemorrhages explosive plays — he allowed 16.1 yards per reception last season, third-most among all cornerbacks with 40-plus targets. Brown is an explosive-play maestro — since entering the league in 2014, Brown has averaged 14.9 yards per reception, eighth-most among all wide receivers with at least 200 catches.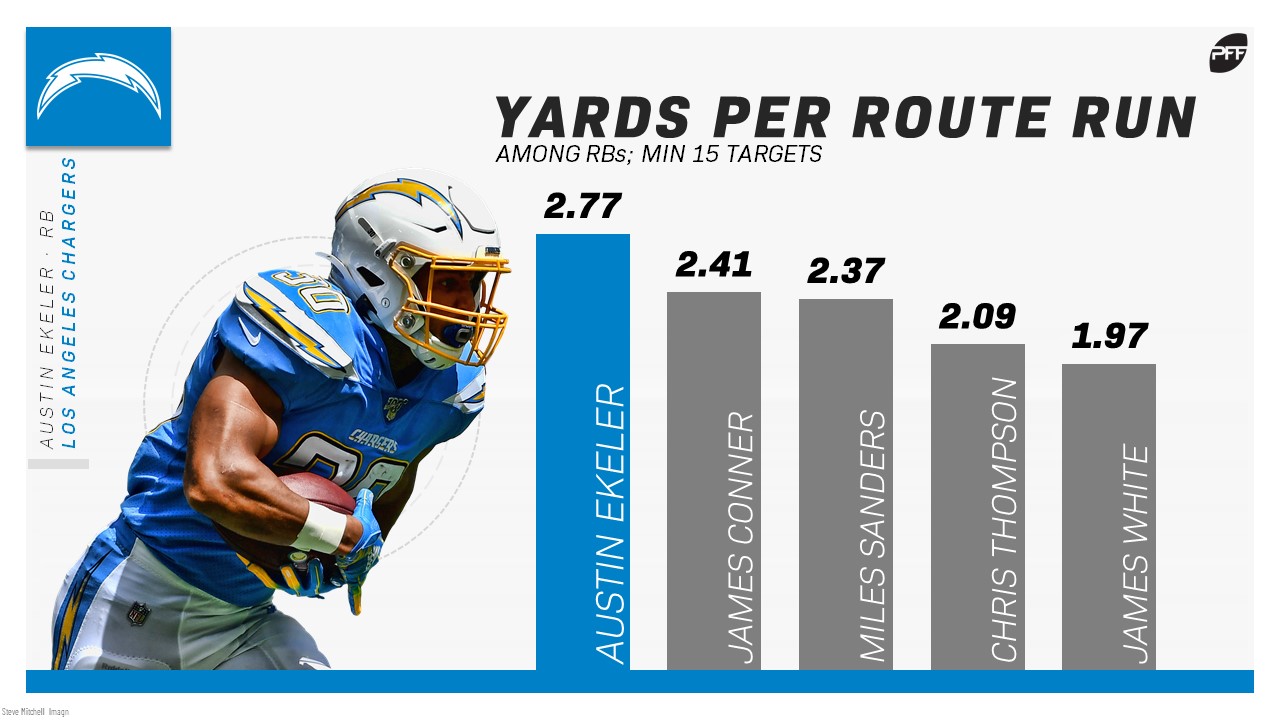 The return of Melvin Gordon has completely squashed the Chargers offense, and despite Gordon averaging a paltry 1.89 rushing yards after contact per attempt (second-worst) while ranking as PFF's lowest-graded running back in the NFL, the Chargers bewilderingly continue to run him roughshod. Meanwhile, all Austin Ekeler does is ball out. Even though Gordon is tanking the Chargers rushing attack, Ekeler's role in the passing game remains secure — he leads all running backs with 51 targets, 49 catches, 15 forced missed tackles, and 2.77 yards per route run. Chicago's defense has allowed quite a bit of volume to receiving running backs — 52 targets (fourth-most), 41 catches (sixth), and 326 yards (sixth).
The illustrious revenge narrative pops up here as Golden Tate faces the team that traded him prior to last year's trade deadline. Lions slot cornerback Justin Coleman has played relatively well this season, but quarterbacks continue to relentlessly attack receivers in his coverage — 50 targets (second-most) and five touchdowns (most). Tate has a 24% slot target share (ninth-most) where he is averaging 1.99 yards per route run (16th). Also, I would be remiss not to mention that Saquon Barkley is back and awesome. Play him.
Last week's Marvin Jones Jr. quad-box performance surely made Scott Hanson proud. Your author was on this matchup with Kenny Golladay, but unfortunately Jones hogged all the fantasy points. We follow matchups here and do not chase points, so let's go right back to Golladay, who PFF's WR/CB matchup chart ranks with the top matchup this week against perpetual sieve DeAndre Baker. Golladay's red-zone usage has not waned — 17 targets (third-most) and four touchdowns (sixth), and I like his chances to find the box again on Sunday.
Leonard Fournette has a matchup this week against a Jets rush defense that just delivered three touchdowns to the corpse of Sony Michel. Fournette is the epitome of a bell cow with a league-high 172 touches — he also leads the NFL with 530 rushing yards after contact. Positive touchdown regression is coming for Fournette — he has only one touchdown on 11 rushing attempts from inside the 10-yard line, for a 9% touchdown rate that is trailing only Miles Sanders and Melvin Gordon among all running backs. For the season, the Jets have allowed a league-high nine rushing touchdowns from inside the 10-yard line. Fournette is PFF Fantasy's consensus No. 4 running back this week.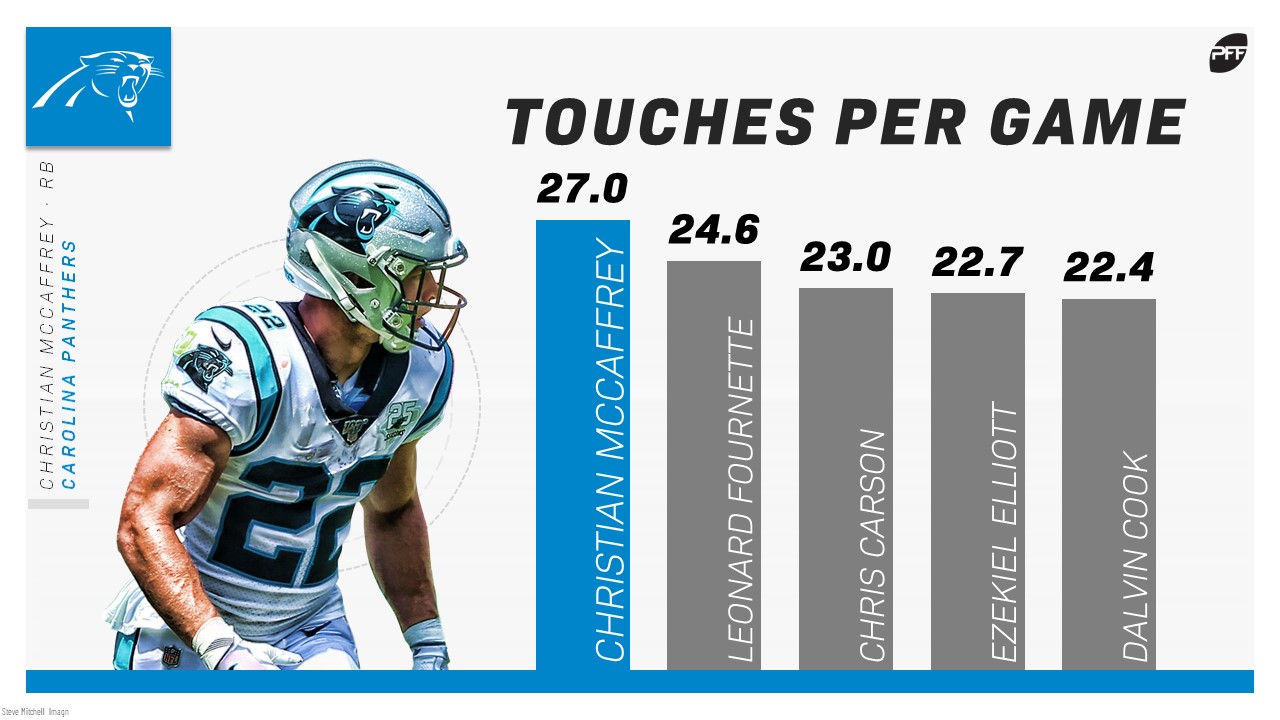 What happens when fantasy darling Christian McCaffrey is priced up at a staggering $9,200 on DraftKings in a matchup against the brick wall that is the 49ers defense? San Francisco has allowed next to nothing to pass-catching running backs — 25 targets (fewest), 19 receptions (fewest), zero touchdowns, and a 55.3 passer rating (lowest). The 49ers are a tad more forgiving in run defense – 1.4 rushing yards before contact (17th), 2.5 yards after contact (eighth), and 11% rate of 10-plus-yard runs (18th). Despite having a bye week, McCaffrey's 162 total touches are second-most in the NFL and his 37 missed tackles forced rank third. Does defense matter to McCaffrey? Check out PFF's ownership projections to see if fantasy owners will chase McCaffrey's volume in a difficult matchup. If not, I would gladly pay up for a contrarian Dairy Sanders.
After Aaron Rodgers completely dismantled the Raiders, fantasy owners will be itching to play Deshaun Watson and his triumvirate of pass-catchers in DeAndre Hopkins, Kenny Stills, and Keke Coutee. PFF's WR/CB matchup chart ranks Stills with this week's second-best matchup, Hopkins third, and Coutee eighth. The Raiders defense has been incinerated by opposing wide receivers to the tune of a 121.8 passer rating (third-worst), 10 touchdowns (fifth-most), and 2.3 PPR fantasy points per target (second-most). If ownership skyrockets on Houston's wide receivers, consider running out a naked Watson (i.e. play Watson without a pass-catcher) and banking on his rushing equity – Watson leads all quarterbacks with five rushing touchdowns. Watson is PFF Fantasy's consensus top-ranked quarterback this week.
The Patriots defense had Sam Darnold famously seeing ghosts Monday night, which should rightly sound the alarms for the slumping Baker Mayfield. As such, expect the Browns to force feed Nick Chubb early and often. Chubb has racked up 403 rushing yards after contact (seventh-most) and 9 runs of 15-plus yards (second). For as dominant as the Patriots have been defending the pass, they can be had in the running game, where they are allowing 3.4 rushing yards after contact per attempt (second-most). Chubb is another bet on volume play as PFF's consensus 11th-ranked running back this week.
Aaron Rodgers went buck wild last week and will have fantasy owners salivating at the prospect of an encore performance against. However, a daunting prime-time matchup in Arrowhead (even without Patrick Mahomes) may motivate the Packers to lean on the run game, where the Chiefs are allowing 3.2 rushing yards after contact per attempt (fifth-worst) and had coughed up four straight 100-rushing-yard outings (to the likes of Carlos Hyde, Marlon Mack, Kerryon Johnson, and Mark Ingram) prior to trucking the Broncos last week. Even still, Royce Freeman managed to hit 60 total yards and a touchdown. PFF's offensive line/defensive line matchup chart ranks the Packers with the third-best matchup this week and the second highest odds of scoring a rushing touchdown. The Packers boast a two-headed rushing monster in Aaron Jones and Jamaal Williams — both are set up well here.
Mason Rudolph will be back in action for the Steelers at home in prime time with a cupcake matchup against the tanking Dolphins. Rudolph is at his best when working from a clean pocket, where he leads all quarterbacks with a 127.8 passer rating and has tossed seven touchdowns. When Rudolph is under pressure, his passer rating falls off a cliff to 36.5. Luckily for Rudolph, the Miami defense is allergic to quarterback pressure — their 27% pressure rate ranks 31st in the NFL. Exacerbating matters, the Dolphins secondary cannot cover wide receivers when the opposing quarterback is kept clean, where they are allowing a 132.1 passer rating (31st). Ergo, Juju Smith-Schuster is also in a great spot – his WR/CB matchup ranks ninth.