Welcome to the Week 14 edition of the fantasy football facts and stats to know for DFS. In this column, we leverage PFF's extensive football data to uncover player and team matchup-specific situations with important fantasy football and DFS implications.
In Week 13, we hit on several true slate breakers in DeVante Parker, Tyler Higbee, Courtland Sutton, and Derrius Guice while also connecting on strong performances from Davante Adams, Lamar Jackson, and Julian Edelman.
There were also a few excruciating near-misses, with Aaron Jones having a touchdown called back and D.K. Metcalf getting tackled at the 1-yard line. And of course, a complete whiff on Le'Veon Bell (another New York Jet disappoints, shocker) and a two-catch airball from Jonnu Smith.
Time to dig into the facts and stats where we uncover this week's slate breakers.
Over Chicago's last three games, Anthony Miller has received target counts of 11, 9, and 13. The talented second-year receiver is emerging into a reliable target for Mitchell Trubisky out of the slot (77% slot snap rate). The Cowboys defense is much more generous to the slot (106.6 passer rating) compared to outside wide receivers (88.5 passer rating). Miller is also long overdue for his first touchdown of 2019 – over the last three games, Miller has four red-zone and two end-zone targets, but nary a touchdown. Positive regression is coming.
The Panthers run defense is comically pathetic and last week's Derrius Guice steamroll run exemplifies their ineptitude perfectly. Check out Carolina's rushing production allowed – 3.2 rushing yards after contact per attempt (fourth-most), 16% rate of explosive 10-plus-yard runs (most), and 22 rushing touchdowns (most – and five more than anyone else). A defense surrendering 22 rushing touchdowns through 12 games is beyond comprehension and equates to 1.83 touchdowns per game. Holy moly!
My exact words prefacing last week's Guice recommendation were "perhaps we embrace the uncertainty" and that is precisely what we are going to do with Devonta Freeman. The oft-injured Freeman is dirt-cheap at $5,400 and coming off a horrendously inefficient 21-touch, 64-yard performance. Who the heck wants to play an injury-prone running back coming off three yards per touch on the perpetually disappointing Falcons (check out our DFS ownership projections)? We do! Sign me up for 21 Freeman touches against this sham of a Panthers rush defense.
Tight end is teeming with solid options this week and Jack Doyle is firmly in play. Here is the production the Bucs are allowing to opposing tight ends – 93 targets (sixth-most), 64 catches (seventh), 795 yards (fourth), seven touchdowns (third), and a 115.7 passer rating. The Colts receiving unit is extremely banged up and Doyle has been the primary beneficiary – last week he led the team with 12 targets and was targeted on 30% of his routes run. Doyle is cheap at $4,600 and coming off a huge performance, but he may get lost in the tight end shuffle. PFF ranks Doyle with the No. 5 tight end matchup this week.
We lean on PFF's WR/CB matchup chart every single week, and I will continue to highlight the chart's top matchup in this column – we are now two weeks running where the top matchup has gone absolutely ham (Davante Adams, Allen Robinson). This week's No. 1 matchup belongs to none other than Jamison Crowder. Yikes, another New York Jet! As readers of this column will attest, my track record in suggesting New York Jets is not exactly pristine. Adding in the fact that Crowder is coming off a *checks notes, rubs glasses, and squints eyes* 9-target, 8-yard performance does not inspire any more confidence. However, we focus on the facts and stats, and here is the production that Miami has allowed to slot receivers – 11 touchdowns (most), 8.7 yards per attempt (sixth), 26% rate of 15-plus-yard explosive plays (second), and an astonishingly high 10% touchdown rate (most). Not every play has to feel sexy, which means that Crowder will likely come in as a low-owned option for tournament lineups.
George Kittle is popping in PFF's tight end matchup chart with this week's second-ranked matchup in a potential shootout at the Superdome. Coming off a 2-catch, 17-yard dud in a spread-the-wealth offense, clicking Kittle's name does not exactly get the ol' juices flowing. But it should. Kittle does a decent chunk of his work from the slot (27% slot snap rate) where he catches an eye-popping 95% of passes thrown his way (No. 2 among all NFL pass-catchers). No NFL defense is targeted more frequently in the slot than the New Orleans Saints with 159 targets. The pricing of top-tier tight ends is extremely condensed this week (only $600 separates Travis Kelce and Mark Andrews as the first through fifth options) and Kittle should be a sneakier option than usual. Kittle is a must for any game stacks and also viable as a one-off – he is ranked as Scott Barrett's top tight end this week.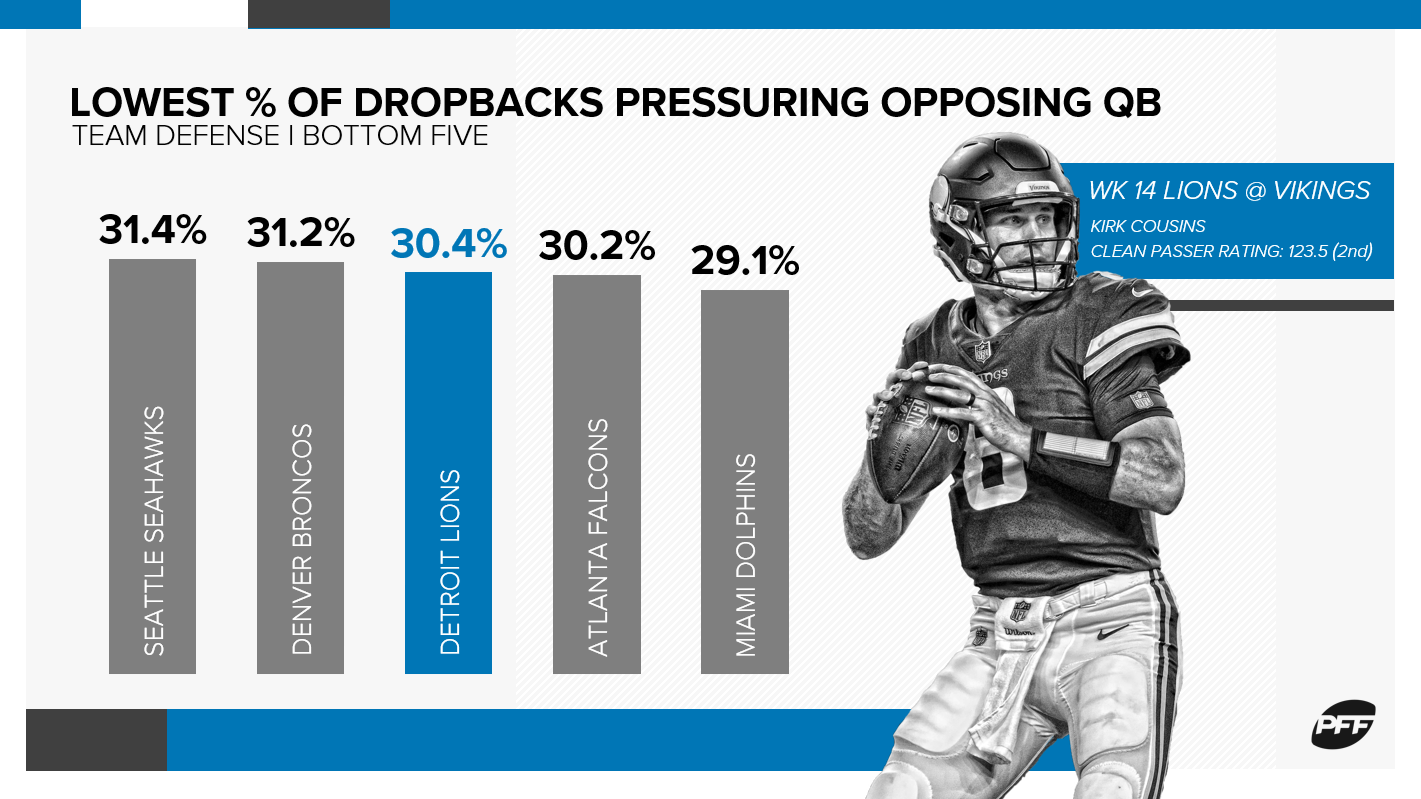 Kirk Cousins has been white hot from a clean pocket this season, tossing 17 touchdowns (fourth-most) with a pristine 123.5 passer rating (second). The Lions pressure opposing quarterbacks on just 30% of dropbacks, the third-lowest rate in the NFL. On clean dropbacks, opposing quarterbacks have carved up Detroit's secondary like that turkey you ate last week on Thanksgiving – 336 attempts (third-most), 2,831 yards (second), 8.4 yards per attempt (seventh), 20 touchdowns (fourth), 21% rate of 15-plus-yard plays (fourth), a 112.6 passer rating (sixth), and a 9.7-yard average depth of target (most). Fire up Captain Kirk and his pass catchers with the utmost confidence.
Outside wide receivers have beaten Xavier Rhodes like a drum to the tune of an inconceivable 87% catch rate (most among all NFL cornerbacks) and 132.6 passer rating (fifth). Feel free to run back any Cousins lineups with either Kenny Golladay (86% wide snap rate) or Marvin Jones Jr. (67% wide), both of which should be contrarian with the blah David Blough at the helm.
Courtland Sutton is such a baller and his double-dong last week is the perfect example of why we play studs even in seemingly tough matchups. Despite a rotating cast of characters throwing him the football, Sutton is grading as PFF's No. 8 wide receiver while averaging a hefty 2.24 yards per route run (ninth). Sutton is awkwardly priced once again at $6,400 and will probably not be a priority for most DFS players. He should be. Here is the production Houston is allowing to outside wide receivers – 177 targets (sixth-most), nine touchdowns (ninth), and a 100.4 passer rating (ninth). Sutton has a top-20 matchup in the coverage of Johnathan Joseph, who is targeted every 5.2 cover snaps (13th-most). All Drew Lock needs to do is throw the ball up to Sutton and he will go get it – his 65% contested catch rate ranks fifth among all wide receivers with 25-plus targets.
A road matchup against the stout Bills defense will likely be the last time that we are able to play contrarian Lamar Jackson this season. Matchup truly does not matter for Jackson because his rushing upside is a cheat code for fantasy football – he leads all NFL players with 37 runs of 10-plus yards (six more than Derrick Henry). The fantasy community respects Buffalo's defense, particularly after they stymied Dak Prescott and lit a flaming torch to Jason Garrett's hot seat in front of the entire country. However, as this column has been harping on all season, the Bills defense gives up rushing production – 3.3 rushing yards after contact per attempt (second-most), 11 touchdowns (eighth), and a 15% rate of 10-plus-yard runs (second). The Ravens offensive line has the third-ranked matchup against the Bills defensive line.
Nick Chubb and Kareem Hunt are both salivating at a matchup against a Bengals defense that stinks vs. the run – 391 rush attempts (most – 17 more than anyone else), 4.8 rush yards per attempt (fourth), and 13 rushing touchdowns (third). Chubb's pass game role has dried up with Hunt in the fold (six total targets over the last three games), but he remains the focal point of Cleveland's rushing attack with 64 total carries in that same three-game timespan. Chubb has been a beast when toting the rock this season with 874 rushing yards after contact (second-most) and 50 missed tackles forced (third) – he ranks as PFF Fantasy's No. 5 running back this week. Don't forget about Hunt, whose 24 targets over the last four games trails only Christian McCaffrey, Alvin Kamara, and Leonard Fournette among running backs.
Another factor tilting Browns usage toward running backs is the fact that the Bengals defense surprisingly clamps down on opposing wide receivers. Despite seeing a whopping 294 wide receiver targets, the Bengals have only allowed seven touchdowns (third-fewest) with a 77.9 passer rating (fifth lowest). Be wary of Odell Beckham Jr. and Jarvis Landry.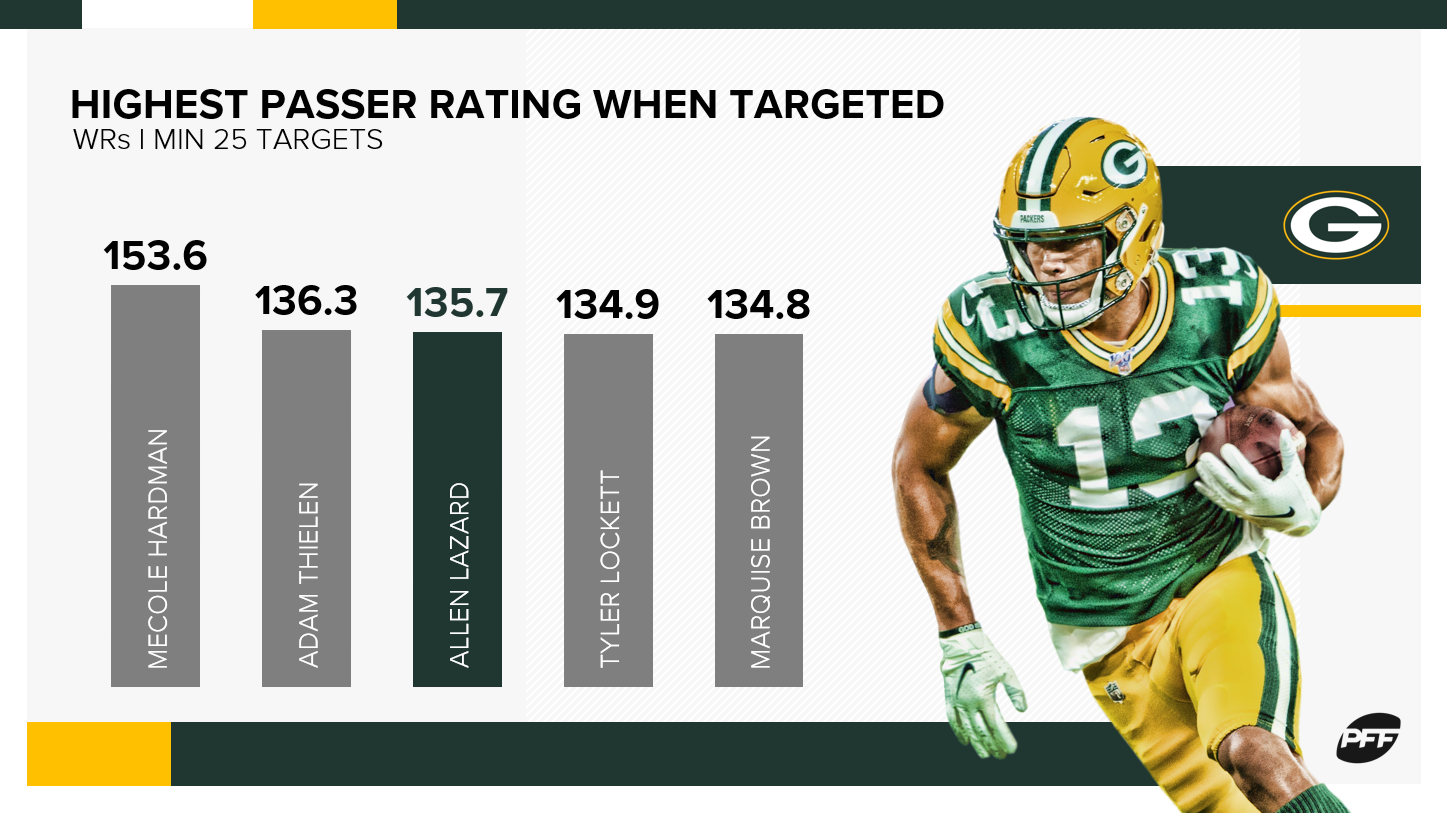 The squeaky wheel suffered its first defeat at the hands of Aaron Jones, though not for lack of effort – your author was snow angeling away right alongside Jones after he waltzed untouched into the end zone. Damn dirty laundry overturning the play. Rather than get bogged down in Green Bay's timeshare backfield, let's focus on the passing game, where Allen Lazard is emerging as the No. 2 option. Passes thrown to Lazard have generated a stellar 135.7 passer rating (third among all WRs). Priced at an affordable $4,200, Lazard is oozing upside against a Washington secondary that just coughed up touchdowns to both D.J. Moore and Curtis Samuel. And that was with the Kyle Allen torpedoing the entire Carolina offense. Imagine what Aaron Rodgers can do in this dream spot. Here is the production the Redskins are allowing to opposing wide receivers – 15 touchdowns (seventh-most), 70% completion rate (fifth), and 8.7 yards per attempt (10th).
The Jaguars are the gift that keeps on giving to enemy running backs – 1.7 rushing yards before contact per attempt (fifth-most), 3.2 rushing yards after contact per attempt (fifth), and 17 touchdowns (second). Let's tack on Peyton Barber to update the most recent box score log:
Marlon Mack: 14-109-1
Jonathan Williams: 13-116
Carlos Hyde: 19-160
Derrick Henry: 19-159-2
Peyton Barber: 17-44-2
The spirit of my Ronald Jones recommendation last week was on-point, but he egregiously missed a blitz pickup to land in Bruce Arians' doghouse. And off to the bench he went. Shrug.
The Chargers have a more predictable running back timeshare with Melvin Gordon and Austin Ekeler each playing above 50% of the snaps and sharing the field together in exotic formations. PFF Fantasy rankings prefer Gordon this week (No. 8 vs. No. 20), but you cannot go wrong with either. And both will likely be low-owned because fantasy owners suffer from decision paralysis when trying to pick one. Gordon in particular is due for a touchdown – over the last four weeks Gordon has 10 red-zone carries (fourth-most), but only one touchdown. Regression is coming.
Even my mother has caught onto the fact that the Cardinals are a dream fantasy matchup for tight ends – 79 catches (second-most), 978 yards (most), 13 touchdowns (most – and five more than anyone else), 29 explosive plays of 15-plus yards (most – eight more than anyone else), and a 142.5 passer rating (most). Why mess with a good thing? The Cardinals have been eviscerated by world-beating tight ends like Tyler Higbee, Ross Dwelley, O.J. Howard, and Rhett Ellison. Will Vance McDonald's name be next on that list?
Though McDonald has done diddly squat this entire season, at least we can say that he is on the field and running routes – in Week 13 McDonald had an 86% snap rate and ran a route on 92% of Devlin Hodges dropbacks. Mike Tomlin is a sharp coach and will attack winnable matchups. There is arguably no more winnable matchup in football than tight end vs. the Cardinals. Remember that sick McDonald stiff arm on Monday Night Football last year? Me too.
Fantasy players will be storming this game like a Walmart on Black Friday in order to click on Derrick Henry's name. However, let's shift our focus to the quarterback position where the venerable Ryan Tannehill has resuscitated the Titans playoff hopes while becoming a viable fantasy quarterback. What a world! Tannehill is an assassin from a clean pocket – 125.1 passer rating (best), 9.7 yards per attempt (second), and a 11:2 TD:INT ratio. The Titans offensive line has held up well in pass protection for Tannehill as his 70% clean dropback rate is fifth-most in the NFL. Clean pockets are critical for Tannehill – his passer rating freefalls to 68.5 under pressure (17th). Conveniently, Oakland's meager 33% pressure rate ranks 25th in the NFL. Fire up Tannehill and his pass catchers for leverage on the field's love affair with Henry.
James White spewed fantasy points all over the place last week, capitalizing on garbage time with checkdown after checkdown. Yet, perhaps we could have seen it coming – the Texans lead the league with 98 running back targets allowed. Ranking fifth in that regard with 87 targets happens to be the Chiefs, where they are also allowing five touchdowns (fourth-most) and 687 yards (second). Does White have an encore performance in him? The fantasy community has been far too sharp this season to chase box scores, but perhaps a White play would be more matchup driven than points-chasey. Nobody identifies mismatches quite like Bill Belichick. White was on the field for 78% of the Patriots snaps last week and if we get a repeat in this spot it would be another full-on no-pants party.
The Rams offense has been a rollercoaster this season, teeing off on crappy defenses and completely turtling against quality ones. The Seahawks fall smack in the middle of the defensive spectrum, currently ranking as PFF's No. 15 defense. Their biggest weakness is defending opposing tight ends – 105 targets (third-most), 77 catches (third), 802 yards (third), and 6 touchdowns (fourth). If you'll recall the Rams vs. Seahawks game back in Week 5, Gerald Everett exploded with a 7-136 line on 11 targets. Everett is currently tracking to miss this game, which would leave Tyler Higbee with another full complement of snaps out of the Rams '11' personnel – Higbee was on the field for every single one of Jared Goff's 72 snaps last week. Higbee just shredded the Cardinals for 7-107-1 and is in another great spot.
The moment we have been waiting for is finally here – the return of Eli Manning! As such, let's focus on the Eagles side of the football where we should expect to find actual fantasy production. In particular, Alshon Jeffery is popping in the WR/CB chart with the No. 3 matchup. Jeffery returned from injury last week with a monster 9-137-1 line and has a prime opportunity for an encore against the pathetic coverage of Janoris Jenkins. Here is the production that the Giants have allowed to opposing wide receivers – 70% catch rate (sixth-most), 2,350 yards (second), 18 touchdowns (third), 115.3 passer rating (second), and an incomprehensible 10.4 yards per attempt (most). Be careful with tight ends Zach Ertz and Dallas Goedert as the Giants have actually defended tight ends fairly well – 57 targets (fewest), 39 catches (fewest), and 418 yards (third-fewest). Probably because opposing wide receivers are hogging all the production.