Happy Thanksgiving everyone! I'd like to take this moment to thank you all for reading my fantasy football facts and stats – it's been a joy to write this for you every week.
And now, welcome to the Week 13 edition of the fantasy football facts and stats to know for DFS. In this column, we leverage PFF's extensive football data to uncover player and team matchup-specific situations with important fantasy football and DFS implications.
The festivities continued in Week 12, snagging booms from Allen Robinson, Christian McCaffrey, Tyler Boyd, Jarvis Landry, Zach Ertz, Sam Darnold, and Derrick Henry.
However, it was not all sunshine and roses — D.K. Metcalf dropping a wide-open bomb in the end zone will give me nightmares until the end of time.
No Thanksgiving Thursday games here this week (check out Scott Barrett's Thanksgiving slate breakdown for that advice), just the important facts and stats for the Week 13 Sunday/Monday games.
Time to dig in. Gobble gobble!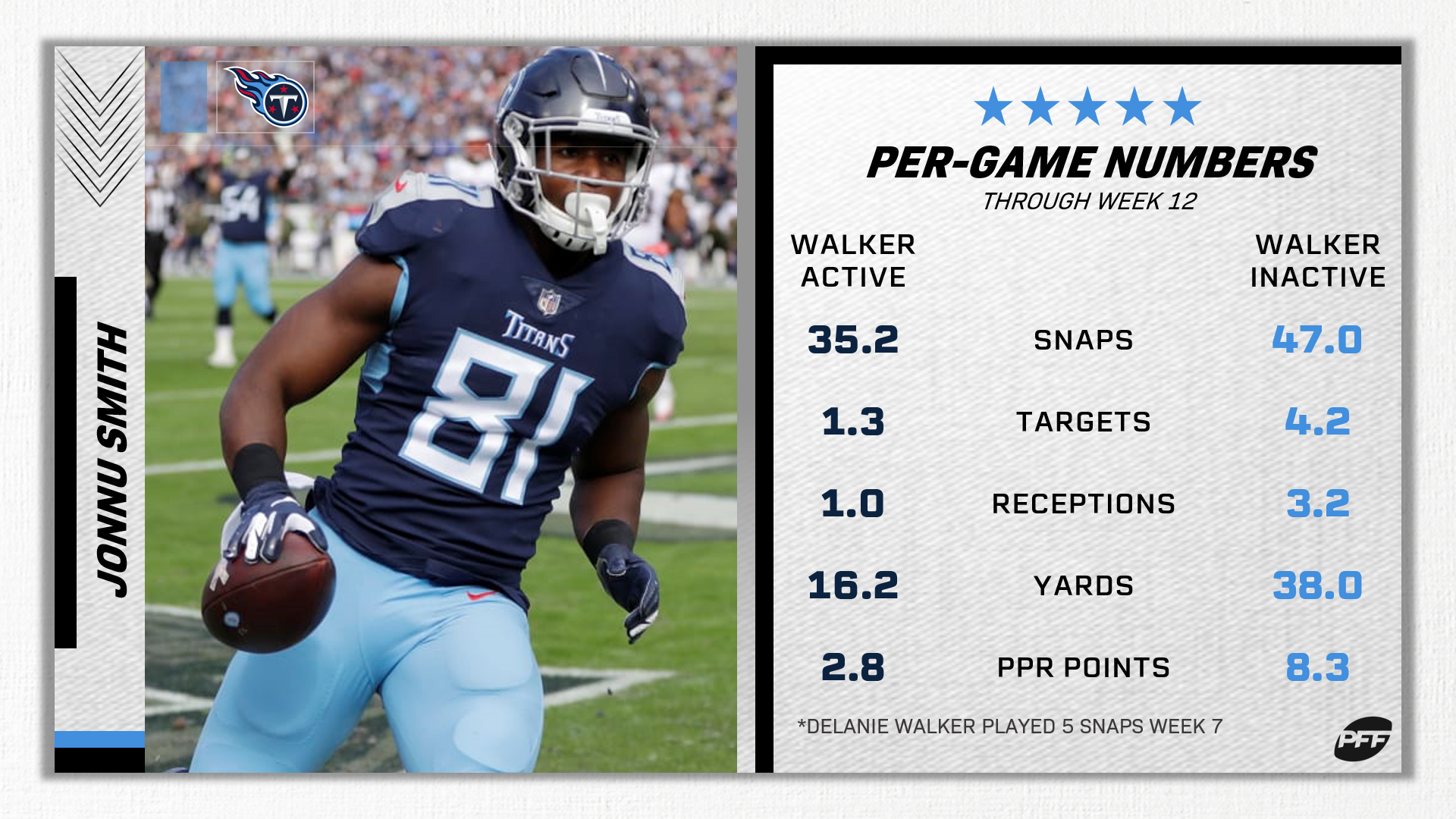 The Titans offense has been humming along as of late, racking up recent point totals of 42, 35, 20, 27, and 23 in their last five games. Accordingly, DraftKings prices on Derrick Henry and A.J. Brown have soared to new heights. Rather than buy high, I'm eyeing the dirt-cheap Jonnu Smith for exposure to the Titans offense. Smith is now locked into a full-time role with Delanie Walker on injured reserve. He played a whopping 94% of snaps in Week 12 and has recorded target counts of 6, 5, 7 in the last three games. The Colts zone-centric defensive scheme creates holes for tight ends to rack up production – 75 targets (11th-most), 57 receptions (10th), 76% catch rate (eighth), and four touchdowns (12th). Nobody will be on Smith — he is an intriguing contrarian punt option at tight end.
Sam Darnold has been sizzling hot of late and will probably draw a fair bit of ownership in a seemingly cupcake matchup against the Bengals. However, let's take the alternative route and attack Cincinnati via the run game. Here is their production allowed to enemy running backs – 374 rush attempts (most), 1.7 rushing yards before contact per attempt (seventh-most), 3.0 rushing yards after contact per attempt (seventh), 13 touchdowns (third), and a 14% rate of 10-plus-yard runs (third). The Jets have been pouring in fantasy points like monsoon season of late, but Le'Veon Bell has not really joined in on the party – he has yet to crest the 25-point barrier on DraftKings this season. I think Bell has a decent shot to bust out a ceiling game in this matchup. Jeff Ratcliffe agrees, ranking Bell as this week's No. 5 running back.
I don't understand how Christian McCaffrey was only 9% owned in the Week 12 Millionaire Maker on DraftKings. For as long as people refuse to play him, I will happily keep writing him up. The man drops 30-burgers in his sleep (8/11 games over 30 DraftKings points, with a ninth at 29.1). Again, you should play him — $10,500 price tag be damned. Washington's run defense is highly inviting — 354 rush attempts faced (second-most), 83 first downs/touchdowns (third), and 1.8 rushing yards before contact per attempt (fifth).
The Redskins backfield is extremely crowded at the moment. Here are last week's snap rates: Derrius Guice (41%), Adrian Peterson (34%), Wendell Smallwood (27%). Perhaps we embrace the uncertainty and take a tournament stab at the uber-talented Guice, who had the Redskins only red-zone rush attempt last week. As a reminder, the Panthers have stunningly allowed 19 rushing touchdowns (four more than anyone else) this season, which equates to approximately 1.7 rushing touchdowns per game.
Here we have the game of the weekend, and quite possibly a Super Bowl preview (shout out to Earl Thomas with the Week 13 Super Bowl guarantee). The entire football world is rightfully fawning over Lamar Jackson right now, but I wonder if he will be a popular play against the vaunted 49ers defense that just turned Aaron Rodgers into Blake Bortles. Against these same 49ers back in Week 8, Christian McCaffrey came in extremely low-owned and popped off for 30 points. Monitor PFF's ownership projections – if Jackson is going to be under-owned, I want shares. The 49ers run defense is their weak point (to the extent one exists) as they are allowing 1.8 rushing yards before contact per attempt (second-most).
The Jaguars defense is in shambles — Derrick Henry trucked through them like a monster car derby and A.J. Brown had defenders bouncing off each other like bowling pins. Mike Evans and Chris Godwin are both awesome, you should play them. But only pick one per lineup — one seemingly explodes every week, while the other duds. Give me whichever one projects to be lower owned – that could be Godwin this week at $7,700 vs. the priced-down Evans at $6,900.
I'm also intrigued by Ronald Jones at his reasonable $5,100 price tag, especially considering he more than doubled up Peyton Barber on snaps last week (32 vs. 15). Here are the box scores that the Jaguars have allowed to running backs over the last three weeks:
Marlon Mack: 14-109-1
Jonathan Williams: 13-116
Carlos Hyde: 19-160
Derrick Henry: 19-159-2
The Jaguars have allowed 1.8 rushing yards before contact per attempt (most), 3.4 rushing yards after contact per attempt (most), and 15 rushing touchdowns (second-most). As you can see, the Jaguars stink vs. the run.
Ducks may be your author's favorite animal, but let's focus on Cleveland's side of the football where we have actionable data. Last week we connected on the squeaking Tyler Boyd in the slot vs. the Steelers, and we will go right back to that matchup with Jarvis Landry (62% slot rate). It boggles my mind that the fantasy community keeps clicking on Odell Beckham Jr.'s name instead of Jarvis Landry, especially considering their vast production differential to date. Landry has scored a touchdown in four straight games, which jibes with his 27 red-zone targets (fifth-most among all pass catchers). As a point of comparison, Beckham Jr. has 16 red-zone targets. The Steelers give it up to the slot – 131 targets (sixth-most), 95 receptions (fourth), 1,195 yards (third), and 10 touchdowns (third).
The PFF WR/CB matchup chart is a must-read every single week – it uncovers contrarian eruption gems like Allen Robinson, who had last week's No. 1 matchup. This week's No. 1 honor is bestowed upon Davante Adams, who conveniently has the very same matchup that Robinson just pasted to the tune of 6-131-1. The Packers were just humiliated in primetime and a game against the Charmin-soft Giants defense is the perfect bounceback opportunity. Here is the production the Giants have allowed to opposing wide receivers – 10.3 yards per attempt (third-most), 2,163 yards (second), 71% catch rate (fifth), 15 touchdowns (third), and a 111.7 passer rating (third). Despite Adams' injury woes, he still ranks fifth among all wide receivers with 2.43 yards per route run.
Your author is addicted to the squeaky wheel narrative, and we have another prime candidate in Aaron Jones. Before I get to the facts and stats, here is a direct quote from Matt LaFleur: "I think we definitely need to involve him [Jones] more… I gotta do a better job of making sure he's in the game when some of those plays are called for the halfbacks." Jones has 11 rushing touchdowns (second-most), eight of which have come from inside the 5-yard line (most). The Giants have allowed 13 rushing touchdowns this season (third-most). Giddy up.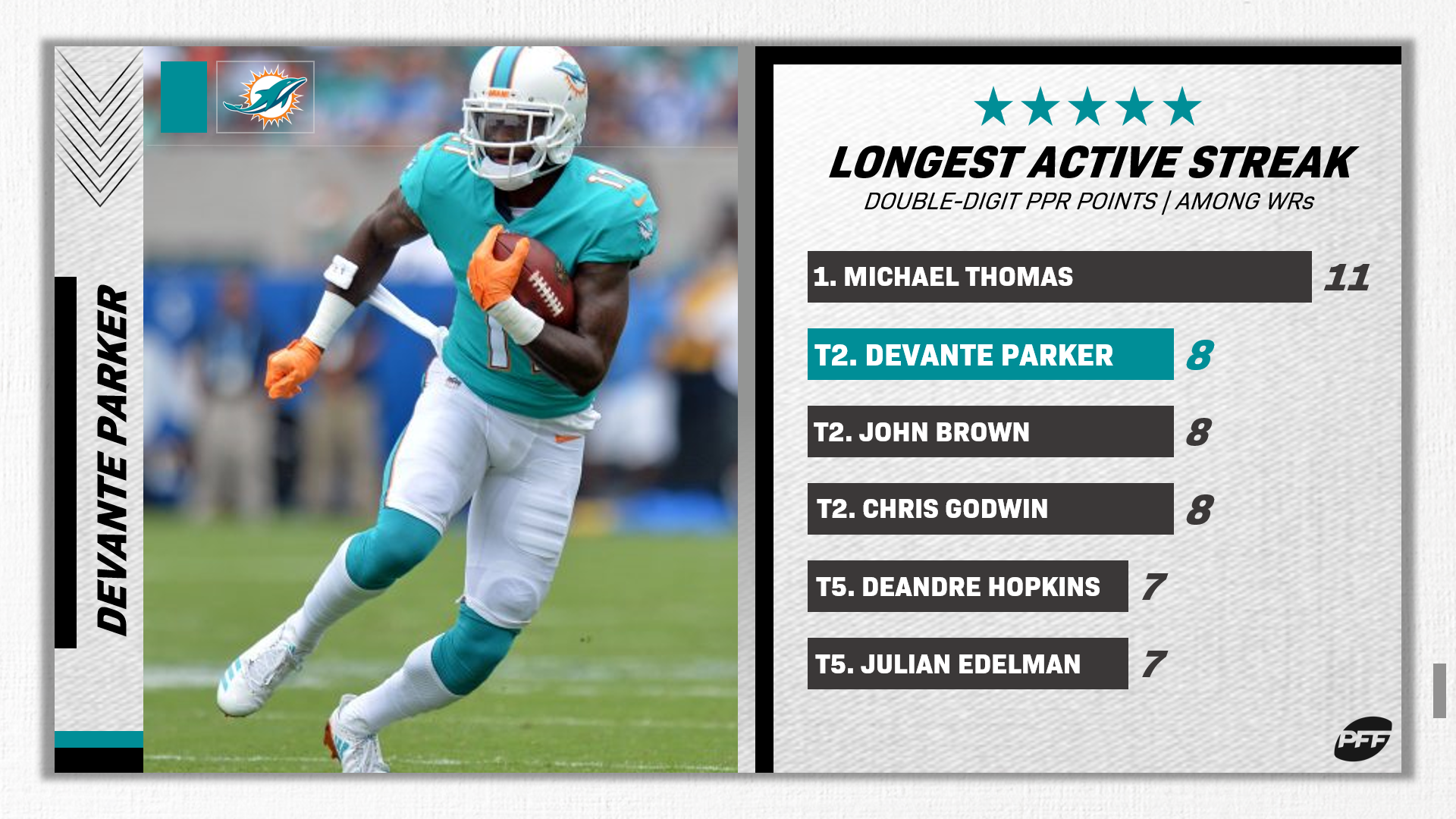 PFF Fantasy's Daniel Kelley discovered an incredible stat about Miami's DeVante Parker – he is one of only four wide receivers currently on an eight-plus-game streak with double-digit PPR points (along with Michael Thomas, John Brown, and Chris Godwin – pretty good company). The Eagles shameful coverage of outside wide receivers is the gift that keeps on giving – 170 targets (second-most), 102 receptions (sixth), 1,561 yards (most), and 12 touchdowns (most). Even the esteemed Malik Turner (I had to look him up) joined in on the fun with his first career touchdown vs. Philadelphia's wide coverage last week (but not D.K. Metcalf, *crying emoji*). Parker (74% wide snap rate) has the No. 12 WR/CB matchup and should have no problem extending his double-digit PPR streak one more game. His $5,700 DraftKings price tag screams click me, and I will happily oblige.
Tight end vs. the Cardinals has been a plug-and-play all season long, and we may have been bequeathed a gift from the fantasy heavens in the form of Tyler Higbee. Gerald Everett was sidelined from Wednesday's practice, and should he miss the game it would allow Higbee to log a full complement of snaps out of the Rams '11' personnel. Here is the production the Cardinals have bestowed upon opposing tight ends – 92 targets (fourth-most), 72 receptions (most), 78% catch rate (most), 871 yards (most), 12 touchdowns (most – and four more than anyone else), and a ghastly 141.2 passer rating (most). Despite Jared Goff's abysmal play of late (he somehow went all of November without throwing a single passing touchdown), there will be points scored in this pace-up game. On Monday vs. the Ravens, Higbee played 69% of snaps and caught five passes for 20 yards. It will not take much for Higbee to pay off his stone-minimum price of $2,500 in this primo matchup. And a ding-dong would trigger an all-out dance party.
Prior to Courtland Sutton's Week 12 flop vs. the Bills, he was as consistent as they come – his eight-game double-digit PPR streak came to a screeching halt last Sunday. Sutton is awkwardly priced at $5,800 and will likely come in as a low-owned play. The Chargers have a really strong secondary anchored by Casey Hayward, but he has not shadowed the opposing top receiving weapon since Week 7. If Sutton avoids Hayward, he should be able to win in coverage against Desmond King, who has coughed up a 130.9 passer rating (seventh-worst among all cornerbacks) on 32 targets. Sutton is grading out as PFF's ninth-best wide receiver while averaging 2.22 yards per route run (15th) with a 114.6 passer rating (19th).
Sam Darnold just shredded Oakland's secondary. Here is their production allowed to opposing passing attacks – 9.0 yards per attempt (third-most), 26 touchdowns (second), and a 112.4 passer rating (fourth). Patrick Mahomes and his entire arsenal of weapons are all viable here. In particular, Tyreek Hill is an interesting tournament option priced at $8,900 – I wonder how many people will play him at such an expensive price tag when he is coming off a hamstring injury.
The Chiefs defense is susceptible to the run – 3.3 rushing yards after contact per attempt (third-most), 13% rate of 10-plus-yard runs (sixth), and 12 touchdowns (sixth). Josh Jacobs is PFF's second-highest graded running back this season (trailing only Christian McCaffrey) with 715 rushing yards after contact (fifth-most) at a clip of 3.56 rushing yards after contact per attempt (sixth), and a league-high 58 missed tackles forced.
The league-leader in red-zone targets with 33 is… Julian Edelman. New England's banged-up wide receiver corps really narrows the target distribution and makes Edelman an extremely strong play against the Texans – he has this week's No. 7 WR/CB matchup. Edelman has double-digit targets in six straight games but has not scored a touchdown since Week 8. The Texans have allowed 14 touchdowns to opposing wide receivers, sixth-most in the NFL.
Fantasy football players need to operate with a defensive back's next-play mentality, and let's go right back to D.K. Metcalf (88% wide snap rate) in a matchup against the Minnesota Vikings. Here are Minnesota's stats allowed to outside wide receivers – 168 targets (fourth-most), 114 catches (most), 1,511 yards (second), 12 touchdowns (third), and a 108.0 passer rating (fifth). I crawled into a dark hole and choked on my own tears after Metcalf dropped that would-have-been touchdown, but that is sometimes what you get with Metcalf – his 14% drop rate is third-most among all wide receivers with 50-plus targets. Metcalf has the No. 5 WR/CB matchup and a league-high 14 end-zone targets.