Welcome to the Week 10 edition of the fantasy football facts and stats to know for DFS. In this column, we leverage PFF's extensive football data to uncover player and team matchup-specific situations with important fantasy football and DFS implications.
Week 9 was a trying time for your author with massive whiffs on Robby Anderson and Aaron Jones crippling lineups across the board — not even Christian McCaffrey transforming into Dairy Sanders himself could save me. But we will learn from mistakes and forge on. Lesson number one — stop playing New York Jets!
We did have a few key hits in last week's column with George Kittle, Lamar Jackson, and Dak Prescott — while fading an 18% owned Nick Chubb proved to be extremely sharp.
Without further ado, here are the facts and stats for Week 10:
Oakland's defense is proving to be a bit of a pass funnel, leaning stout against the run and susceptible through the air. The Raiders are allowing 0.8 rushing yards before contact per attempt (sixth) and 2.6 rushing yards after contact per attempt (12th), at a lowly 37% run play rate (21st). Offenses are shellacking Oakland through the air at a whopping 8.8 yards per attempt (second-most), particularly with explosive plays of 15-plus yards at a staggering rate of 22% (second-most). The entire Chargers passing game of Philip Rivers, Austin Ekeler, Keenan Allen, Hunter Henry, and Mike Williams are all in play. PFF's WR/CB matchup chart rates Allen with the best matchup here, with the Raiders giving it up to the slot – six touchdowns (eight-most), 778 yards (10th), and a 112.8 passer rating (10th).
Lamar Jackson is a fantasy cheat code. There is no need to recite any stats to encourage you to play him. But I will say that despite already having their bye week, the Bengals defense has faced 279 rushing attempts (second-most) at a 49% run play rate (most). Jackson is going to run buck wild. But who should you pair him with? Let's roll with Mark Andrews, who has the top-ranked tight end matchup against the Bengals and Shawn Williams. Andrews hit these same Bengals for a 6-99 line back in Week 6, and should come in as moderately owned off two straight duds and a $5,200 DraftKings price tag. Do not be scared off by Andrews' modest 23 snaps against the Patriots — while Nick Boyle led Baltimore tight ends with 56 snaps, he only ran 16 routes. Andrews 2.49 yards per route run trails only George Kittle among tight ends — he is due for a bounce back.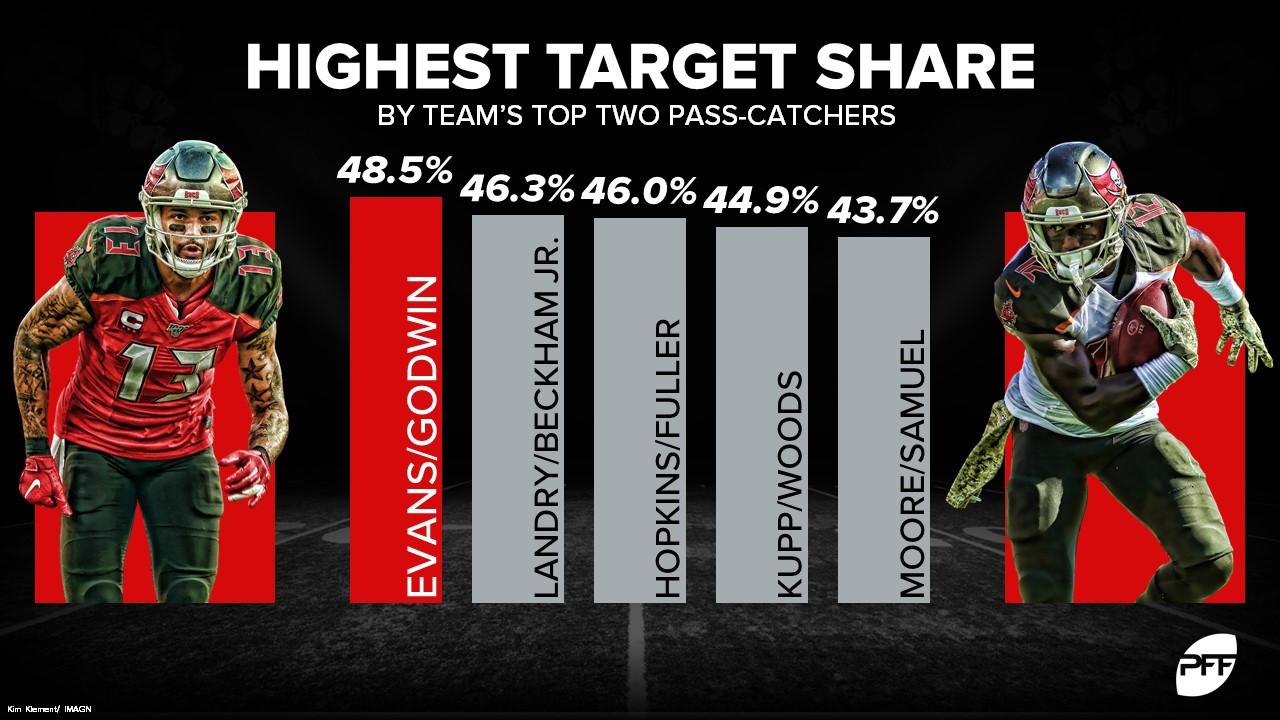 By now, most fantasy owners know the drill with Bucs games – play both passing attacks. The story with the Bucs is fairly simple, where Mike Evans (26% target share) and Chris Godwin (22%) account for a truly ludicrous 48.5% of Tampa's targets. One (or both) of them will go off — they have two of the top four highest projections this week. I lean Godwin here with the Cardinals spewing slot receiver production – 107 targets (third-most), 1,060 yards (most), eight touchdowns (fourth), and a 129.0 passer rating (second).
For the Cardinals, Christian Kirk is an intriguing option with PFF's sixth-ranked WR/CB matchup. Week 9 was the Kenyan Drake show, but in Week 8 Kirk doubled up Arizona's pass catchers with 10 targets — if he sees that kind of volume in this spot, Kirk will blow up.
This game should be a ground-and-pound affair on both sides of the football with each defense leaking rushing production. Buffalo's defense is allowing 3.0 rushing yards after contact per attempt (sixth-most) and explosive runs of 10-plus yards on 15% of attempts (third). The Browns are equally permeable on the ground, particularly before contact where they allow 1.8 rushing yards per attempt (seventh-most), yielding a 14% rate of explosive runs of 10-plus yards (fifth).
The Browns are at home and desperately need a win. Expect them to ride Nick Chubb, who is an absolute beast when toting the rock — 552 rushing yards after contact (fifth), 20 runs of 10-plus yards (fourth), and 42 missed tackles forced (fourth). In fact, he may even sneak in as an under-the-radar play with Kareem Hunt lurking. However, Hunt's return may not even impact Chubb who has already ceded passing-game work to Dontrell Hilliard (40% and 37% snap rate over last two games). Most of Hilliard's snaps should go to Hunt.
Meanwhile, here is Devin Singletary's snap rate over the last three weeks:
Week 9: 66%
Week 8: 68%
Week 7: 38%
Singletary appears to be wresting away Buffalo's lead-back duties. Priced at a reasonable $5,000 on DraftKings, Singletary comes in as PFF Fantasy's No. 21-ranked running back this week.
The Lions have been crushed by enemy running backs over the last four weeks, facing 126 rushing attempts (third-most) and allowing 1.7 rushing yards before contact per attempt (seventh-most), while surrendering these stat lines:
Week 9: Josh Jacobs – 28-120-2
Week 8: Saquon Barkley – 19-64, 8-79-1
Week 7: Dalvin Cook – 25-142-2
Week 6: Jamaal Williams – 14-104, 4-32-1
Over the last two games, David Montgomery has separated from a crowded Chicago backfield:
Week 9: 14-40-2
Week 8: 27-135-1
Montgomery has 13 rushing attempts this season from inside the 5-yard line, second-most in the league behind only Dalvin Cook, of which he has converted five for touchdowns (third-most).
Because your author is a sick glutton for punishment, let's consider the very contrarian tournament notion of going right back to the Jets passing attack. The Giants pitiful secondary gets exposed seemingly every week – 8.9 passing yards per attempt (most), 16 touchdowns (seventh), and a 21% rate of explosive 15-plus yard plays (third-most). The Jets trio of Jamison Crowder, Demaryius Thomas, and Robby Anderson all have top-10 WR/CB matchups. I feel like the infamous Dave Chappelle character of Tyrone Biggums for going back to the Jets here, but the matchup is too enticing not to give it another shot. Anderson stole the lunch money of anyone who played him last week – he owes us, big time.
It's been a frustrating season for Travis Kelce's fantasy owners, who are likely champing at the bit with the expected return of Patrick Mahomes Sunday. Kelce consistently draws high ownership at his elevated price point, despite a lack of production. Unfortunately for Kelce, the Titans defense has been nails against tight ends — zero touchdowns, 63% completion rate (fifth best) and a 70.5 passer rating (second). Kevin Byard's lockdown coverage saddles Kelce with a bottom-barrel tight end matchup. With Kelce's DraftKings price tag dropping to a season-low $6,400, this makes an excellent spot to fade the chalk.
For all of Atlanta's woes this season, run defense is not one of them, as they are allowing just 3.8 rushing yards per attempt (sixth-fewest). So, we should expect the Saints to tilt to the air, where Drew Brees will gladly expose one of the league's worst secondaries. The Falcons are allowing a league-high 2.2 fantasy points per pass attempt, courtesy of 19 passing touchdowns (third-most) and a 20% rate of explosive pass plays of 15-plus yards (fifth). Exacerbating matters, Atlanta has a league-worst 28% pressure rate. Brees will have all day in the pocket to throw – his 81% completion percentage from a clean pocket is tops in the NFL. When Brees drops back to pass, he locks onto Michael Thomas (33% target share) who rightfully ranks as PFF Fantasy's unanimous WR1 this week (check out Thomas' ridiculous projections here). Atlanta's defense stinks, and the Saints will be marching up and down the field on Sunday.
Regardless of whether Brian Hoyer or a gimpy Jacoby Brissett is under center for the Colts, the expectation will be for them to pound the rock with Marlon Mack. Conveniently, PFF's O-Line/D-Line matchup chart ranks the Colts with this week's top run-game matchup. Miami's run defense is allowing 4.8 yards per carry (sixth-most) at a clip of 1.9 yards before contact per attempt (third). However, Mack will need a touchdown in order to pay off his $7,000 DraftKings price tag. Weirdly, Mack has a sizeable 21 red-zone rushing attempts (13th-most), but only three attempts from inside the 5-yard line (31st) – something to consider if Mack's ownership projection spikes too high.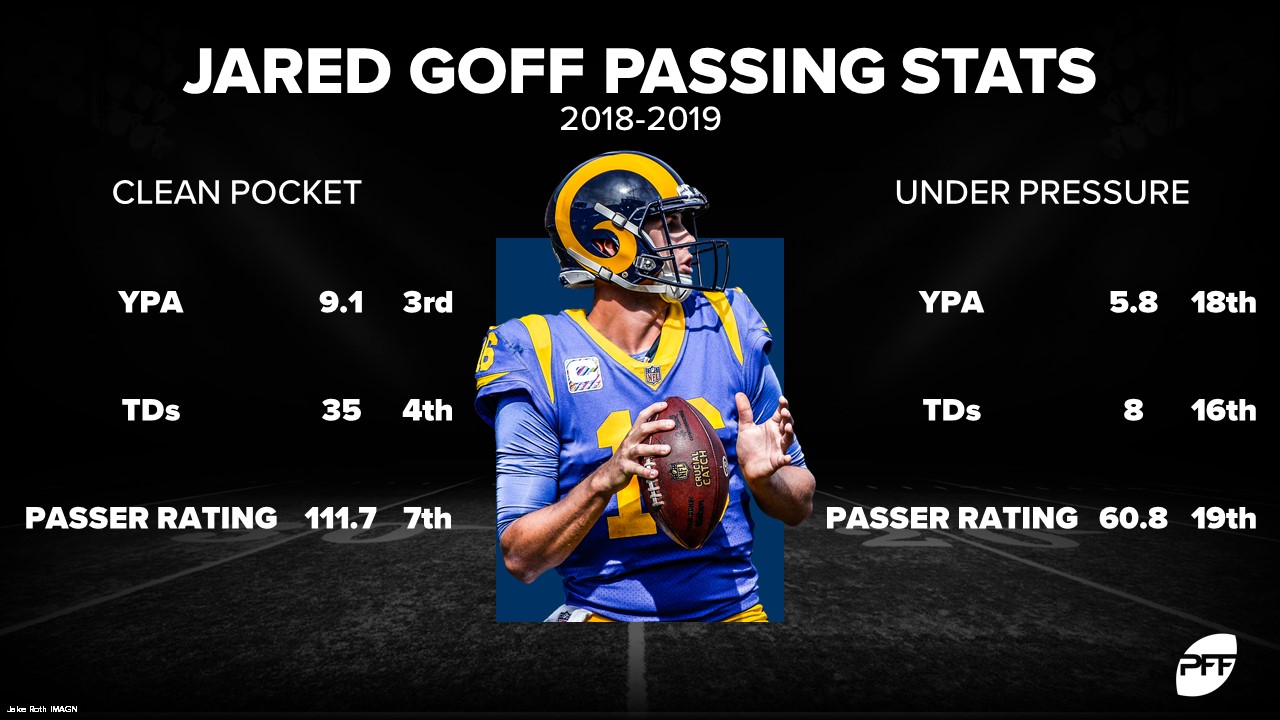 Since 2018, here are Jared Goff's passing stats (min. 200 attempts) separated into clean vs. pressure:
Clean pocket ­– 9.1 yards per attempt (third), 35 touchdowns (fourth), and a 111.7 passer rating (seventh).
Under pressure – 5.8 yards per attempt (18th), 8 touchdowns (16th), and a 60.8 passer rating (19th).
The Steelers defense pressures opposing quarterbacks on 40% of plays, the second-highest rate in the league. They also blitz on 35% of pass plays (sixth-most). PFF's O-Line/D-Line matchup chart ranks the Rams offensive line with this week's absolute worst matchup against Pittsburgh's defensive line.
After the Packers laid a complete egg against the Chargers, expect them to pound the rock and control the game on the ground. The Panthers are a bit of a run funnel, allowing 5.1 rushing yards per attempt (second-most) and a league-high 14 rushing touchdowns. Green Bay has this week's eighth-ranked O-Line/D-Line matchup with a 41% rushing touchdown projection. Aaron Jones should get back on track in this matchup and is PFF Fantasy's sixth-ranked running back this week. For the season, Jones is PFF's third-highest graded running back (behind only Christian McCaffrey and Josh Jacobs).
Speaking of McCaffrey, play him. Every. Single. Week. The Packers run defense is not good, allowing 3.2 rushing yards after contact per attempt (third-most) while missing 39 tackles (fifth). That about sums it up for the Panthers.
The Vikings defense has been pulverized by outside wide receivers this season – 133 targets (third-most), 93 catches (most), 70% completion rate (sixth), nine touchdowns (third), and a 104.7 passer rating (ninth). Amari Cooper (78% wide snap rate) and Michael Gallup (87%) are both in smash spots. For good measure, PFF's WR/CB matchup chart ranks both of them with top-13 matchups.
George Kittle smashed in a prime spot against the Cardinals last week, and the fun times should continue against a Seattle defense giving it up to tight ends – 68 targets (fifth-most), 591 yards (third), four touchdowns (eighth), and a 110.6 passer rating (12th). Kittle leads all tight ends with 2.96 yards per route run and is still due for positive touchdown regression, with his 12 red-zone targets yielding only one touchdown.