Welcome to the Week 9 edition of the fantasy football facts and stats to know for DFS. In this column, we leverage PFF's extensive football data to uncover player and team matchup-specific situations with important fantasy football and DFS implications.
Order in the fantasy football world was fortunately restored in Week 8 after the wackiness of Week 7. The Week 8 slate was rather straightforward and this column nailed big-time performances from Dalvin Cook, Austin Hooper, D.K. Metcalf, Kenny Golladay, Leonard Fournette, Christian McCaffrey, Deshaun Watson, Aaron Jones, Jamaal Williams, and JuJu Smith-Schuster.
Here are the facts and stats for Week 9:
Last week's "obvious" Thursday play in Dalvin Cook completely smashed, and let's follow the same theme again here with George Kittle. With the second-best tight end matchup, Kittle is in a dream spot against Arizona's league worst tight end defense – 69 targets (fourth-most), 54 catches (most), 702 yards (most), 13.0 yards per catch (fourth), eight touchdowns (most), and a 147.7 passer rating (highest). Kittle has had a frustrating season thus far, scoring only one touchdown while having a whopping three of them overturned. Despite Kittle's pedestrian season (by his lofty standards), he still leads all tight ends with 2.89 yards per route run. Positive regression is coming for Kittle and we will be there when it hits.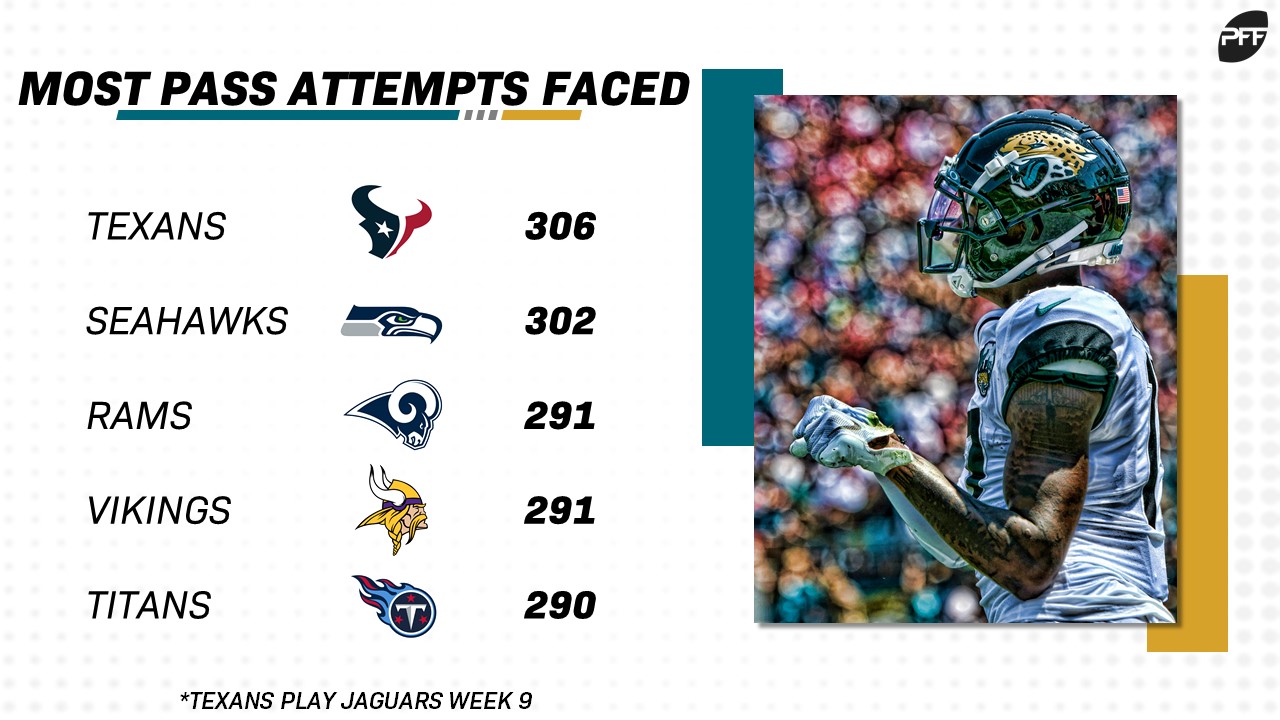 The Texans defense has been a pass funnel – tough as nails against the run and vulnerable through the air. As such, they have seen a league-high 306 pass attempts while opponents run the football on just 32% of plays (30th). This creates a magnificent spot for both D.J. Chark and Chris Conley (monitor Dede Westbrook's injury status), who have the No. 2 and 7 WR/CB matchups, respectively. Here are the receiving numbers allowed by Houston's coverage unit – 205 receptions (most), 18 touchdowns (fourth-most), and a 113.4 passer rating (sixth). The Texans are also allergic to tackling with a league-high 40 missed tackles on receptions for a total of 72 missed tackles on all touches (second-most). Additionally, Leonard Fournette's immense role and usage (81% of rushing attempts, 21% of receptions) has your author pondering whether a contrarian tournament sprinkle is warranted (for those playing on an expanded slate). London games seemingly never go as we expect.
Philadelphia's coverage scheme is the league's most generous benefactor to outside wide receiver production – 134 targets (most), 80 catches (third), 1,238 yards (most), 15.5 yards per catch (fifth), and 10 touchdowns (most). Conveniently, Allen Robinson II lines up as an outside wide receiver on 66% of his snaps, where he has the 10th-ranked WR/CB matchup. Mitchell Trubisky's abysmal play has been an anchor for the entire Chicago offense, but fortune favors the bold (while also suppressing ownership), so let's hold our collective breath when we plug Robinson into our tournament lineups. I hope that fantasy players have not forgotten the 10-143-1 destruction that Robinson levied upon this very same Eagles secondary during the 2018 Wild Card game. DraftKings rightfully priced up Robinson to a season-high $6,800, which is still probably too cheap for this matchup.
The Steelers defense has been a completely different unit since trading for Minkah Fitzpatrick. Since Week 4, all passes against the Steelers have generated a pathetic 69.4 passer rating, third lowest in the league and trailing only the 49ers and Patriots. Jacoby Brissett struggles under pressure with a 70.2 passer rating (compared to 113.4 when working from a clean pocket) – Pittsburgh's 38% pressure rate ranks seventh. Brissett, T.Y. Hilton, and company will be hard pressed to find success in this matchup.
A matchup against the Chiefs is a dream for opposing running backs, and your author was all over it last week with Aaron Jones and Jamaal Williams. Once again, let's not overthink this spot for Dalvin Cook. Check out the receiving production that the Chiefs are allowing to running backs (note that Jones and Williams account for a fair bit of this production, but surely the Vikings coaching staff watched last week's film) – 56 targets (fifth-most), 444 yards (second), and four touchdowns (most). Cook is heavily involved in Minnesota's passing game with 34 targets and 2.01 yards per route run (ninth among RBs). The Chiefs are also quite forgiving on the ground where they are allowing 3.0 rushing yards after contact per attempt (fifth-most) and 10 touchdowns (second). Cook has racked up 523 rushing yards after contact (third-most) and forced 42 missed tackles (second). For good measure, the Vikings have this week's top-ranked O-Line/D-Line running game matchup.
Ryan Tannehill has rejuvenated the Titans offense over the last two weeks, but the good times may come to an end against the Panthers. Quick passing has been Tannehill's bread and butter – on throws in less than 2.5 seconds, Tannehill has four touchdowns and a 136.4 passer rating (first among all quarterbacks). When Tannehill is in the pocket for 2.5 seconds or more, and is forced to his second or third read, his passer rating falls of a cliff to 78.4. The Panthers coverage unit has clamped down on quick passes where they have more interceptions (seven) than touchdowns allowed (six) to the tune of an 87.8 passer rating (sixth best). Tannehill is the No. 25 quarterback in the PFF Fantasy staff rankings this week, two spots ahead of former practice-squadder Brandon Allen making his debut for the Broncos. You can do better.
It's been a relatively pedestrian season for Josh Allen thus far and fantasy owners must be somewhat disappointed considering last season's flaming finish. Yet, a home game against the hapless Redskins could serve as a get-right spot for Allen. He averages 3.07 seconds in the pocket per play (highest among all quarterbacks), which should come in handy against a pressure-inept Washington defense (30% pressure rate, fourth lowest). PFF's O-line/D-line matchup chart has Buffalo with the No. 3-ranked pass protection matchup against Washington. Allen is priced up at $6,500 on DraftKings which should make him a solid contrarian play for tournament lineups with limitless upside.
While the winless Dolphins are terrible at just about everything, they really struggle defending deep pass attempts 20-plus yards downfield, where they are relentlessly attacked by opposing offenses – 18.1% rate of passes of 20-plus yards (most), seven touchdowns (second-most), and a 118.5 passer rating (fourth). To Robby Anderson's dismay, he was not traded away at the deadline, though a matchup against Miami's sorry excuse for a secondary (now sans Xavien Howard) should be enough to turn his frown upside down. Anderson is the Jets premier deep threat with 28% of his targets occurring 20-plus yards downfield. Here are Anderson's numbers on these targets since 2017 – 67 targets (seventh-most among all wide receivers), 803 receiving yards (12th), and 12 touchdowns (second).
Perhaps the most significant decision of the Week 9 slate is whether to play Russell Wilson and his pass-catchers against the Bucs premier pass-funnel unit, where their league-best 0.2 rushing yards before contact per attempt tilts opponents to the air. The problem is, we cannot trust Pete Carroll to truly unleash the beast that is Wilson — Carroll would rather run the football every single play, Wilson fantasy owners be damned. Accordingly, the Seahawks rank fourth with 251 rushing attempts and just 18th with 250 pass attempts. Exacerbating matters, the Seattle offensive line has this week's worst pass protection matchup against Tampa Bay's defensive line. Can we really play chalky Wilson and Tyler Lockett (check ownership projections here) in this spot? All it takes is one early Jameis Winston mistake to spot Seattle with a lead and encourage Carroll to run the air out of the football.
According to PFF's offensive line/defensive line matchup chart, the Raiders have this week's biggest pass protection mismatch over the Lions defensive front. When Derek Carr drops back to pass, Darren Waller (28% target share) is the apple of his eye. Yet, Waller has an expensive $6,300 price tag on DraftKings and extremely high ownership projections, so perhaps we hone in on a less popular Raiders pass-catcher in Tyrell Williams. The Gazelle returned from injury last week with a 3-91-1 line and he could be in for an encore performance in the shadow coverage of Rashaan Melvin, which is PFF's sixth-ranked WR/CB matchup. Melvin has coughed up 425 receiving yards (eighth-most), three touchdowns (ninth), and a peachy 117.7 passer rating. Additionally, the Lions entire coverage unit can be had 20-plus yards downfield where they have allowed 44 targets (third-most) and four touchdowns (seventh) – conveniently, the area where the Gazelle most enjoys prancing free (37% target rate beyond 20 yards).
The Packers offense currently runs through their running backs, and that trend should continue this week against the Chargers run funnel defense – 220 pass attempts faced (third-fewest) compared to 233 rush attempts (sixth-most). Green Bay runs outside zone on 37% of rushing attempts (third-most), an area where the Chargers have been hammered at a clip of 5.2 yards per carry (fifth-most) while allowing a league-most four rushing touchdowns. PFF Fantasy projections have Aaron Jones with the highest touchdown projection among running backs – his nine carries from inside the five-yard-line are fourth most in the league.
The Broncos rush defense had a rough start to the season, but since Week 5 they have been absolute nails against the run – 1.8 rushing yards after contact per attempt (first), 0.8 rushing yards before contact (eighth), 6% rate of 15+ yard runs (fifth), and only one touchdown (second). Why is Nick Chubb currently projected to be one of the highest-owned running backs on the entire slate? Chubb is certainly a rock star with 499 rushing yards after contact (fifth-most), but a road game in Mile High is not the spot to chase a chalky Chubb. PFF's O-line/D-line matchup chart has the Browns with the eighth-worst running game matchup.
Last week I took a contrarian stand on Chubb and he proceeded to pile up 131 rushing yards against the Patriots defense, and he looked well on his way to scoring a touchdown prior to fumbling at the end of a long run. The Patriots defensive weakness (to the extent that one exists) is their rush defense — 3.6 rushing yards after contact per attempt (worst). However, a caveat exists — the Patriots have faced just 148 carries (second fewest) and that Week 5 Steven Sims jet sweep may skew the season-long numbers. Who better than Lamar Jackson to capitalize on any potential cracks in New England's rush defense? He has 313 rushing yards on designed run plays (most among quarterbacks) and another 263 rushing yards on scrambles. Jackson averages a missed tackle forced every 3.1 rushing attempts, the second-best rate among all NFL players (min. 50 rushing attempts), trailing only the joystick that is Alvin Kamara. PFF Fantasy's Daniel Kelley is unafraid of this matchup, ranking Jackson as this week's No. 3 quarterback.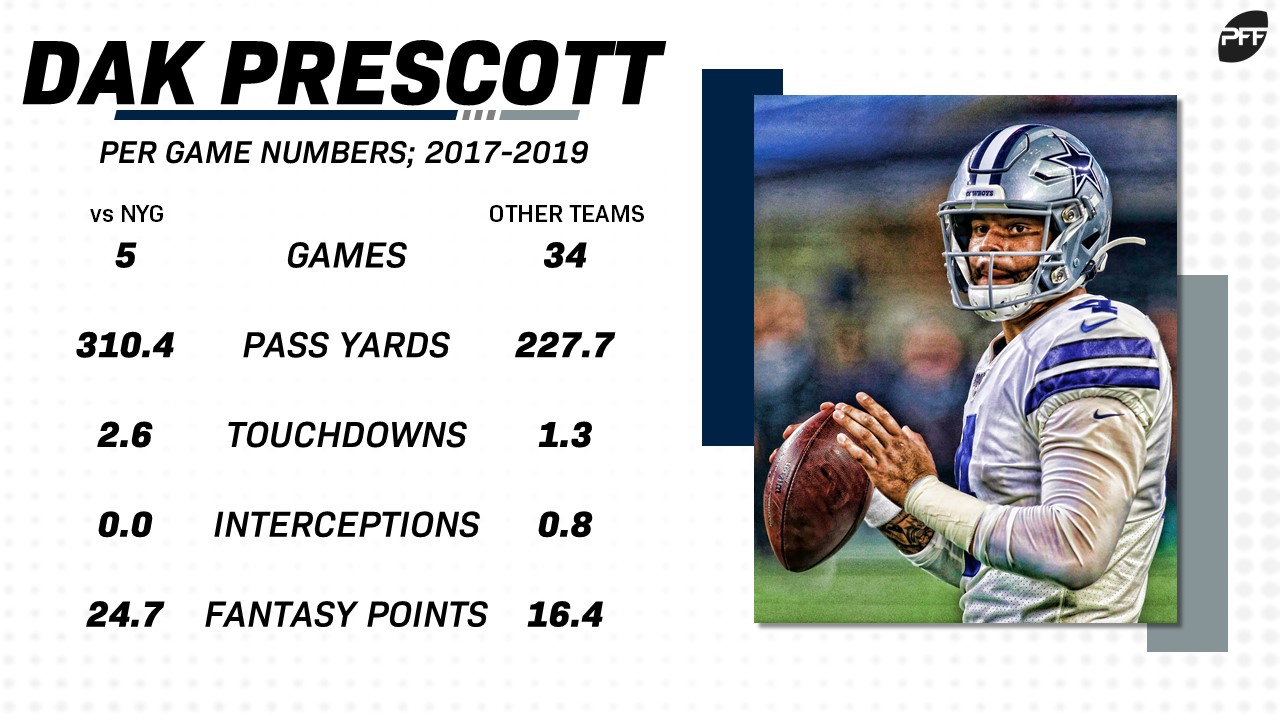 To say that Dak Prescott enjoys playing against the New York Giants would be an understatement. Check out his game logs since 2017:
Week 1 2019: 25/32 for 405 yards and 4 touchdowns
Week 17 2018: 27/44 for 387 yards and 4 touchdowns
Week 2 2018: 16/25 for 160 yards and 1 touchdown
Week 14 2017: 20/30 for 332 yards and 3 touchdowns
Week 1 2017: 24/39 for 268 yards and 1 touchdown
Victimizing DeAndre Baker and Grant Haley in coverage should be a breeze for Prescott. Check out their coverage metrics:
Baker – 153.6 passer rating (worst), 1.93 yards per cover snap (sixth), five touchdowns (second-most)
Haley – 118.8 passer rating (21st), 1.83 yards per cover snap (seventh), 6.5 cover snaps per reception (fifth).
Fire up Amari Cooper and Michael Gallup with extreme confidence – they have the second- and third-ranked WR/CB matchups.