Super Bowl LIII has finally arrived, and we're here to bring you the final round of fantasy football facts to know for the 2017-2018 season.
Without further ado, here are 53 facts to know for Super Bowl 53.
Tom Brady was our fifth-highest-graded quarterback this year (90.7).
Brady averages 322 passing yards per game in the Super Bowl (eight games). That's a 16-game pace of 5,152 yards.
Brady has averaged 345.5 yards per game so far in the 2018 playoffs.
Brady has thrown for just one touchdown in five of his last seven games. He threw for three and four touchdowns in the other two games.
Brady hasn't been sacked so far in the playoffs. He has only been sacked five times in the last eight games.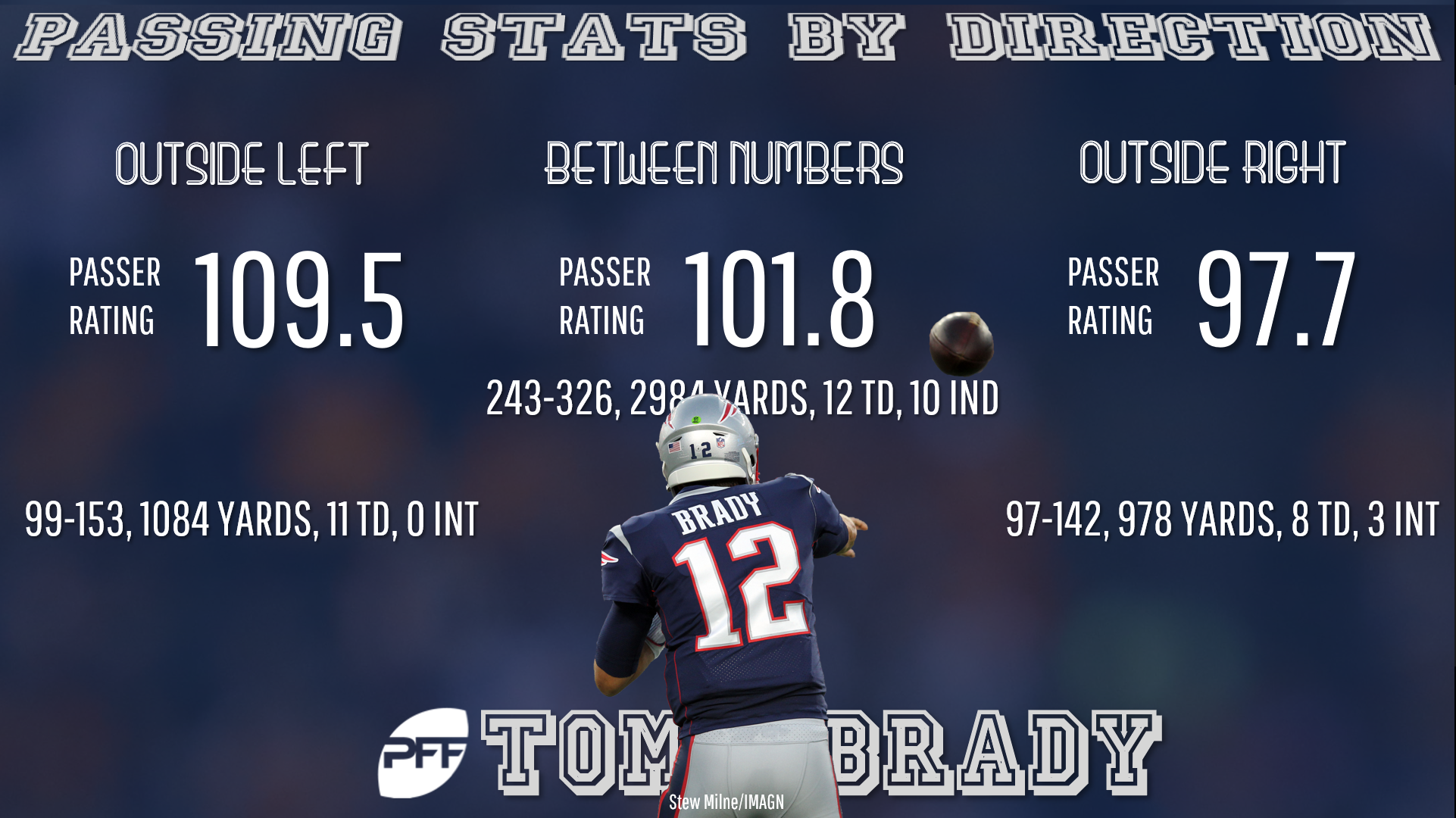 Throwing left or right, Brady completed 66.9% of his passes for 7.0 YPA with a 19:3 TD:INT ratio.
Throwing over the middle, Brady was 74.5% accurate with a 9.2 YPA, but had a 12:10 TD:INT ratio.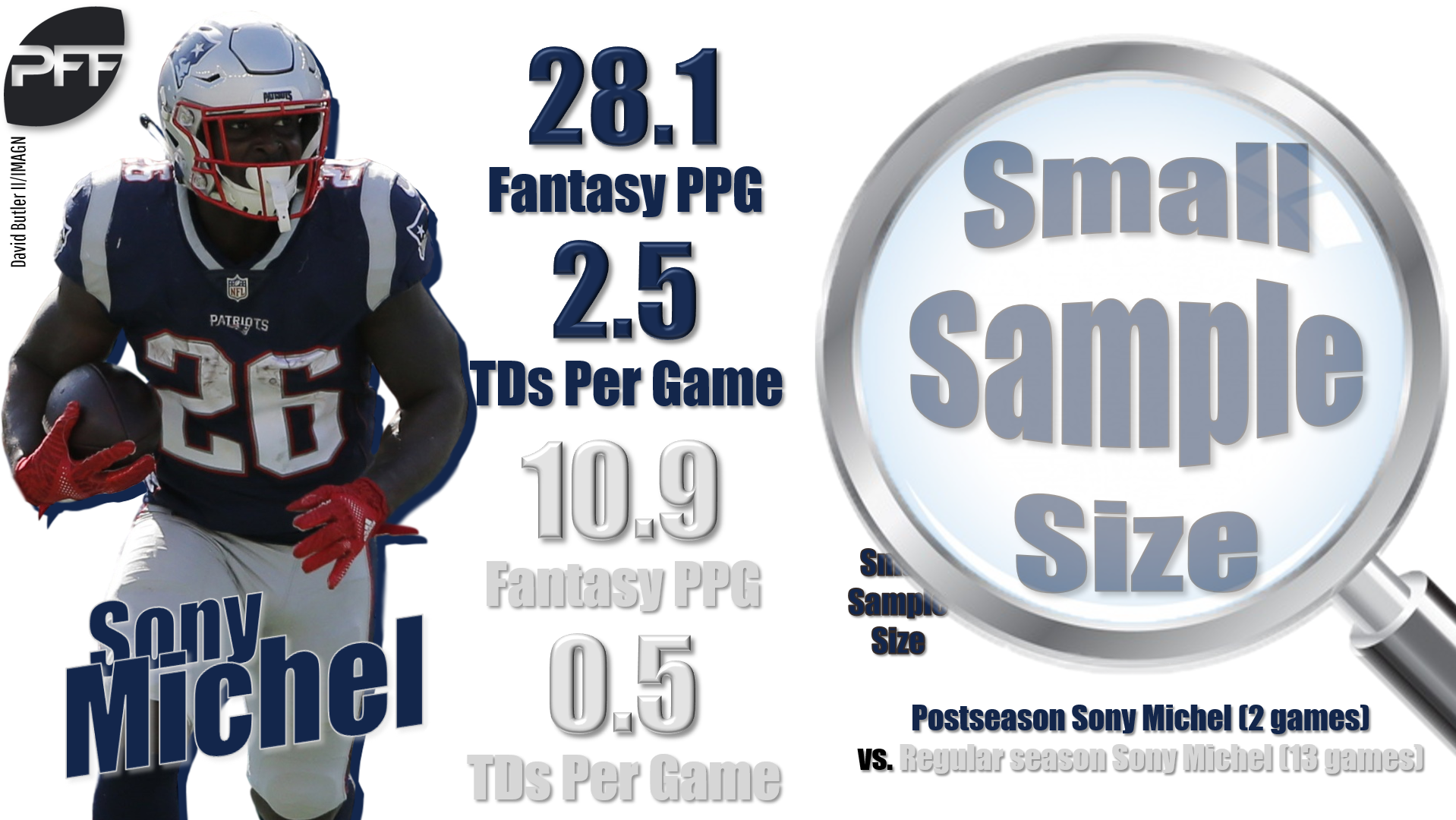 Sony Michel scored six touchdowns in the regular season in 13 games.
Michel has five touchdowns in two postseason games.
James White had 116 targets this year, second-most among all running backs.
White had seven receiving touchdowns, most among running backs.
White's seven receiving touchdowns tied a PFF-era record (Jamaal Charles and Darren Sproles) for a running back.
Rex Burkhead score more rushing touchdowns last week (2) than he did in the regular season (1).
The Rams allowed running backs to average 4.9 YPC against this season, fourth-most in the NFL.
Wide receivers caught 20 touchdowns against the Rams this year, tied for seventh-most in the NFL.
Julian Edelman averaged 8.75 targets per game this year, 10th-most in the NFL.
Over his last 12 playoff games (since 2013), Edelman averages 12.5 targets per game, eight receptions per game, and 99.6 yards per game.
Edelman is the only wide receiver on the Patriots roster who had a 100-yard receiving game this year. (He did it twice; so did Josh Gordon.)
Chris Hogan averaged over 15 yards per reception. No other Patriots receiver (other than Gordon) averaged more than 12 YPR.
Hogan had five end-zone targets this year, most among all Patriots receivers.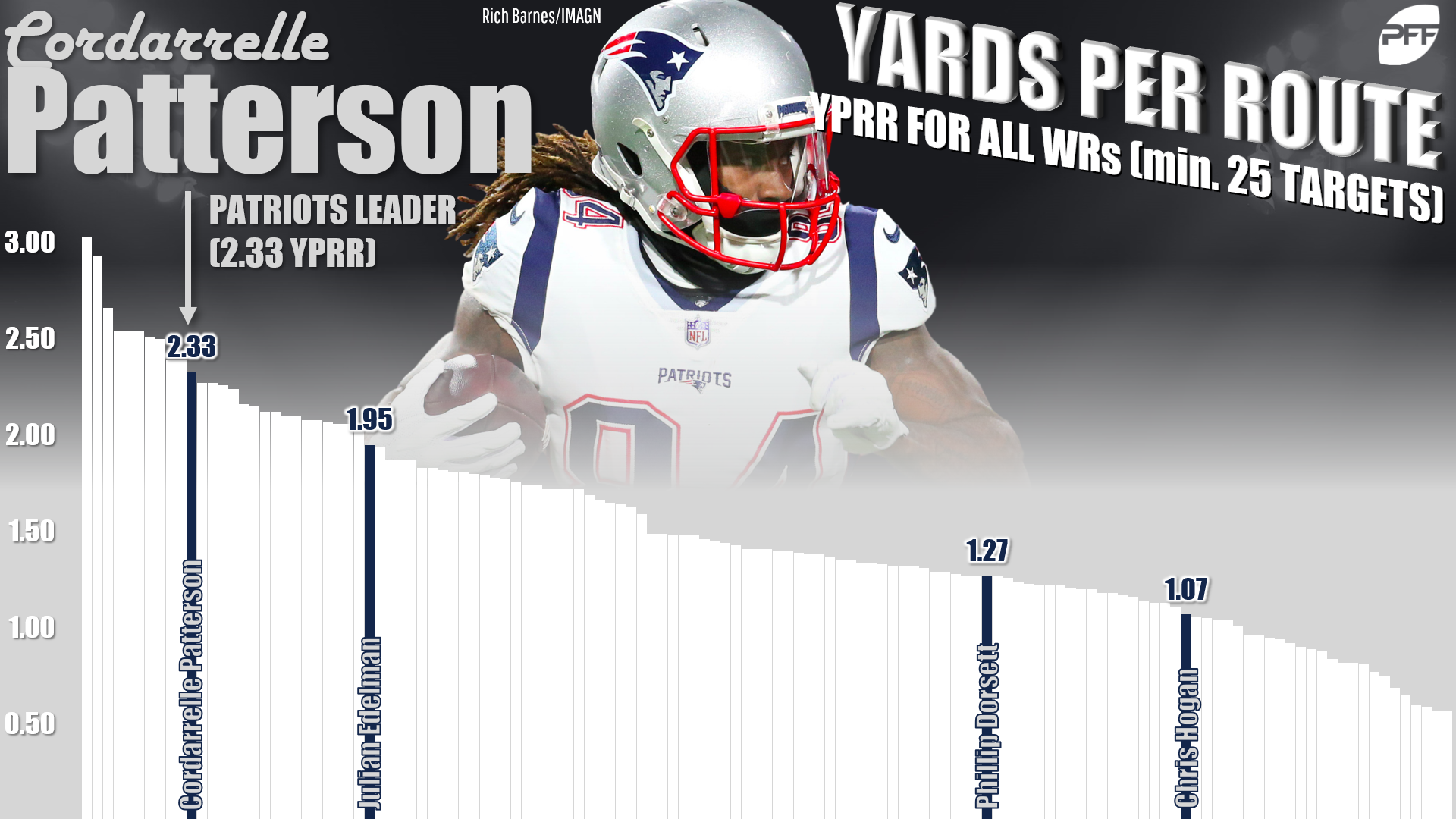 Among players with at least 25 targets, Cordarrelle Patterson's 2.33 yards per route run ranked 11th among receivers this season.
Hogan (1.07) and Phillip Dorsett (1.27) didn't even rank in the top 80 in YPRR.
Dorsett has scored a touchdown in three straight games. He had just two touchdowns from Weeks 1-16.
Rob Gronkowski led the Patriots with six end-zone targets this year.
Gronkowski has three or fewer receptions in eight of his last 10 games.
Gronkowski's 10 targets last week set a season-high, including several key third downs. His previous high was eight targets.
Gronkowski averaged 14.5 yards per reception, second-best in the NFL among qualifying tight ends (George Kittle had 15.7).
Jared Goff (87.2) was our eighth-best-graded quarterback this season.
Goff averaged 8.4 YPA, fourth-most among quarterbacks with at least 40 dropbacks this year.
Goff threw for 4,688 yards this season, fourth-most in the NFL.
Goff's 32 passing touchdowns were tied with Drew Brees and Philip Rivers for sixth-most in the NFL.
The Patriots defense collected 18 interceptions, tied for third-most in the NFL.
The Patriots defense also allowed 29 passing scores, tied for 10th-most in the NFL.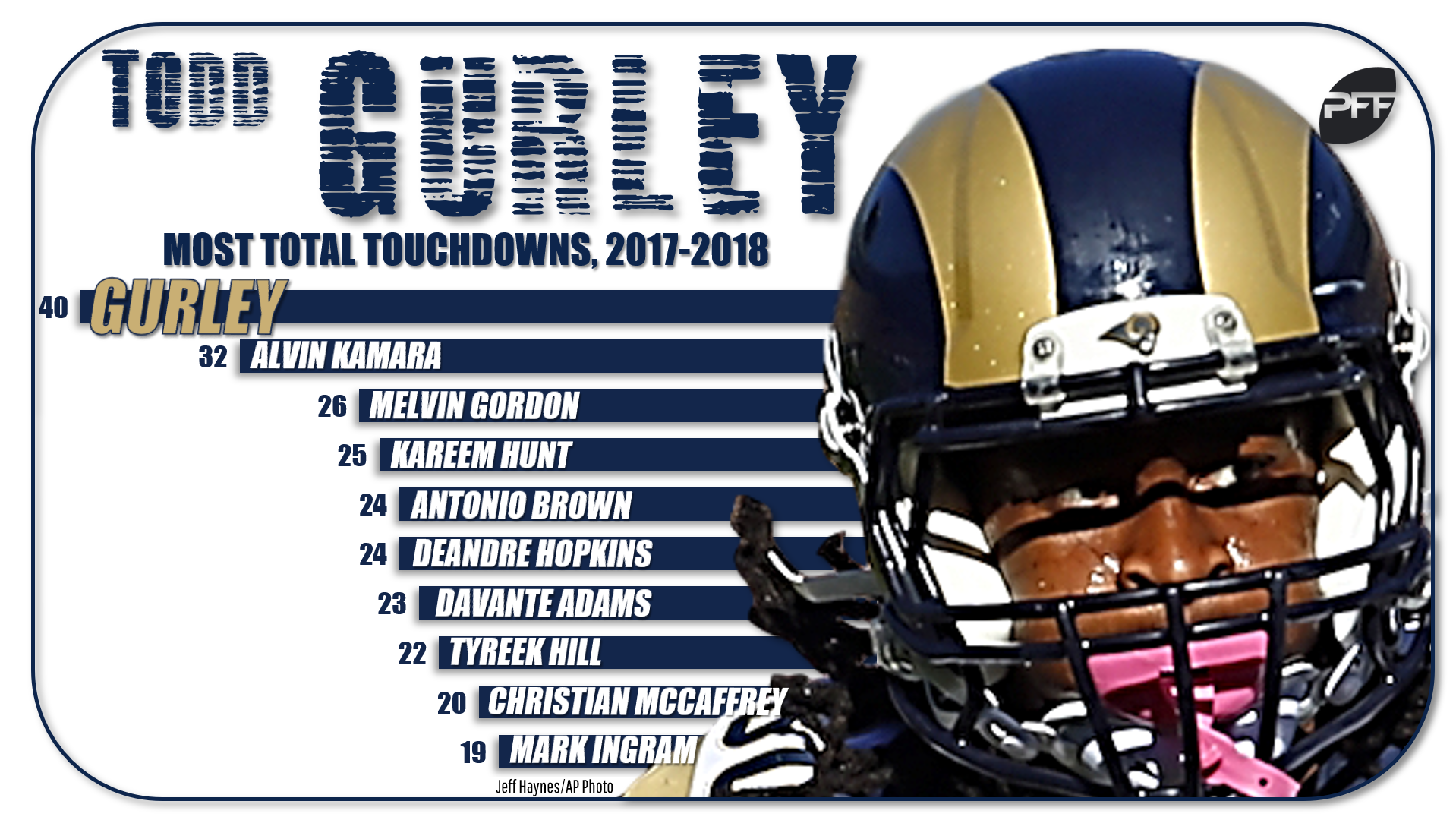 Todd Gurley scored 21 touchdowns this year, most in the NFL.
Gurley had 22 rushing attempts inside the 5 this year. No other player had more than 18.
Gurley had 64 red-zone rushing attempts this year. No other player had more than 51.
Gurley also had 20 red-zone targets, third-most on the Rams behind Brandin Cooks (26) and Robert Woods (27).
Over the last two games, Gurley had been out-touched by C.J. Anderson 40 to 23.
Anderson is averaging 117 yards per game over his last four contests, with four touchdowns in that span.
Anderson is averaging 19.5 fantasy PPG over the last month. That 16-game pace would have ranked sixth among running backs this year.
The Patriots allowed 4.75 YPC to running backs this year, eighth-most in the NFL.
Cooks (13.2) doesn't have the highest average depth of target among Rams receivers; Josh Reynolds (13.9) does.
Four different Rams receivers scored at least five touchdowns this year: Cooks and Reynolds each had five, while Woods and Cooper Kupp scored six apiece.
Cooks and Woods both topped 1,200 receiving yards this season. (Kupp was on pace for 1,110 yards.)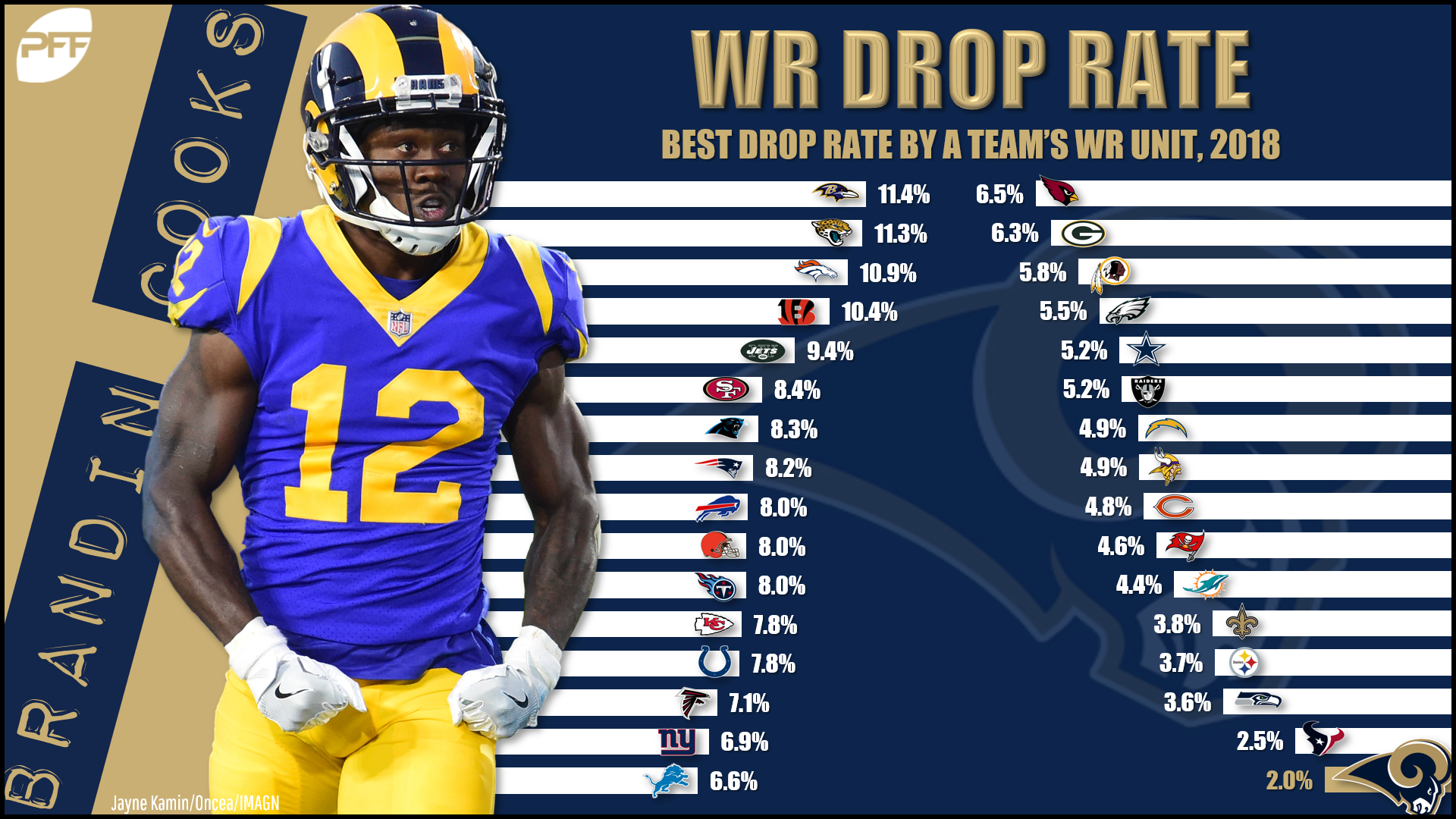 Cooks, Woods, and Reynolds saw a combined 276 targets this year. They dropped just three passes combined.
Cooks had five 100-yard games in the regular season, tied for seventh-most in the NFL.
Goff had an passer rating of 115.9 when targeting Cooks and 104.4 when targeting Woods.
More than a quarter of Reynolds' targets (27%) came while he was standing in the end zone.
No other Rams receiver had an end-zone target rate greater than 10%.
Gerald Everett had four end-zone targets and two end-zone touchdowns this year.
Tyler Higbee had three end-zone targets and one end-zone touchdown.
Everett out-targeted Higbee 48-t0-29 during the regular season and caught 33 passes to Higbee's 24.
However, in two playoff games, Higbee leads Everett in both targets (7 to 4) and receptions (6 to 2).