The 2021 NFL Draft is rapidly approaching, and PFF has everything you need to prepare. The brand-new fantasy rookie scouting report has detailed fantasy analysis for 75 skill position prospects. Be sure to check out the Big Board for player rankings and the 2021 NFL Draft Guide for detailed information and data about 300-plus prospects.
Having crunched the data and film over the past several months, I finalized my list of 2021 rookies who are worthy of the esteemed "My Guys" tag. These players are my favorite skill position prospects in the 2021 NFL Draft, and I am confident they will outperform their ADP in both re-draft and dynasty fantasy football formats. Last season, my list included Justin Jefferson, Antonio Gibson, CeeDee Lamb and Michael Pittman Jr.
Here are My Guys for the 2021 NFL Draft.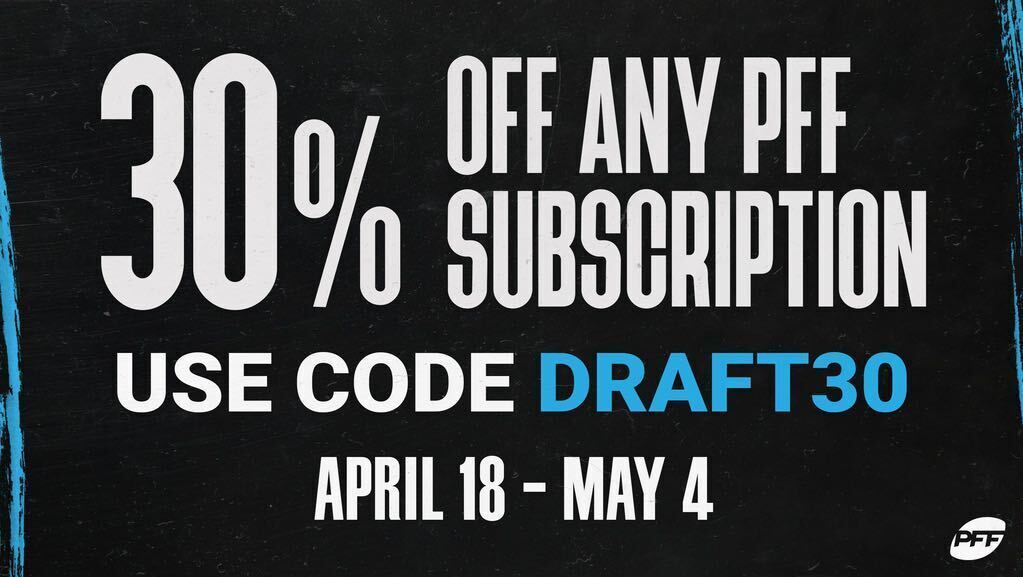 QB Trey Lance, North Dakota State
Rushing is king for quarterbacks in fantasy football, and Trey Lance is undoubtedly the most talented runner in this draft class. He offers the tantalizing dual-threat combination of monster arm with true game-breaking speed and athleticism. Lance is an aggressive downfield passer, generating a career 11.5-yard average depth of target, and he posted a 1,150-14 rushing line in 2019.
In an utterly loaded quarterback class, Lance may possess more pure physical talent than all of them. He was absolutely stellar as a passer in 2019, recording an 88.7 passing grade, 28 touchdowns and zero interceptions. He demonstrated remarkable decision-making on tape, and the ability to keep the football out of harm's way is a skill that translates well to the NFL level.
Jalen Hurts' performance last season exemplifies Lance's tantalizing upside. Hurts aggressively attacked downfield with the highest average depth of target in the NFL (10.1 yards). In Weeks 14-16, Hurts averaged 79.3 rushing yards per game en route to the third-most fantasy points among all quarterbacks (trailing only Lamar Jackson and Josh Allen). Trey Lance embodies that exact combination of downfield passing and rushing upside, which makes him an exciting fantasy football prospect.
Unlike Hurts, Lance will have high draft capital attached to him as a likely top-10 draft pick. He will be given every opportunity to succeed at the NFL level, even if he encounters growing pains early on in his career. This is critical for a quarterback who needs to work on his accuracy. Whichever team drafts Lance will do so with the expectation that it will require patience as he unlocks his full potential.
Lance's blend of a downfield cannon with dynamic athleticism creates limitless fantasy football upside and a ceiling that could rival the epic 2019 MVP season of Lamar Jackson. It may take a year or two, but Trey Lance has a clear path to becoming the No. 1 fantasy football quarterback in this draft class.
The debate about who comes out on top among the big three running backs has a clear answer in my mind: Javonte Williams. He earned the highest rushing grade in PFF College history last season (95.9), broke 76 tackles (first) and generated a 48% missed tackle rate (first). Williams is simply impossible to tackle, which is precisely why he is the No. 1 running back on PFF's Big Board.
Rushing attempts last season
– Najee Harris: 252
– Travis Etienne: 166
– Javonte Williams: 157

Rushing forced missed tackles last season
– Javonte Williams: 76
– Najee Harris: 71
– Travis Etienne: 44

— Jarad Evans (@PFF_Jarad) April 19, 2021
The ability to create yardage and generate production after contact is my favorite data point when evaluating running back prospects. Javonte Williams is unquestionably the best running back after contact in this draft class. I am not concerned about his speed in comparison to Travis Etienne and Najee Harris — Williams' 4.5-second 40-yard dash proves he is plenty quick enough to break off big runs. Derrick Henry ran a 4.5-second 40-yard dash and does not seem to have any problems churning out 50-plus-yard touchdowns.
Situation is crucial for running backs, and racking up immense production in high-powered offenses like Clemson and Alabama is far less impressive than doing so at North Carolina, which had the 81st-ranked run-blocking unit last season.
Williams will probably be the third running back taken in the 2021 NFL Draft, behind Harris and Etienne and most likely somewhere in Round 2. The draft capital difference will make Harris and Etienne more expensive than Williams in fantasy drafts. Give me the ADP discount on Williams over the premium on Harris and Etienne all day, every day.
Rashod Bateman is my WR3 in this draft class, sitting behind Ja'Marr Chase and DeVonta Smith. He is a physical receiver and a gifted route-runner who can win both outside and from the slot. Bateman also attacks the football in contested-catch situations, using his strong hands to beat defensive backs for the ball. His release package is exceptional, allowing him to blast off the line of scrimmage against anyone.
Despite playing second-fiddle to Tyler Johnson in 2019, Bateman posted a monster 60-1,219-11 receiving line while averaging a whopping 20.3 yards per catch (third-most in college football, behind CeeDee Lamb and Ja'Marr Chase).
Bateman initially opted out of the 2020 season due to COVID-19, but he decided to return midway through the year and his production was understandably not up to the high standard he set the year prior. In an appearance on PFF's 2 For 1 Drafts podcast with Mike Renner and Austin Gayle, Bateman discussed his battle with COVID-19 that caused him to lose over 20 pounds. Accordingly, I am leaning on his 2019 production and tape for this evaluation rather than 2020.
Back in 2019, Bateman led college football in yards per route run from an outside alignment. He shifted to the slot on 67% of snaps in 2020 and averaged a healthy 15.5 yards per catch. He possesses the versatile skill set that NFL teams covet, and he can be a weapon from inside and out.
Many analysts dropped Bateman in their ranks after he measured in at 6-feet and 190 pounds at Minnesota's Pro Day. I have zero concern about those measurables, as there are plenty of elite wide receivers with a similar height and weight combination. I see a lot of Stefon Diggs in Rashod Bateman's game. Diggs is a route-running artist both inside and outside at 6-feet and 190 pounds. Additionally, Bateman's electric 4.39-second 40-yard dash alleviates any concerns about his speed on tape.
The Minnesota product's versatile skill set is likely to make him an early contributor regardless of his eventual landing spot. His release and route-running chops are what star wide receivers are made of. Bateman has WR1 fantasy upside.
The rise of the NFL slot receiver has transformed the likes of CeeDee Lamb, Keenan Allen, Cooper Kupp and Chris Godwin into fantasy studs. The slot is quickly becoming even more advantageous to fantasy production than the outside because offensive coaches are keenly aware that most teams do not have a capable linebacker, safety or slot cornerback to handle elite athletes. Elijah Moore fits the new breed of slot receiver that combines savvy route-running and hands with blazing speed.
Moore's draft profile is reminiscent of Justin Jefferson from last year. Jefferson was not viewed as a top-tier wide receiver prospect because most of his college production came from the slot and there were legitimate questions as to whether he could play on the outside in the NFL. Moore is not the same prospect from a physical perspective, but he's entrenched in a similar slot versus outside debate that is depressing his draft stock into the back end of Round 1 or even into Round 2.
It would be hard for Moore to primarily play on the outside with his 5-foot-9 frame, but there is nothing to suggest that he cannot spend time at both alignments. He was simply never given the opportunity to work on the perimeter at Ole Miss, like Jefferson at LSU. Yet, Moore possesses elite 4.3-second speed with sharp route-running and strong hands.
He is priced at his floor, which is a top-tier slot receiver, but like Jefferson, his price fails to account for a ceiling that could also include outside production. That upside could resemble a more consistent Tyler Lockett with a 60% slot snap rate and 40% outside snap rate.
Nico Collins is this year's Chase Claypool. He is currently projected as a Day 3 NFL draft pick, but he is not your typical sleeper prospect. Collins' draft stock is on the rise, and some team will select him in the second or third round. Accordingly, the increased draft capital will afford him the opportunity to see the field earlier than most people expect, paving the way for him to be an impact rookie.
Just as Claypool did at the NFL combine, Collins turned heads with his performance at Michigan's Pro Day in a way that completely transforms his prospect evaluation. Here are his Pro Day measurables:
Height: 6-foot-4 (93rd percentile)
Weight: 215 (82nd)
Arm: 34 1/8 (97th)
Vertical: 37.5 (74th)
Broad: 125 (76th)
40-yard: 4.42 (78th)
3-cone: 6.78 (79th)
Collins' biggest strength is stacking cornerbacks and out-muscling them for the football in contested-catch situations. He excels at tracking and adjusting to the football in the air and possesses a massive frame that gives the quarterback a huge target. Collins averaged a whopping 19.7 yards per catch while registering a 91.2 PFF grade on contested targets in 2019 (minimum 20 contested targets), ranking 13th among all wide receivers in college football.
Wideouts who are 6-foot-4 and 215 pounds with blistering speed and the athleticism to jump out of the gym do not grow on trees. The three players who come to mind are Claypool, Courtland Sutton and Kenny Golladay, showing the kind of upside that could be in store for Collins as a contested-catch artisan with the wheels to stress cornerbacks vertically and get behind a defense. His ability to win downfield and in contested-catch situations presents mouth-watering fantasy football upside at a bargain price tag.
Get me a tall glass of whatever they put in the water in Memphis' running back room — Kenneth Gainwell is the latest stud running back to come out of the powerhouse unit. He opted out of the 2020 season, but in 2019, he started over Antonio Gibson and tallied an exceptional 1,466-13 rushing line and 51-610-3 receiving line.
Gainwell is on the smaller side, but he runs incredibly hard with fierce agility and is a nightmare for linebackers or safeties one on one. Despite being 5-foot-11 and 195 pounds, he has the strength to power through contact, tallying a respectable 56 forced missed tackles and 791 yards after contact in 2019.
What excites me most about Gainwell's NFL potential is his stellar receiving ability. He legitimately has the skill set of a slot receiver at the running back position — a difference-making characteristic in PPR fantasy football leagues. Gainwell could see a similar role to Alvin Kamara or Austin Ekeler as a dangerous pass-catcher out of the backfield who consistently sees 10-plus carries and five-plus targets per game.
Hubbard possesses legitimate track-star speed — he was a world-class sprinter in high school at the 100-meter dash and captured three Canadian National Championships while also placing fourth overall at the World Youth Championships in 2015. That sprinter speed showed up on tape and at his Oklahoma State Pro Day, where he clocked a 4.48-second 40-yard dash. There were even some hand timers that clocked Hubbard as low as 4.36 seconds.
Chuba Hubbard runs a 4.36 ⚡️

(via @ryannovo62)

— PFF Draft (@PFF_College) April 1, 2021
Hubbard burst into superstardom after a ridiculous 2019 season in which he racked up 2,094 rushing yards and 21 rushing touchdowns on a bell-cow workload, seeing 328 carries and earning a stellar 88.1 PFF grade (tied with Alabama's Najee Harris for ninth among all running backs in college football). And then came his injury-riddled 2020 season where he labored to a 627-5 rushing line with a lowly 71.9 PFF grade. Those struggles have torpedoed his draft stock and perception around the fantasy football industry.
2020 was an odd year for a lot of obvious reasons. College football teams had limited practice ability and essentially no offseason on top of all the craziness happening off the field. I am not saying that player performance in 2020 doesn't matter, but perhaps there is an explanation as to why certain prospects inexplicably struggled last season after shining the previous year.
The critical question for Hubbard is: Will his NFL team get the 2020 or 2019 version of him? For fantasy football purposes, Hubbard's draft cost is likely to be extremely cheap. He makes an excellent gamble toward the end of drafts that perhaps Hubbard regains his 2019 form.