The NFL draft is New Year's Eve for dynasty players, and with all of the work it creates leading into rookie drafts, it is easy to become attached to the players you select. In behavioral economics, that tendency is called the endowment effect. People place more value on things if they own them than they would if they didn't. Even in deeper dynasty leagues with big benches, that bias can rob you of the chance to roster a player with a real chance to contribute in the future.
To help you clear out the closets of your dynasty rosters in anticipation of the new rookies you'll draft, I researched how far into their careers successful fantasy players were before they showed those tendencies. Specifically, I looked at every quarterback and tight end who entered the league since 2007 and has produced at least one top-12 fantasy season at his position and every running back and wide receiver who entered the league since 2007 and has produced at least one top-24 fantasy season at his position. Then, I calculated the difference in weeks between Week 1 in those players' rookie seasons and the first week of their careers where they finished top-12 or top-24 at their position for the week. I've illustrated that research in a plot of draft round against the number of weeks into a player's career when he had his first productive fantasy week, split by position.
Quarterbacks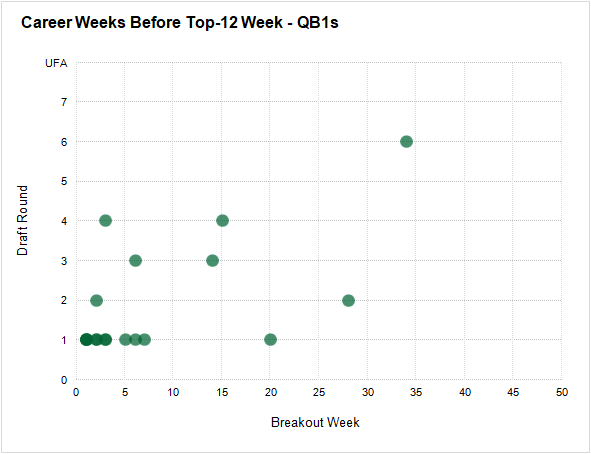 Notable players who make me nervous: AJ McCarron (68)
Notable players you can cut: Christian Hackenberg (34), Cardale Jones (34), Bryce Petty (51), Garrett Grayson (51)
This exercise is probably least useful for quarterbacks. Most of the teams who draft one are compelled to quickly discover whether he can make it in the league, and pretty much every quarterback who starts for several weeks will notch at least one top-12 fantasy week. There have been exceptions, and those tend to come from mid- and late-round quarterbacks who are drafted to be backups, at least in the short term. For example, second-rounder Colin Kaepernick held the clipboard for Alex Smith in San Francisco for the bulk of the 28 weeks of his career before his first QB1 week. Tyrod Taylor (sixth round) and Jimmy Garoppolo (second) both needed a new team to fully escape from Joe Flacco's and Tom Brady's shadows.
But in all of those cases, the player's talent either showed or eventually forced the issue. Both Taylor and Garoppolo put up QB1 weeks on their original teams when their starters were out for various reasons. Kaepernick took Smith's job from him. The quarterbacks like Garoppolo and Patrick Mahomes who have followed a similar path should be fine. Their late-career fantasy emergences make sense. I'm not sure that's the case for McCarron, who had a less-entrenched veteran to unseat in his four years in Cincinnati. You probably shouldn't outright drop him now that he finally is a nominal starter, but I would trade him to a quarterback-desperate team if I could. Meanwhile, players like Jones, Grayson, and the Jets' backups have all had ample time to demonstrate a readiness to start and have failed to do so. Feel free to release them.
Running backs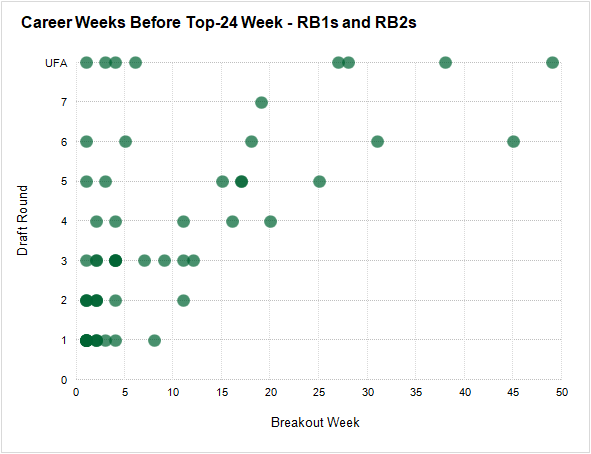 Notable players who make me nervous: James Conner (17), Mike Davis (51)
Notable players you can cut: Ka'Deem Carey (68), Kerwynn Williams (68), Travaris Cadet (102)
All 33 of the eventual RB1s or RB2s in this study who were drafted in the first three rounds of the NFL Draft put up a top-24 week within the first 12 weeks of their first years. Conner had a better reason to fail to do so than most of them would have in Le'Veon Bell, but he also only saw 32 total touches in a generally healthy rookie season. That makes me think Conner's value is exclusively as a potential handcuff rather than as a long-term asset in his own right.
Davis at least had the chance to start a few games in 2017, and a handful of late-round and undrafted backs like Spencer Ware and Danny Woodhead have broken through several years into their careers. But at 51 games deep, Davis would already be the most extreme outlier, and he hasn't done anything at this stage of his career that makes me believe should be the favorite to start over Chris Carson, C.J. Prosise, or a rookie running back in Seattle this year.
Wide receivers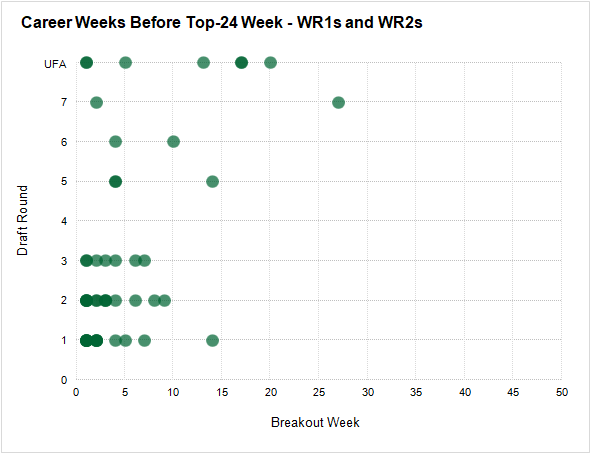 Notable players who make me nervous: John Ross (17), Curtis Samuel (17), Zay Jones (17), ArDarius Stewart (17), Amara Darboh (17), Chad Williams (17), Carlos Henderson (17), Taywan Taylor (17), Josh Doctson (34)
Notable players you can cut: Laquon Treadwell (34), Leonte Carroo (34), Braxton Miller (34), Demarcus Robinson (34), Ricardo Louis (34), Chris Moore (34), Pharoh Cooper (34), Tajae Sharpe (34), Roger Lewis (34), Johnny Holton (34), Kevin White (51), Philip Dorsett (51), Breshad Perriman (51), Chris Conley (51), Justin Hardy (51), Kasen Williams (51), Bruce Ellington (68)
I think of wide receivers as needing more time to adjust to the NFL than running backs do, but across the board, receivers were much quicker than backs to demonstrate their fantasy potential, at least in one game. Nelson Agholor is the only one of 16 first-round eventual WR1s or WR2s who didn't flash a top-24 fantasy week by Week 7 of his rookie season, and he still sneaked one in at the end of his first year. Mike Williams and John Ross from last year's draft can't claim that. Injuries no doubt contributed, but I'm at least nervous about Ross at this point.
Beyond the first round, Rishard Matthews (27) was the only eventual WR1 or WR2 who needed longer than Week 3 in his sophomore season to flash potential. That suggests players like Zay Jones and ArDarius Stewart will quickly show improvements this season — think Victor Cruz — or likely never will. Entering his third year, Josh Doctson would be in modern uncharted territory if he became a fantasy starter this season. I've been treating him like an exception, but the Redskins' decision to add another downfield threat in Paul Richardson has me concerned.
Tight ends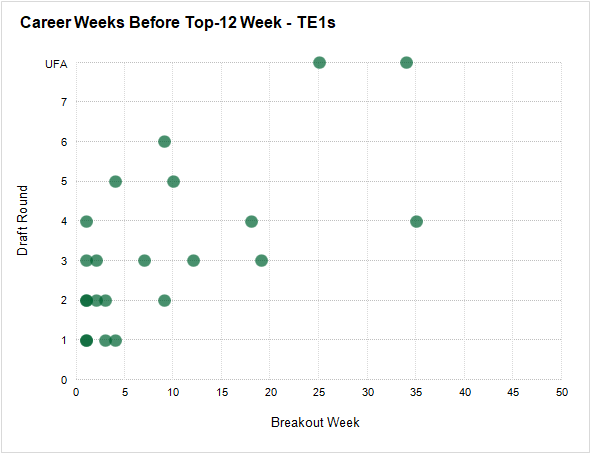 Notable players you can cut: Blake Bell (51), C.J. Uzomah (51), Nick Boyle (51), Logan Thomas (68), Orson Charles (102)
With Evan Engram, O.J. Howard, and David Njoku all putting up at least one stellar fantasy week in 2017, there aren't many tight ends I expect dynasty owners are clinging to with false hope. But for future consideration, it does seem that tight ends follow a similar pattern to running backs where early-round selections flash that talent almost always in the first year while some later-round selections first pop into their second or even third years.