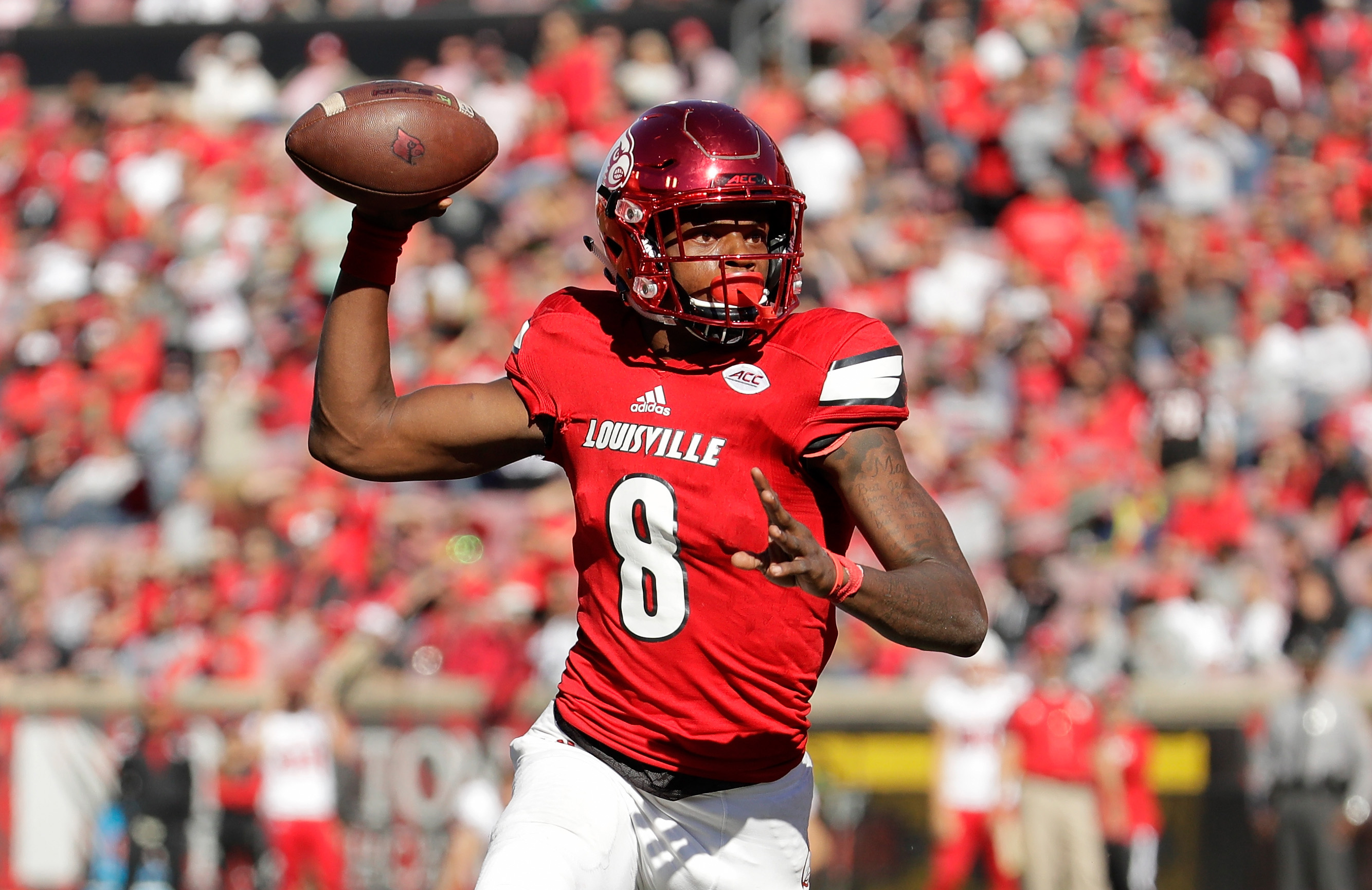 LOUISVILLE, KY - OCTOBER 22: Lamar Jackson #8 of the Louisville Cardinals throws a pass during the game against the North Carolina State Wolfpack at Papa John's Cardinal Stadium on October 22, 2016 in Louisville, Kentucky. (Photo by Andy Lyons/Getty Images)
Similar to redraft leagues, dynasty and devy fantasy football leagues see stock fluctuations throughout the season. However, they are not always as obvious since these fantasy owners are playing both a short and long-term game. This series will examine some dynasty and devy options who are emerging or fading as a result of injury, performance, or opportunity.
Dynasty stock up
Adam Thielen, WR, Minnesota Vikings
For anyone on the fence about Thielen and his role in the offense, Week 1 should have pushed you onto the greener grass. Clearly, he and Stefon Diggs are the primary wide receivers with former first-round pick Laquon Treadwell merely looking on from the sidelines. Thielen caught nine of 10 targets (two more targets than Diggs) and was third in the league with 57 yards after the catch. There may still be a slight discount here due to a lack of name value, but that window is about to close.
Tarik Cohen, RB, Chicago Bears
I wrote about Cohen in the Exception Report this week, so my feelings are already documented. He could legitimately threaten Reggie Bush's 88-target rookie season, tops among running backs since 1992. The team moved him to wide receiver for five snaps Sunday and he was targeted on all of them. With Jeremy Langford let go this offseason and the Bears' top two wide receivers gone, Cohen could be a short-term gold mine with some long-term potential as a PPR flex option.
Tyreek Hill, WR, Kansas City Chiefs
Another wide receiver who came into the season with questions, Hill has answered them all. He has the looks of a top option in an NFL offense and the explosiveness we saw in 2016 is back. Call the touchdown pace from last year fluky, but Hill is capable of breaking any touch for a score. He showed this in Week 1 with a beautiful 75-yard touchdown. Even with noodle-armed Alex Smith, Hill can finish the season as a top-12 fantasy receiver.
Mike Tolbert, RB, Buffalo Bills
Old running backs are not valued highly in dynasty leagues and neither are one-trick ponies like Tolbert. However, the Bills know their best chance of remaining competitive in games is to run the football. It showed with 42 rushes in Week 1 and Tolbert garnered 12 of those, including a touchdown from one yard out. Running backs operate on a career cliff, not a curve, meaning their play tends to drop off suddenly. If that happens to LeSean McCoy, Tolbert could see 15 to 20 touches weekly.
Devy stock up
Lamar Jackson, QB, Louisville
As a college player, no one is going to call Jackson anything else than a star. As an NFL quarterback prospect however, there have been outstanding questions. PFF currently ranks him first at the position, but more interestingly, has him graded seventh for his passing. When given a clean pocket, Jackson is seventh in NFL quarterback rating and ninth with a 77 percent completion rate. He is developing a more well-rounded skill set and could threaten the top overall pick in the NFL draft.
Simmie Cobbs, WR, Indiana
A player who was hyped heading into 2016, Cobbs basically missed the entire year. At 6-foot-4 and 220 pounds, Cobbs is being heavily featured by the Hoosiers early. He also has seven red-zone targets in just two games and is catching two-thirds of his targets overall. The 2018 NFL Draft is largely devoid of No. 1 wide receiver prospects. Cobbs, with a full season of health and productivity, has the potential to be that cornerstone option for an NFL team.
Dynasty stock down
Paul Perkins, RB, New York Giants
In limited time, Perkins struggled to get any traction against the Cowboys. The score did get out of hand quickly, which caused Perkins to be replaced by Shane Vereen. In 18 snaps, Perkins did have seven carries, but managed only 16 yards. Yes, 11 of those came after contact, meaning the offensive line was doing Perkins no favor. However, it is clear that Perkins will need positive game script to even have a chance at meaningful playing time.
Marvin Jones, WR, Detroit Lions
Jones' stock was already dropping, but Kenny Golladay's two-touchdown bonanza in Week 1 may have sealed Jones' fate. At best, he gets work in three-receiver sets when Golden Tate moves inside to the slot. However, it will be difficult to count on him from week to week. Jones played 58 snaps in Week 1, but saw just two targets. Granted, one was a touchdown, but that may help owners sell him off for a 2018 draft pick.
Eli Manning, QB, New York Giants
For those in superflex or two-quarterback leagues, Manning has been a staple option for those who prefer cheaper signal-callers. Unfortunately, the fleas that were less troublesome in past seasons have become more common in recent years. Week 1 showed the fragility of Manning's value as the absence of Odell Beckham Jr. flatlined the offense. Manning struggled to find Brandon Marshall and checked down to Shane Vereen, especially late in the game when the Giants needed to make a big play. It's hard to rely on Manning for anything more than a desperate fill-in start.
Kenny Britt, WR, Cleveland Browns
It was only a one-game sample, but it looked like DeShone Kizer had a rapport with Corey Coleman that didn't extend to Britt. Britt and Coleman both surpassed 50 offensive snaps for the game, but Coleman saw two more targets while Britt had a critical drop that brought the wrath of the Cleveland coaching staff. Kizer threw six deep targets and none of them went to Britt, which may limit a facet of Britt's game that was instrumental in his 2016 fantasy performance. It will be hard to start Britt even in deep leagues until there are signs that Kizer and the coaches trust him.
Devy stock down
Equanimeous St. Brown, WR, Notre Dame
By many, St. Brown has been seen as a top-three wide receiver in the 2018 draft. While I doubt these first two games have shaken people off that opinion, St. Brown has failed to stand out so far. His wide receiver rating is tied for 160th and his yards per route run is an equally dismal 133rd. Some of that is on the shaky quarterback situation but St. Brown's limitations on jump balls and contested catches are showing up more. This is a critical point to see if he can gain the polish and evolve beyond the raw physical receiver we have seen.
L.J. Scott, RB, Michigan State
While Scott was never viewed as a first-round draft prospect, there was some buzz going into the season. He is viewed as a big ball carrier who can also turn the corner for outside runs and catch passes when called upon. Unfortunately, Scott hasn't put it together thus far. His elusive rating is 120th among qualified players while he has only been able to break three tackles on 33 rushes and just one run of 15-plus yards to this point. There is still time for Scott to string some strong performances together, but if he continues to run without the power and quickness scouts noted, he could free fall out of the NFL draft and off devy boards.