Each week in this space, we're going to take a quick fantasy football trip through that week's DFS slate, offering up initial thoughts and reactions to the pricing and situations of that week. We'll look at some big salary changers of the week, some obvious plays, some guys to avoid, and some of the week's prime situations.
This isn't meant to be a comprehensive, one-stop-shop for all things DFS in Week 9. Rather, it's just an early look at the notable takeaways. Check back later in the week as our team offers up full breakdowns of every approach to the slate. But you can start your DFS week here.
Salary changes
FD price: $6,500 -> $6,500
DK price: $5,500-> $5,200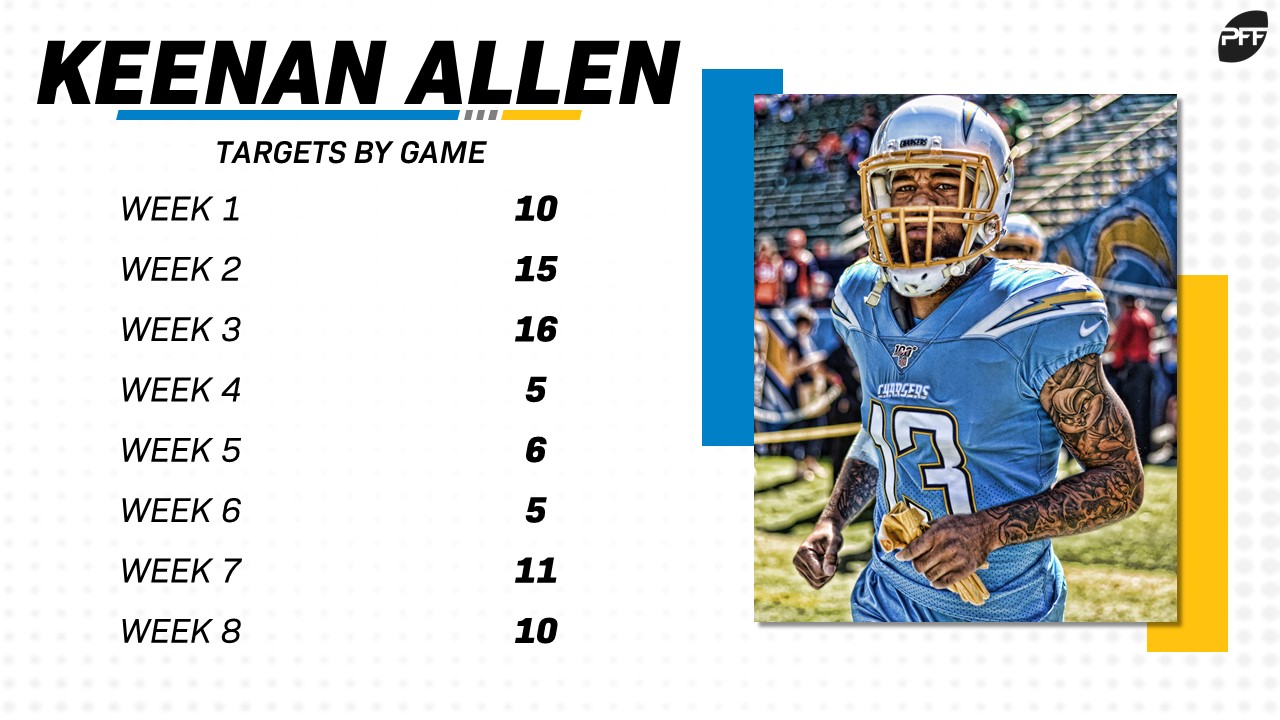 It has felt like Allen has been due for a rebound game for the past three weeks, but it just has not come. However, this week against the Packers, he's likely to return form. He will likely avoid the Packers top cornerback Jaire Alexander as he lines up in the slot or as the left wide receiver 75% of the time and Alexander typically plays the other side. If they decide to use Alexander in shadow coverage (he shadowed Emmanuel Sanders, Amari Cooper, and Marvin Jones this year), he's still beatable. Against a polished route runner like Cooper, Alexander got beat a lot and allowed 201 yards and a TD on 8 catches. Allen has a similar polished route tree like Cooper and could beat Alexander in that matchup if he does get shadowed. The volume has been there for him with the third-most air yards and the fourth-highest target share of 26% (11 and 10 targets last two weeks). In likely a positive gamescript as three-point underdogs, this is the week where Allen returns a lot of value on his salary.
FD price: $5,400 -> $5,300
DK price: $4,700 -> $4,200
The Bears RB situation has been in flux all season. After last week, it looks like we might have gotten some clarity with David Montgomery seeing 31 touches, but the Bears could easily change their approach this week. They face the Eagles, who have been very good at stopping the run but have struggled stopping the pass. We saw as recently in Week 7 how Matt Nagy can abandon the run against elite run defenses. The Saints have allowed the second-fewest rushing yards to RBs, and Nagy gave Montgomery two carries in the game. It might not be that drastic a change, but this should still provide more opportunities for Cohen if this approach stays similar. In Week 7 against the Saints, Cohen had 29 routes run, the third-most among RBs. He had 9 catches but the 19 yards on those catches hindered his upside. Given that many catches again, it would be hard to imagine Cohen being that ineffective again. This offers a good pivot play and potential value on Cohen coming off Montgomery's big week.
FD price: $7,400 -> $7,700
DK price: $7,000 -> $7,400
The matchup this week for Hill will likely have him seeing Xavier Rhodes for most of the game. The good news for Hill is that Rhodes has struggled this year. He has allowed 334 yards in coverage on just 40 targets. He's allowed 34 receptions on those targets (an 85% catch rate), and QBs have a 124.7 passer rating against him. Rhodes is best suited for matchups against bigger, physical wide receivers due to his size (6-1, 218 pounds), and Hill's speed should be too much for him. This could be the week where Hill breaks one of those 60-plus-yard TDs that he is always capable of.
FD price: $6,900 -> $6,800
DK price: $6,000 -> $5,700
The question for Henry typically is whether the game remain in a positive gamescript for him. This week, the Titans are implied 3.5-point underdogs, but the defense should continue to keep them in the game. Kyle Allen had a lot of trouble against the 49ers last week, and the Titans should try to implement what made him struggle last week in their game plan. With the game staying close, Henry should see a healthy amount of touches again. So far this year, he has seen 15-plus touches in every game. What has added to his upside has been the weeks where he is able to punch it in for a TD. He has a better chance of scoring this week, with the Panthers allowing the most rushing TDs to RBs (10). Henry is coming off a bad matchup for him against the Buccaneers, but he was still effective with 75 yards and 4.7 yards per carry despite having a 42-yard run called back. Henry is underpriced this week — especially on DraftKings, where he is around timeshare RBs like Austin Ekeler, Jamaal Williams, and Phillip Lindsay.
Chalk
Cook has been a stud this year with 19 or more PPR fantasy points in every game but one. He has a great matchup against the Chiefs, who let Aaron Jones rack up 159 yards as a receiver and have allowed the third-most rushing yards to RBs this year on top of that. Cook can get it done in a multitude of ways and coming off another big game against the Redskins last week, he should be popular as a very safe, high-upside play for people in their lineups.
It feels like Evans and Chris Godwin have just flipped a coin before each game all season to decide who is going to go off in that game. This past week, it was Evans' turn, as he went for 198 yards and 2 TDs on 11 catches. He draws another favorable matchup against Tre Flowers and the Seahawks, who are coming off a game where they allowed 460 passing yards to Matt Schaub. The game has an appealing over/under of 51.5 points and it should be a positive gamescript for the Bucs offense.
Lockett is on the other side of that same high-scoring Seattle/Tampa Bay game. The Buccaneers have allowed the fourth-most fantasy points to WRs this year, and Lockett remains the Seahawks' top option in the passing game. Last week, Seattle did not have to pass much (20 attempts), but against a good run defense in the Bucs, they will likely have to air it out more. This should make Lockett a popular play this week in a game that should be targeted for WR ownership in DFS.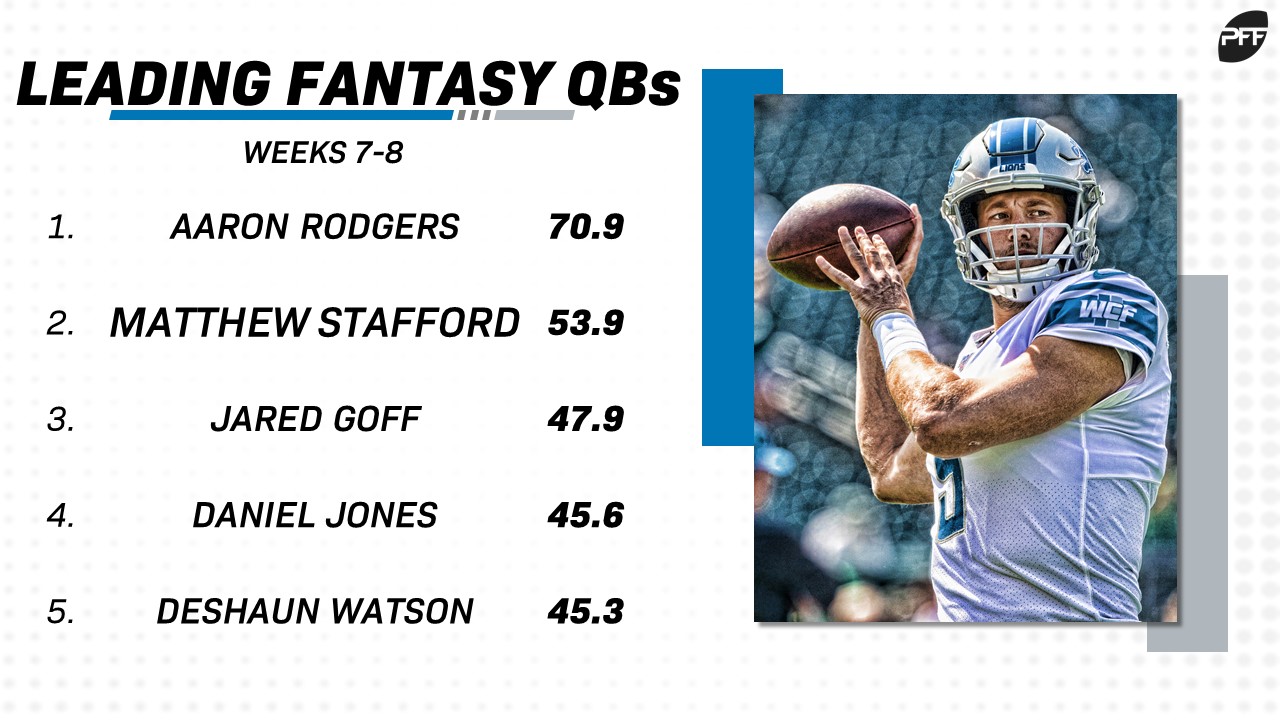 Stafford has quietly been very good over the past two weeks. He has had 342 and 364 yards in those games with 7 total TDs. He draws another favorable matchup this week against the Raiders, who have allowed the second-most fantasy points per game to QBs. He and Russell Wilson are in the most obvious smash spots and Stafford is the cheaper of the two putting a good amount of ownership on him.
Plain and simple, tight end on this week's main slate does not offer much to get excited for. You have four players at the top — maybe three, given the recent Zach Ertz struggles — that you feel comfortable playing, in Waller, Travis Kelce, and Hunter Henry. Of those, Waller has been the one offering the most upside and has been very consistent. A lot of ownership should be on Waller and Kelce this week.
Fades
The Buccaneers have allowed the fewest rushing yards to RBs this year. That does not bode well for Carson, considering he has only 3 receptions for 9 yards receiving over the past two weeks. Without the receiving ability to keep his floor and ceiling intact, Carson is too risky a play this week.
David Montgomery, RB, Chicago Bears
As mentioned above with Cohen, Nagy could take a similar approach he took when he faced a good run defense in the Saints. Montgomery only saw 2 carries in that game and played 47% of the snaps. The Bears could get down in this game and/or struggle to get anything going on the ground making them take a pass-heavy approach against a tough Eagles run defense this week. Montgomery will likely struggle to offer nearly as much efficiency as he did last week and shouldn't see the same volume either.
The Chris Harris lockdown coverage of WR1s this year has been tough to overlook. Last week it was T.Y. Hilton who fell victim to Harris — Davante Adams, Keenan Allen, D.J. Chark, Allen Robinson, and Hilton have all finished below 60 receiving yards in this matchup. There is speculation Harris might be traded, so if he is Beckham's Sunday will get a whole lot easier.
This sets up as a game where Cook and the Vikings run all over the Chiefs. In those type of gamescripts, Cousins has typically not been able to have the same fantasy success. Adam Thielen is expected to play this week, which helps, but hamstring injuries can be tricky and could limit him during the game if it is more severe than let on to be.
Matchups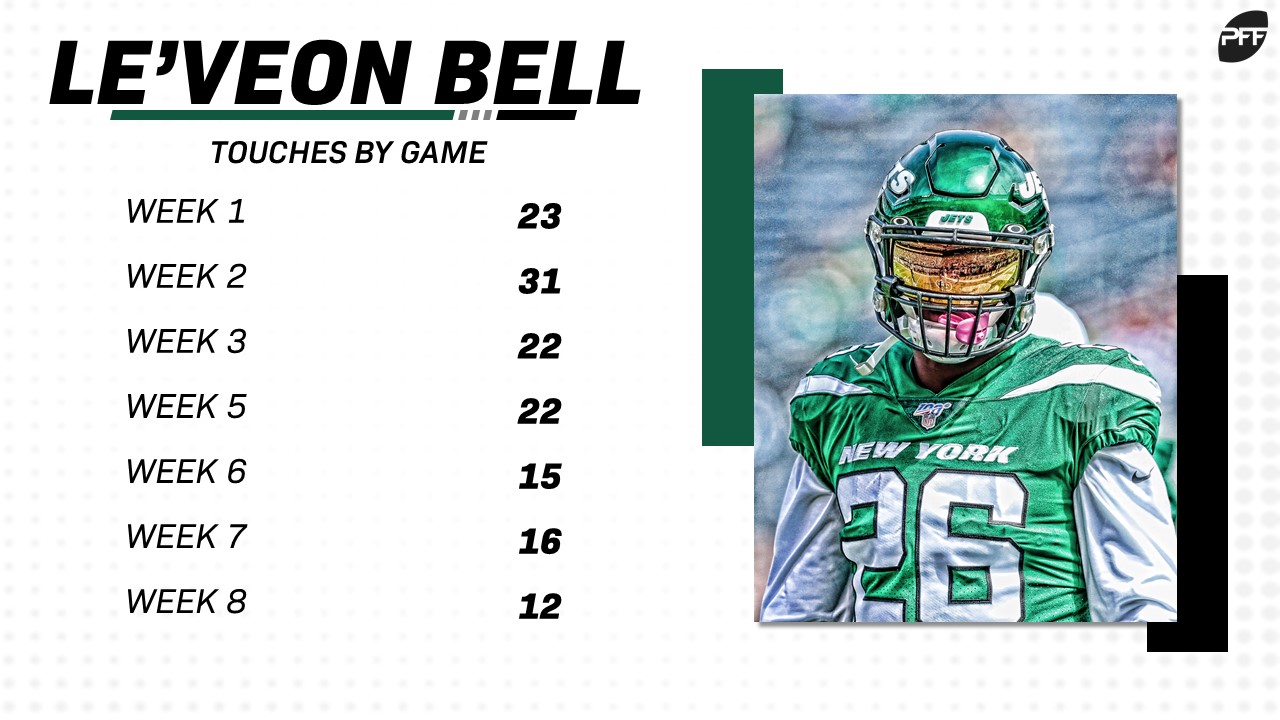 After appearing to be a workhorse RB for the Jets in the first two weeks, things have gone south for Bell the last two weeks. He has had just 12 and 16 touches in the last two games, which seems unacceptable considering the lack of weapons they have at WR and Bell's contract. The OL play has been below-average this year, which has hampered Bell, but with a matchup against the Dolphins this week you would expect him to be much more efficient. We saw a similar get-right game in efficiency Monday for James Conner, as he ran for 145 yards on 6.3 YPC against the Dolphins. Before that game, Conner had 3.2 yards per carry on the season. Just as bad, Bell sits at 3.2 YPC and the Dolphins disheartening offense should allow more opportunities for him to see touches.
Kenny Golladay, WR, Detroit Lions (@ Oakland)
The injury to Kerryon Johnson should make the Lions offense centered around Golladay for the rest of the season. In his first game without Johnson Sunday, Golladay went for 123 yards and 2 TDs. He draws a great matchup against the Raiders, who have allowed the sixth-most fantasy points to WRs. He has one of the biggest mismatches in the WR/CB battles this week against Daryl Worley. Worley had been the No. 2 cornerback to Gareon Conley, but with Conley being traded last week, we can expect Worley to struggle against opposing WR1s like Golladay going forward. This game projects to be high-scoring with the second-highest over/under at 50.5. Golladay should be in for another explosive day.