Each week in this space, we're going to take a quick fantasy football trip through that week's DFS slate, offering up initial thoughts and reactions to the pricing and situations of that week. We'll look at some big salary changers of the week, some obvious plays, some guys to avoid, and some of the week's prime situations.
This isn't meant to be a comprehensive, one-stop-shop for all things DFS in Week 6. Rather, it's just an early look at the notable takeaways. Check back later in the week as our team offers up full breakdowns of every approach to the slate. But you can start your DFS week here.
Salary changes
FD price: $7,300 -> $6,800
DK price: $6,800-> $6,400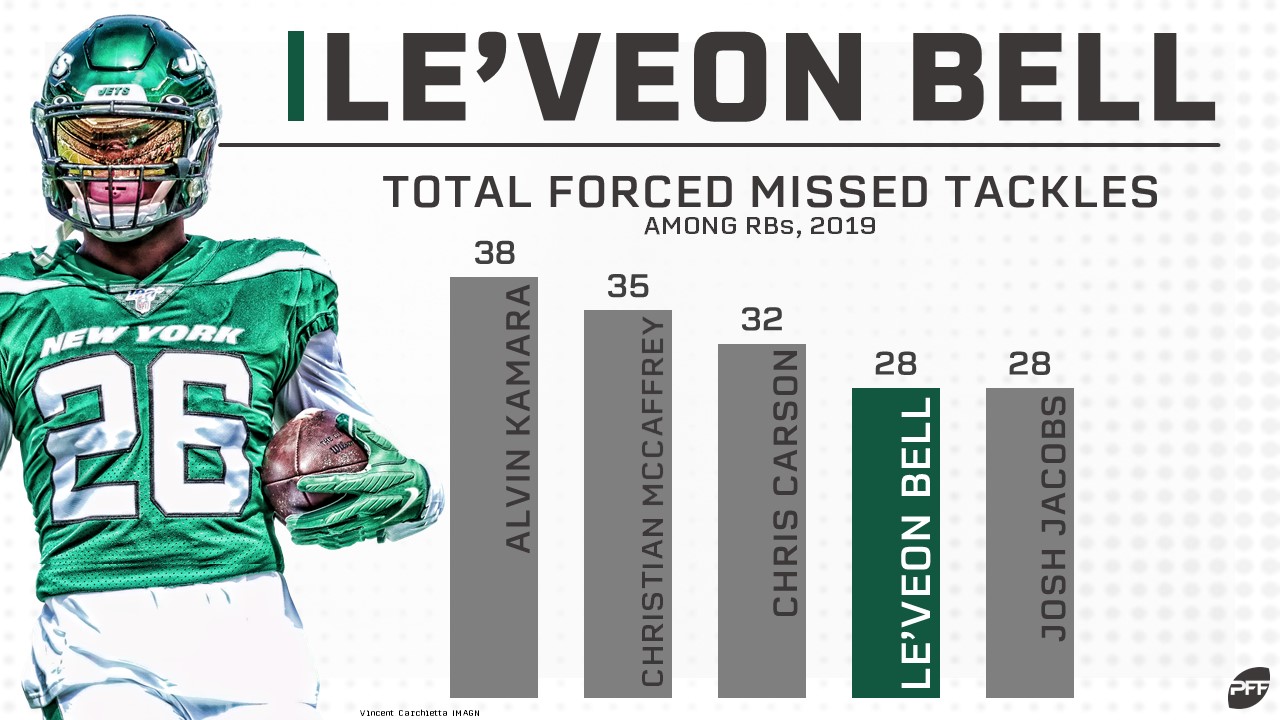 The Jets offense has been a train wreck over the last three games without Sam Darnold. Bell has averaged just 3.7 yards a touch and the offense has struggled to move the ball past midfield. However, things can change quickly this week with Darnold looking very close to returning to the field after battling mono. After facing one of the best run defenses in the Eagles last week and a dominant defense in the Patriots, this is a good buy-low opportunity. It comes with a matchup that sets up well for Bell's skillset as well. Despite his struggles getting yards, he ranks top-10 in avoiding tackles among RBs. The Cowboys have shown a big weakness in their run defense and have missed 17 tackles on Aaron Jones and Alvin Kamara over the past two weeks. If Darnold is back this week, we could see a vintage Bell performance.
FD price: $6,000 -> $5,800
DK price: $6,200 -> $5,900
Diggs has obviously not been happy with his role in the Vikings offense this year. Through five games, he has only been targeted 23 times and has played second fiddle to the Vikings running game. That said, this matchup against the Eagles couldn't come at a better time for the Vikings if they want to keep Diggs happy. The Eagles have been one of the biggest funnels to the passing game this year, allowing the second-fewest rushing yards to RBs and just 2.8 yards per carry. This game also projects to stay close with the Vikings three-point home favorites. In the two games Diggs has had a positive gamescript, he has seen 7 targets twice and averaged 116 air yards per game. Diggs should be able to create separation early and often this week and against a stout run defense, the Vikings will have to rely on him.
FD price: $5,600 -> $5,600
DK price: $4,200 -> $4,400
If there ever was a week to play Drake this year, it's this one. The Dolphins finally have a game where they can at least keep it close against the Redskins as only 3.5-point underdogs. With them getting behind so much in previous games, the Dolphins have turned away from Drake in the second half. A closer game against the Redskins should give Drake a higher snap and touch count at a cheap price tag. The Redskins have struggled to keep drives alive this year and have allowed the third-most touches to RBs. Drake could be one of the best value running backs if the Dolphins give him 15-plus touches again.
FD price: $5,800 -> $5,600
DK price: $6,000 -> $6,100
Fitzgerald made a lot of sense this past week with the Cardinals being so thin at WR with the injury to Christian Kirk. He put up a modest line of 6/58 but was mostly limited to a negative gamescript as the team had better success running the ball. This game against the Falcons projects to be a better gamescript, and the Cardinals should have to be more pass-oriented, especially if David Johnson's back injury does not improve by Sunday. Both the Cardinals and Falcons are top-10 in pace of play and the Falcons' leaky pass defense offers Fitzgerald a lot more upside this week. The Falcons have allowed the second-most fantasy points per game to WRs this year.
FD price: $6,800 -> $7,000
DK price: $5,300 -> $5,200
The pass funnel that the Eagles run defense presents should give Cousins a much better ceiling this week. It is easy to forget just how good a receiving tandem Adam Thielen and Diggs is this year, but both have major advantages in coverage against the Eagles secondary. This presents a good three-man stack option with Cousins/Thielen/Diggs, or a two-player stack with Cousins and one of receiver. The Eagles passing defense has allowed the fifth-most passing yards even including a forgettable 120-yard performance from Luke Falk last week. Cousins can throw over 300 yards in this matchup and if he gets some TDs to go along with it, he will be a top value at quarterback.
Chalk
After Christian McCaffrey had a career day against this Jaguars defense, a lot of DFS players should gravitate toward Kamara. McCaffrey was able to for 237 yards on 25 touches and is not on the main slate this week. Ezekiel Elliott has yet to break out this year, and Dalvin Cook has a tough matchup against the Eagles. Expect Kamara to be a popular play as the RB to spend up on this week.
Chark is currently fantasy's WR5. It is easy to say no one saw this coming after a disappointing rookie season. He has looked the part so far and is coming off his best game of his career with 8 catches for 164 yards and 2 TDs. His price has yet to reflect how good he has been, as he is just the WR25 on DraftKings and WR15 on FanDuel. Despite a potentially tough matchup against Marshon Lattimore, people should chase the insane production of Chark so far.
Watson is coming off his best game of the season with over 40 fantasy points on both main DFS sites and now enters another potential shootout against Patrick Mahomes. I see more people gravitating to Watson with him being around $1,000 less on both sites and having more recent success. The game also has the highest total of the slate with 54.5 points implied. This should lead to a good amount of ownership in Watson this week.
One of the biggest smash spots this year has been TEs against the Arizona Cardinals. Now this week Hooper, who has been the TE2 so far, can have another great week. It is no secret how bad the Cardinals have been against TEs, allowing over 18 fantasy points in each of the first four weeks to opposition's No. 1 tight end. Hooper should be one of the most popular TEs this week, if not the most popular.
Adam Thielen, WR, Minnesota Vikings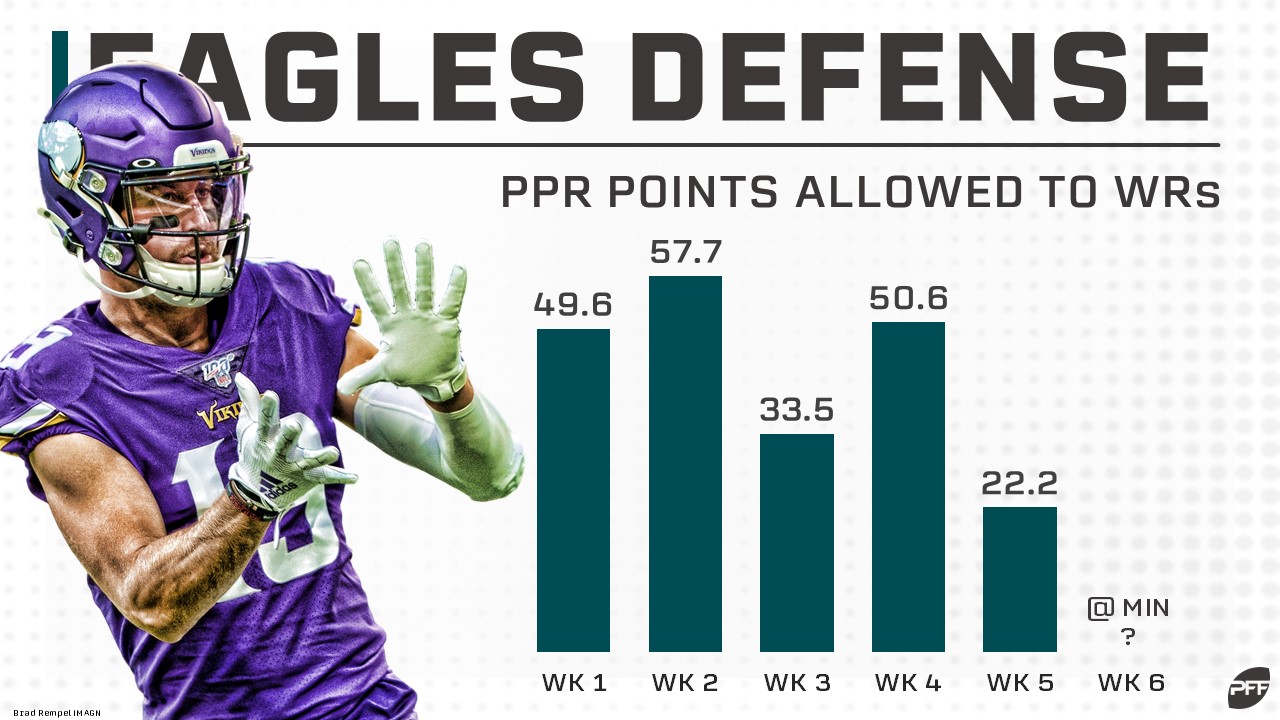 Thielen finally broke through with a 7/130/2 line in Week 5. DFS players will likely target Thielen again this week against the Eagles' soft secondary. As mentioned above with Diggs and Cousins this week, the Eagles possess one of the biggest funnel defenses that forces offenses to beat them through the air. Thielen makes for a very intriguing stack along Kirk Cousins and Stefon Diggs.
The Cleveland Browns got absolutely run over Monday night. This will be the lasting impressing of the Browns defense heading into Week 6 against the Seattle Seahawks. Expect people to see the 245 rushing yards the 49ers running backs were able to put up and get very excited for the potential of Carson this week. He is coming off a game where he saw 85% of the snaps and 28 touches.
Fades
Dalvin Cook, RB, Minnesota Vikings
My theme of the DFS preview this week has been full-on fade of the Vikings running game and getting exposure to the Vikings passing game. That continues here with a fade of Cook this week. Cook has been a lot more consistent this year, but he still has some volatility to him due to his running style. He typically looks for the big chunk plays and is not so much a power running back who will settle for a few yards at a time. He can put up bad rushing performances against a stout rushing defense, which we saw in Week 4 against the Bears with just 35 yards on 14 carries. Cook is going to have a tough time going on the ground this week and his price tag of RB2 on both FanDuel and DraftKings is too expensive for me.
It has been promising for Gurley in fantasy points over the last two weeks, but there was some variance there that allowed for good fantasy days. He totaled just 67 rushing yards combined in the last two games and still found the end zone four times. This is extremely unlikely to continue going forward; this week, he draws a defense in the 49ers that has looked the part so far, especially the defensive line. With regression coming in Gurley's touchdowns and his inefficiency this year as a rusher (3.5 ypc last 4 games), it is tough to get behind Gurley this week.
Through five games, Ridley has a 14% target share, tied for 68th among all WRs. Now in a matchup against the Cardinals that favors Austin Hooper and Mohamed Sanu, Ridley should have a quiet game.
Prescott had a bad game against the Packers with 3 INTs, but a positive gamescript saved him a bit. He threw 44 times in the game and racked up 463 passing yards. It is tough to see the Cowboys getting behind by as much as they did against the Packers and not giving Ezekiel Elliott more than the 12 carries he saw in that game. The Jets defense has allowed just 5 passing TDs through four games and could go overlooked. If they can get C.J. Mosley back from injury, they can hold their own defensively in this matchup.
Matchups
Henry is always a running back you want to target in a positive gamescript. He is likely to get one this week against a Broncos team that is 1-4 and haven't shown much life outside of their Week 5 game against the Chargers. Currently the Titans are 2.5-point underdogs, but I see them winning this game. The Broncos have allowed the eighth-most rushing yards. The Titans like to ride Henry once they get in close; he has seen tied for the fifth-most rushing attempts inside the 10, with 9. Henry has 25/100/2 upside this week.
Austin Hooper, TE, Atlanta Falcons (@ Arizona)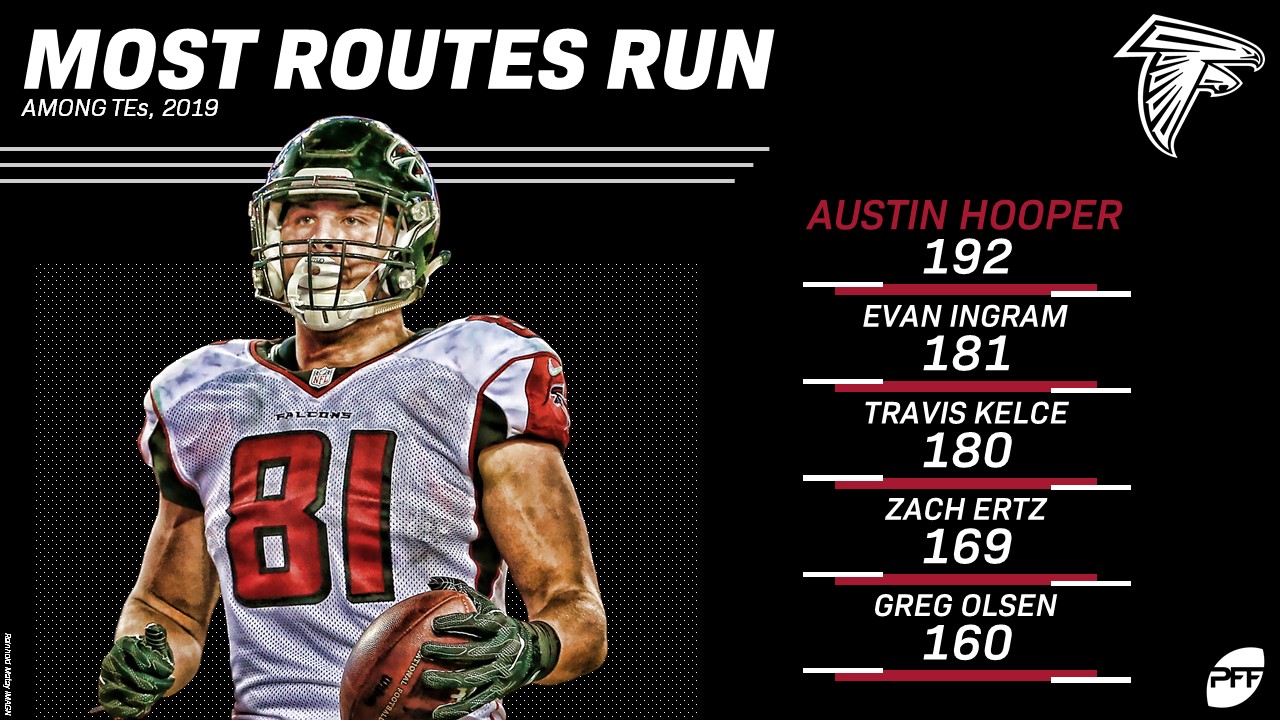 As mentioned above in the chalk of the week, Hooper makes too much sense this week. The Cardinals have allowed the most fantasy points per game to TE, and Hooper has run the most routes of any TE this year. When opportunity meets matchup, generally good things are going to happen.
The Bengals have been another funnel defense. They have allowed RBs to run wild against them whether it be the running game or in the receiving game. No team has allowed more receiving yards to the RB position, and they have allowed the second-most rushing yards as well. This seems like a great bounceback spot for Ingram as the Bengals defense allows him more upside if the Ravens use him more as a receiver as they should in this matchup. Ingram currently ranks first among all RBs with seven rushes inside the 5.